Amos Carlen's
songs
"Go Flo Go," "Squishy Love," "Holier Than Cow," "The Bitch Wears Black,"
and
"Team Awesome"
were forwarded and resulted in Amos getting offered two
publishing deals
with Los Angeles-based
Independent Film and TV Music Companies
. As of January 2013, Amos has had more than 160 cues on
Universal/NBC's
show
Access Hollywood
! "I am very pleased with the royalty checks that I'm getting! Thanks TAXI!" Amos said.

Brian Wheat
has had quite the whirlwind of events in a short order of time. He wrote a song the weekend before the closing date on a TAXI industry listing. Then he submitted his song just before the deadline on that Monday. On Wednesday, he got the notice that his song had been forwarded. That Friday, Brian was contacted by the music supervisor, and received the contract on Saturday. He sent the signed contract in on Sunday. The icing on the cake for him was that the music supervisor has another project that he wants him to write music for, so this has turned into an ongoing gig. Brian had this to say about his entire experience:
"I have been composing songs since I was 12-years-old, and have been in several original music bands, but I have always wanted to write music for Film and TV. I had no idea how to get connected to the music supervisors that call the shots, so I thought I would give TAXI a try. I came aboard skeptical, yet hopeful that something would work out. I had no idea it would happen this fast.
To be quite honest, even without a forward or deal, TAXI is worth the yearly fee for me, because I am having a blast writing music for the listings. They challenge me to create something I might not have created otherwise. Equally important are the deadlines! They force me to create within a short time frame, which is how things work in the real world. This along with the great support system (reviews, forums, etc.) has made TAXI worth every penny, and then some.
Don't get me wrong, the fact that I may make some money is a huge deal. It is also a huge confidence builder for me. I really did not think I could compete with the great talent that is here at TAXI. To know that my music, and the quality is worthy of someone paying me money for playing it is a great feeling!
So I guess you could say TAXI has exceeded my expectations on all accounts!"

Carl Borden
has recently had a success from a prior TAXI forward. Carl received his forward around May of last year. It was through a last-minute online submission. His song
"Home Featuring Dave Tolliver"
was signed to a large
Independent Music Publisher
. He says that the staff at the publisher has been great. Carl says that he is looking forward to hopefully getting more placements with them. "There's no greater feeling in the world than hearing a major publisher saying 'Welcome aboard.' I didn't get the chance to attend the TAXI Road Rally this year, but I will definitely be in attendance next year. Thank you so much TAXI!" he said.

Chris Winston's
track
"Three Little Maids"
was submitted for a listing back in 2007, and forwarded to a large
Music Publisher
. He got a call from the
Music Publisher
's CEO when they received the recording and they said that it was the best synth orchestrated track they had heard. Chris said that he was very excited about it, but nothing happened with it, so after a while he forgot about it. Recently, Chris got an email from the
Music Publisher
stating that the track had been picked up for the
Johnny Knoxville
movie
Fun Size
, five years after his forward! "Needless to say, I plan on keeping an eye on the listings and keep writing whenever I can. Moral of the story? Keep submitting whenever you can, and write all the time!" he said.

Keith Lubrant
let us know that he's had a few placements recently. His song "
Devil Woman"
from a previous TAXI forward was signed to a large
Music Publisher
, and another two CDs worth of songs to a large
Music Library
. Keith also had another TAXI forward that led to a second deal with the Music Publisher. "TAXI has given me opportunities that I probably would never have had on my own Ö they are like the perfect gentleman for composers. Always opening the door for us! Thanks!" Keith said.

Kelvin Tan
got a TAXI forward back in 2011 that led to a TAXI deal with a large
Music Publisher
in October that same year, writing music for
Access Hollywood
and
Fox Sports
. He has just produced his 500th tune and half of them are signed to this
Music Publisher
for several major broadcast shows including the two mentioned above. Kelvin told us that back in 2008 his music career hit rock bottom, but having come across TAXI and the TAXI forums, he discovered a whole new world of possibilities! So far, his music's been placed on
Access Hollywood
137 times and counting. "TAXI changed my life forever and I'm looking forward to producing and signing my next 500 tunes! Thank you, TAXI for making this possible!" he said.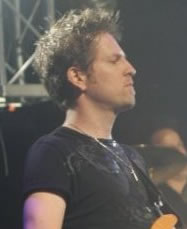 Scott Gerow
recently emailed us to let us know about a very cool network placement he and his TAXI collaborator received on
ABC
's new show
666 Park Avenue
recently. The song is a Pop, Acoustic Jazz song called
"Push Me, Pull Me"
and was co-written by Diona Devincenzi (also a TAXI member). This result was through a TAXI submission that got forwarded to a large
Publishing Company
. "This is my 16th major network/feature film placement this year [2012] ... all as a result of working it through TAXI," he said.

Alexi von Guggenberg
let us know that a connection made through a TAXI listing has resulted in one of his songs being licensed for a documentary, and started a great relationship with an A-list music company that looks very promising. "I just wanted to thank Michael and TAXI for some great connections this year. Through a forward I got some months ago, my song 'Top Of The Game' is being used in a documentary called
The Long Shot
. This film was put together by a great music company based in Los Angeles. While in LA for the Rally, I met up with the head of the company. He was so helpful and gave me some incredible advice. They have even begun including me in other projects. Recently they pitched one of my ideas to a new
NBC
show. Although I didn't land the deal, I wouldn't ever have had they chance to try without TAXI and without meeting them. I can't wait to see where these new relationships take me. Just wanted to let you know! Only good stuff keeps happening," he said.

This deal shows a writer NEVER should give up on a song! The song is called "Born Lonely" and was written nearly 50 years ago by
Hank Jones
and his songwriting partners Larry Ray and Dean Kay. The song was written on spec for the
Elvis Presley
movie
Girl Happy
at
MGM
. Although the song never got into the movie, ironically Hank did as a character actor. So "Born Lonely" languished in his files for 50 years until he joined TAXI. Hank submitted the song. The song was forwarded, then heard by music supervisor John Houlihan who loved the tune and the master, which Hank owned. As the recording is representative of its era in the 60s, John placed it on the
CBS
show
Vegas
starring
Dennis Quaid
and
Michael Chiklas
, and it will air in a scene as a tune coming from a jukebox in a diner. "Thanks again to you and all the wonderful TAXI crew! Upwards, onwards (and occasionally sideways). Thanks, TAXI!!" Hank said.

John Ware
has had several forwards over the past couple of years with a
large music publisher
through TAXI submissions. Earlier this year, he had another, and they offered him a deal on one of his songs. Recently they contacted John and offered him a deal on his instrumental jazz song, "Squirmilona." John was able to get this deal because of the contact he made through TAXI. He is looking forward to many more! "I got a deal for my instrumental jazz tune, 'Squirmilona,' a nickname we called my daughter when she was a baby. This was a result of a previous TAXI forward connecting me directly to the library," he said.

According to his latest Performance Rights Organization statement,
Richard Emmet's
music has appeared on the following shows:
Alaska Ice Cold Killers (Discovery), I Almost Got Away With It (Discovery), Ace of Cakes (Food Network),
and
9 By Design (Bravo)
amongst many others! "The connections I've made through TAXI have directly led to the growing list of television placements I've received. These opportunities would not have happened without TAXI, and needless to say, I am extremely grateful to Michael and the entire TAXI staff for everything they do!" he said.

Walter Grund
has just received a payment from his German PRO for several instrumental pieces written and signed with a music library through TAXI back in 2009. They were used in
TV shows
in
Great Britain
and the
Netherlands
. The cool part of the story Walter wrote: "The 'money maker' of these cuts is my fun-Jazz title 'Frank's Whistle.' I wrote and recorded this while on vacation in Italy. I stayed with my family and friends in an ancient guest house, in an old village, with streets so narrow you had to park the car somewhere and walk 200 meters (about 650 feet) to the house! I recorded and programmed everything in a nice little spare room, and later found out that Peter Gabriel once stayed in that very room for vacation! These are fruits that finally fall off a contract I signed with a library through TAXI in 2009. Better late than never!" he said.

Allen DeSomer
has had a fulfilling year as a TAXI member, and says, "I owe it all to my TAXI Forum friends who have collaborated with me, and helped get my foot in the door!" His collaboration with other TAXI members led to a song that was placed on the popular
Style
network show
Giuliana and Bill
. Before that, another collaboration has had a song placed on the
Showtime Network
show
House of Lies
. Other collaborations have led to placements on a talk show on the
OWN Network
, and a
music library
deal for a song written with even more of Allen's TAXI Forum buddies. Even more proof: Allen just received a check in the mail very recently from a
music library
that landed Allen a deal with a well-known
snack food brand
. He made that connection because he became good friends with the right guy at the TAXI Road Rally! "My advice for members who haven't yet tasted the sweetness of music deals and placements is to participate fully in the TAXI Forum, and then hook up with these awesome artists at the TAXI Road Rally! You never know where your friendships and connections will take you! Thank You, TAXI!" he said.

As a result of a TAXI forward,
David Alex-Barton
signed a six-song deal with a large out of state record company. "I really want to thank you guys. Within a few months of joining TAXI, I got a call from the record companyóthey heard one of my tunes through a TAXI forward. They asked to hear some additional material, and I ended putting a six-song deal together. Thanks againóexcellent service!" he said.

Waiting made the deal for
Geoff Chorlton
! Geoff first had contact with a
major music library
when TAXI forwarded his track "Believe in U' (Radio Mix)" around the end of November 2009. It wasn't until the summer of 2010 that a reply came. The music supervisors said that although they liked the track, they passed on that song, yet told Geoff to forward other material in the future. "We supplied 'I Was Made For Lovin' You' to them in March of this year, and have now signed a three-year rolling contract (non-exclusive)," he said.

Jarno Huhtanen
has made it big! His publisher just recently let him know that his track called "Han Dynasty" was placed in
Here Comes the Boom
by
Sony Pictures
! The track is a Chinese-style instrumental. Jarno has also had placements in
Grimm (NBC), Access Hollywood (NBC), Nate Berkus Show (NBC), and Last Call With Carson Daly (NBC)
. "It feels kind of unreal that my music is being used in a feature film. I just love the broadmindedness of TAXI, my publishers, supervisors and everyone else. If they like your music, it really doesn't matter if you're an unknown dude from the middle of nowhere. TAXI is so much more than just a tool. Thank you Michael, Thank you TAXI!!!" Jarno said.

The TAXI Road Rally has worked well for
Timothy Butler
. His first deal was three years ago with a large music library. That led to his music being placed in shows like
Auction Kings
and
Hogs Gone Wild
. Then, two years ago, it was his goal to try and meet with a specific huge music supervisor at the Road Rally, which he did, and six months later he signed with the music supervisor's music company. That has led to a placement on
The Dr. Oz Show
, and an affiliation with
The Oprah Winfrey Network
. Most recently Timothy got a deal with another music library, which provides music for sports training. "The Road Rally for me is worth the cost of membership all by itself. This year will be my 7th Rally, and the people I've met and the tips I've learned have helped me to sign with numerous other libraries and have my music placed in shows on
Fox Sports Network, FitTV, Great American Country, The Learning Channel, and Root Sports
... you never know who you might meet in the lobby or on the elevator. One year, I even met Michael Laskow in the elevator! Thanks TAXI!" he said.

Ethan Okamura
's music played on four new shows in the first quarter of 2012;
Caged (Bravo), Chelsea Settles (Logo), Friendzone (MTV), and Jersey Shore (MTV)
. Also, he continues to get placements on
Bethenny Getting Married (Bravo), 16 And Pregnant (MTV)
, and
Giuliana And Bill (Style)
. These are all from the first deal he signed that was a result of a TAXI forward. "Thanks to TAXI, I feel like I'm in the game. I might not be hitting homeruns yet, but I'm starting to get more playing time! My latest performing rights organization check will take care of my Road Rally 2012 expenses, and then some!" he said.

A few years ago, a friend told
Justine Jones
about TAXI. She investigated, researched, and decided to join. She attended the Road Rally (flying in from Australia), she saw how educational it was, and also met many like-minded people who are now her friends and musical colleagues. After her second Road Rally, and submissions to listings, she got my music to the right person who has now signed her to compose for a prominent music production company in the U.S., and she lives in Australia! "TAXI has taken my music to an international audience, Thanks!" she said.

Kyle Kniceley
got forwards for two songs for two similar listings: one for rock in June and another for ambient electronic in July. He received an email recently offering an agreement for these and MORE tracks. It's for a unique sports training website that uses music to help improve athlete's performance. "I have TAXI to thank again for helping me reach my long-term musical goals. Not only will my music be making money, but also helping others as they listen. How cool is that? This newest deal through TAXI just reaffirmed my decision to renew my membership for two years, stay on the forum, keep watching TAXI TV, get my butt to my second Road Rally, and to keep running the music marathon that I now have a real understanding for. I am laced up and feeling it. I intend to continue to take advantage of everything TAXI has to offer me. Thank you Michael, members, and TAXI!!" Kyle said.

The other morning
Steve Collom
woke up to see that he had eight more placements with just one of the libraries that TAXI had forwarded him to. He now has a total of 54 placements and he's only been signed with them a year. "My music has been used on
Access Hollywood
at least once every week over the past year. The real icing on the cake is that this is one of my favorite entertainment shows. Thanks TAXI for this opportunity," Steven said.

Bob Mete
received his performing rights organization statement to find something new there. He just found out that he had two placements on the very popular soap opera
Corazon Valiente
on
Telemundo
. His tune "Bitter & Sweet" appears in episodes 7 and 13. "Wahoo! Now if I only knew what they were saying over the music... This is my 6th year with TAXI, and every year it just keeps getting better and better. None of my successes to date would have been possible without TAXI," Bob said.
In 2009,
Clay Bulter
made a connection with a music supervisor through a TAXI forward. That one placement has garnered placements in more than
22 shows
and
four specials
to date (more than seventy episodes collectively, many with multiple placements per show). Recently, Clay has secured the main title themes to
MTV
's upcoming show
Totally Clueless
and
E!
's
Married to Jonas
. Nice! "The themes and placements were all a result of a relationship starting with a TAXI forward. Virtually all of my known placements to date have resulted from writing for this one company. See you guys at the Rally!" he said.

Bryan Fusillier
's first TAXI forward from a few years ago has been placed on
Discovery Channel
's
I Almost Got Away With It
. More placements have happened since. "I've had forty placements so far this year as a direct result of deals that came from TAXI forwards," he said.

Adonis Aletras
now has placements on
A&E
's
Duck Dynasty
as a direct result of attending the TAXI 2011 Road Rally. Adonis got introduced to a publisher who provides the music for the show. The publisher signed him right away, and a few months later his music was featured on the hit show. "In a business where relationships are paramount, the Road Rally provides a wealth of networking opportunities both among TAXI members and industry pros," Adonis said.