TAXI was founded in January of 1992 by producer/engineer, Michael Laskow. Laskow worked with artists like Crosby, Stills, Nash and Young, Eric Clapton, Neil Young, Melanie and Cheap Trick (among others) in the 1970s and 80s, but saw a common problem with the unsigned artists and songwriters he worked with between major label projects - they spent a great deal of time and money producing demos they couldn't get heard by top music industry executives.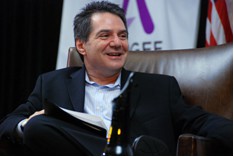 TAXI Founder, Michael Laskow
Michael solved the problem by combining a high-quality industry tip sheet with an A&R department staffed by highly esteemed music industry experts who pre-screen the music before it's sent to the industry executives. This groundbreaking, yet radically simple idea gave songwriters, artists, and composers the access to the industry they deserved, while also ensuring that A&R people, publishers, Film and TV music supervisors, ad agencies and video game producers got to hear cream-of-the-crop music from talented, yet undiscovered musicians.
While TAXI has helped thousands of musicians live their dream by getting signed to record deals, publishing deals, production music library deals and getting placements in feature films, TV shows, TV commercials and video games, it wasn't always the globally recognized company it is today.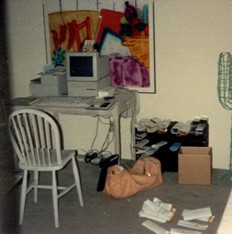 TAXI's first office circa 1992
Michael started TAXI in a one-bedroom apartment in Woodland Hills, California with a little seed capital from his best friend from college, Michael Lederer. For the next two years, Laskow and his wife were barely able to pay rent and buy groceries.
"It was character building. It gave me a real understanding of what it's like to be a 'starving artist' and give every minute of your time and every ounce of your strength and energy to something you believe in and refuse to fail at. I worked 15-18 hours a day, 6 and often 7 days a week and didn't take a paycheck for the first two years. We used up what little savings we had, and came dangerously close to being homeless during those first couple of years," reports Laskow. "When I tell musicians that they really need to invest themselves in their music to reap the rewards, I'm speaking from first hand experience."
TAXI not only pioneered the concept of independent A&R, it was also the first company to bring large numbers of film and TV placement opportunities to musicians all over the world. "Prior to TAXI, you had to know somebody who was working at the executive level on a movie or a TV show to even have a shot at licensing your music," says Laskow.

Today, artist development is also a big part of a TAXI's membership. Using the feedback from TAXI's A&R Department, and being part of TAXI's legendary community on its Forum are great first steps. Attending TAXI's world famous convention, the Road Rally, is also one of the best tools musicians can use to target their music, improve their skills, and get access to music industry decision makers.
Laskow and the entire TAXI staff are proud that the company has created so many opportunities for songwriters, artists, and composers all over the world, maintained an A+ rating from the BBB, and has continued to operate with integrity since 1992.