"We've been to many music conferences. The TAXI Road Rally is the best one, by far. It's family."Carol and Ed Nicodemi - Bayside, NY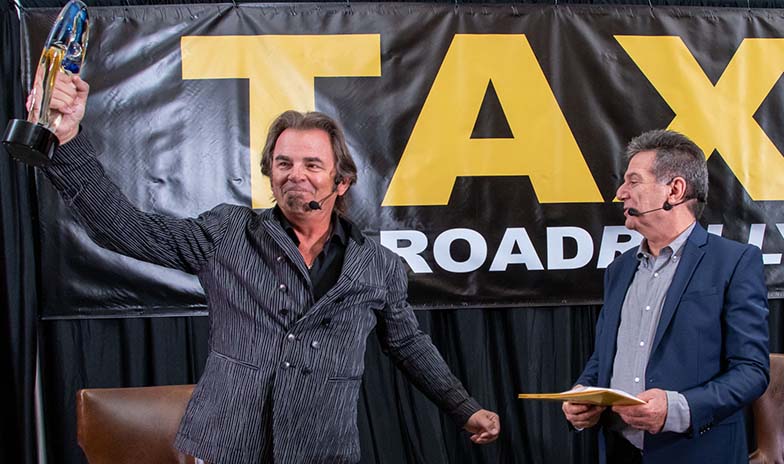 Jonathan Cain of Journey, triumphantly holding up his Lifetime Achievement award prior to doing his Keynote Interview with TAXI's Michael Laskow.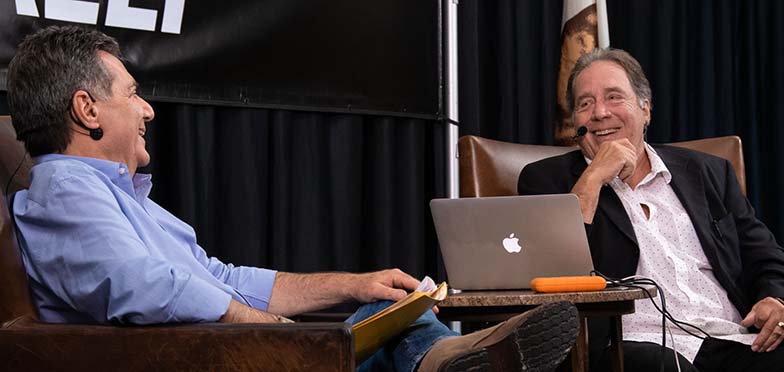 Grammy-winning Producer Ken Caillat shares a laugh with TAXI's Michael Laskow during the Producing Fleetwood Mac session at TAXI's 2019 Road Rally convention.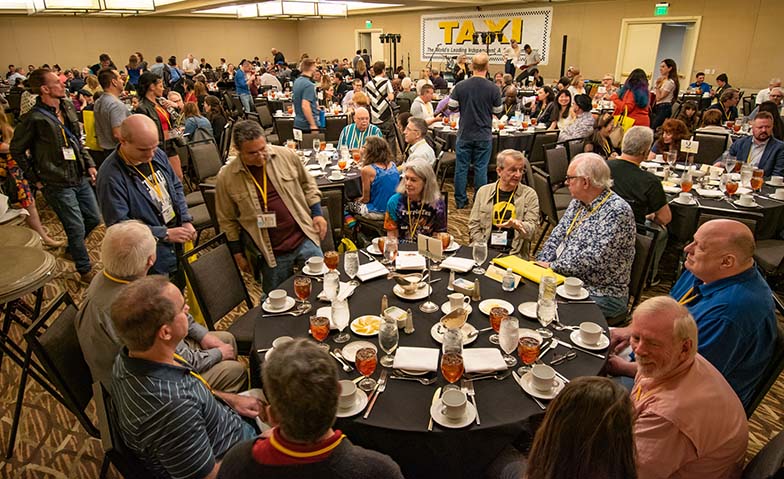 The excitement was off the charts right before everybody was seated to begin the Eat & Greet Luncheon, where TAXI members get to ask the mentors anything they want and hand them their music as well.
"The industry professionals were truly indeed approachable and very willing to share and lift others; I was blown away by the easy access to them."
Heather Yates - Kansas City, MO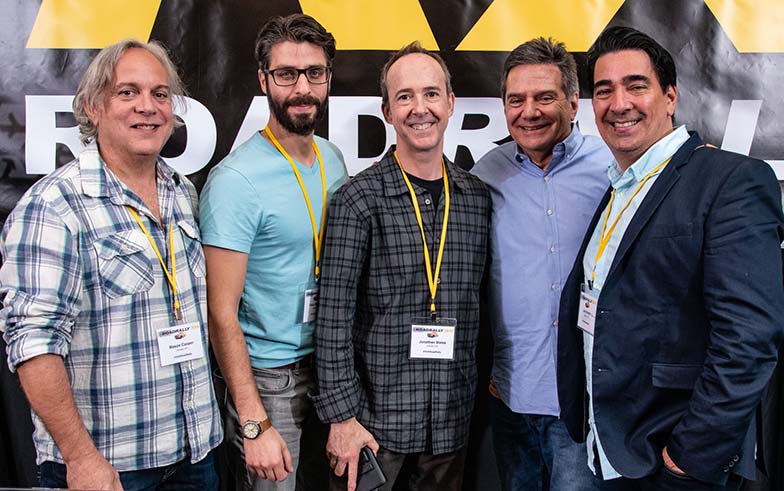 (left to right) Music Supervisors Mason Cooper (Film/TV), Frank Palazzolo (Scripted TV), Jonathan Weiss (Unscripted TV), TAXI's Michael Laskow, and Joe Brandt (Unscripted TV/Documentary/Film) pose for s shot right after the Music Supervisor Listening Panel.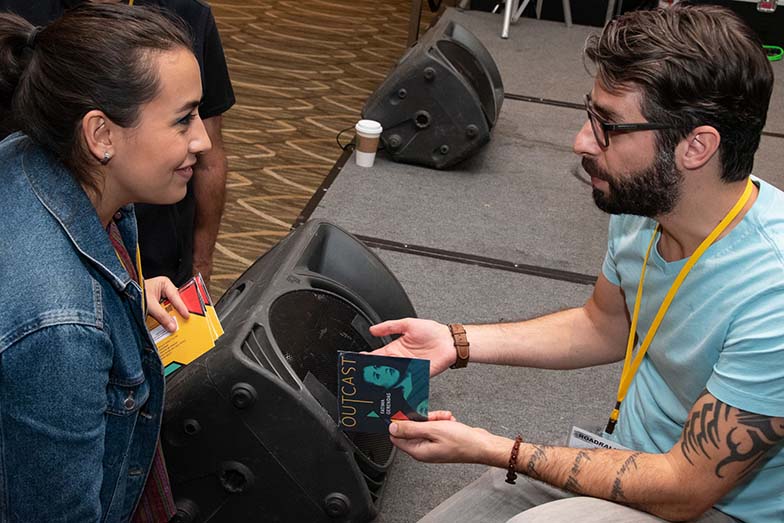 Hollywood Music Supervisor Frank Palazzolo and Fatima Gerendas (TAXI Member from Vienna, Austria) share a moment at the Road Rally.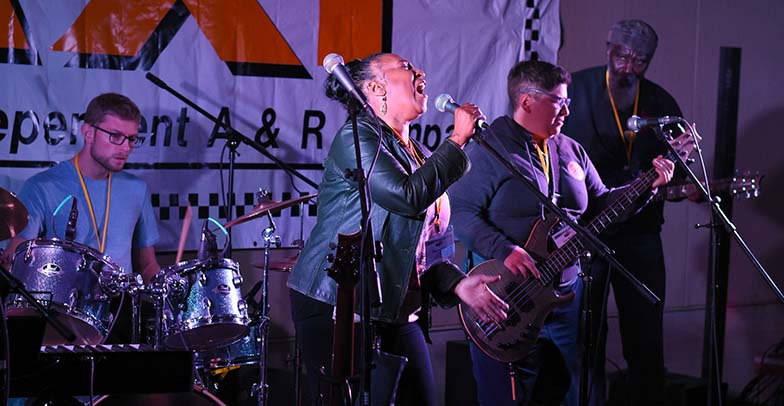 This impromptu band of TAXI members killed it on the Jam Room stage. The Jam Room was open to all attendees, and it was a huge hit!
"I think I've personally gained several years experience over just three days. I am now more focused and have a better understanding of what TAXI listings and TAXI screeners are looking for."
Terry Solfleet - Penistone, United Kingdom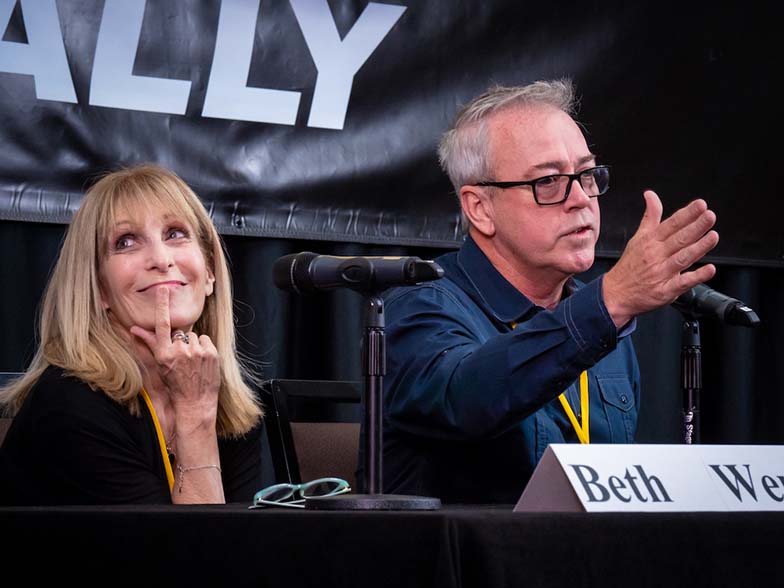 The How Daytime Dramas Choose and Use Music session with Music Library CEO, Beth Wernick, and Composer/Music Supervisor, R.C. Cates, showed the audience the "how and why" of song placements in the long-running soap opera, The Young and the Restless.
The Writing and Producing Music for Advertising session with writer/producers Kaelie and Nate Highfield and 3-time Grammy winning mixer/producer Rob Chiarelli. Chiarelli was asking his partners, "Am I right?" Right about what, Rob?!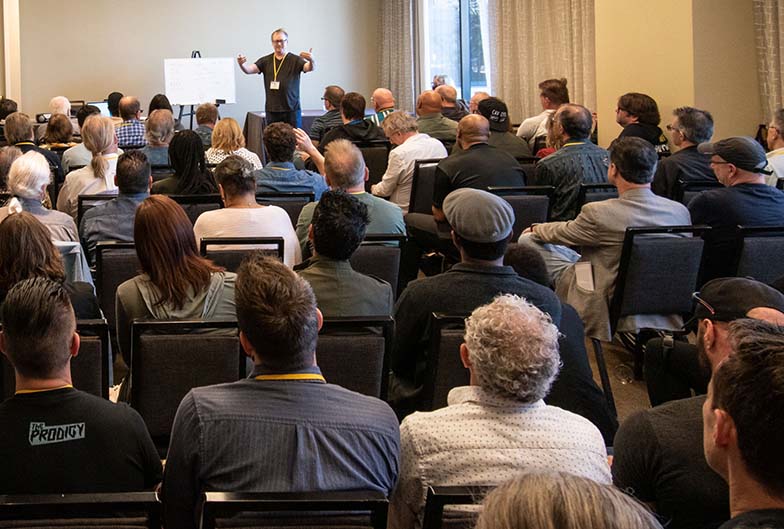 Composer Peter Neff teaches a breakout class on Composing Instrumental Cues for Production Music Libraries. Looks like he had a full house!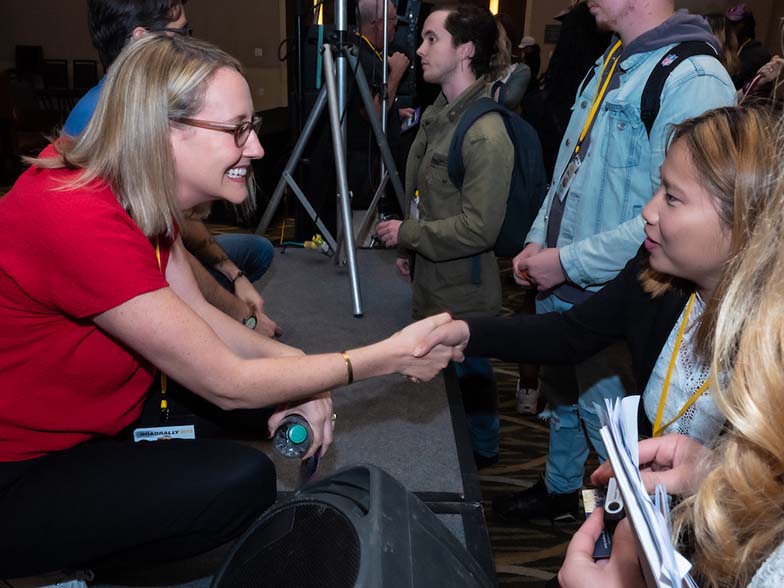 Music Licensing Executive, Shannon Quisenberry takes time to chat with a TAXI member after finishing up the Film & TV Song Pitch and Feedback Panel at TAXI's Road Rally.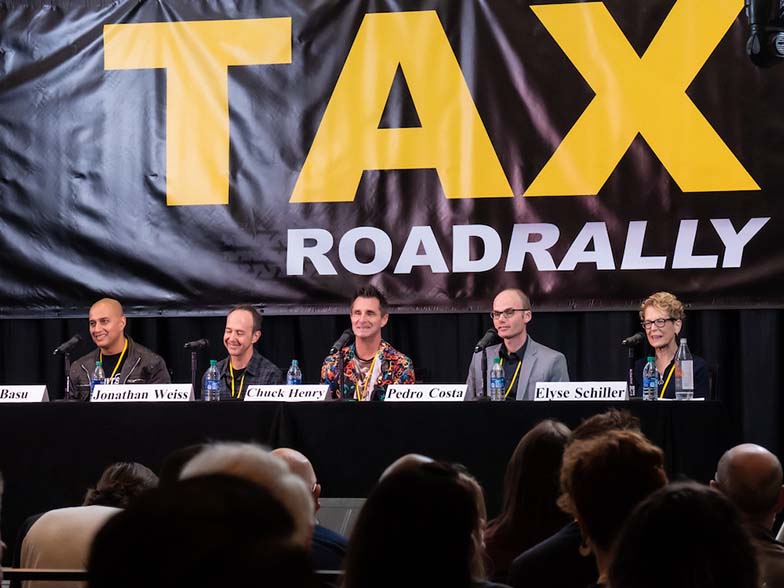 The panelists are all smiles during the Instrumental Pitch and Feedback Panel with (left to right) Joy Basu (CEO, Lab Hits Music), Jonathan Weiss (Music Supervisor), Chuck Henry (CEO, 10 West Music), Pedro Costa (CEO, InStyle Music), and Elyse Schiller (Executive Producer, Masterphonic).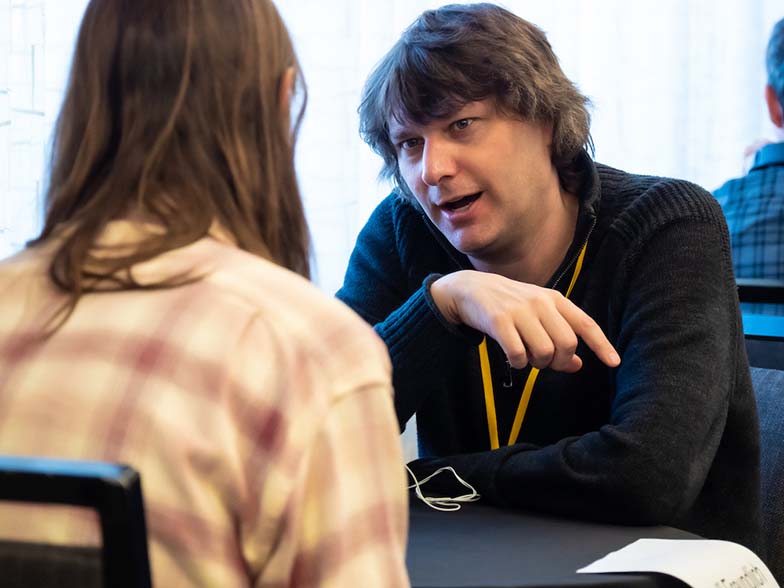 Jeff Freundlich (COO, Fervor Records) gives a Road Rally attendee some advice during one of the One-to-One Mentor sessions.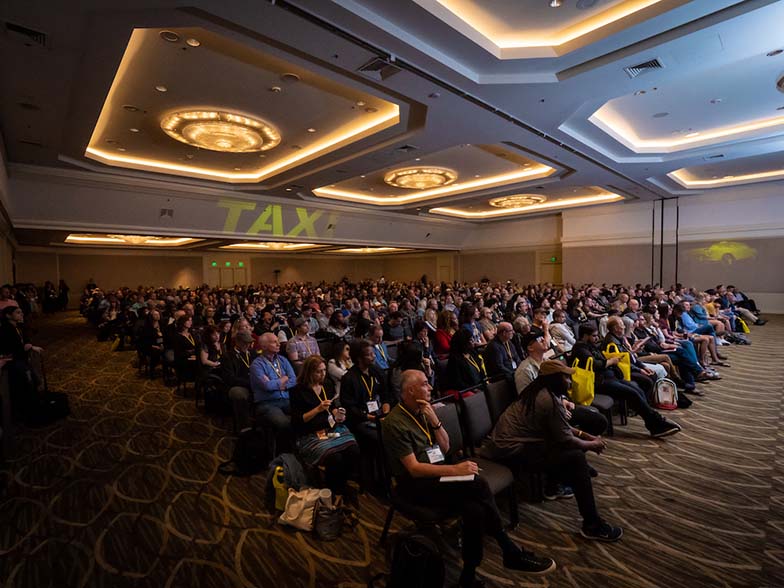 It was a packed ballroom of very happy TAXI members and their guests during the Producing Fleetwood Mac session with Grammy-winning producer, Ken Caillat. Caillat told some great behind-the-scenes stories about the making of Fleetwood Mac's albums Rumours and Tusk. He also played lots of individual instrument tracks from the multi-tracks of those records.
"For once in my life, my passions and interests have been validated. Thank you, TAXI."
Rosanna Angela - Houston, TX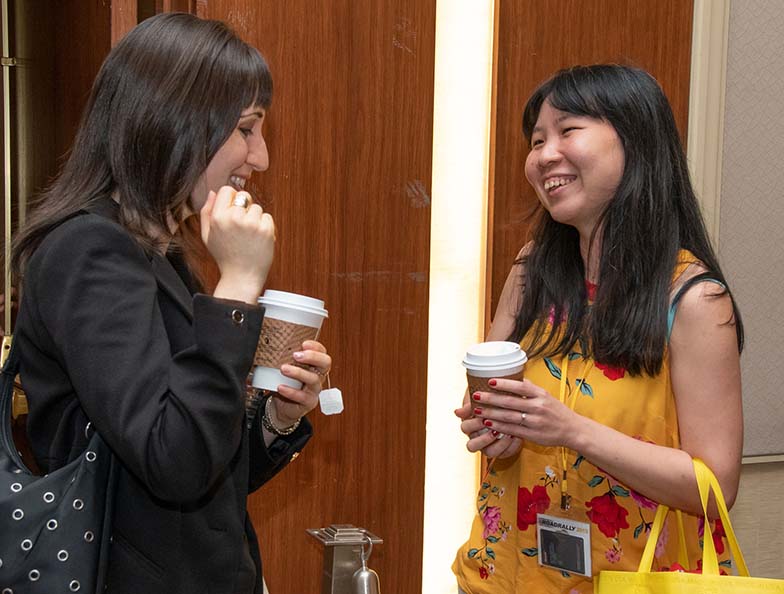 Music attorney Erin Jacobson takes a few minutes to give some advice to TAXI member Sherry-Lynn Lee after wrapping up a panel at the Road Rally.
We don't know who these TAXI members are, but they look like they're having fun jamming in one of the hotel's hallways! This was a common sight during the entire Road Rally.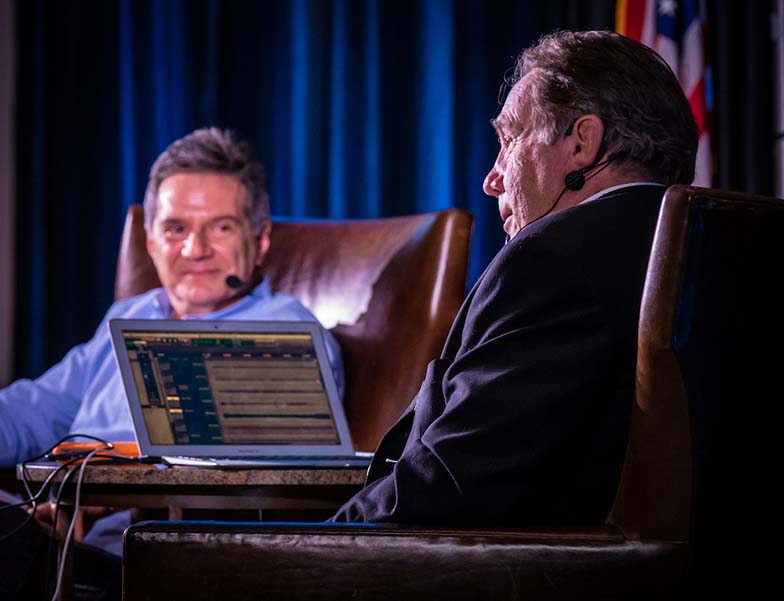 TAXI's Michael Laskow was clearly loving every moment as he interviewed legendary, Grammy-winning producer, Ken Caillat.

This is a great shot, looking out at the audience during the Happy Ending Pitch Panel with (left to right) Pedro Costa (Music Licensing Executive), Bob Mair (Music Licensing Executive), Greg O'Conner (Music Licensing Executive), Ron Harris (A&R/Multi-Platinum Producer), Rob Chiarelli (100x Platinum, Grammy-Winning Producer, Mixer).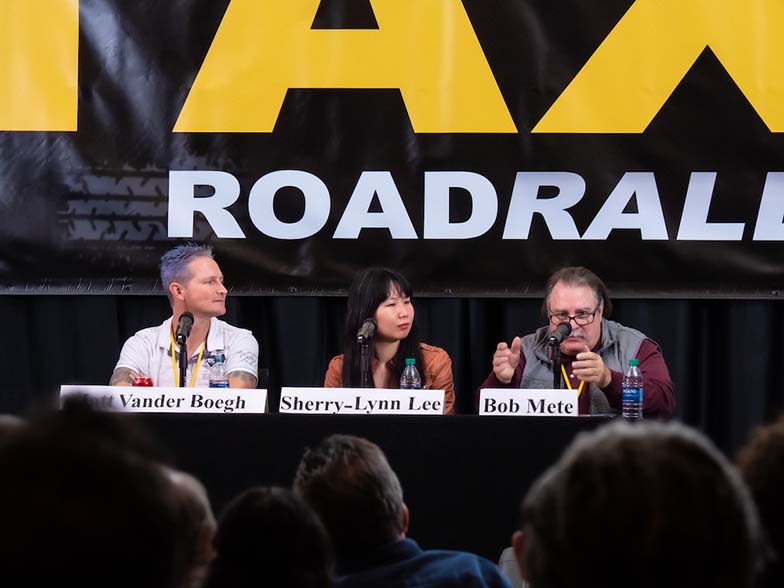 TAXI members (left to right) Matt Vander Boegh, Sherry-Lynn Lee, and Bob Mete share their techniques and success strategies during the How to Get More Forwards, Deals, and Placements panel at the Rally.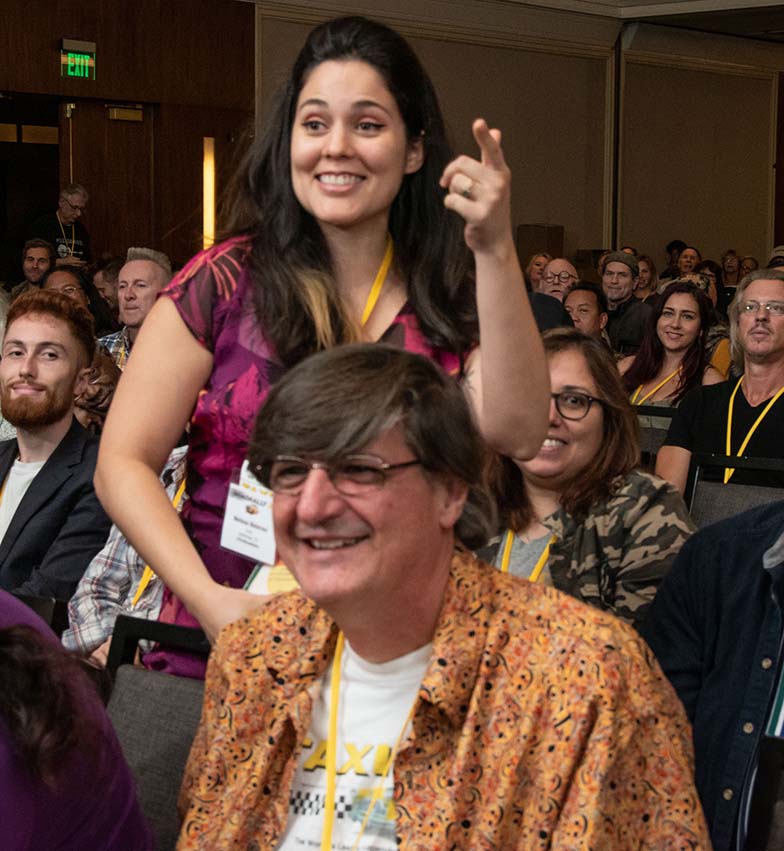 TAXI Member Meli Malavasi was clearly excited when she exclaimed, "That's my song!" when all the panelists loved her song during a listening panel.
"I took off time without pay and flew 3,000 miles... well worth the time and financial investment! I didn't walk away with a publishing deal, but I walked away with the tools to effectively pursue and hopefully ( crossing my fingers) obtain a publishing deal or a music library placement."
Christine Matte - Charlotte, NC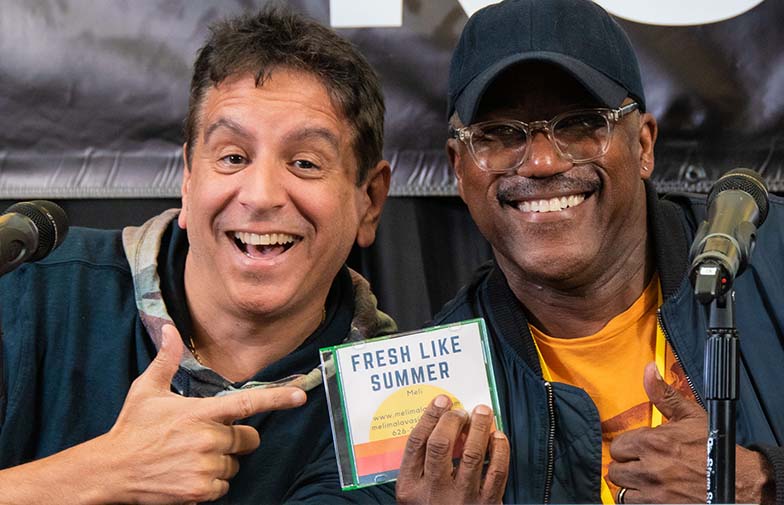 Rob Chiarelli (l100x Platinum, Grammy-Winning Producer, Mixer) and Ron Harris (A&R/Multi-Platinum Producer) were very happy to get their hands on a copy of a song they thought was a hit during the Happy Ending Pitch Panel.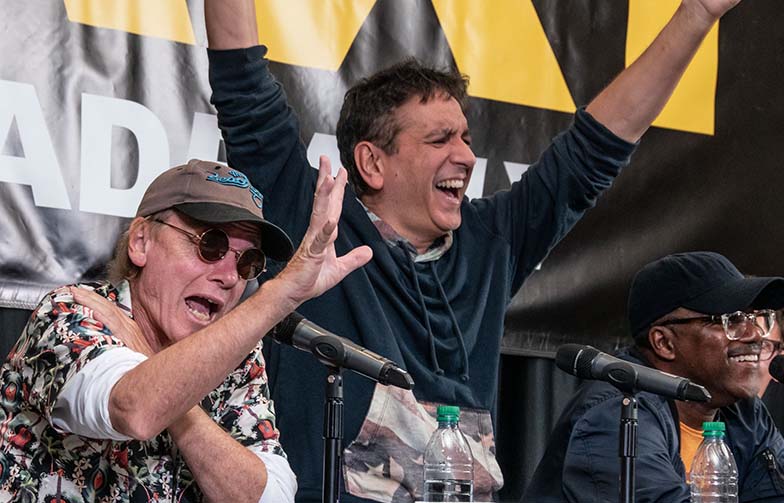 Multi-platinum producers Michael Lloyd (left) and Rob Chiarelli couldn't contain themselves when they heard a hit during their listening panel!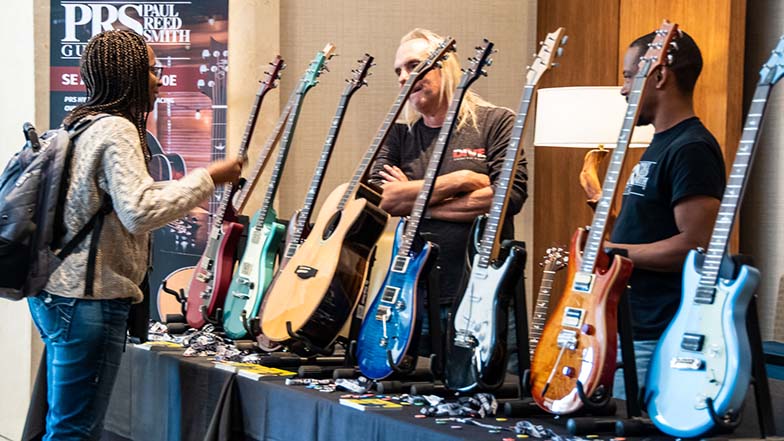 This TAXI Member clearly has great taste in guitars! These beauties from Paul Reed Smith got plenty of attention during the entire weekend. TAXI members got to play them at Open Mics and in the Jam Room.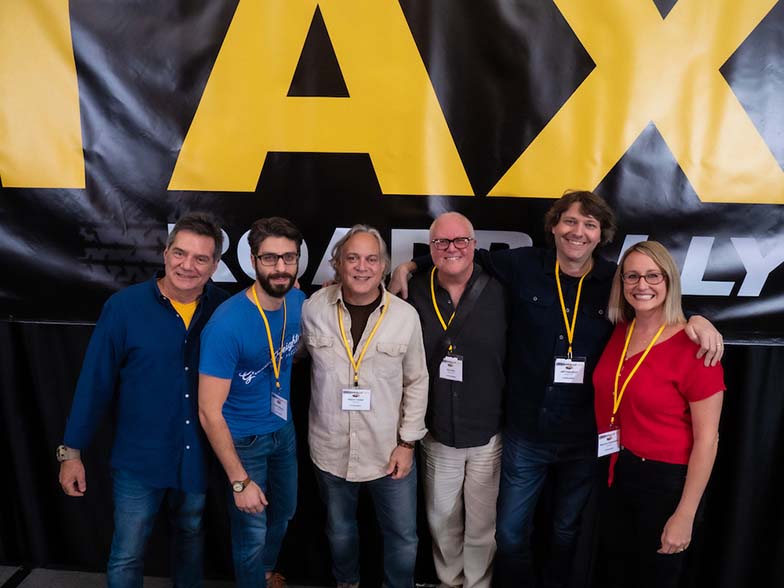 Film & TV Song Pitch and Feedback Panel luminaries strike a post-panel pose. (left to right) Frank Palazzolo (Music Supervisor), Mason Cooper (Music Supervisor), Bob Mair (CEO, Black Toast Music), Jeff Freundlich (COO, Wild Whirled), and Shannon Quisenberry (Director of Creative, Think Music).
"As a music producer, my happy place is by myself with my computer and my sounds. As such, it takes a lot for me to leave the house and interact face-to-face with other people, let alone get on a plane to LA and interact face-to-face with roughly two thousand energetic music creators over a three-day weekend! Road Rally 2019 was my second Road Rally, and I can tell you it was amazing, inspiring, and life changing. To those who may be on the fence about attending the Road Rally, all I can tell you is - just go. Start planning now, and make it happen. You'll be glad you did!"
James Hagarty - Bellingham, WA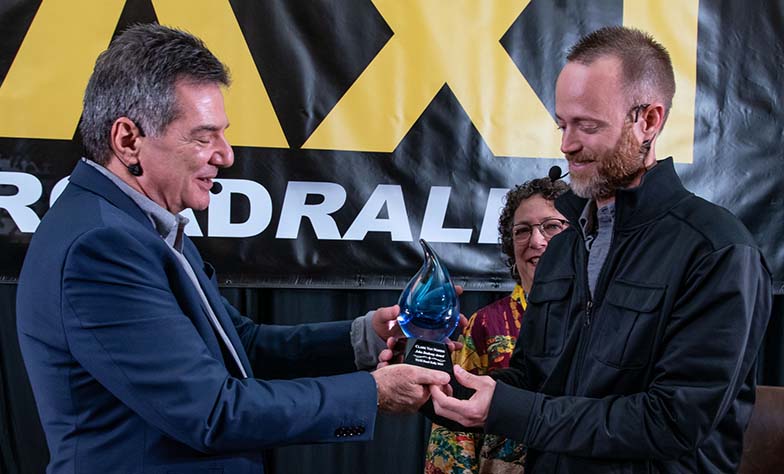 TAXI Member Clark Van Norris (right) was presented the John Braheny Songwriting Award by Michael Laskow with JoAnn Braheny proudly watching the presentation.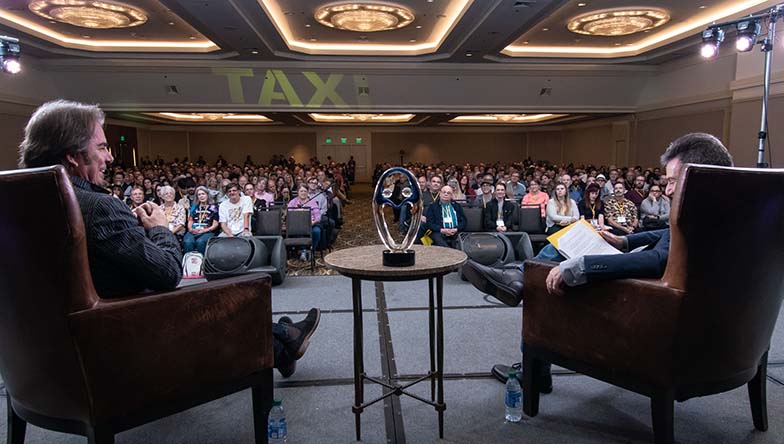 Jonathan Cain (left) seems to be enjoying his Keynote Interview in front of a standing-room-only audience. Cain was TAXI's Lifetime Achievement Award recipient for 2019.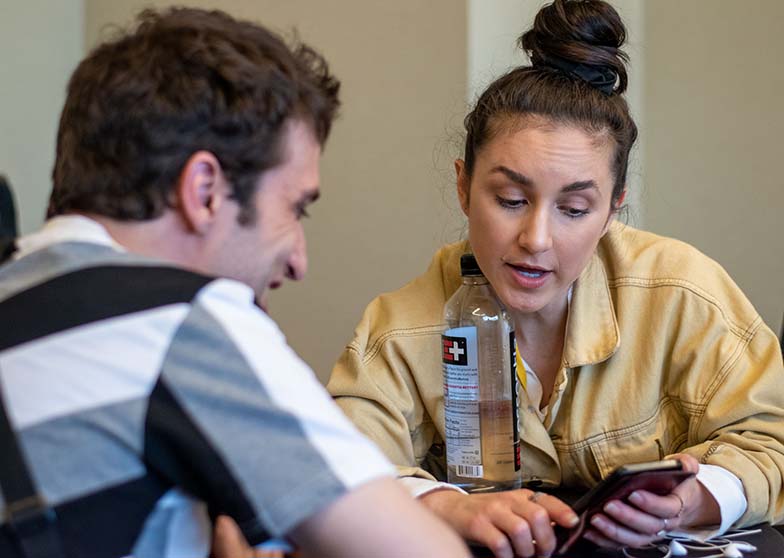 TAXI Member Clément Reverchon gets some expert feedback on his song from Angela Mukul during a One-to-One Mentor session.
"2019 was my 13th consecutive Road Rally! I hope I never miss one. It may sound over the top but the Road Rally is truly a life changing experience! Everything I've accomplished with my music has been because of the Rally and this incredibly loving and giving TAXI music community."
Casey Hurowitz - Fort Washington, PA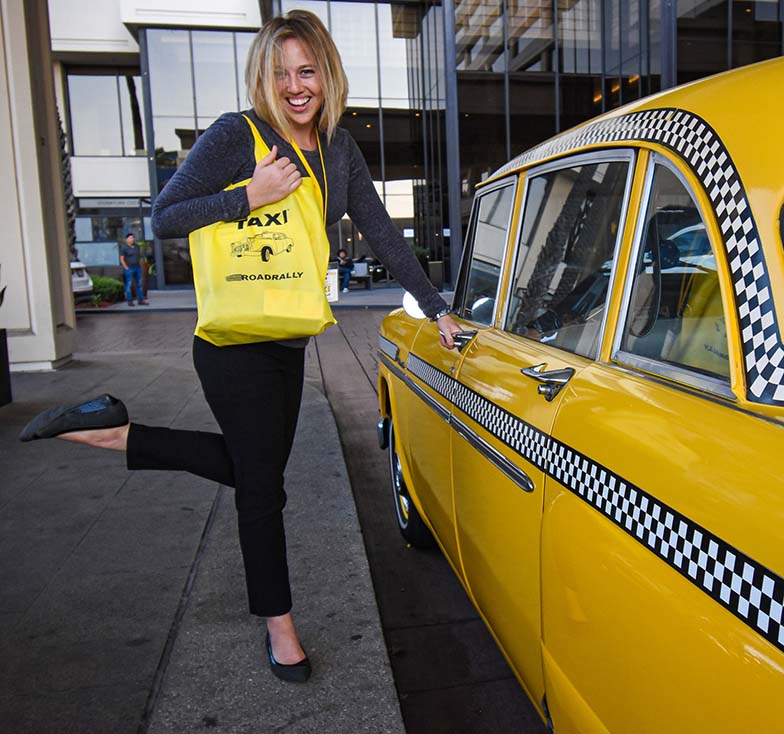 Road Rally attendees love to check out our vintage, 1968 Checker cab mascot. We wish we knew this member's name, but alas, we don't! But hey, thanks for letting our photographer convince you to pose with our 3,390-pound beast!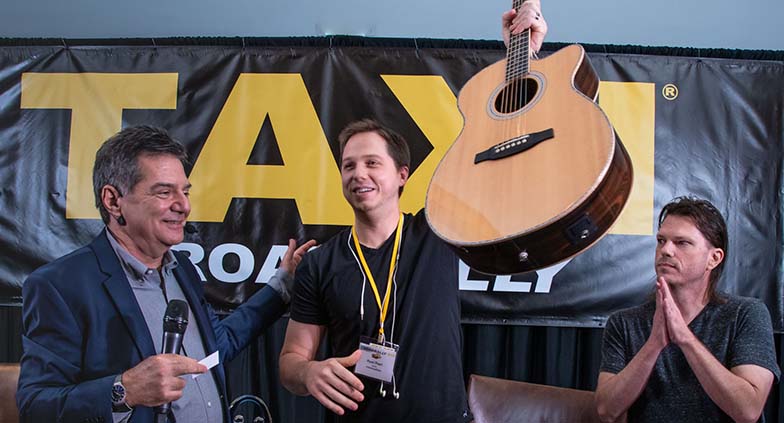 Road Rally attendee Ryan Pearl won this gorgeous acoustic guitar from the nice folks at Paul Reed Smith! We were all a little jealous!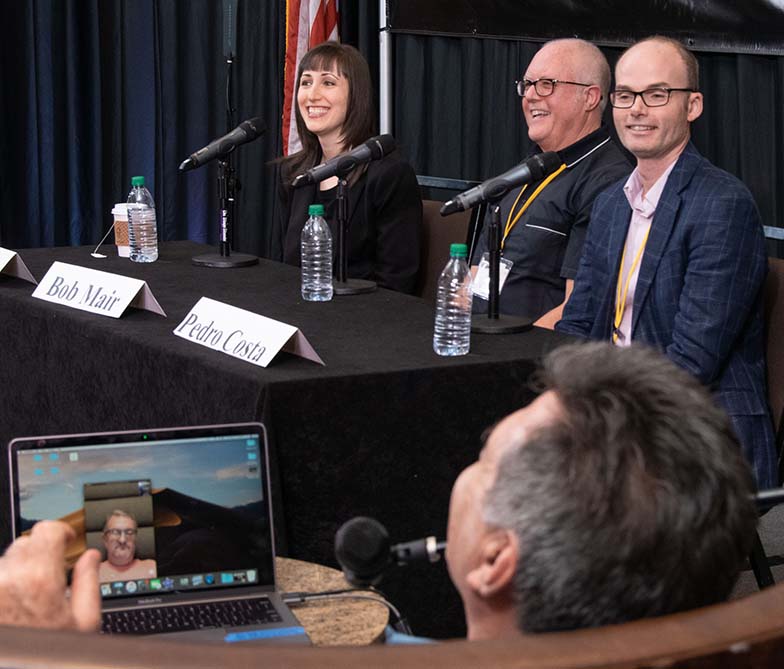 Publisher Michael Eames (on laptop screen in foreground) couldn't be in Los Angeles to join his fellow panelists (l to r) music attorney Erin Jacobson, publisher Bob Mair, and publisher Pedro Costa for the Understanding Music Library Contracts panel, so we had him join them via Facetime. The miracle of modern technology!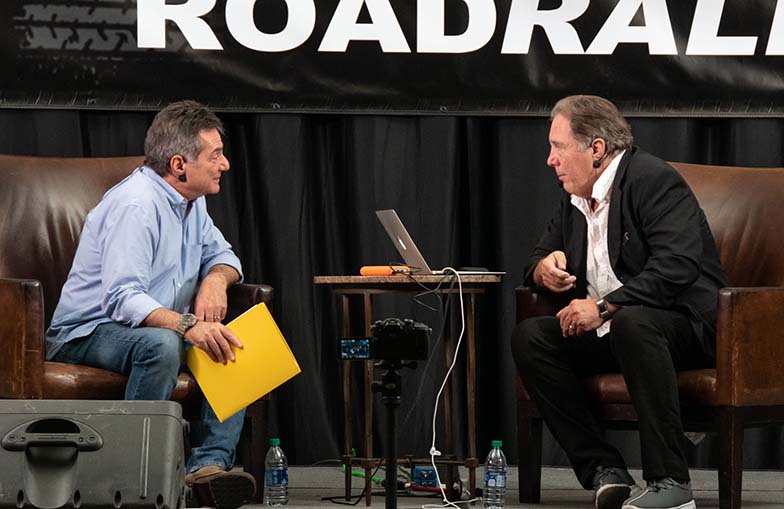 TAXI's Michael Laskow (left) asks Grammy-winning producer Ken Caillat a question during the Producing Fleetwood Mac session, Friday evening in the Grand Ballroom.
"90% of my success I can trace back to trust relationships made and develop from the TAXI Road Rally over the years and in my opinion, attending the TAXI Road Rally is a must if you are serious about taking your music to the next level. Thank you to all the TAXI staff for putting together such a wonderful event that has launched my music career. It has definitely changed my life and the lives of so many other members that I now call my friends."
Robbie Hancock - Victoria, BC, Canada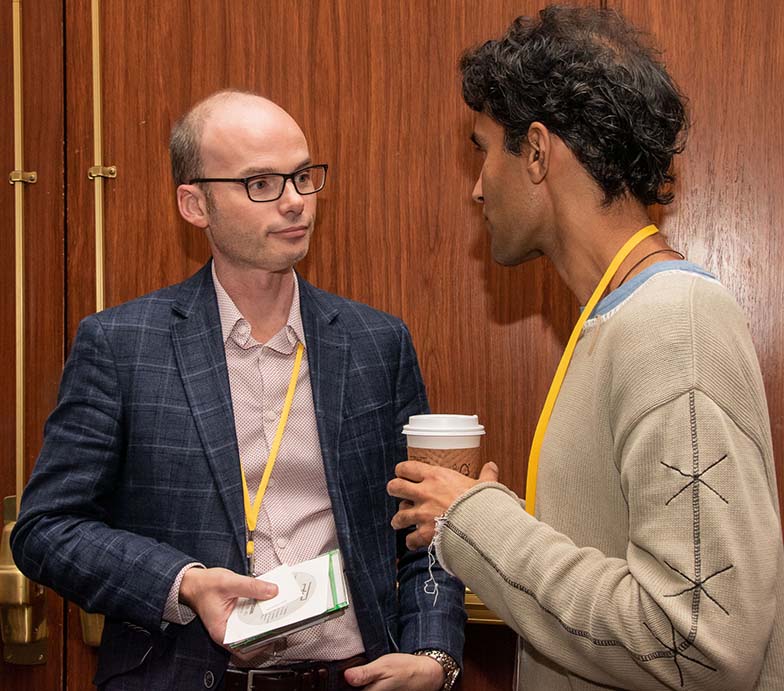 Music Library owner Pedro Costa (left) takes a few minutes to chat with a TAXI member outside the ballroom.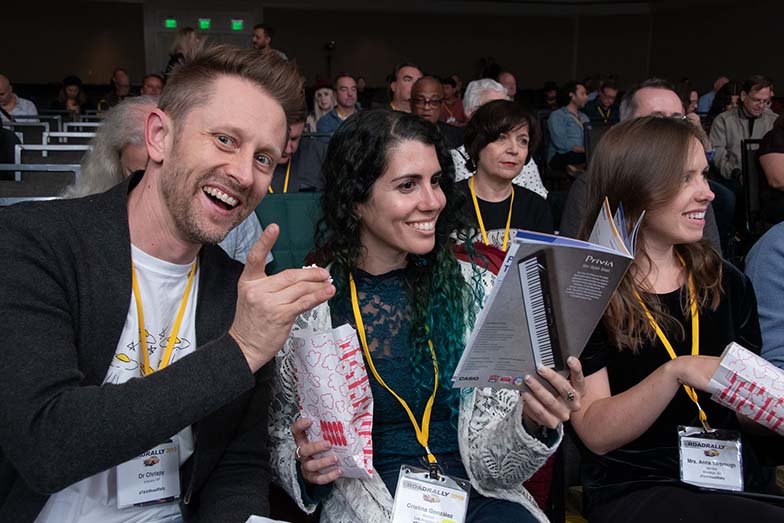 TAXI Members Dr. Chrispy, Cristina González, and Anna Yarbrough enjoy the popcorn we gave the audience during one of the evening sessions in the Grand Ballroom.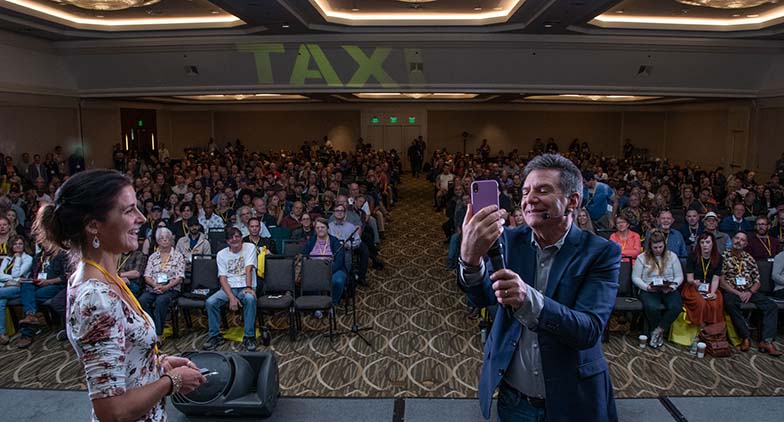 TAXI member Ragani Buegel let Michael Laskow use her phone to FaceTime with long-time member Matt Hirt, who now lives in Switzerland and couldn't be at the Rally. Matt got to say "hello" to his many friends in the audience. It was almost as good as being there, at least for a couple of minutes.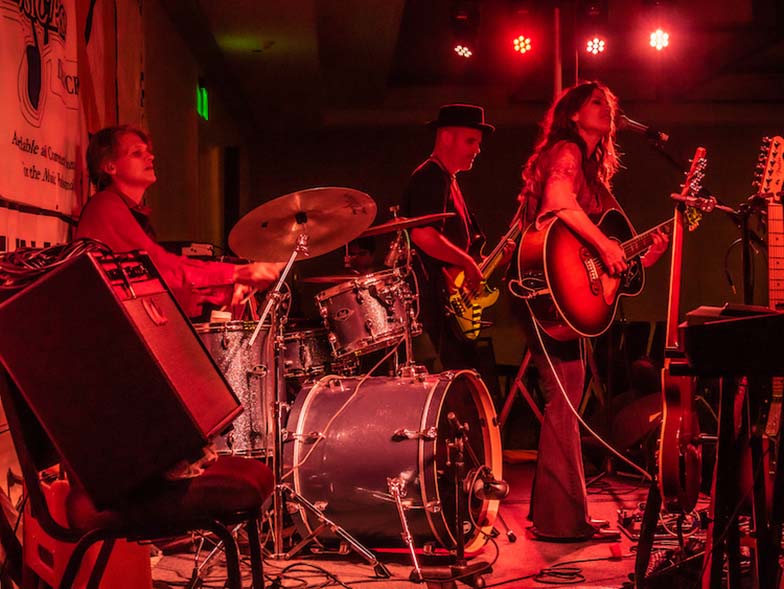 Artist Ali Handel blew the doors off the ballroom when she performed a set during the Music Pro Showcase. The lady can rock!
"The Road Rally brings together a group of musicians and songwriters from all over the world, in one spot for one long weekend, for what is basically a 'family reunion' for those who come every year. Where else can you hang out with such a group of like-minded people? We catch up with one another in person and share a wealth of information - from recording and songwriting techniques to best business practices, just to name a few things. I stay in touch, year round, with these 'family' members, and I collaborate with the ones I get along with best. So if you want to join this family, all you have to do is show up in November - you'll be welcomed with open arms."
John Lewitt - Toronto, ON, Canada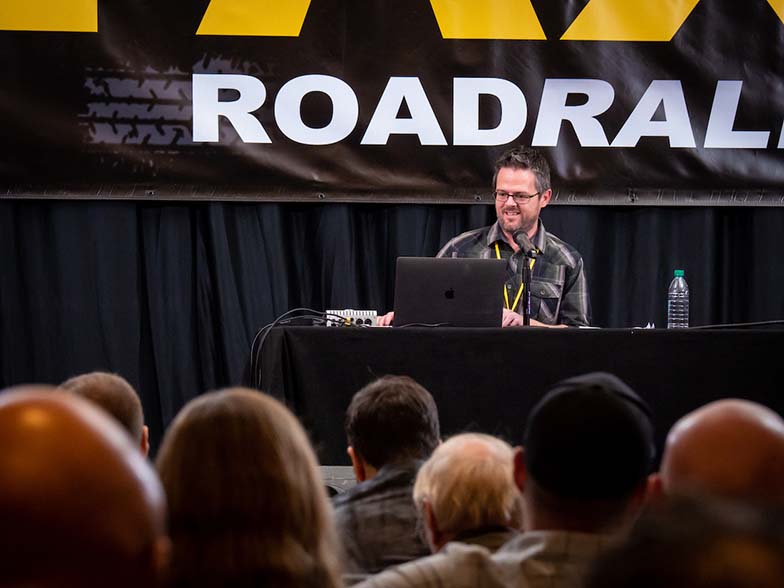 Randon Purcell shared a ton of valuable tips with his fellow TAXI members during the Creating Trailer Instrumentals session.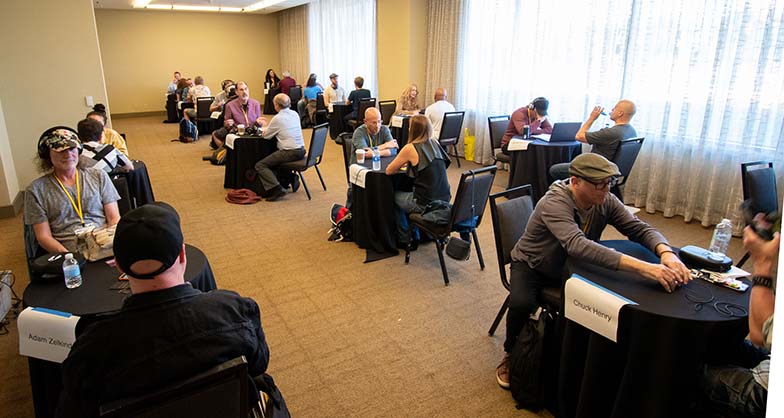 The One-to-One Mentor Sessions are always super popular at the Road Rally. This was one of the rooms where they were held, and it's always amazing how many deals end up getting signed as a result of those meetings!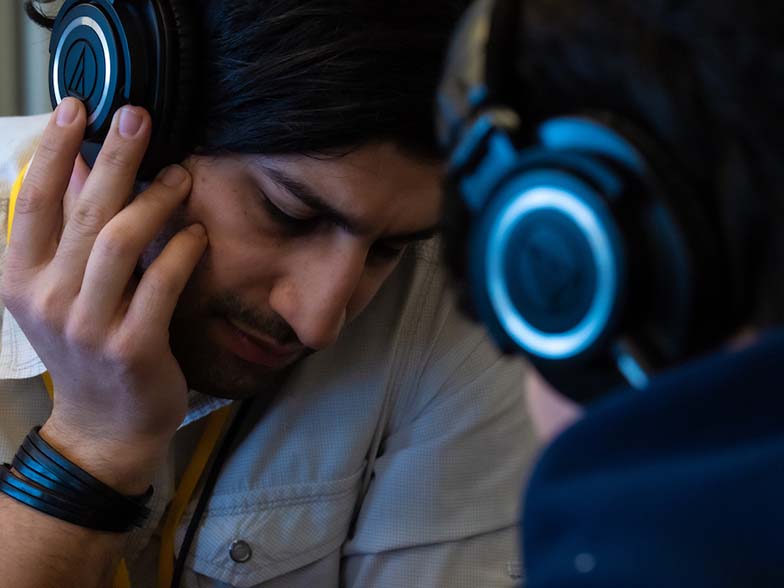 Aram Mandossian is deep in thought as he listens to a TAXI member's music during another one of the One-to-One Mentor Sessions.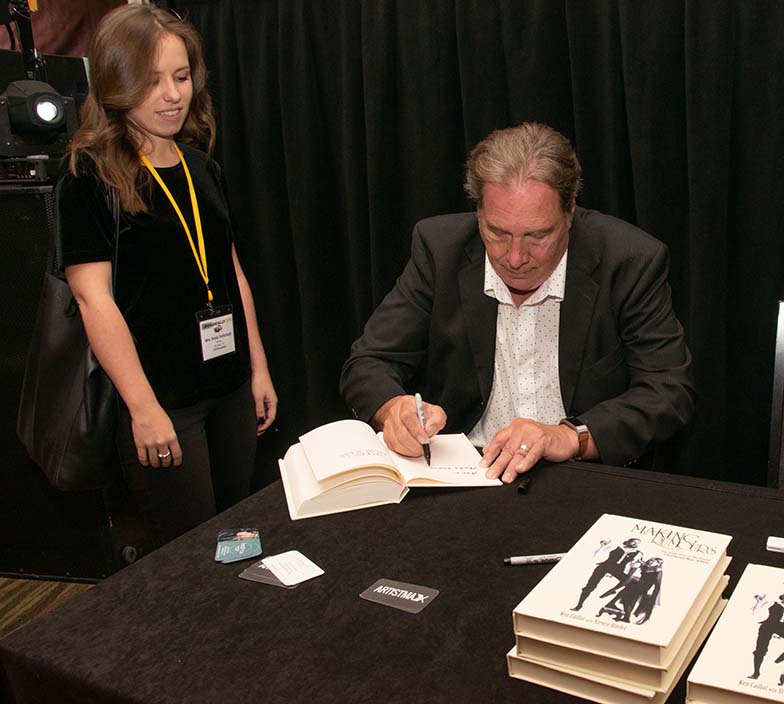 Ken Caillat signs a copy of his incredibly good book, Making Rumours for TAXI Member Anna Yarbrough.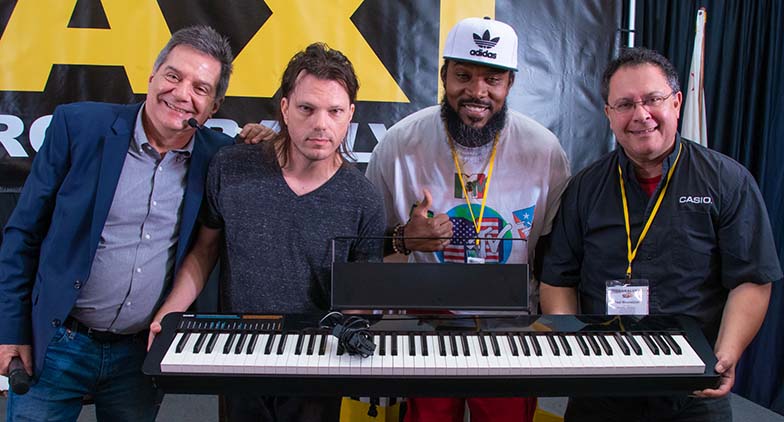 One of our lucky members (whose name we couldn't find, sorry!) won this awesome Casio Privia keyboard. We bet he had one heck of a time getting that on the plane as he headed home! He was joined on stage (left to right) by Michael Laskow, Tom Stillwagon, and Paul Mouradjin from Casio (far right).
"Well, as a Brit attending my first Road Rally, I do have a lot to say. My initial concern was, is it worth the expense, time and (in my case) horrendous jet lag? Without a doubt Yes it was! I had an amazing time, not only in meeting the friendliest, warm hearted, giving people that I've ever met, but just to be surrounded by musicians that are all striving for the same goal."
Mark Parr - Hove, United Kingdom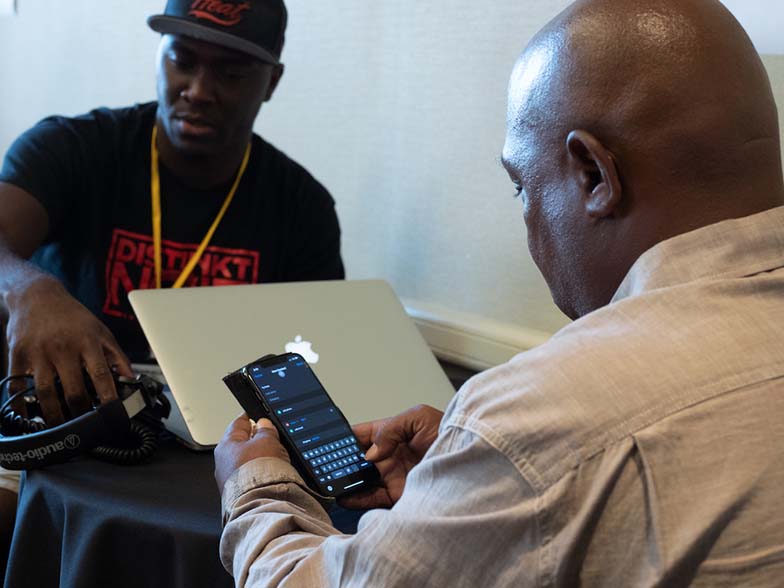 A&R person/producer Ty Knox gives some advice to a TAXI member during one of the One-to-One Mentor Sessions.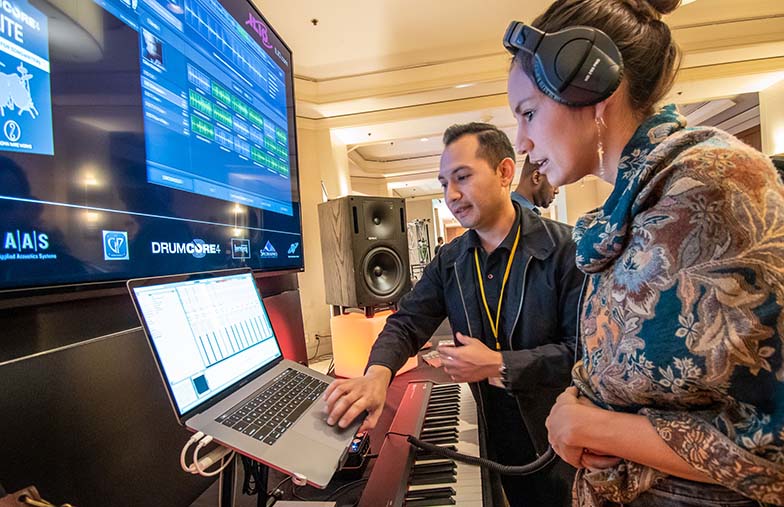 The ILIO booth always had lots of traffic, and for good reason: the products they featured were among the most popular in the business!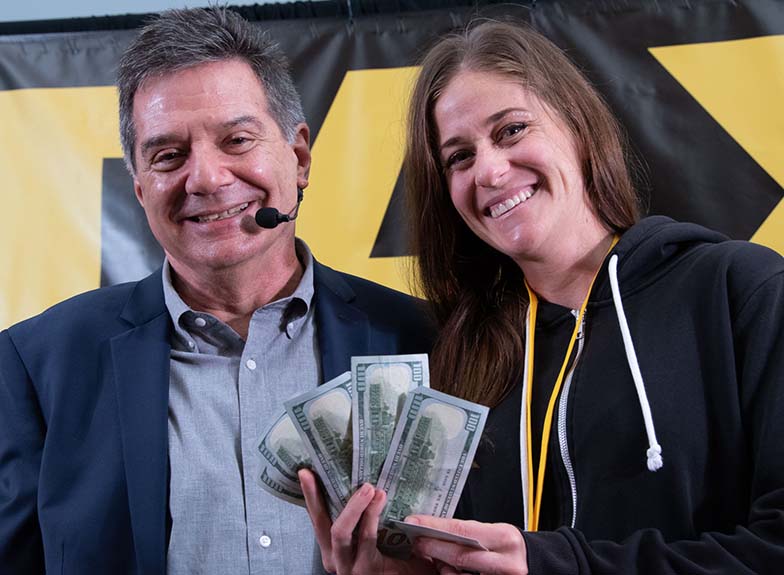 You'd think we would know the name of the person who won $500 in cash at the beginning of the Road Rally, but we can't see her badge. Believe it or not, we haven't yet memorized every member's name ;-) Congrats lady who is smiling!!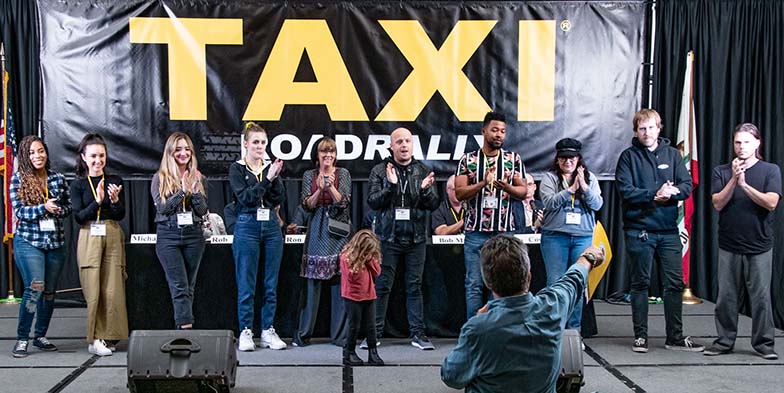 Michael called the staff up to the stage to take a bow and get a well-deserved standing ovation at the end of the Rally. From the left, they are: Angel Maradiaga, Angela Mukul, Ariana Cubillos Voegler, Briagha McTavish, Debra Laskow, Eric Anderson, Isaac Williams, Liz Cohen, Matt Hutchison, and Tom Stillwagon. We have no idea who that kid is, and how she got on stage ;-)
"Since I am trying to break into the sync world, I was hoping that I could actually meet music supervisors. (as an aside- I went to another sync conference a while back and it was difficult to actually meet anyone - a very long line to say hello for thirty seconds). Your luncheons - with music supervisors moving from table to table actually gave you a decent amount of time for a meet and greet. And although I am a bit shy talking to strangers initially, people were so friendly, I rose to the occasion. And not only did you seem to get an A+ group of music sups on the panels, every question that popped up in my head, you asked. I truly feel your conference is the best out there."
Lynda Levy - West Hollywood, CA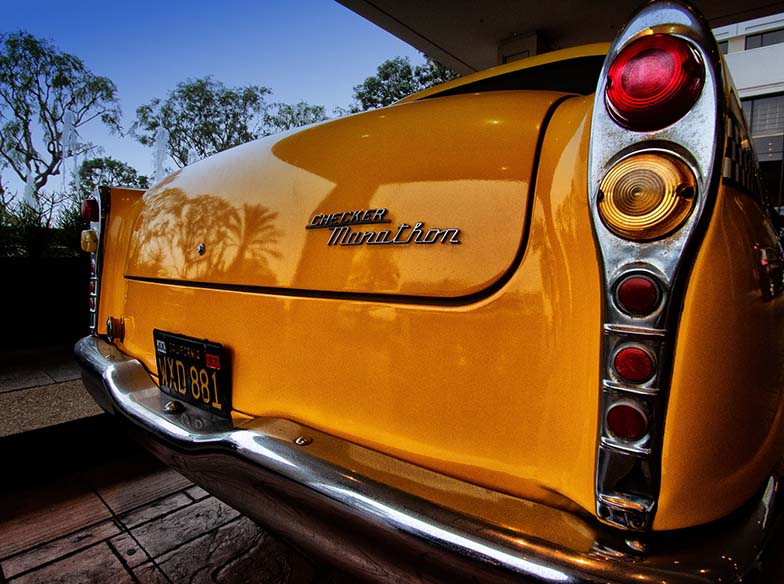 At the end of every TAXI Road Rally Photo Diary, we include a shot of our mascot, the 1968 Checker Marathon. This year is no different, except the reflection of the palm trees is in there to let you know that you missed an incredible weekend in California. We hope you join us next year!