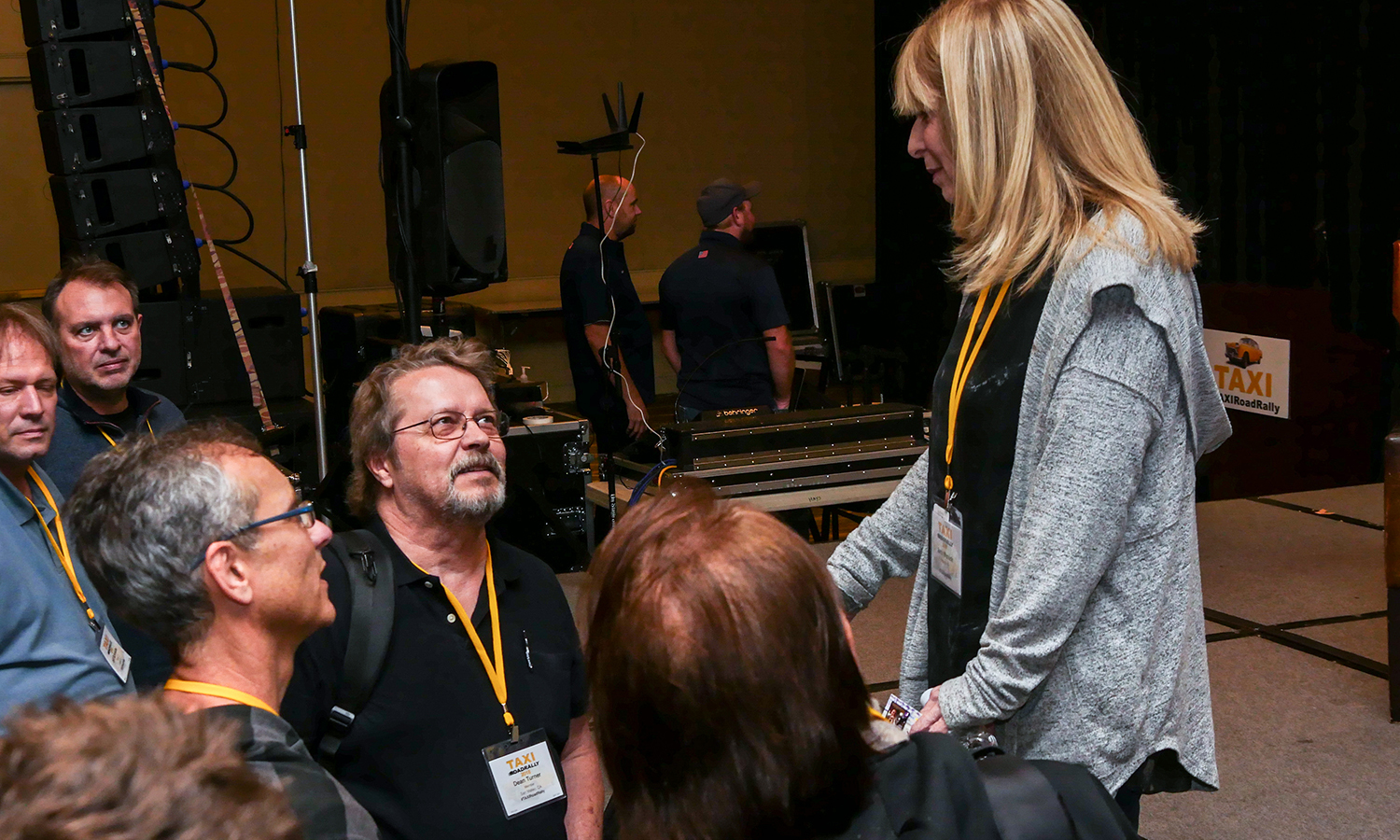 Beth Wernick taking time to meet some TAXI members after her panel.
Panelist: Beth Wernick
Interviewer: Michael Laskow
Editor's note: We've included Beth's bio again for context. We've also included a few paragraphs from part 2 of this interview at the beginning, also to give context to the discussion that follows.
Beth Wernick began her career in the music industry as a publicist in New York City, working with iconic recording artists like Tom Petty & the Heartbreakers, Fleetwood Mac, Heart, Ambrosia, Judy Collins, Tanya Tucker, KC and the Sunshine Band, War, and many others. After moving to Los Angeles, Beth worked at Rhino Records and later on co-founded Imaginary Friends Music Partners with singer/songwriters Stacy Robin & Donna Rawlins. Imaginary Friends is a one-stop, exclusive song catalog, which licenses the music of unsigned, Indy artists to TV shows, films, commercials, etc. In 19+ years of pitching songs, IFMP has had a wealth of placements, including regular uses on CBS's daytime drama, The Young & The Restless; ABC's Nashville and American Crime; Hallmark Movies; NBC's Nightshift, MTV's Siesta Key; the film The Bleeder; plus numerous reality series and films. Beth gives full credit to the truly gifted artists, bands and songwriters whose music she is honored to represent. We give credit to Beth for finding many of those artists through TAXI listings, and landing lots of placements for them. Ladies and gents, please give a warm welcome to Miss Beth Wernick!
Michael: I'm not exaggerating when I tell you that probably 80% of the stuff that doesn't make it past TAXI's A&R team is for that reason – it doesn't match the request that came in from the music supervisor or music library. And there's not a person in this room that would listen to what our screeners hear and disagree with their decision as to whether it matches the request or not. And you wonder why people would spend a five-dollar submission fee to send something that doesn't fit. Do they hear it differently than we do? Do they think that it's just so great that somebody is going to hear it and say, "It doesn't matter. It's not what we asked for, it's not what we need, but it's so awesome that we'll use it anyway." It's mind-blowing.
"When you get a placement, come from a place of gratitude."
Beth: Well, you know, I say all these things, but there was a time… I can never remember the name, but it was a big CBS TV show. The music supervisor on the show called me up and said, "Do you have anything like James Taylor?" And I said, "Yeah, I've got a guy who sounds exactly like James Taylor. And I go into the closet and pull out a CD, and I stood there and I went, "Why do they want James Taylor? That's '70s, really." And I go, "I've got this guy named Brad, not the same kind, but he's got his own little vibe." And I sent both. This was back in the day when people got CDs and they'd put them in the mail, which wasn't so fast. And I get the phone call like 24 hours later: "We love this Brad guy. How much money for the song?" I continue to tell this story because I'm talking about bringing your A-game. The song was fantastic, and they only used one song in every episode, and it was over a closing scene. You could hear it loud and clear. People were playing cards, and this great song was in the background. So I used that one time, you know. I just thought I'm gonna think a little out-of-the-box, maybe they will find him interesting.
Well, just to tell you, I think that when you get a placement, you should really, really, really have some sense of gratitude, because the odds aren't that great—it's tough. And the sweet guy that got that placement got interviewed by his city newspaper. And what most people don't know—because I spent many years in publicity—is that people grab every article out of every newspaper in the world and put it on the desk of the production company. They were very excited to interview this hometown boy who got this big song on this big TV show, and he proceeded to complain about how they edited it—I am not kidding you. I saw the article and I went out of my mind. I called him—he was driving in his car—and I said, "Pull over. Just pull over." He's like, "What, what?" And I said, "You did the #1 worst thing you could ever do. You did not come from a place of gratitude. This is the worst thing. Do you know that those clippings wind up on the executives' desk? There are no secrets." Did I ever work with him again? I was so mortified that he didn't thank them for the incredibly awesome job that they did cutting that song to work in that scene that made that boy a lot of money.
"When you don't get a placement. That's part of the business. Don't get forlorn, and don't get angry, and don't blame people, and don't blame yourself."
So I just ask all you guys, when you get a placement, come from a place of gratitude. I know it sounds hippy-dippy in these ages, but you need to know that it took a lot to get that in there. That was pretty special stuff, and when he comes from the place of ego, it serves no purpose.
From his perspective, they screwed with his artistic vision. And I understand why that can be hurtful to somebody, but you've got to understand the business side of the business.
Yeah. He should have said it was fantastic and wonderful. "Oh my God, I got my first placement of my life!"
It's the same thing I'm talking about. You bring your worst attitude to the picture. And, guys, believe me, I know; I've been sending music for years and years, and I don't love all of it. Or I take it on, and you don't get a placement. That's part of the business. Don't get forlorn, and don't get angry, and don't blame people, and don't blame yourself. It's a crapshoot.

Beth Wernick telling people how much she enjoys getting music placed in TV shows!
What you have to do is bring as much to the party as you can in terms of knowing
what they are looking for and knowing that you've given them a great product—or given me a great product—so that I can send it out there and find it a home, because nothing makes me happier. When I hear I've got a placement, like when the people from Hallmark called today and wanted the two WAV files, I was ecstatic. You know, it was like I can't wait to tell the guys, and I did. I texted right away and said, "Guess what! They asked for WAV files."
This is the truth I was talking about, especially in advertising, where they have a million suits in the room. But they chose the song that worked for everyone, meaning the music coordinator, the music supervisor, the editor, the producer, the director and the actor that showed up that day. You don't know what you're up against, and sometimes you get lucky and it's wonderful, and other times you get, "She sounds like my mom when she sings. I hate my mom. Take that song out." I swear to God, this stuff happens. So just don't take it so personally.
This is my least favorite story, but it's a big, true story. I call it "The Story About the Cursed Holiday Song," by Diana Weyman, who was a wonderful writer—she's not here [in the ballroom today], and I don't think she would mind. Everybody know Diana? She was such a terrific person. She asked a group of women who were songwriters to come to her home, and asked me if I would sit with them and listen to their music, and I thought, "There's nothing I'd rather do on my Saturday." So I went, and there weren't really any songs that were workable. But I gave them a challenge, and I said, "Why don't you take a public-domain song and give it your own spin? Play with it and I'll listen." Well, the only one in the whole group that did it was Diana. She did this amazing rendition of "Jingle Bells." She hired a singer with a great little, young voice, and it is the cutest song. They loved it for this Hallmark movie, and it got a placement. They sent me a license for two uses of it in the show. We were so happy and so excited. And the day of the final mix—which was like the day after I got the license—she had a family emergency and couldn't go to the studio. This really happened, people. The composer went in, took out the songs and put his score in. She called me—she was out of her mind. You know, she couldn't believe that this happened, but it was too late—they had locked the picture. He had just gone in and put his score in and made himself a little bit more money. He took money out of somebody else's pocket and broke their heart, and I had to pick up the phone and tell her. This was something that has never happened before in all the years I've been doing this. I can't believe somebody could do that, but she wasn't there that day, so it happened. And I call it "the Cursed Song," because—not that particular thing—but it got put into another Hallmark thing. She keeps trying to use it, because she's trying to make up for what happened a couple of years ago. And they pulled it out again, but they pulled it out for another reason. But she finally got a placement with it. She's got 10 seconds of that song coming up soon. So, Diana…
"[When you] get a placement... let people know when it's going to be on. You have to be your own publicity machine."
But these things can happen. You just don't know, and you have to be tough. I'm not saying prepare for the worst, just know that it's nothing you're doing. You bring in your A game and good things will happen.
Any other sage advice before we wrap this up?
You know, if leave you with anything, I know that it can be very disheartening to sit here and say, "All these things can go wrong." All these things can go right, and just to tell you… I can't remember if I have already said this here, but I work on The Young and the Restless. There are three song catalogs that are grandfathered into that show. They lost their budget for that, I don't know, like six or seven years ago, so it's all a royalties-only situation, with no more sync fees paid up front. And I was telling a young man I met out in the hallway that I looked at the cue sheets for April, May, and June, and we had over 300 placements. That's a lot. So it's not a bad thing to get on a show that doesn't give you money upfront.
Oh, I wanted to say this, too. So many times, you guys get a placement and you don't post about it. I mean, I didn't have the Internet when I was young. You can get yourself out there, post your songs, let people know when it's going to be on. You have to be your own publicity machine; I can't always do that for you. A lot of times with The Young and the Restless, I don't even know what's on that day. They don't have time to send me a list of the songs they used that week or something. And then I'll see people posting and going, "Oh, wow, my song was on the show today," and I go, "I wish I'd known; I would have said something."
"If you're bringing your A game, and you are really, really doing the homework, you're gonna get placements. Your songs will get heard."
But be your own publicist, be your own marching band, and just keep at it. Because you guys are here because you know you have talent. You didn't schlep all this way because you're not a songwriter. You are just here to get, you know, your craft. Get it together, and know that sometimes things will work against you, but if you're bringing your A game, and you are really, really doing the homework, you're gonna get placements. Your songs will get heard. And I am so grateful.
For everybody who thinks that people in the industry are a bunch of cold-hearted jerks that are out to hurt you or take advantage of you, I present to you, a woman that actually really, really deeply cares about the writers and artists that she works with. And frankly, you are more verbose about it than a lot of people.
"Nobody gets more excited than me when you get a placement. I get really excited, and it doesn't get old."
I was watching Frank and Shannon up here. All of the people I know in the industry are lovers of music, lovers of the craft of songwriting and great artists, and love a great vocal delivery. They do this because they are passionate about it, not because it's easy or it pays a fortune. Nobody's getting rich, but they do it because music is their life. So just know that you've got people out there that are working for you, and they are passionate in what they do. Take advantage of that in a good way.
Yeah. And I gotta tell you, guys, nobody gets more excited than me when you get a placement. I mean, you might get kinda more excited, but I get really excited, and it doesn't get old.
That's it?
Yeah, that's it. Thank you, guys, for coming out. Thank you!
We are done. Beth Wernick, ladies and gentlemen, the fairy godmother of music licensing.
Thank you!