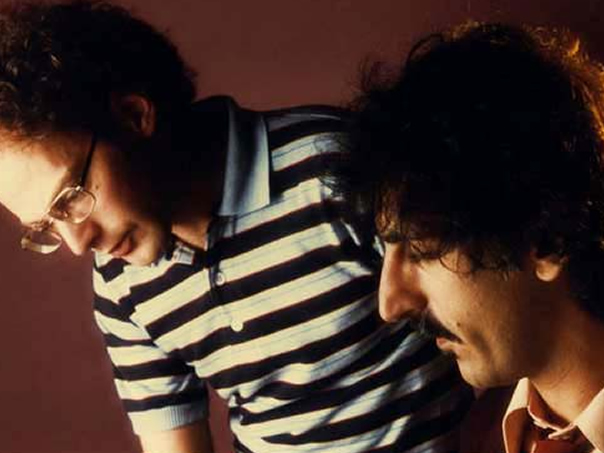 Richard Emmet and Frank Zappa
Stolen from Richard's Website: Richard Emmet has composed music for feature films, television, radio, commercials, multi-media, the concert stage, ballet, and more than 40 audio books. His music has been placed in dozens of TV shows, including FBI Criminal Pursuit, As the World Turns, One Life to Live, Sesame Street, Dog the Bounty Hunter, and Bravo's Fashion Show.
As a musician, Richard has performed in jazz orchestras, rock bands, chamber music groups, and Javanese gamelan ensembles on the east and west coasts.
In addition, Richard spent five years as an assistant to Frank Zappa.
Here is the second part of this inspiring, in-depth interview!
What would be your perfect life in the context of music, and do you feel like your progress in getting there is on track?
My perfect life would include having no need for a day job, more time for family, an occasional vacation, and ­– notwithstanding the "reality check" several paragraphs ahead – a scoring gig for a mystery/drama TV show, preferably with a writing partner. As for making progress (on any of these aspirations), I hope to have a better perspective in a year.
It's encouraging to see that you've got a clear vision for what your perfect life would be. Many people are more vague, and I think if you can't "see it" in your mind's eye, you can't achieve it. Do you have a favorite genre or genres that you like to work in?
I tend to work in genres that allow me, either in obvious or in clandestine ways, to utilize one or more of my primary musical influences. Specifically, those influences are the music of Bach, Beethoven, Mahler, Charles Ives (a visionary American composer), Jazz music, and Indonesian Gamelan music. Occasionally I'll find ways to tap into most of them in the course of one cue. Obviously, these music influences range from the recent past to the fairly ancient past. But much of the music today draws upon elements from earlier times, and it pays to be familiar with what came before to understand how we got to where we are today. Certainly a classic John Williams score wouldn't exist without Mahler, Wagner, Bruckner, and others paving the way.
"I knocked my head against the wall for way too long, and the wall always won."
Do you ever try to tackle any new genres, and if so, what's your process in becoming good enough that you're competitive?
If I see a TAXI listing or get a request for a new genre that appeals to me and seems like a good match for my abilities, I will definitely give it a shot. For example, the genre of "swamp music" doesn't exactly fit with my list of influences (hard to believe, I know), but I've written several swampy cues that are being used in shows.
I've always liked the genre often referred to as "bachelor pad" music. And the classic arrangements of Henry Mancini and Nelson Riddle, and the spy movies of the '60s and '70s also hold a special place in my heart. Here are a couple of links to cues that attempt to draw from those sources:
https://soundcloud.com/richard-emmet/midnight-carnival
https://soundcloud.com/richard-emmet/bounce
Various types of "world music" also appeal to me. Here's a recent piece featuring a Balinese Gamelan orchestra that begins to morph into some unexpected places:
https://soundcloud.com/richard-emmet/isle-beyond-my-way
And some Balkan-esque music:
https://soundcloud.com/richard-emmet/festive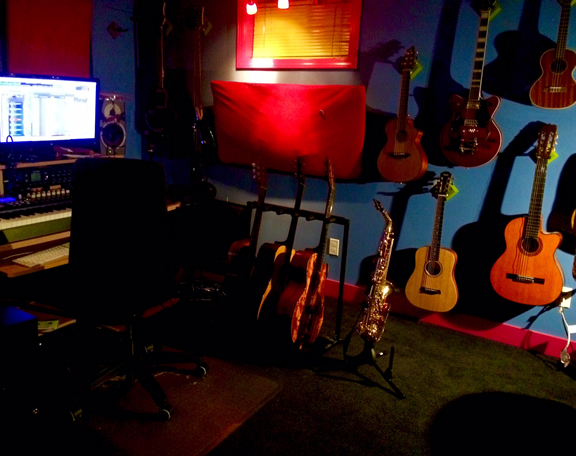 Richard's studio
Wow, your work is really impressive! It's instantly obvious that you're a talented, experienced composer and not somebody who is still figuring it all out! Do you have a preference as to creating cues for TV, doing instrumentals that are better suited for films, or do you gravitate to music for advertising?
For practical reasons, I tend to write instrumental cues geared for TV. The opportunities are more plentiful. I occasionally submit music for advertising listings, but while the payoff can be huge, the competition is also huge, and generally there can only be one winner. With TV, the odds of getting a placement are much more in your favor. But I don't mean to discourage anyone from submitting to advertising listings. I'll continue to do it when I think I may have a "winner"!
What does Richard the "grown-up," experienced composer know that you wish Richard "the rookie" could have learned earlier?
Funny you should ask. During my years living in Los Angeles, I put a lot of time and energy into finding work as a film composer. I filled notebooks with the names of studio and music department executives; I contacted them on a regular basis and sent out hundreds of demo tapes; I followed the trade papers and responded to new production announcements; and in general I knocked my head against the wall for way too long, and the wall always won.
Years later I joined TAXI and I learned two important things related to this topic:
It's all about the relationship. Talent and ambition aren't enough. Very little happens without relationships built on a foundation of friendship and trust. And I should mention that much of credit for this insight goes to Chuck Schlacter and the class he teaches at the Rally.
The other thing I learned was summed up in a story that you, Michael, told at the last Rally. You gave me permission to share it, so here is the story:
You brought a talented composer friend to meet the Executive VP of Music at a major studio. The executive told your friend he was a top-notch composer, and then he turned to you and said, "Now give him the bad news." The bad news (the "reality check") was that a major studio was highly unlikely to give a scoring gig to an unknown and untested composer, no matter how talented. Too much is at stake to take the risk. A composer without a track record needs to work his or her way up to indie films, bigger films, and eventually major films, often starting out under the tutelage of a more experienced and successful composer.
And that brings me right back to the first point. It's all about the relationships you make. Those are two things I wish I'd known.
Do you pay attention to what the industry seems to need in the context of what you're good at creating, or do you just create and hope the music eventually finds a home?
For the most part, I write in response to either a TAXI listing or to a request from a music library that I've got a relationship with. Both entities serve as leading indicators regarding what the industry is looking for, and the listings and requests usually include specific and tangible opportunities.
On the other hand, I sometimes create cues just for fun or to try new ideas, and I can usually find a TAXI listing or a library I can submit them to. Here are two recent examples:
https://soundcloud.com/richard-emmet/eyes-of-the-hourglass
https://soundcloud.com/richard-emmet/reflections-in-a-teacup
Your love of composing really shines through in every piece you write. The quality is stunning! Tell us about your studio. What are the main pieces of gear and software?
I have a Mac-based studio with Digital Performer as the main composing/recording/mixing software. I invest regularly in sample libraries because they keep getting better and because the bar keeps getting higher. I also have 15 guitars of various types, sizes, and ethnic origins, an alto sax, and assorted other odds and ends.
Is there anything you couldn't live without?
Certainly the computer is at the top of the "must-have" list. The ability to compose, record, mix, and master inside the box is an amazing opportunity and privilege. I remember the first time I heard a Yamaha DX7 mimic the sound of a harp glissando. I thought it was the most exciting musical development in my lifetime. I never could have imagined how far we'd come over the next 35 years.
I also had a similar DX7 experience and made the same observation. It might not be as important as the day JFK was assassinated or the moon landing, but it was a turning point in how music is created. How do you approach creating a new piece of music?
It depends on what type of music I set out to write, which to my chagrin is not always the music that eventually results. If I already have an idea for the structure, I can construct certain elements that help define the structure but don't commit me to decisions I'm not ready to make. For example, I might create a percussion bed, and perhaps a harmonic progression, but I'll leave the melody-writing for later. Other times, I'll begin with certain melodic ideas and build the background orchestration layer by layer to support it.
For ambient, free form music, my approach is often similar to sculpting in clay. I'll create many layers of intriguing sounds and when I can't think of anything more to add, I'll begin pealing away the layers in different combinations in order to discover what enchanting gems (if any) may be revealed.
"It's all about the relationship. Talent and ambition aren't enough. Very little happens without relationships built on a foundation of friendship and trust."
Do you go through phases where you land on a genre, then stick with it for a while, or do you go where the muse takes you?
I'm not a fast writer, and most pieces involve a certain amount to struggle to complete. So by the time a cue is finished, I'm usually ready to move on to something different.
How often do you collaborate?
Quite a lot! It's one of the benefits of being a TAXI member that I hadn't originally anticipated.
That makes two of us! Is most of your collaboration done in person or remotely?
Almost all of it is done remotely. I've collaborated with TAXI members in the USA, England, New Zealand, the Bahamas, France, and elsewhere.
I've never been to "elsewhere," but when I finally get there, I hope you and I can hang out for a day, lol. How have you met the people you collaborate with?
As you know, the TAXI community is a large extended family of talented and friendly writers and musicians. It would take a real effort not to find people to collaborate with. In the process of meeting TAXI members at the Rally, on the Forum, and through other means, I naturally found people with complementary skill sets, similar interests, and an openness to working together.
Most of my collaborations involve songwriting as opposed to instrumental writing. I'll point to two examples. The first is a lullaby that I originally wrote as an instrumental (which TAXI didn't forward because the bell sounds were too jarring!). But I liked it and thought it would make a lovely song for young children. So I emailed TAXI member and prolific lyricist FM Cossey in New Zealand and asked if she'd like to collaborate. I sent her the basic backing track, and when I woke up the next morning, the lyrics were waiting for me. I asked another frequent collaborator, Juliet Lyons in the Bahamas, if she'd sing and record the vocals. This is the result:
https://soundcloud.com/richard-emmet/drift-away
A collaboration with TAXI member Steve Guiles resulted in Silent Chains, which was recently placed in a network TV show, Kevin (Probably) Saves the World.
https://soundcloud.com/richard-emmet/silent-chains
Both of those are incredibly strong, and they also make a great case for using TAXI for all that it offers, not only for pitching music. The fact that you've been able to connect and collaborate with such talented co-conspirators through the TAXI Forum and the Road Rally is value that is hard to explain to somebody who isn't part of the "TAXI family" yet. What caused you to become part of TAXI when you first joined?
I think I went to hear you speak about TAXI at an event in Portland in the '90s. Am I imagining that you came to Portland?
I remember that night very well. There was a deeply disturbed gentleman from Portland who had been faxing my family and me death threats for months, so I had to hire off-duty Portland P.D. detectives as my bodyguards for that gig. The guy killed himself, sadly. Yep, I'll always remember that speaking gig in Portland.
Well, there's some behind-the-scenes info on that event that I didn't know about! In any case, after years of wrestling with my "music dilemma," i.e., trying to find a way to make it work, the pieces just fell into place, the fog lifted, and it became obvious that I should join TAXI.
Were you a TAXI skeptic at first or had you researched it enough that you felt pretty safe going in?
I don't think I did much research. I went in Zen-like with few expectations, so I completely bypassed any sense of skepticism. I was open to discovering what lay ahead. So I joined, and I'm glad I did.
As am I! So many people view TAXI as merely a vehicle to get music to publishers, music supervisors, and record labels, and nothing more. You've been part of the TAXI family long enough to see it for all that it is. What has TAXI done for you beyond merely introducing you to the people and companies that have signed your music?
Besides being a vehicle that's gotten my music into the stream of commerce and generated regular income, TAXI has changed my life in many ways. Through the Forum, the TAXI TV shows, and of course, the yearly Rally, TAXI has been an enormous educational resource. When I think of all the things I've learned – about contracts, licensing, composing for TV, how the industry works, recording, mixing, producing, songwriting, the social aspects of achieving success, and the list goes on – I marvel at how one organization can offer so much, and to a large extent for free.
But there's more! The friendships, positive energy, mutual support, and cohesive spirit are hallmarks of the TAXI community. I don't know if this was TAXI's original intention, but it is a direct reflection of the commitment, hard work, vision, and mindset of you, your family, and the incredible TAXI staff.
Lastly, joining TAXI has helped reconnect me to Los Angeles, which I miss in so many ways.
Don't miss the final part of this interview in next month's TAXI Transmitter!
Check out Richard's website!