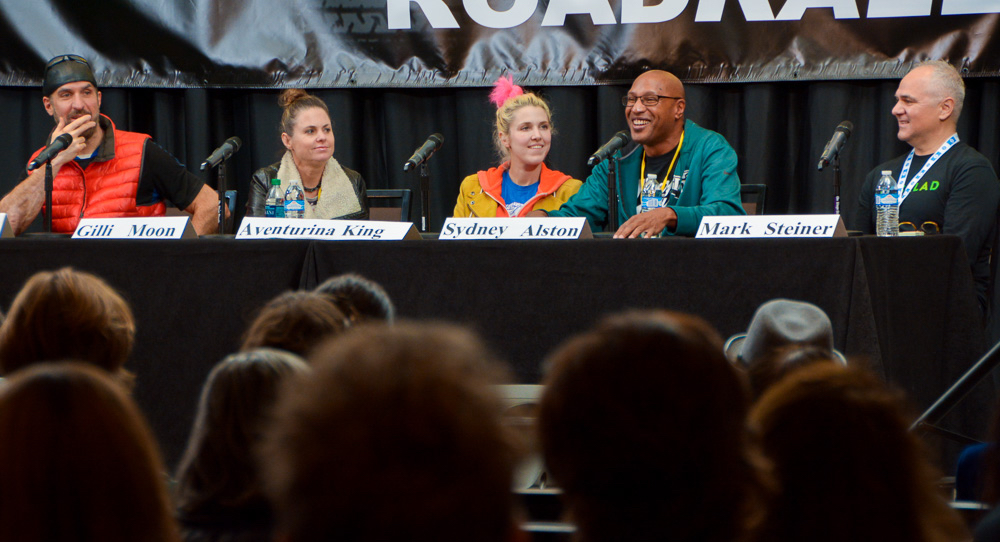 (left to right) Bobby Borg, Gilli Moon, AventurinaKing, and Mark Steiner (far right) during the Success Is Not An Accident panel at the 2017 TAXI Road Rally.
Panelists: Bobby Borg, Gilli Moon, Aventurina King, Sydney Alston, Mark Steiner
Moderator: Michael Laskow
We've included the panelists' bios again for people who might not have read the earlier parts of this interview and aren't familiar with the folks we're speaking with. —Ed.

Bobby Borg is a former major label, independent, and DIY recording/touring artist with over 25 years experience working along side the most respected managers, producers, and A&R executives in the music industry. He served as the VP of Special Events for the Los Angeles chapter of the American Marketing Association, and as Chairman of Music Business at Musician's Institute in Hollywood, California. A recipient of UCLA Extension's Distinguished Instructor of the Year Award, Borg teaches DIY music marketing, music publishing, and general music business classes both online and on-campus and he speaks regularly at Berklee College of Music and other distinguished schools worldwide. Borg is the author of Music Marketing For The DIY Musician, Business Basics For Musicians, and over 1,000 magazine and blog articles for Billboard.com, Hypebot, SonicBids, Music Connection, Disc Makers, BandZoogle, and more. He is the founder of Bobby Borg Consulting, where he assists rising music professionals, globally. He lives in Los Angeles.
Gilli Moon is a singer, songwriter, artist, and producer. She has worked with highly respected artists such as Simple Minds, Placido Domingo, Eric Idle and will.i.am, and is a songwriting award winner in the Netherlands, U.S., and Australia. Her songs have been featured in independent films and network U.S. television programs, and she has released six albums. She is the President of Songsalive! (a nonprofit songwriters organization), CEO of record label Warrior Girl Music, and a certified professional coach. She has three books out, the most recent of which are, Just Get Out There and The 360 Degree Songwriter.
Aventurina King is a singer/songwriter/producer working in both Los Angeles and China. Before moving to Los Angeles one year ago, she worked in China as an artist and TV personality, during which time she appeared on every single national TV platform and graced the pages of Cosmo Bride and the Chinese New York Times equivalent. Since her move to LA, she has written and sung two entire albums for Warner Brothers Production Music, and her songs have been synched in an upcoming Disney movie, as well as a videogame. She just got a cut with South Korea's biggest girl's band of the moment, Red Velvet, for their next album under S&M entertainment. Recently, she's begun releasing her own songs as an artist, one of which was recently featured on Spotify's "Fresh Finds" playlist.
Sydney Alston has 20-plus years of experience in all facets of the music business, which has made him an in-demand music resource for artists in Los Angeles and around the country. In 2001, he was hired by Disc Makers, the industry leader in CD and DVD Manufacturing, and quickly rose through the ranks and became the first executive in the Los Angeles branch of Disc Makers, representing all the AVL brands including cdbaby, and Merch.ly. Sydney started his career as a touring musician, and then opened a management company where he represents artists and producers. As a manager, Sydney has set up many Major Label and Publishing showcases with companies like Universal, Warner Brothers, Sony, etc. He has been responsible for getting multiple record label and publishing deals. As a direct result of his efforts, he was responsible for developing 16-year-old Major Myjah, and getting him signed to a lucrative recording contract with Warner Brothers records in 2014. One of the producers he works with, Frederik Thaae, produced a song that won the Eurovision award for "best song" which propelled Frederik and Emily Deforester's song, Only Tear Drops to Number One in 11 countries.
Mark Steiner is the CEO and co-founder of GigSalad, the most diverse booking platform nationwide. His career in the entertainment industry has spanned more than thirty years, including a decades-long stint booking talent for performing arts centers, festivals, and concerts through the agency he founded.
"It really takes a long-term commitment, and I can tell you many people who have failed and almost quit, and are now successful because they kept on going."-Bobby Borg
Bobby, give me three good reasons why 99% of acts trying to succeed don't. And how can they overcome their obstacles? I know that's enough to fill a book, and we don't have that much time. But what are the top three things? Because 99% of people never get to live that dream.
Bobby: Well, I could take this in so many different directions, so I'm gonna take a minute and think about the most common ones that I've come across. I would probably say, not necessarily in order, but definitely one of them is the fact that people are in such a rush. You know, "Give me the 1-800 number for success so I can just call them up and get this over with, OK?" We heard Gilli's story. She's been around forever.
Gilli: So have you! [laughter]
Bobby: Exactly! We're gonna get to that in a minute. But just to be clear, I meant that as a huge compliment. She is so hardworking, and it wasn't like, "I'll come out here to LA and just try it for six months, and if this America thing doesn't work out, I'll go back home to Australia." She has really, really been working hard, and I think that's what it takes. And myself, you know, same thing, I started at a very young age and just kept on going. And I had some moments where I just wanted to quit, but I just kept on going. But a lot of people just want the quick fix, the quick answer. With that, then you're just gambling. If I buy the lotto ticket, if I win, I win; if not, I'm going home. So, it really takes a long-term commitment, and I can tell you that I've met many people who have failed and almost quit, but are now successful because they kept on going.
Here's a great example… a true story! I was out at a party hanging out with someone. I didn't know who it was; it turned out to be Matt LeBlanc, who played Joey on Friends. He was a friend of my friend from Boston. He was a really nice guy, but it was just at the beginning of Friends, and he wasn't really happening yet. He told me that he was faced with the decision that he was either going to go back home or sell his motorcycle to pay rent—or go on to this one audition, and that one audition happened to be Friends. And that was after several years of him really trying and just sticking through it. This one event changed his life. So number one, you have to be in it. A lot of people bail before they really should. You just to have to hang in there.
The second thing is that unfortunately people write and live in a bubble. So that basically means they often think, "Let me just go in my room and just write whatever I want from the heart, and then I'm gonna put it out there and everyone is gonna love me." I think it's really, really important to look at this from a business perspective, and to look outside yourself, and really hold onto your vision. But then ask yourself whether or not that vision represents any profitable marketing opportunity in the world. In other words, what's going on around us, what is currently being done, and where might there be a niche that works for your vision?
I think Aventurina's example of going to China, and maybe thinking, "I'm going to be the only white girl with blonde hair, and that's going to make me stand out and be unique." I don't know if that was actually a strategy, but I think stuff like that is brilliant. Because, in the crowded marketplace that we live in, you have to have something that's going to make you stand out. So the second thing is that people just write and create in a bubble, and they hope it's going to work out. But as I've said on this panel before, hope is not a strategy.
The third thing is that I often speak with people who are doctors, that are lawyers, and they tell me that they want success now. And I ask them, "How long did it take for you to become a lawyer? How long did it take for you to be doctor—10, 15 years to build your practice? So what makes you think that you're just gonna walk in and you're gonna find success for your music in a week or a weekend, or a seminar? It might take 15 years to build your career at this as well. And doesn't mean that during that time you can't be making money, you can't be surviving, you can't be having fun. But again, it just requires discipline and looking at this like ever other kind of business. You have to put in your time; you have to build the skills; you have to build the connections.
So those three things I think are really important. They are obvious things, it's not groundbreaking stuff, but they are the mistakes I see constantly with people I meet and speak with.
"Time is valuable to me, and I have to think very carefully how I use that time. And I've actually been achieving way more in short amounts of time now than I used to."-Gilli Moon
I get it. Geez, if I could have a private jet next week by buying a lottery ticket, sure. But what are the odds? Go with the better odds, and the better odds are always in favor of people who just work hard.
There's a great cartoon somebody posted on the TAXI Forum recently. It's a guy digging a horizontal tunnel, and he's about six inches away from hitting the pot of gold on the other side of the dirt. And the caption says something like, "Don't give up too soon." You never know, but you'll never get there if you give up. I've said this a thousand times: "The last guy on the field wins the game every time." It's that simple. You've got to be able to hang in there. If you're not crying yourself to sleep out of abject fear every now and then, you're probably not working hard enough.
Mark: One last thing I want to point out to you as well. Make sure that you are careful that you are not doing that sort of within our blind ego, like, "I'm just gonna keep on going, and I know one day I'm gonna make it." The definition of insanity is doing the same thing over and over again expecting different results.
Aventurina: There's a book that helped me to change my attitude towards artistry and make it a little bit more sustainable. It's called Big Magic by Elizabeth Gilbert that helped me a lot.
Gilli, how many kids do you have now?
Gilli: My best project that I ever did was having what I thought was going to be one child and I had twins, and they are now four.
So how does an indie musician who needs to tour, work the kind of hours that we're talking about, have incredible dedication, how do they balance that with a family?
G: Good question, and I've had to wrestle with that. So fortunately, I decided to wait as long as I could before having a family. I was on the road all the time for 15 years. I've traveled the country; I've traveled Europe and Asia, and back and forth, with bigger artists, or with just myself with the guys in the van with a band. I've done all of that, and I loved it. I loved that era of my life. That is where I built my fan base, where I built my mini-empire, in a way, as an independent artist. But the time came where I didn't want to do that anymore, as much I had done. And you get to a point where you don't want to keep doing the same thing expecting different results. You actually need to change as a human being anyway. The best thing that ever happened to me was getting married and having children, because it took my focus away from all the me-me-me. Because, believe me, it was all about me; I was like this is Gilli Moon, it's a thing, and having children grounded me. But obviously, especially raising twins, it does take the wind out of your sails. You feel like the walls have sort of tumbled around you. And I'm sure the men and women in this room can feel the similarity of how you balance the two.
Fortunately, the music business has changed. I didn't realize that I don't actually need to be touring all the time anymore. I have just done a deal in London, where they don't care that I'm on the road at all, because the whole game is about getting to the top of the Spotify playlist. I can be in my pajamas in my living room, making my music in the time that I want to, when I put the kids down. And I can be making money every month doing that, and being at the top of the charts, which is what I'm working on.
It's a whole different business, and it's happening now right in the perfect timing when I don't want to have to be on the road. The balancing of that is hard. It's like time management, and it always has been, whether you are balancing a day job and gigs, or whether you are balancing just being a businessperson as well as the artist. All of that, then you add family on it, you have to be really particular with your time, and then you get really focused. You do stay focused, like if I have that Sunday night from 8pm to 11pm, I've got to use that wisely. Those three magical hours they are sleeping, and I've got to think, how can I take advantage of that time? Whereas before, I had plenty of time and I didn't care so much. Now, time is valuable to me, and I have to think very carefully how I use that time. And I've actually been achieving way more in short amounts of time now than I used to.
And by the way, I've spent a few years not focusing so much on the music, even though it's happening. And more things were happening because I wasn't pushing and focusing on it, which is a great thing to remember. When you are pushing, pushing, pushing, or you want it, want it, want it, all you get is like a lot of want and push. But when you are able to step back—which I had to because I'm raising babies—I was out there, been out there, and energy was working for me. And that's really my new way of operating. I don't know if that helps.
"As I've said on this panel before, hope is not a strategy.."-Bobby Borg
Yeah, it's very helpful. And frankly, let's call it what it is. You're sitting on this panel today because you've clamed your approach down a little bit—I've got to admit, it was working against you. I always respected your tenacity—don't ever get me wrong about that. I appreciated it and respected it, but it was that moment when your approach was less in-my-face that I finally responded, and here you are!
G: It's actually true, because my whole thing was, "Gilli Moon, here I am," and I'm not that anymore. I'm being like more "Om" with the universe, and it's actually working better for me. I'm hoping that can help anyone in this room. You don't need to push so hard, you just have to make the right decisions and be very specific with what you want.
Don't miss the final part of this in-depth panel in next month's TAXI Transmitter!