How can a single weekend at a music conference really be "life-changing"?
While searching for that headline quote from Adriana Lycette, we came across some other quotes that might convince you to make this the year you get off your couch and come to the music conference that's not only the best large-scale event of it's kind, it's also the only one that's FREE!
It's "life-changing" because it makes dreams come true, and that's hard to find anywhere, except maybe in Disney movies.
Not believin' it?
We live in such a cynical time that some musicians can't believe there's a place where you can learn how make music the industry wants, how to present it in the best possible way, and then bring you face-to-face with the people who neeed it. That place exists, and it's called the TAXI Road Rally.
This year's Rally is just slightly more than a month away. So the time to act is now! Not a few weeks from now when you can use the excuse, "I couldn't get the two week advance price on my plane ticket. I guess I'll go next year."
You need to reserve your spot now, and one for a friend or your spouse. And yes, both your Road Rally tickets are free... absolutley FREE!
You'll Feel at Home, Really!
Even if you're shy about meeting new people or feeling uncomfortable at large events, you'll still feel like you've found your new "family" at the Rally! Frankly, we didn't plan it that way, but that's how it's turned out.
You'll make friends and collaborators you'll ending up keeping for life. It will probably happen before you're done going through the registration line! We know that sounds hard to believe, but anbody who's ever been to a Road Rally would tell you that!
Why is the Rally life-changing? Because that dream you've had your entire life... the one about having millions of people hear your music and earning some income with it... yep, that dream – that's the dream that comes true for so many people who've been part of the Road Rally over the last 20 years.
Even if you suck at schmoozing...
"Even if you suck at schmoozing you'd still get a ton out of the Rally. I honestly believe if everybody knew what they were missing by not attending the Rally, they would start saving up TODAY for next year."
- Matt Hirt
"What if my music isn't ready?"
"Will the Rally be a waste of my time if my music isn't 'ready?' I almost didn't go to the Road Rally this year because I didn't feel ready and professional enough. I decided to go anyway, and I'm so glad I did. Not only did I make some incredible contacts, but also I came home feeling much more professional and knowledgeable about the industry and my own direction as an artist. Thanks again for opening so many doors for me!"
- Celia Rose
"I'm probably too old. The music industry is for young people."
Look closely at the people in the photo below. Young, old, black, white, veteran members, brand-new members, and people from nations all over the world come together at the Rally! It's the most diverse and welcoming "family" of musicians you'll probably ever be a part of!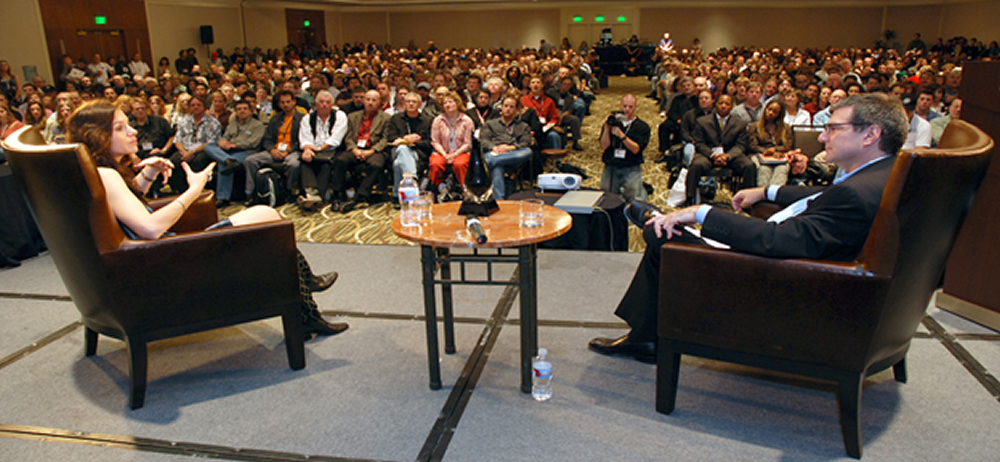 People joke that the Rally is like a "cult," and we're pretty sure they mean that in the best possible way. We promise not to hold you against your will when it's over, although people get really bummed out when it's time to go home. Imagine that!
What do jaded industry professionals think?
"I'm skeptical of any service that offers to help musicians 'make it'... so I didn't know what to expect... 90% of [the TAXI Road Rally] was the most focused, specific, high-quality advice I've ever seen distributed in a seminar format.

I almost never come away from anything like this even remotely impressed, let alone enough to write an editor's letter about it. I now believe that for anyone who starts with a baseline of motivation and talent, a year in TAXI and one visit to the Road Rally will do more for you then ten NAMM shows worth of schmoozing..."
-Stephen Fortner, Editor, Keyboard Magazine
"I just returned home last night from my first Road Rally. I learned more in three days about the business of music than I have from 45 years in playing bars. It was great, I loved it, and I will be back next year."
-Dean Brittain
"The TAXI Road Rally is the best conference I have ever been to for musicians looking to become better at songwriting, performing, networking, and marketing."
- Ariel Hyatt
What does everybody else think?
"Thank you all for welcoming me (us) with open arms... it really feels like being part of an amazing family... And to the new members... follow the plan... don't get down... keep creating and trust your path and the process. Go 'all-in' with TAXI. Try the listings, get on TAXI TV, GET ON/STAY ON these forums... they are priceless. AND FOR THE LOVE OF GOD GET TO NEXT YEAR'S RALLY. It is an impossible event to describe... and trust me, despite what any of us say, it will far surpass your expectations."
- Adriana Lycette
What happens at the Rally is nothing short of magic, and in my case, life-changing. If you've frequented the Forums and TAXI TV, you now get to put real faces to the names of the people you've chatted with. And if you were using the Peer-to-Peer section of the Forums, now a lot of these people have even heard your music. When you get to the Rally, if you've used all the tools TAXI offers, it's the Super Bowl."
- Marcus Cohen
"Many relationships began for me at the Rally, not only with fellow members, but also with music library owners and publishers who eventually signed my music. The Rally is free with your TAXI membership, and it's a chance for you network with so many other like-minded people in the business. It's amazing! I would not have any of the success I have had so far without the TAXI Road Rally. It's a no-brainer in my opinion, if you're serious about your career."
- Robbie Hancock
"The Road Rally, I cannot recommend highly enough. It is fun, and informative. It's free. You should check how much similar industry events around the country cost. For somebody who lives in Santa Fe, or Peoria, as you often say, you might not have much of a chance to meet that many people who are making money from their music in the same place at the same time. You can have your pieces played and live critiqued in front of industry pros and they might ask to take home a copy of something they like."
- Andy Gabrys
"Do what you need to in order to attend the Road Rally in November. It is an information gold mine, an amazing social atmosphere and a major motivator."
- Paul Croteau
"I have made more contacts in the industry and made several deals from people I've met at the Rally. Not to mention the friends I've made. I have to say that I look forward to the Rally so much every year. I look forward to seeing friends from not only all over the country, but from many parts of the globe.

It's hard to describe in words. You just have to experience it for yourself. When you start hearing people on the forum talking about the upcoming Road Rally – months in advance – you begin to understand why people go through withdrawal anticipating the next Rally."
- Steve Barden
"The TAXI Road Rally is an extremely energizing experience for everyone including artists, songwriters, and composers. So many contacts are made at the Rally, and there is so much to learn. Attending the Rally can be a career-changing weekend. You really can't put a price on this. Attending the Rally is an investment, not an expense. Place a priority on this and make it happen."
- Russell Landwehr
Are you ready to join us now?
We're still a couple more days away from publishing the final schedule, but you can click here to get a great idea of all the life-changing things you can learn, and the people you can meet at the Road Rally.
Where else can learn about songwriting, film and TV composing, music licensing, recording, production, and mixing techniques, the music business, music law, publishing, vocal techniques, pitching your music, how music supervisors choose music, how video editors use it, and experience music industry networking that is unparalleled at any other large-scale music industry convention?
Where else can you meet top Hollywood music supervisors, music library owners, music attorneys, collaborators, multi-platinum, Grammy-winning record producers, hit songwriters, and music business experts from virtually every aspect of the music industry, and meet them all for free?
The TAXI Road Rally is all of that, as well as being highly motivational, and above all, just plain fun!
Sometimes in life, you just have to take the plunge and just jump in with both feet. This is one of those times. See you at the Rally!