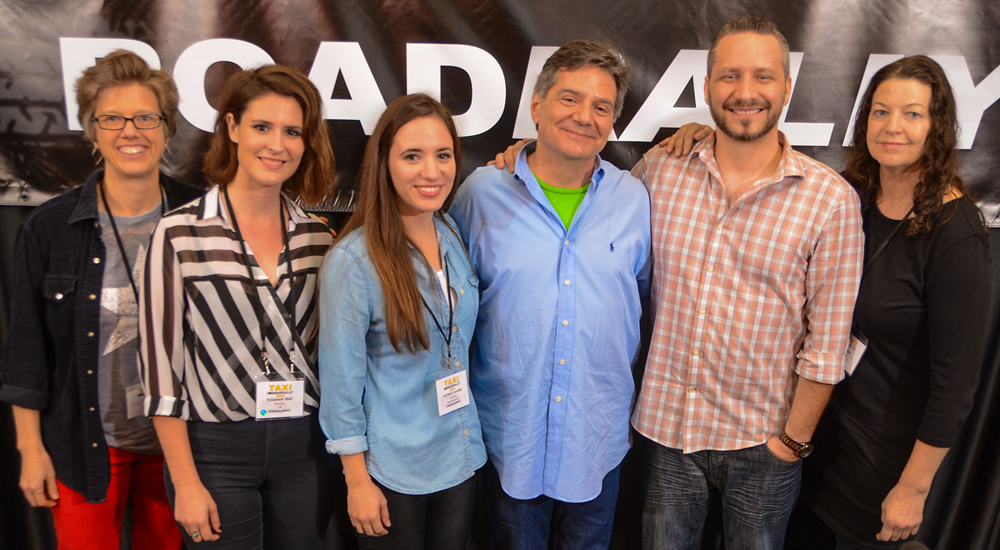 Happy campers all! The panelists pose for a group shot after their highly informative panel at Road Rally 2016. From left to right: CK Barlow, Elizabeth Anne Mall, Adriana Lycette, Michael Laskow, Doug Fenske, and Patty Boss.
Panelists: Carla Kay Barlow, Elizabeth Anne Mall, Adriana Lycette, Doug Fenske, and Patty Boss.
Moderated by Michael Laskow
Editor's note: This is the final chapter of this highly informative four part series. The panelists' bios are repeated for background and continuity.
CK Barlow's work appears daily on television, including placements on ABC, CBS, NBC, BBC, CNN, HBO, Bravo, MTV, NatGeo, VH1, etc., plus national ad campaigns. Her background includes extensive indie rock and experimental electronics performance plus a master's degree in music theory and composition. Her specialties in indie rock guitar, intricate electronica, and dramedy reflect that background. She has created music for dozens of indie film and theater projects, including the feature films Warrior Woman (2011) and Roswell FM (2014). In addition to composing, she teaches music technology at both the University of NM and Montgomery College (Rockville, MD).
Elizabeth Anne Mall is a classically trained musician who grew up in Kansas and learned to play piano at 12-years old. Drawing from pop, classical, and electronic influences, Elizabeth creates a unique musical experience. Her songs range from cutting-edge indie-pop to thoughtful piano ballads. The title of her new album Belle Laide is taken from a French term used to describe unconventional beauty. Elizabeth responded to a TAXI listing, which resulted in her meeting Grammy-Winning, multi-platinum engineer/producer/mixer Rob Chiarelli at the 2015 TAXI Road Rally. She's now signed to his production company, The Usual Suspects. Elizabeth engineered her record in her home studio, and Chiarelli mixed it.
Adriana Lycette is a multi-instrumentalist recording artist currently based in Indianapolis, Indiana. Her first self-titled independent album was released in 2003, and she has continued writing and performing ever since. Over the past 10 years she has gained experience working with musicians and engaging audiences as a music leader of various church congregations, both small and large, and in both English and Spanish. Adriana is currently writing for film and TV, actively collaborating with other artists/producers on various projects, including instrumental tracks, singer/songwriter songs, and artist cuts.
Doug Fenske is a Grammy-nominated, multi-platinum engineer/producer/mixer. He has worked in Los Angeles, CA, since 2005 and has been involved in several aspects of record production. Fenske has worked on a string of commercially and critically successful albums, including Frank Ocean's Channel Orange, Chris Brown's Exclusive [The FOREVER Edition], Jamie Foxx's Intuition, and Jordin Sparks's Jordin Sparks. His production experience includes collaborations with some of the music industry's most elite artists, writers, producers and engineers. Doug now serves as Director of Education at Crē•8 Music Academy in Hollywood.

Patty Boss composes music for television, including national feature scoring credits for Emmy winner Bay Windows in San Francisco. Her music plays on CBS, Fox, CNN Special Report, CBS Sports Spectacular, MTV, Bravo, National Geographic Channel, Entertainment Television (E!), TLC, Oxygen Network, TV-One, FYI Network, History Channel, H2, Travel Channel, VH1, etc. She has held roles as Audio Lead and Composer for Leapfrog Inc., Composition Guest Lecturer at New College, San Francisco, Broadcast Mixer for CurrentTV, music production for XBOX advertising; EA Games sound design credits for The Sims, & The Urbz; Keyboard and backing vocalist for several touring bands. She holds a degree from Berklee College of Music, Boston, and she's got a Master of Arts, piano principle.
That's been another theme of this weekend's Road Rally. I think from the very beginning of the Rally, simplicity has come up over and over and over again. And I couldn't agree more. You could take a ukulele and literally do nothing but a triad on, just doing on downbeats … and all of a sudden, the song takes on a different character. Nobody's gonna judge you for your virtuosity or lack thereof on a ukulele if it's not a Don Ho song.
CK: In the realm of EDM, Steven Baird, the last presenter, made a brilliant point about when you're writing TV cues versus when you're writing artist pieces; that you don't want to go over the top. You actually just want to use the sounds that are known definitively—EDM or whatever genre—therefore you set up a template; you don't spend the time, you don't spend the effort programming anything like that.
I want to touch on ear-training; we haven't really talked about that. I don't think that you can easily become good or great at any of the stuff if you don't spend time as a listener. And I'm not talking about a listener in the conversational sense, but a listener to whatever it is that you're trying to accomplish—whichever genre. Did all of you find that that was part of your pathway, sitting down and going, "Oh, I just need to understand what they did, and then figure out how to do it"?
Adriana: Yeah, totally. It's one thing to be working on a mix and listening to it over and over and over, and your ears get tired, and you get to this point where you think it sounds really good, and then you submit, and it says returned because it's not broadcast-quality.
What I started doing is finding reference tracks on my own—or using the reference tracks from the listing—and listening to it back-to-back, importing it into iTunes. Listen to the overall level. Like, is there a huge volume difference? Just listening to the sound of the guitars or the sound of the drums, and really trying to be as objective as possible. That's as great of a teacher as going to a course on mixing, because you are hearing it yourself. And of course, stepping away is sometimes a good thing. But, yeah, that's a huge thing. I know Rob Chiarelli; he has his go-to songs that he talks about, his favorite mixes, and he's constantly saying that too.
"You have to have the guts to ask the question."C.K. Barlow
I remember working with this 19-year-old pain-in-the-ass kid back in the '80s, and every time I would turn an equalizer to like plus-two, it was like, "Why'd you do that?" Because I wanted it to sound brighter. "Why?" "Because I wanted it to stick out in the mix a little more." "Why?" That was Rob Chiarelli!
CK: Wow. Yeah, and that's how you do it. You have to have the guts to ask the question. You do!
Hey, Rob, I'm guessing you're in here. Did you bring a copy of "Mom to the Prom" to play for us this year? I want to make him play it on the next panel!
You started to say something about ear-training and listening.
CK: Super quick thing, Sample Magic AB?
Elizabeth: Yes, there's a plug-in that you can get. If you don't buy any plug-ins, buy this plug-in. It's like 50 bucks and it's made by Sample Magic and it's called AB…
CK: And it lets you import your reference track. I use Logic Environment and some tricky programming in the background that gives me a big button to push that instantly switches between my mix and the reference track that I have on a specially routed track. But if you don't have that, you can buy Sample Magic AB. It lets you load in a reference track and then instantly switch between that and your mix, and you can just check and check and check. No single thing has helped my mixes more than that.
Elizabeth: Yeah, what CK is talking about is a free way to do it, and she sent it to me in an email one time, and I was using it for a while. It's just something that works in Logic. It's basically something somebody kind of programmed in Logic—a little added thing that's free. But I did that for a while, then I realized that there was this plug-in that you can buy. And I'm not usually trying to advocate that people spend money on things, but it's really true that—like Adriana was saying—having a reference track in iTunes that you can play your track, and then you go to iTunes, or whatever, and you play that, and you're comparing. The problem sometimes with this is, are you sure that the volumes are…? There's the mix and then there's the volume of the application. You know what I'm saying? How do you know it's consistent? So it's really true that having… And I don't mean necessarily a reference track for, "Oh, this is the kind of song that the listing is asking for." I'm not talking about that kind of reference, but more like a sonic mix. Like, "This track I know is similar kind of music—similar instrumentation— and it has the sonic quality I need to get to."
Let's talk about that. Doug, can you address that issue that you can't compare apples and oranges when you're looking for loudness? So if you had an acoustic singer/songwriter track that's maybe got doubled acoustic guitars, maybe one electric in there, maybe an acoustic piano, bass, drums. And you're comparing it; you want it to sound like stuff on the radio does. But you are comparing it—not necessarily to an EDM track, but something where the instrumentation isn't all that close. Maybe the other piece has dueling electric guitars doing chunkas on the rhythm parts left and right.
Doug: I think it's important to address loudness at the proper time during the production process.
When is that?
Doug: During mastering. If you guys import a master file that you downloaded from iTunes or ripped from a CD or whatever, and you are A/B'ing your mix against that master, you are competing with an entirely separate production process—a record that's been mastered already. There has been additional EQ and compression and limiting added to that. And then here I am ripping my hair out because I can't match my mix to the master record, right?
"Whatever you are afraid, of attack it. Turn it into a strength and go to the next thing that you're afraid of, and eventually you're going to build core skills."Doug Fenske
Maybe the single most asked question. My entire career at TAXI, maybe the single most-asked question is, "Why doesn't my stuff sound slick or glossy, like the stuff on the radio?" That's a great point you just made, because you are comparing something that's been through that process by a highly paid professional, and they're not there yet.
Doug: And not only that, after you get to them, as you guys may or may not know, then we have big limiters again, because there are broadcast regulations about how loud you can broadcast things. And it's government stuff and we certainly don't want to disobey them. So it hits another big series of limiters before that, right? So if you guys are really judging loudness… As long as your signal and the noise is healthy and adequate during the mixing stage, it's gonna be fine. You can address loudness when you get to the mastering stage.
If you're looking for certain tonal characteristics that you can get out of a compressor or out EQ during the mixing process, it's certainly OK to reference other records from that perspective. But you just don't try and shape a mastered record when you're mixing for loudness, you're just going to spin your wheels.
CK: And when you're doing CDs it's not always chasing a mastered record.
Patty: Yeah, Doug's making a really good point, because I'm doing instrumental cues for TV. I used to do a separate step to master, and I found out for different reasons that I'm not doing that anymore, because the result is kind of similar. Doing cues for television is a different sort of end product than maybe something that ends up on the radio. And you are totally right about the professional mastering process. We're kind of almost talking about different types of end use for music and different processes. So mastering is the whole step that will make it really loud for radio, and for artist it's gonna be a different type of process and different steps for radio play. And then there are cues for TV… There is a distinction.
I want to go down the line and have each of you, in a sentence—which I know is tough to do… By the way, I'm springing this on them; they don't know. But if there is any one thing you can say to inspire the people in this room who have been afraid to become engineers, to become producers, and get themselves out of the cage, what would your advice be? CK?
CK: The only difference between you and the people up here is time and effort. Standing between you and anything you want to accomplish are two things: time and effort. Period. It's not intelligence, it's just time and effort.
Great advice. [applause] Standing O for CK. Elizabeth:
Elizabeth: I would say I think TAXI members especially need to carry perseverance of the time and effort, and a humility and willingness to learn. The lack of the willingness to learn is something that I have seen definitely stop some people. But have that open attitude and that willingness to try new things and burn the cookies—as she said—is something that's going to set you above the rest if you are willing to go there. [applause]
Adriana: I would say don't be intimidated, don't be afraid to ask questions, and utilize the resources that you have at TAXI. [applause]
I'm a little astounded, slightly embarrassed and very humbled by the fact that the name TAXI has come up so often. I did not ask anybody to plug TAXI, did I? Except for Doug, like a hundred times. See, there you go. Doug, what would your inspirational thought of the day be?
Doug: I would say… I mean, I spoke a little about drive earlier, and you certainly need to have that. But in order to push yourself forward— because drive without a desire to push yourself forward really doesn't get you anywhere. In order to push yourself forward aggressively attack what you fear the most. When you open up FM8 and you are totally lost and you just want to be able to make a synth pad, well then go back and understand synthesis and then open it up. If you are terrified by drum programming, pull up Battery, or whatever, and rehearse. Maybe import a two-track of your favorite record or whatever, and the re-program the drums behind it. Whatever you are afraid, of attack it. Turn it into a strength and go to the next thing that you're afraid of, and eventually you're going to build core skills. [applause]
And now you know why I'm impressed with Cre-8 Music Academy. That's the energy that you feel when you walk in the place. It's awesome. Patty?
Patty: It's kind of like Doug was just indicating. His advice has to do with confidence. So everybody in this room as a unique thumbprint…fingerprint. Just stop comparing yourself to other people: "Oh, that person makes it better," or "That person has more songs." There is nobody here that has the same conditions, that has the same life situations, same abilities, talents, or education. So just pick the next thing in your path when you're like, "Well, I need to actually … I'm afraid to open up GarageBand and hit the 'record' button … I'm afraid to do that." Just pick the next thing that you feel like you need to learn and figure out how to do the simplest thing and give yourself a little assignment: "I am going to spend one hour tonight after dinner, and I'm going to open this app and I'm going to do something new. I'm going to try to use, not just the EQ preset, but I'm gonna play with it." Just keep giving yourself little assignments that are doable within the amount of time that you have, and then when you're done, you'll have … And that's how you grow; it's just a little process of … And that has everything to do with confidence.
Don't be afraid to burn the cookies.
Patty: Just burn your cookies, it's okay.
With that, thank you all very much. CK Barlow, Elizabeth Anne Mall, Adriana Lisette, Doug Fenske, and Patty Voss, thank you guys for showing everybody the Path.