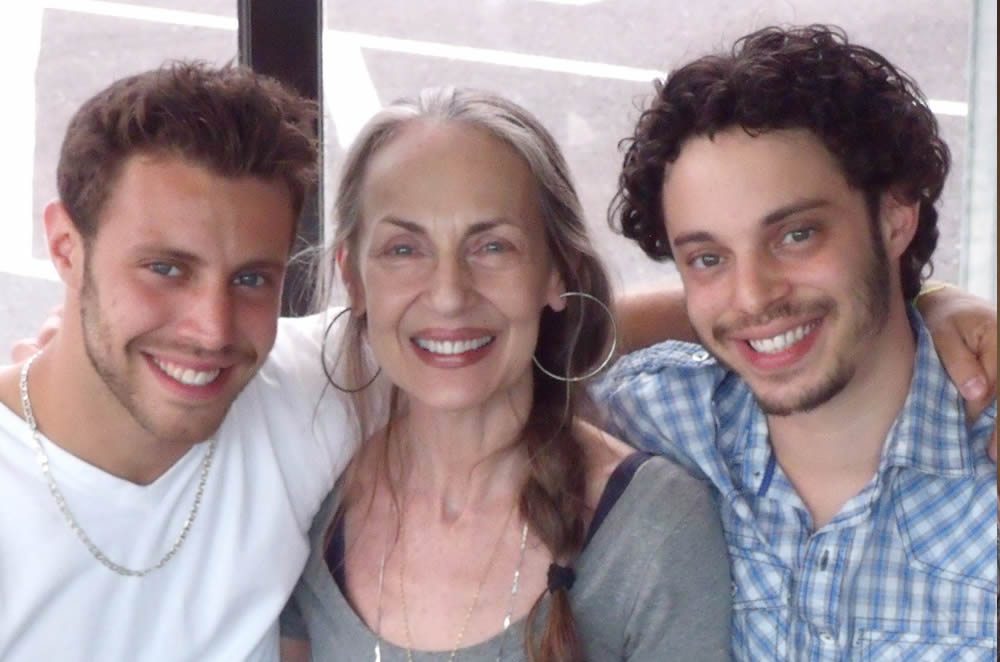 Marcus Cohen (right), with his brother Ethan and mom, Sherry.
Where did you grow up?
I grew up just a few minutes outside of Atlantic City, NJ. The town is called Absecon.
Where do you live now?
I live outside Philadelphia now – just about around the same area since 1997.
What kind of music did you grow up listening to?
Both of my parents were working Jazz musicians, so I was always around fantastic music: a lot of Jazz/R&B/Soul/Funk. Grover Washington, Jr., Stevie Wonder, Dave Sanborn, Michael Franks, Tower of Power, Earth Wind & Fire, and of course Michael Jackson, just to name a few. My parents had quite a record collection, Some of it was even on cassette. In the early '90s I really got into Hip-Hop, 2Pac, A Tribe Called Quest, Nas, Wu-Tang, Snoop, and Dre, etc. I absolutely loved it. The way they used words just changed my life. My mom and I would sit and listen to 2Pac together and just be amazed. And the differences. The Jazz of Tribe and Funk of Dre. Nas' amazing words and later the vocabulary of Canibus and Eminem. I fell in love with Hip-Hop then, and started writing predominantly conscious Rap songs for a while.
How old were you when you picked up your first musical instrument and what was it?
My mom always had her piano in the house. A little heavy to pick up, I found out the hard way (insert rimshot for corny Marcus joke here), but I took lessons on it when I was around five- or six-years old, with a couple of different teachers. I had one recital and then of course promptly quit, turning my focus to Karate at the time.
How old were you when you wrote your first song?
Probably around 1993, so I was probably about 10 at the time. I may have dabbled before that, but that was about the time I found my voice, and my passion for music and singing really ignited around then. Funny enough, the movie Sister Act 2 was really what helped me realize what I wanted to do and be. As I got older, I tried to find opportunities to do music wherever I could find them. My first high school music connection was singing hooks for a Wu-Tang style Rap group. I take it you can guess where that went. Then I found a pair of like-minded individuals and we started a Rap group. I wrote just Rap for a while after that.
What else do you play, as of now?
I still only play the keyboards, and am actually pretty mediocre at best (Shhh, don't tell anyone. Oh wait … too late). Everything I produce comes from my MIDI Keyboard Controller, from bass lines, to live drums (for which I also use pads), to horns and pianos, and everything in between. So I like to think I play many instruments, as I definitely put on a different hat while playing each. But they still all come from one keyboard.
Frankly, I'd never guess that! What's your day gig?
Music is my full-time gig. I have been running my own private recording studio/production house out of my home since 2001. I record and produce for all kinds of artists and musicians. I've had many gigs in the music business, from working in recording studios, to singing and engineering for different cover bands, to live television broadcasting, as well as years of live sound, granting me the amazing privilege to meet and work with some of the biggest acts in the world. I've enjoyed quite an exciting career, mainly because I refused to do anything else. Around 2010, I pretty much dropped a lot of the extra things I was doing, for fear I was spreading myself a bit too thin. I decided to focus 100% on my studio at that time.
So, you came well-prepared when you joined TAXI?
I did indeed. I already had a pretty extensive catalog of Urban instrumentals that were available non-exclusively.
Speaking of which, how did you first hear about TAXI?
A friend, who's also a business connection of mine had some success placing his cues on reality TV, and told me I should probably do the same, to have another outlet for instrumentals.
How long have you been a member?
At that point (maybe 2011-2012 I think), my friend wanted to sponsor my membership so we could continue to get cues placed. I started receiving all the TAXI emails with the industry listings, but to be perfectly honest, I was not really focused enough on it at that time. I then decided to join seriously on December 21, 2016, on the day my second son Myles was born.
What made you decide to join?
Just a little bit before that, my mother and I had decided to merge our two businesses into one, and begin working together on a new venture. Around this time, I really started noticing the TAXI listings again. They were juicy, and seemed to be calling to me. So I began pestering my mother and brother about joining and writing music in response to the listings as a way of staying focused and working together on new music. So, instead of sitting down in the studio and saying, "What do you want to work on today," it became, "Let's work on this today." The two of them split the cost of the membership as a Christmas present for me.
What did you expect from TAXI, and how has the overall experience lined up with those expectations?
I expected that the music we were creating would move and shake its way into the right hands one way or another. Some of it was tougher than I expected, even being in the industry a while, and yet a lot of it was way more fun than I ever expected. I would say things have lined up pretty darn well. I'm happy. My expectations are being met and exceeded daily as I (we) journey through the licensing world.
Tell us about your relationship with your mother, Sherry Marcus Milano. Obviously, she's your mom, but I mean in the musical aspect, and what the two of you do together at WeWillWriteUaSong.com.
About the time my mother got pregnant with me, she had decided (through faith and inspiration) to transition from performer/songwriter to jingle writing/producing. She became THE go-to jingle producer in Atlantic City, and was very successful through the '80s and '90s — at one point even having more music on the radio than Michael Jackson! It always inspired me, and proved that a musical path could take you through your life.
"Instead of sitting down in the studio and saying, 'What do you want to work on today,' it became, 'Let's work on this today.'"
I love hearing stores like that because I'm a big believer in musicians making a living through their craft, just like anybody else who invests the time and effort to learn and trade or skill. What happened next?
Around mid-2016, we decided to merge our two worlds into one parent company, and start getting back to what we loved doing rather than just what could be lucrative at the time. She turned her back on a pretty impressive political career, and decided to thrust herself back into her passion for music, and she did it with me. We started the website, joined TAXI, and began writing strictly from inspiration. The website was a way to connect with lots of different people musically, and apply what we did best as needed. Some people need lyrics, some need to put a poem to music, or turn words into a full song. We wanted to be a site where people with no musical talent, or tons of experience could both visit and find what they were looking for rather quickly.
We also started writing some really cool, very different, eclectic, inspirational stuff at first. Merging the styles of Jazz and Funk and R&B and Hip-Hop and Ambient in a way we hadn't really heard before. The songs were great, but the styles and focus were a little scattered in the very beginning, as we weren't really sure what our intentions were with the music. We just knew that we were having fun and enjoyed doing what we did best.
At this point my mother and I are business partners and best friends. We have very specific visions for where our business is going, and our beliefs and intentions are very strong and aligned. There isn't a single decision we don't run by each other, and we are dedicated to being students of our craft, continuously learning and growing.
How much of what you create is done with her?
At this point I'd say about half, maybe a bit more. A lot of the lyrics for the vocal songs are written by both of us. We bounce ideas off of each other a lot and come up with stuff we both like. Some I have written alone, usually because of short deadlines or genres, and some she has written the lyrics for while I was creating the music. She is a lyrical genius, and I can say honestly, one of the greatest songwriters I have ever heard. She has quite a musical past, and can drop quite a few names, although rarely does. Maybe one day you can interview her about it.
I'd love to! Do you guys do stuff separately from each other?
Yes. She also runs the other side of our business, which includes talent management and promotion and live shows. So, when she's not writing, she's moving and shaking the world for her artists. I also still run the studio a lot of the time. As far as music, yes we do songs and cues separately as well. As I said before, sometimes requests with very short deadlines come in, and I have to act fast. Also, I do most of the Urban instrumentals alone, whenever time allows. She also writes cues, although I am usually producing. But she's signed her own songs and cues to libraries as well, and has a huge library of her own of vintage songs and instrumentals that vintage labels just drool over.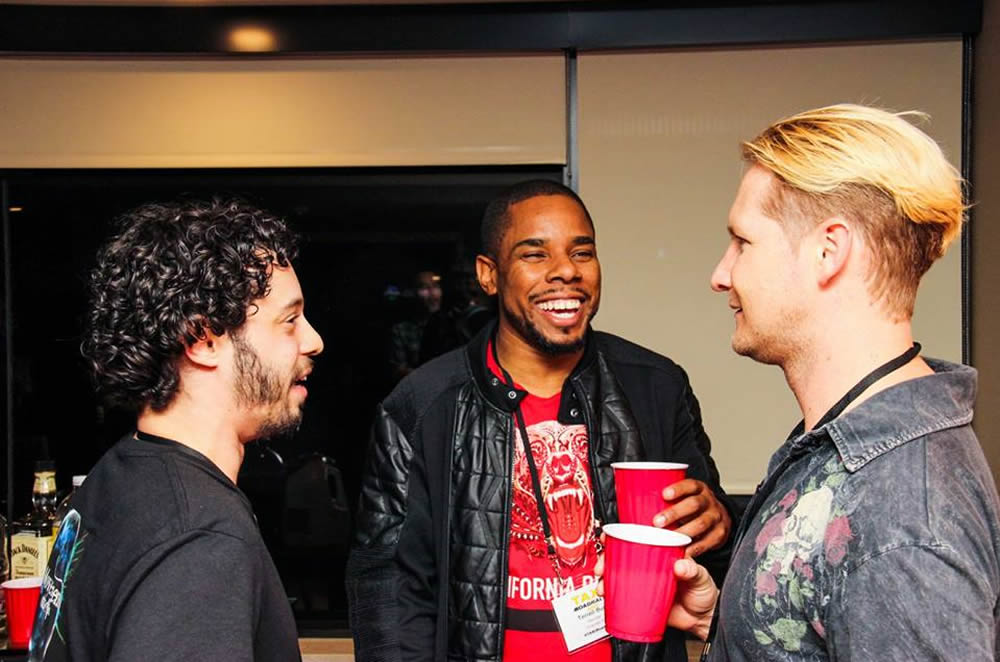 Marcus Cohen (left) with his friends and collaborators, Terrell Burt (center) and Matthew Vander Boegh, at the TAXI Road Rally.
Do you ever feel like you're cheating on her? Maybe that's too oedipal?
Not really, no. We do enough music together to keep us quite full. Collaboration is super fun, and a way to reach outside the box and expand. As a collaborator herself, she always encouraged me to write with as many artists and composers as possible, because new things are created when different minds come together. She also understands the need to get music out fast and furious, the same way I understand her having to be at a concert for one of her artists.
And how about your brother Ethan? Why haven't we met him yet? From what I've seen, he's not connected to your TAXI world, or did I just miss that?
When we started using TAXI, he was quite connected to us. He was instrumental (pun intended) in some of our first Forwards. He is a prodigy on guitar. In my opinion, one of the best I've ever heard. So he was our resident guitar player. A lot of our stuff would start with a riff he'd come up with on the spot. He'd also be able to take a track we started and just add that perfect flavor to it to finish it off. He is also a very inspired vocal arranger, and can put together some beautifully layered harmonies. We are very close and have such fun working on music together, usually laughing ourselves into headaches. Not long after that, though, he started touring the world singing and playing guitar, at first in another band, and then with his own band that he fronts called The Funky T. His passion is definitely performing. He's still touring currently, but will be back in about four months, and plans to hang around a while this time. I'm sure you will be hearing much more from him and his trusty axe in 2018.
And where did your alter ego or stage name, CaiNo BeaTZ come from?
No alter ego. Just a nickname that stuck. CaiNo is something I was called as early as elementary school, because of my last name. I mentioned my father was a performer, and his stage name is Steve Cain. So all my life I was Marcus Cain. It turned out my father didn't properly/legally change his name, so much later in life it became a bit of a hassle for my brother and myself (he is still Ethan Cain). Anyway, through school I became known as CaiNo. And I had a brief Rap career in the early 2000s known as CaiNo from the duo CoNCePT. We had a couple of songs on the radio and major label interest, but it was the time of Lil John and club rap was real big. We weren't really willing to conform to the industry so it sort of fizzled out. I started producing for artists as CaiNo BeaTZ, and continue to produce instrumentals under this handle, as some industry insiders may still recognize that name. My artist name for vocal songs is just CaiNo. I was asked before if it meant anything, and many years ago came up with the acronym of: Creative abundant inspiration Never oppressed.
Are you married or in a relationship?
I am married. My wife, Marielle, and I are about to celebrate our nine-year wedding anniversary, and we've been together for almost 15 years.
Congratulations on that!
Fun fact – I was able to sign an older song that I wrote, and my wife sang lead vocals for. We signed it to a Vintage Label since the song was recorded back in 2003. You hear that? 2003 is now "vintage!" [laughter]

And you've got two sons, right?
Yeah, two boys. Mason is five and Myles is one.

How do you balance your work and family?
Very carefully, haha. I do my best. My wife understands, and totally holds the fort down. I just know that the more I crank out now, the better. I try to start very early in the morning, sometimes as early as 6:30 a.m., and that enables me to finish early most days to spend some time with her and the boys. I'm working towards something. She sees that, and she believes in me. It doesn't mean she wouldn't rather have me around more during the day, or be able to go on vacation every now and then, but it's all coming. I have a vision that I am feverishly working toward.
Don't miss Part Two in next month's TAXI Transmitter!