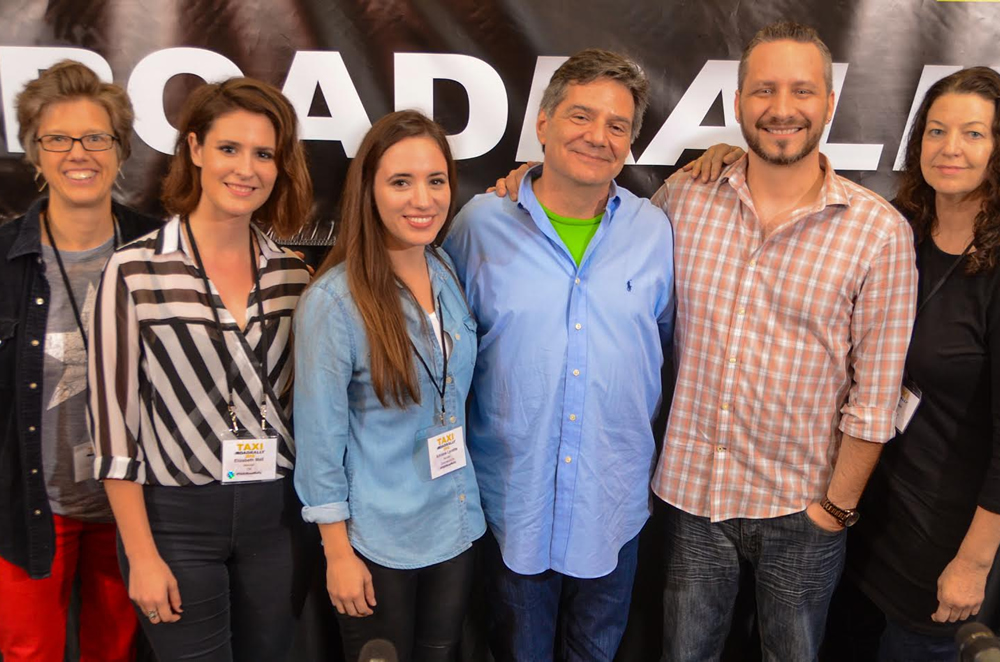 (Left to Right) CK Barlow, Elizabeth Anne Mall, Adriana Lycette, Michael Laskow, Doug Fenske, and Patty Boss line up for a group shot after their panel, Getting Comfortable With Production.
Panelists: Carla Kay Barlow, Elizabeth Anne Mall, Adriana Lycette, Doug Fenske, and Patty Boss.
Moderated by Michael Laskow
The original idea for this panel was spawned by the fact that I have four daughters, and I want them to be anything they want to be in life.
With that in mind, I've anecdotally observed that there are many more men involved in recording and production than women, and I'd like to see everybody who wants to be able to produce their music to be able to do so!
That imbalance is evident in the purchases of audio gear, home studio ownership, and even recording and production-based magazine readership. Even the TAXI TV viewership is heavily skewed toward men.
There are varying opinions as to the genesis of this imbalance, but I don't want to get into that discussion here today. This isn't the right venue, we don't have the time, and the purpose of this panel is to encourage and empower people—no matter what their gender— to learn how to record and produce their own material so they can move forward much faster.
Nobody's career in music should be held back because they can't record their own material. The gear has become much better, much less expensive, and much easier to use than ever before, and I've invited these awesome panelists to join us because they are all terrific examples of what can be accomplished when you simply jump into it.
Speaking of jumping into it, let's meet our panelists!
CK Barlow's work appears daily on television, including placements on ABC, CBS, NBC, BBC, CNN, HBO, Bravo, MTV, NatGeo, VH1, etc., plus national ad campaigns. Her background includes extensive indie rock and experimental electronics performance plus a master's degree in music theory and composition. Her specialties in indie rock guitar, intricate electronica, and dramedy reflect that background. She has created music for dozens of indie film and theater projects, including the feature films Warrior Woman (2011) and Roswell FM (2014). In addition to composing, she teaches music technology at both the University of NM and Montgomery College (Rockville, MD).
Elizabeth Anne Mall is a classically trained musician who grew up in Kansas and learned to play piano at 12-years old. Drawing from pop, classical, and electronic influences, Elizabeth creates a unique musical experience. Her songs range from cutting-edge indie-pop to thoughtful piano ballads. The title of her new album Belle Laide is taken from a French term used to describe unconventional beauty. Elizabeth responded to a TAXI listing, which resulted in her meeting Grammy-Winning, multi-platinum engineer/producer/mixer Rob Chiarelli at the 2015 TAXI Road Rally. She's now signed to his production company, The Usual Suspects. Elizabeth engineered her record in her home studio, and Chiarelli mixed it. Ladies and gents, please welcome Elizabeth Anne Mall.
Adriana Lycette is a multi-instrumentalist recording artist currently based in Indianapolis, Indiana. Her first self-titled independent album was released in 2003, and she has continued writing and performing ever since. Over the past 10 years she has gained experience working with musicians and engaging audiences as a music leader of various church congregations, both small and large, and in both English and Spanish. Adriana is currently writing for film and TV, actively collaborating with other artists/producers on various projects, including instrumental tracks, singer/songwriter songs, and artist cuts. I'm happy to welcome Adriana Lycette to the panel.
Doug Fenske is a Grammy-nominated, multi-platinum engineer/producer/mixer. He has worked in Los Angeles, CA, since 2005 and has been involved in several aspects of record production. Fenske has worked on a string of commercially and critically successful albums, including Frank Ocean's Channel Orange, Chris Brown's Exclusive [The FOREVER Edition], Jamie Foxx's Intuition, and Jordin Sparks's Jordin Sparks. His production experience includes collaborations with some of the music industry's most elite artists, writers, producers and engineers. Doug now serves as Director of Education at Crē•8 Music Academy in Hollywood. Please give it up for Doug Fenske!
Patty Boss composes music for television, including national feature scoring credits for Emmy winner Bay Windows in San Francisco. Her music plays on CBS, Fox, CNN Special Report, CBS Sports Spectacular, MTV, Bravo, National Geographic Channel, Entertainment Television (E!), TLC, Oxygen Network, TV-One, FYI Network, History Channel, H2, Travel Channel, VH1, etc. She has held roles as Audio Lead and Composer for Leapfrog Inc., Composition Guest Lecturer at New College, San Francisco, Broadcast Mixer for CurrentTV, music production for XBOX advertising; EA Games sound design credits for The Sims, & The Urbz; Keyboard and backing vocalist for several touring bands. She holds a degree from Berklee College of Music, Boston, and she's got a Master of Arts, piano principle. Please help me welcome Patty Boss!
CK, let's start out with you. Tell us about your journey. I mean, not going back to grade school…
CK: Well, I was born… [laughter]
At what point did you say, I want to do stuff for television? Where were you at that time, and how did you become so darn good at what you do?
CK: OK, I started playing in bands when I was 13, and of course was told by my parents that that had to stop because it wasn't "ladylike." I was always playing in bands, and then I minored in music—because majoring wasn't a smart career move. This is the kind of messaging that we get. I'm not mentioning it to be negative and snarky, but everything from Grandpa saying, "Don't let people see how smart you are, because you won't get any boyfriends," then to "Don't major in this—you'll never get a job," to "That's not ladylike." So all of this impacts us, and I know men get exactly the same stuff, but in a different direction. We were saying, like, "You're supposed to know how to fix stuff." You're supposed to know plumbing—because of your "plumbing," right?
Fast-forward, I did a master's degree in music theory and composition. The reason I did it, actually, is because I started having a lot of wrist problems. I was working fulltime as a technical writer, working as a freelance tech writer, playing in four bands in Albuquerque—so like salsa and all kinds of crazy piano parts—and taking a programming class at the community college. My wrist just said, "Stop!" So I started the master's program just to keep involved here while my wrist healed, and while there I got hooked up with the theater department, and started writing music for theater productions. I had a blast, and then at some point thought that this could translate. And then, here's where the production knowledge kicks in. Because I was OK, but I would say I was 99% composer and about 1% producer, and very quickly learned that I needed to balance that out.
Then, a few years after I got out of my master's degree, the University of New Mexico asked me to start teaching there. So now I've been teaching music technology for a university since 2008. And as I get more and more into TAXI, I sort of shifted into more like… And at the same time, the student body is asking for more contemporary styles. So it just tracked right along. I moved to Baltimore recently, and I still teach for UNEM online, and I just picked up another music-technology teaching job at a college in Maryland, Montgomery College. So basically, it just all sort of progressed in parallel.
So because we're not going to teach you to be producers in this hour, we're going to try to help you understand that you can do this. So get the book Grit by Angela Duckworth, please, if you haven't already… She's like a MacArthur, that's the so-called Genius Grant winner, who studied the intersection of passion and perseverance. Her stats are all accurate; there have been some critiques saying that she presents them in a way that might inflate their significance, but the book is so inspiring. In fact, in the last couple of sentences she is saying that because we've proven you can change your IQ, because we have proven that deliberate practice, not just by repetition of stuff you're already good at, but picking out the things you stink at and working on them until you're great at them. You can learn just about anything, and you can become a genius. You can do this.
Another great reference for you that I want to give you is James Clear, known as the habit guy. Check out his site, jamesclear.com. He looks at the plans behind habit creation, and that means getting rid of bad ones and starting really good ones. And let me tell you, workflow … damn, good stuff!
Get a mentor. And I practice what I preach. I had a two-hour lunch with a very, very successful TAXI member on Friday for the price of lunch, and completely got my head screwed back on straight.
So do this stuff that we recommend. Is there anything else you want me to proselytize on, Michael?
No, but I want to compliment you because probably my first recollection of you was at a Road Rally, and you were kind of part of the inner circle. I saw you networking well early on, and networking with people who could mentor you. I think that they all found it easy to respect you and it worked out.
CK: Dan Kimpel's book, Networking Strategies for the New Music Business. I teach an Art Entrepreneurship course as well, and I use that book to make my students not be so scared of networking. Because it's about listening, and once you realize that, the pressure's off. Just be a good, compassionate, attentive listener.
"The people who make it just stick in there the longest and fight the hardest."Elizabeth Anne Mall
Right, it's not about handing the CD to somebody. It's "Can I get you another glass of wine?" and just listen.
CK: Right, you don't want to ask for anything the first time you just meet somebody. It's just rude.
But I can clearly remember you standing in the hotel lobby with Matt Hirt and John Mazzei—kind of the regular cast of characters that have been coming here forever. And I think that that was probably a big part of your growth. At least my observation was you were in the right place at the right time and knew what to do.
CK: Forums.taxi.com, people, please. And Lynda.com, most universities have access to this. But I found out just two weeks ago that my public library has access to it. So please check with your library membership; this is a wealth of information. Pro Tools, Logic, Dream Weaver, whatever it is you want to learn, it's there. And then a really great quote that I saw the other day is Don't stop until you're proud.
That's a great quote. Is it Abraham Lincoln?
CK: I don't know. My partner texted it to me, and she's, like, way smarter than I am, so…
Great. I will bounce around with some questions later. Elizabeth, how 'bout you? What's your story?
Elizabeth: I grew up in the middle of nowhere in Kansas on a farm with many cows and pigs, things like that. So I knew from a young age that I wanted to do music, and I really wanted to be an artist and a songwriter. There was no one really around to help me with production at all, and we were not wealthy by any means, so that was another problem as well. So what happened for me was, when I got to high school, I had the opportunity to take an independent-study class. It was a very small school, and they had just gotten recording equipment—Logic Pro—and they said, "Hey, would you take this as a class, as a Theory in Sound class? We'll just let you stay in there, and then you can help teach the rest of the class how to use the equipment." And I thought, "OK, I can get on board with that." So that was really a blessing, but I had a bad attitude about it a lot. I thought, "I'm an artist; I'm a songwriter. I wish I didn't have to mess with all this technical stuff." I'm not a technical person at all. I took that class for two years. I had the goal of completing an album by the end of it, and I did that completely on my own. When I go back and listen to it now, it sounds rough, but it was completed, and that was something I really wanted to do by the end of high school.
When I got to college, I had the opportunity to take yet another recording MIDI class, and I put it off for a while; I put it off, I think, for one or two years. I was still stuck in that idea of "I want to be the songwriter; I want to be the performer; I don't want to mess with all that." Eventually, I caved and I got in there, because, again, for my senior project I wanted to make an album.
I really fell in love with the studio in college. I don't do it conventionally, I've been told by my former professor—who's here—and by other people. And like I said, I'm not a technical person in those things, but I love music and I'm determined to get out there, determined that this goes somewhere. To me, that was just a necessary thing that had to be done, and now I love being in that studio more than performing, more than sitting down and writing lyrics. There is something magical that happens in there for me, that's like my therapy.
So that's sort of my story up to this point. That album I was pitching to TAXI like mad; I was a chronic pitching, listing person. My husband was like, "We can't afford this. You've got to keep it down a little bit." I had a budget for each week, and I was not getting forwarded for a very long time. It was very frustrating. But the thing about pitching a lot is you get feedback and you start seeing patterns. I've heard so many of my fellow TAXI members say, "Oh, that's one person's opinion." Yes, that person is educated, and sometimes there are discrepancies, but if you're pitching that same song to similar listings, getting the same comments, it's probably true! TAXI really helped my songwriting, more than probably any individual person, any individual influence. Just having that multitude of opinions to be able to look at all the time. And I think that sometimes we get so caught up in feeling personally connected to our songs that we're not open to that—especially with some of the comments on production. That's something that we need to look at. A lot of times, songwriters and artists kind of skip that—"Ok, the production, but what about the song? That's what really sells." But if you don't polish it, it will never see the light of day. Those comments you've got to take to heart. We've got to have that humility as artists and songwriters and producers.
So I completed this album for my senior project, was pitching a song, started getting Forwards from TAXI; then I started getting more Forwards than returns; and then I started only getting forwards for the most part. It was really great, but nothing was hitting, though. Nothing, over and over and over. Fourth of July weekend, I believe of 2014, I got an email from Rob Chiarelli. I went, hmmm, who is this? I thought this must be another scammer or something. I called TAXI and asked them; I said, "Someone just emailed me, Rob Chiarelli." And the guy says, "That's one of the big ones. You better call him back." So I looked him up, and I was like, "Ooh, OK, not a scammer." And I called him and he just wanted to know who wrote the song, who sang it, and who produced it. He was very impressed that I would've done it all. It was not a perfect piece—it wasn't—but it moved him. It had been tweaked enough and it had been cared for enough, with that kind of careful attention of someone who really wants to get out there. I think that he saw that.
So we started working together, started trying to see if there's someone I could work with. And now I'm on his label and we just created an album together. Of course, he's producing it now, and it's a different level. It's a level I can't get it to on my own. But if it had never gotten to the level it did, with sheer persistence of someone who still doesn't know the commands on my Mac, you know, it wouldn't have gotten where it is.
I really want to encourage persistence in any area for anyone here who is feeling that bit of, "It's never gonna quite take…" Really, you've probably heard it all weekend, but the people who make it, just stick in there the longest and fight the hardest. So I just want to leave you with that. Keep going for it.
Great story! [applause]
---
Don't miss Part Two in next month's TAXI Transmitter