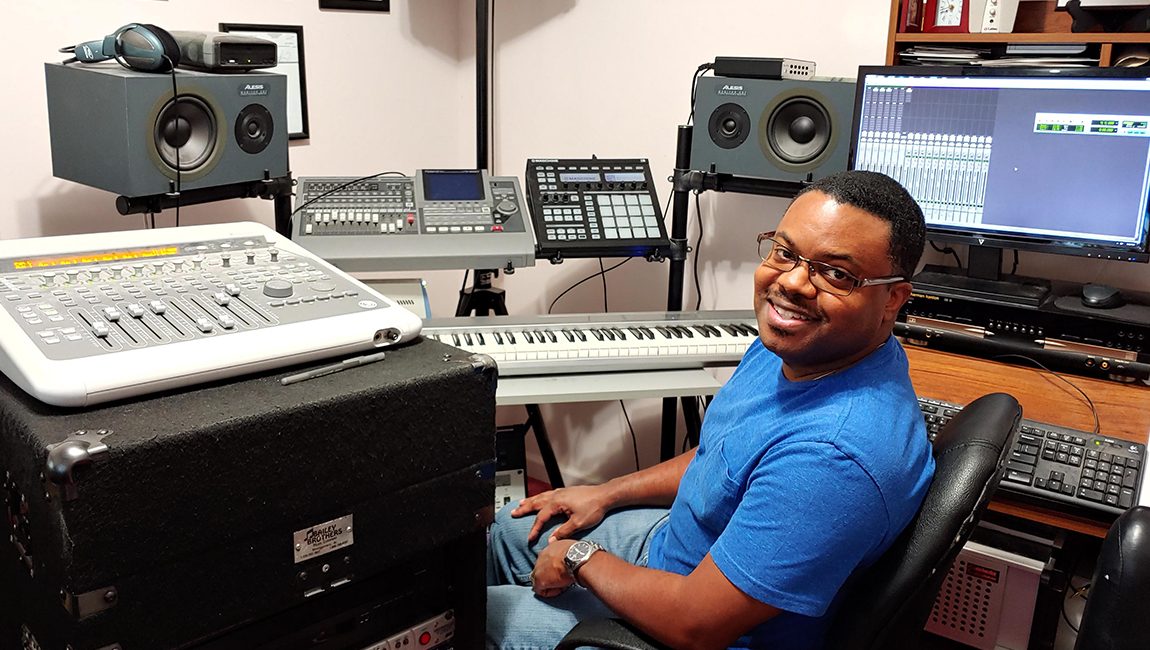 I just spent a half hour listening to a bunch of your tracks on your TAXI Member Profile, and I'm super impressed! You're really strong in several genres, and that's something we don't see all that often. But let's start at the beginning.
Where did you grow up?
I grew up in Montgomery, Alabama. Home of the Civil Rights Movement.
Did you grow up in a musical household?
Yes, I grew up in a musical household where everyone played an instrument. My father was a Jazz tenor saxophonist and my mother is a classically trained pianist. I am the youngest of five children (three boys and two girls). There was no shortage of music or musical instruments in the house. In the boys' room, where I slept, there was a trumpet, alto and soprano saxophone, flute, a Casio keyboard, and of course a record player. Those instruments belonged to my brothers, which were both more than 12 years older than me. As a result, I was like a sponge being exposed to a variety of musical styles, since they were both classically trained and had a love for Classic Soul, R&B, Jazz, and Funk bands of the '70s. I still remember them learning and playing Earth Wind and Fire horn licks. Other instruments in the house included an upright piano, acoustic guitar, and my dad's tenor saxophone. One of the most beautiful sounds I ever heard was the sound that came out of his tenor saxophone. I remember being just tall enough to put my ear to the bell of his horn to hear the full impact of his warm rich tone.
How old were you when you learned how to play, and what was your first instrument?
I got my own alto saxophone at the age of 12. That's the age I got formal training in the 7th grade beginning band. However, when I was 10, I started playing around with my brother's keyboard and saxophone (without his knowledge). He saw my interest, taught me some notes, and taught me my first song on the saxophone. At 12, with my own sax, I played my first song in public. I played "Somewhere Over the Rainbow," accompanied by my mother on piano. That was around the same time I wrote my first instrumental song on that old white Casio. At 13, I wrote my first song with lyrics. That would be the first of many.
Wow, you started writing at a very young age! Where do you live now?
I still live in Montgomery, Alabama.
Tell our readers what your "day gig" is.
I officially became a full time TV/Film composer on June 1, 2019.
Congratulations! I assume that followed your teaching career.
Yes, I was an elementary music teacher for 25 years at the same school. For about 20 of those years, I was trying to develop a part-time gig creating music for media. Thanks to TAXI, I was able to earn enough supplemental income and developed to a point that I, and more importantly, my wife felt comfortable with me retiring after 25 years at the age of 47.
"I'm proud to say that I've had close to 100 tracks signed, just since I retired last year. That's more than the previous three years, combined!"
Nice! Not too many people get to retire at such an early age. I think I see a pattern, here!
Well, I figured, if I could be productive writing full-time for three months out of the year (summer breaks), I could be four times as productive writing full-time, 12 months out of the year. I'm proud to say that I've had close to 100 tracks signed, just since I retired last year. That's more than the previous three years, combined! Even better, I heard a couple of those tracks on TV before productions shut down due to COVID-19.
Congratulations! What did you enjoy most about teaching?
Sharing the gift of music with the students. My goal was to use music as a vehicle to enhance their lives physically, emotionally, socially, and intellectually. As a silver lining, I enjoyed the fact that teaching music helped enhance my own abilities by running parallel to my other musical ambitions outside of the classroom. My production skills were increased as I arranged and recorded many of my own accompaniment tracks for the kids. My writing skills also improved as I would write original songs for the kids. I also, enjoyed having a captive audience to audition some of my TAXI submissions, to see if they captured the right mood. Kids are very honest. One last thing I enjoyed about teaching on the elementary level, is that there were no summer band camps to deal with. Because of that, it allowed me to have the whole two to three month summer break to pretend that I was a full time TV/Film composer, before starting the next school year.
At what point did you decide you wanted to start creating music for media?
I decided I would start creating music for media around the year 2000.
What were your first steps?
The first thing I had to do was rejoin TAXI. That's right, I said re-join. I originally joined TAXI in 1996, and have a file cabinet of hand written critiques to prove it. At that time, my goal was to be a songwriter for other artists. My wife came across a TAXI ad and I gave it a shot. I got pretty good critiques on my ideas, structure, etc. But there were some production and performance issues. After a few years, I laid off a year, and relied, once again on the "Songwriter's Market," as I did before I ever joined TAXI. I searched and highlighted companies that would accept unsolicited material. Again, it was my wife who said that I should join TAXI again and try some of the instrumental listings. I never paid attention to those listings, but decided I didn't have anything to lose.
Your wife is clearly a very smart woman! Did creating instrumental cues come more quickly than writing songs, or was there a learning curve for that as well?
There was a bit of a learning curve writing for music media as compared to writing songs. Prior to writing for media, all my songs had fadeouts and were generally too long. There was also a learning curve with understanding some of the terminology like, buttoned endings, edit points, stingers, arcs, etc., had to be understood and achieved.
Did you have any other obstacles in tackling the music for media part of the industry?
I didn't have many obstacles getting started, as far as the creation of the tracks. However, I did encounter issues with the tracks themselves. A recurring issue was dated sounds. The screeners would say, "Check out the latest sound libraries and loops." At that time, I didn't know what sound libraries were, and I hadn't used loops before. Another issue was that my tracks were often too repetitious. And finally, the screeners would sometimes say that my tracks were too busy. Incidentally, sometimes I still get comments like that, but far less often.
How did you get past those issues?
I was able to get past those obstacles by reading the critiques carefully and trying to address each of the issues, one at a time. I researched sound libraries and loops, paid close attention to the music on TV, and researched music libraries to listen to examples of production music. Sometimes, the library music sounded so good compared to mine, that it was a little discouraging. However, it gave me a high bar to reach for and this time around I wasn't stopping.
"Start where you are, and remember that failure is a necessary part of success." —Derek Handy
I like that attitude! I'm glad you didn't put your tail between your legs and give up. What would you say to new TAXI members who feel frustrated because they get more "returns" than "forwards"?
I would say to new TAXI members that feel frustrated due to getting more returns than forwards, to simply keep going. It's okay and natural to feel discouraged on this journey at times, but then be encouraged. Be encouraged that you have all the resources and support you need to make it to the next level, by simply being a member of TAXI.
Start with studying your critiques. Look for common issues that keep coming up and address them. You may need to submit more music in order to collect more data to determine your issues. If you don't understand what the screeners are looking for, the TAXI Forwards Blog is a terrific tool to use in order to hear examples of what a forward sounds like. I must say, in recent months, that's been one of my favorite hangouts. Enjoying the music of fellow TAXI members is inspiring and a great motivator. Also, TAXI TV videos and the TAXI Forum are great resources to use for information on production tips, if that's your issue. Start where you are, and remember that failure is a necessary part of success.
How did you learn the tech and the art of recording and production?
I learned it out of necessity. I also have a very techy wife for when I get stuck, or things shut down.
Wow, you just might have the perfect wife! Tell me more…
I only do basic recording. Just enough to get a good representation of my track. I learn new techniques as I go. I don't seem to have a lot of time to learn everything about my DAW, just what I use in my day-to-day writing. However, I'm always excited to learn something new or a short cut.
Well, your stuff sounds really good, so you must be doing something right! How long did it take you to feel like you had a good handle on it?
Well, it's still a work in progress. Once I started getting forwards and actually got good comments on my production skills, I felt I was doing something right. Now, I'm working on having consistency with my productions.
Tell us about your gear, and what you use for your DAW.
I currently run Pro Tools 11 on a desktop PC. My keyboard controller is an M-Audio keystation 88. I use the Alesis Monitor One Studio Reference Monitor Speakers. I run my final mix through the BBE 462 Sonic Maximizer and the Finalizer Express by T.C. Electronics. I've been using these two outboard signal processors for many years, which makes it so hard to transition to totally mixing and mastering within my DAW.
What is some of your favorite software, both on the instrument side and on the plugin side?
My favorite software includes Omnisphere, Stylus RMX, Gravity, Forzo, Evolve, Exhale, Action Strikes, Action Strings, and EastWest Symphonic Orchestra Platinum XP. For Urban Styles, I like using software from Studio Linked. My favorite mastering plugin is EZmix 2. I put it on my master fader channel, and it takes the track to a new level with one click.
Our readers are going to jump all over EZmix 2 after reading that. Thanks for the tip! How long does it typically take you to do an instrumental track, on average?
In most cases, I can typically finish a cue in a day, once I get started. Depending on what the style or genre is, it could be anywhere from 3 to 6 hours, or the whole day if it's something more complex. I like to have a least 2 or 3 days to be able to walk away from the track and come back to it. We all know how you can spend all day with a track and it sounds great until you step away and come back to it later and think, "What in the world is this crap?" In most cases that's when you start stripping away sounds from the track. I normally have to meditate on the cue before I get started, which includes listening to the examples, to get in the right mindset. But once I get that first idea, it often moves pretty fast.
I see about 200 tracks on your TAXI profile page – wow! How do you find the time to do so many?
When I had my day job, I got a lot of tracks done by utilizing the weekends and a couple of hours in the evenings. Sometimes the midnight oil had to be burned in order to meet some tight deadlines. Over time, the number of tracks grew as I targeted desirable opportunities from the many TAXI listings. I was also trying to build my catalog, as I was preparing to achieve my goal of becoming a full time composer.
About how many cues do you have signed to publishers at this point?
1,625 cues signed, in total.
Wow, that's impressive! That's the range you need to be in to earn a six-figure income doing this. It looks like you're well on your way. How many publishers' catalogs is your music in at this point?
I've got music signed with 38 publishers, now.
About how many placements have you had with your music?
327.
Man, you're doing all the right stuff! I'm so glad you didn't give up. Can you list some of the shows your music has appeared in?
Catfish, Basketball Wives, Let's Make A Deal, The Today Show, I Almost Got Away With That, Fatal Attraction, Married to Medicine, Dance Moms, America's Best Dance Crew, Gotham, Looking (HBO), Iyanla Fix My Life, Love and Hip Hop, Real Housewives of Atlanta, WWE, Black Ink Crew Chicago, Ex On The Beach, and Growing Up Hip Hop.
Do you have a favorite placement?
Yes I do. It was on a show called Looking on HBO. It was my favorite for a few reasons. First, I was informed about the placement ahead of time by the publisher, rather than finding out after the fact when I got my quarterly statement. Second, it was on a premier cable movie channel. And finally, it was a source music placement. It was one of my comedy/cartoony tracks, and it played during a scene when a cartoon was on the TV [in the scene].
Don't miss Part 2 of this terrific interview in next month's TAXI Transmitter!
Check out some of Derek's music here.