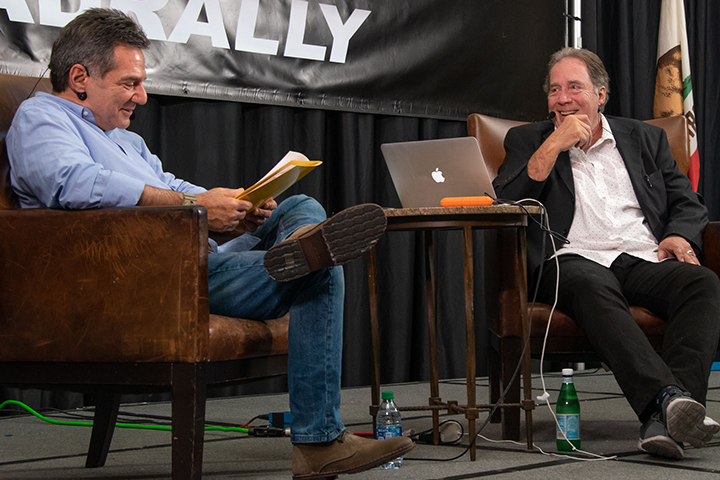 Fleetwood Mac producer, Ken Caillat (right) and TAXI's Michael Laskow, enjoy a light moment on stage.
Dear Road Rally Friends,
It's already been two weeks since the 2019 Road Rally ended, and my staff and I are simultaneously going through the same "Rally Buzz" and "Rally Withdrawal" that many of you are feeling.
The energy and camaraderie felt in every nook and cranny of the Westin during the Rally is really hard to explain to people who weren't there. It seems impossible to adequately describe the "pay-it-forward" spirit and cocoon-like warmth that enveloped us all.
If you were there, I'm pretty sure you know exactly what I mean.
How can you convey the rush of re-connecting with cherished friends, making new friends, meeting approachable industry executives, while honing your craft, narrowing your focus, and pushing your career forward at lightening speed?
It's sort of like sitting on top of a Saturn 5 rocket for three days straight, and then BAM, it's over and we all return to our "normal" lives. I can't imagine what real astronauts must feel like when they come back to Earth.
I need your help!
I'm working on an article for our next month's TAXI Transmitter, and I need your help in describing what a powerful and joyful experience the Rally is. To hear it from me is one thing. To hear it from you is simply better.
Would you please take 15 minutes and write me a short note that explains what the Rally means to you, and what it's done for you? I want to use your words rather than my own, to convince your fellow members who weren't there this year to join us next year.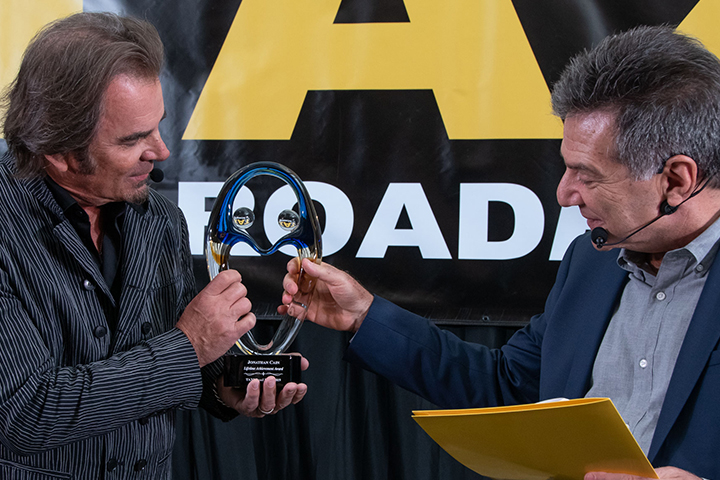 Jonathan Cain (left) and Michael Laskow admire Cain's Lifetime Achievement Award at the 2019 Road Rally.
Please keep it pithy, and send your emails to TAXITV@taxi.com before Tuesday, December 3. I'm going to ask my staff to pick three that I'll read on an upcoming episode of TAXI TV, and I'll include as many as I can in the newsletter article. If I have leftovers, we'll post them on Facebook and the TAXI Forum.
Finally, thank you!
Thank you all for coming out — especially those of you who travelled great distances or overcame other personal hurdles or obstacles to join us. We really appreciate it, and we love beating your expectations and sending you home with tools and relationships that will help you live the life you've always wanted.
I want to thank each and every panelist, teacher, mentor, volunteer, audio crew member, our photographers, Irwin and Mike at Westchester Media, and Nely and the entire Westin Hotel staff for making this the best Road Rally ever!
I also want to express our deep appreciation to our sponsors: American Songwriter, Bandzoogle, Bose, California State University Northridge, Casio, DiscMakers, Final Mix Software, Hawai'i Songwriting Festival, Ilio, MasterWriter, Mobile Roadie, Music Connection Magazine, Musicpreneur Academy, MusicPro Insurance, Paul Reed Smith Guitars (PRS), ProMedia Training, Recording Magazine, Rock Star beverages, Studio Pros.com, The 7 Theory, and Transparence Entertainment Group. They pay for your tickets, so please show them some love every chance you get!
And finally, I want to thank my incredible staff for working so hard and taking such great care of you while you were at the Road Rally, and all year long!
This is the best staff we've had in quite a while, and my wife Debra and I feel really blessed to work shoulder-to-shoulder with them all year long: Angel Maradiaga, Angela Mukul, Ariana Cubillos Voegler, Briagha McTavish, Eric Anderson, Isaac Williams, Liz Cohen, Matt Hutchison, and Tom Stillwagon. You guys worked your butts off, you hit it out of the park, and we love you for that (among other reasons)!
See you next year,
Michael
P.S. Don't forget to send us your Rally thoughts by December 3!
P.P.S. If you'd like to include a photo or two, please do!
P.P.P.S. We will be posting hundreds of photos online in the next week or so, and you are free to use them in your social posts and personal albums as well. Tagging will be appreciated!