Beth Wernick smiles a lot, even when she dishes out some tough love at TAXI's Road Rally in 2018.
Panelist: Beth Wernick
Interviewer: Michael Laskow
Beth Wernick began her career in the music industry as a publicist in New York City, working with iconic recording artists like Tom Petty & the Heartbreakers, Fleetwood Mac, Heart, Ambrosia, Judy Collins, Tanya Tucker, KC and the Sunshine Band, War, and many others. After moving to Los Angeles, Beth worked at Rhino Records and later on co-founded Imaginary Friends Music Partners with singer/songwriters Stacy Robin & Donna Rawlins. Imaginary Friends is a one-stop, exclusive song catalog, which licenses the music of unsigned, Indy artists to TV shows, films, commercials, etc. In 19+ years of pitching songs, IFMP has had a wealth of placements, including regular uses on CBS's daytime drama, The Young & The Restless; ABC's Nashville and American Crime; Hallmark Movies; NBC's Nightshift, MTV's Siesta Key; the film The Bleeder; plus numerous reality series and films. Beth gives full credit to the truly gifted artists, bands and songwriters whose music she is honored to represent. We give credit to Beth for finding many of those artists through TAXI listings, and landing lots of placements for them. Ladies and gents, please give a warm welcome to Miss Beth Wernick!
You know, [Music Supervisor] Maureen Crowe sitting in that very chair in that very spot about four years ago, said something kind of profound here. She had a young girl come up to her at a conference and said, "I've done my research and I know you use a lot of XYZ kind of songs on the show." And Maureen said, "C'mon, let's go talk," because the girl had done the research and Maureen knew that she wasn't going to waste her time, as opposed to, "What are you looking for right now?"
Right, nobody wants that question.
So use Tunefind to your advantage, and don't look for the exception to the rules, look for the rule of thumb. Yes, they used the Christmas song, because it was the December 15th episode. But generally speaking, the show has kind of a Southern-rock thing that they do—a lot of roadhouse-type music.
A lot of shows have a bar, and that bar is gonna play that bluesy, twangy...
"The truth is, there is a huge market, not for public domain but for original holiday music."
So you can figure out what they use in about 70% of the shows by going on Tunefind. And then, when you approach somebody and say, "I know that you use a lot of this, and I've got some, and it's really good; can I please send it to you?" They are more likely to say yes, because...
I sold shoes when I was a teenager, and I very quickly figured out if a woman came in and asked for a size 7½peau de soie in beige, that you didn't bring her a man's Bass Weejun in 9½ D. Duh.Well, the same thing is true of music. So it's just like selling shoes.
Yeah, it kind of is like selling shoes. If the song stays, it's a good fit, it's true. And why not make it easier on yourself to know what the game really is?
Now this is #10 (of the reasons your music does get placed.): You have a great attitude, you understand the competition is fierce and you always bring your A-game to the party. If you bring less than that, you shouldn't be doing this. I don't know how else to say this; I wake up every day excited to hear new music. By 7 p.m., I wish I couldn't hear anymore, but every day it's another opportunity to hear what you've created and if it will work for something.
I don't know how many people who have catalogs like I do who do this. How many people here are in my catalog? The entire room—thank you. I will sit with you and tell you how to fix it. I will sit there and tell you that you need breathing room between the chorus and the hook. I will tell you if the vocals are off, if they are mixed too low, the guitars are too hot. I will spend that time with you if I think it's a song worth saving. But it's so much better if you could do that without me. You could just do whatever you like... If it's a great song... I did everything else there is to do; I had 12 other people listen to it...if it was mixed right. I don't mind doing it and sending you back to the drawing board, but I think you'd be better off if that was your talent, if that was your skill.
#11: And these are brownie points. How many of you know that holiday music is used all year around? Thank you for being smart. Literally, Hallmark and Lifetime make holiday movies every month of the year and never stop working on them. Therefore, if you don't know that they have their own channels—Hallmark has two of them, Lifetime has their own channel—listen to what they're using. It's right there, and they use it all year around. I love the people who call me in November and go, "Do you need any holiday music?" Yeah, I needed it six months ago; where were you?
"The #2 reason your song didn't get used: Nobody knew how to contact you; you didn't put any metadata on your song file."
But this is how we learn. The truth is, there is a huge market, not for public domain but for original holiday music. But when I say public domain, people go on the internet and Google it, because there are songs that even some of my top writers will send me, and I'll go, "Eh, not public domain."
You've got to actually check on at least two sites to verify that it is, because the sites that list public-domain stuff don't always get it right. I've been fooled by that. I can't remember what the song was, but I was absolutely sure it was public domain. I found it on a site that's public domain, and the supervisor called me and said, "Dumbo, not public domain."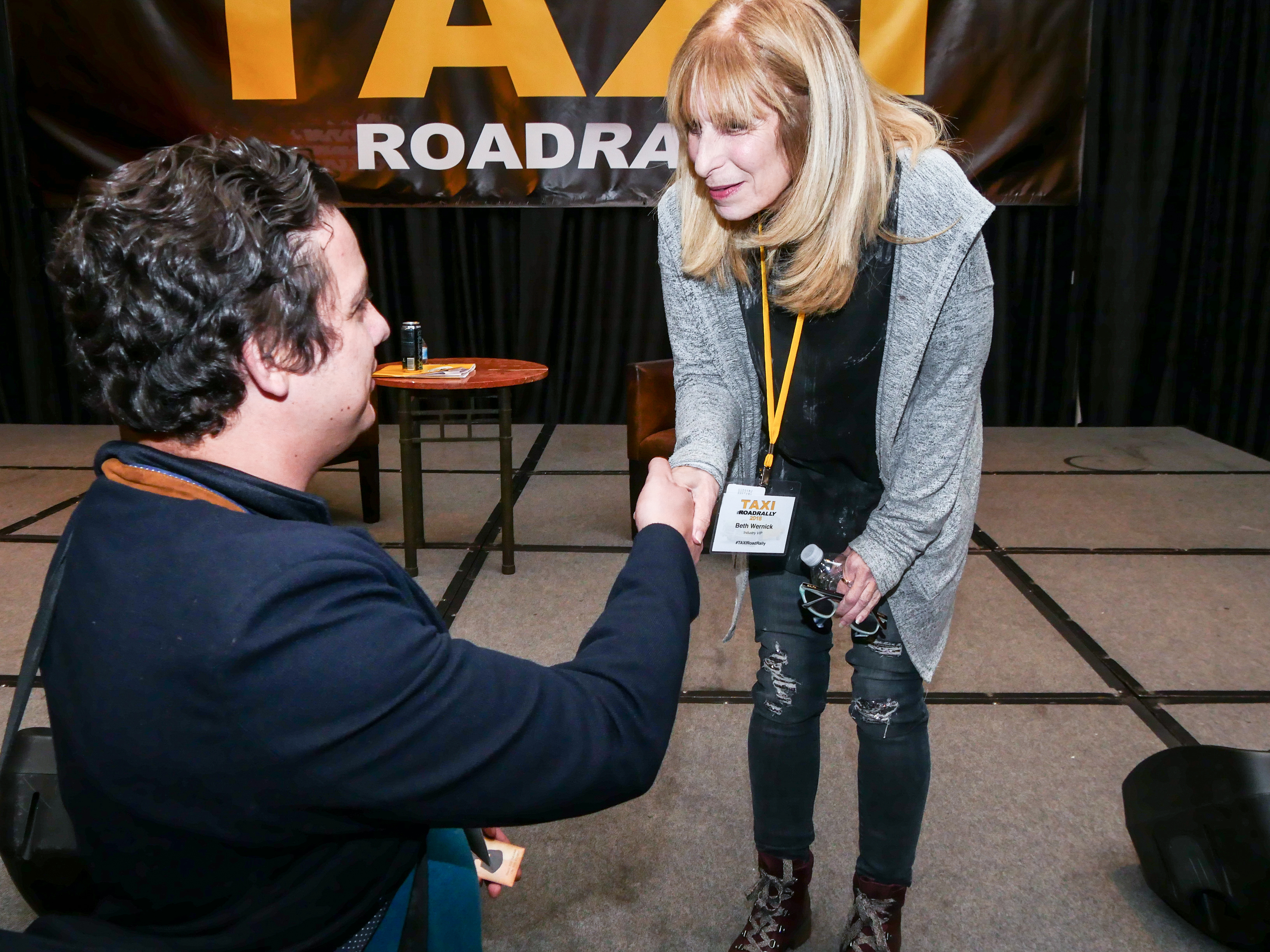 We love it when our panelists hang out and talk to Road Rally attendees after their panels. Beth Wernick stayed until every question was answered!
There are a lot of surprises. I have learned over the years which ones are the tricky ones, because I work so much with holiday music. It is just an enormous market for you guys, even if that's not what you primarily do... Trust me that if you do hip-hop versions of "Oh Holy Night," I'm gonna love them, and you might get a placement with them. So it doesn't have to be your traditional sound, it doesn't even have to be vocals, but the market for it is enormous. So that's your bonus information.
Now we're going into why your song didn't get placed. This is so much tougher for me to talk to you about, because this is the stuff you have no control over. You have just got to know that you've got to be a little tougher and understand that these things happen.
#1: They cut the scene. They literally went in and they cut the scene out; your song was in it. Bye-bye song, bye-bye tune. It just happens. It sucks, but it happens.
#2: Nobody knew how to contact you; you didn't put any metadata on your song file. Do you know how many of you—and I know you know you do it—send me MP3s with no name on it? And I'm supposed to know exactly who sent that? Except that I threw it into iTunes—before I noticed that you didn't provide any metadata—and then I can't find the song. And I don't know who it is, and I don't know how to help you. It is the easiest thing in the world, guys, when you're encoding your song. Put your name and some contact information, your phone number and email—something!
And answer your phone. If you don't live in the L.A. area and you see a phone call come in... I can't believe how many people I call in Connecticut, and they see and 818 phone number and they call me back four hours later, and we were trying to get them licensed into something, where the supervisor called and said, "I need it," and we can't get them." So if you live outside of L.A. and you see 818, 213, 323, or 310, just pick up the phone. If you're at work and you're not allowed to take phone calls, go to the restroom. Take the call, because if you normally don't get calls from Los Angeles, it's probably somebody in the industry calling you for a reason.
"The #5 reason your song didn't get used: You didn't send them what they asked for. I can't begin to tell you the times that I have asked for something, and when I start playing what they sent, I'm like, "Was I not clear?"
And honestly, I'm not a shrink, but I have seen one. (laughter) They sometimes say if you don't put your name on something, it's a real tell-tale thing about what your confidence level is about your work. It's very, very telling. When I see that somebody doesn't put their name on, I don't think, "Oh, they think I know them so well," I think they don't care. I think they're not professional, they don't know how to deliver, and they're making my job harder for me.
OK, moving on from that one.
#3: You didn't have the instrumental track. We're beating a dead horse here. You didn't have the track; you have your WAVs or AIF. So please, always remember to have all the elements to your song, because the editors need them.
#4: So this could happen sometime. It's happened a lot actually. Your melody was too close to a well-known song. I had a guy get so upset with me recently. I hope you're not here, honey. But I sent him two examples. I went on the internet and pulled off two songs that sounded like his song, and he got so upset with me, and he said, "Well, I hope they sue me." And I thought, "I hope you grow up and never send me another song." It happens. You may have heard it subconsciously. But here's a young guy, he doesn't know as much music as I've heard my whole life. You know, my parents played stuff from the '30s and the '40s when I was growing up. I've always liked older music, and I've always enjoyed a really broad spectrum of music styles. Actually, in my car I only listened to Tom Petty Radio. (applause) Tom Petty, thank you! It's true. It's the only one I listen to.
So it's really, really strange if you don't put your name and some contact information on the songs that you want to get played. Especially if you're Tom Petty.
This happened. Understand that it happened. They love the song! The music supervisor put it in, the editor put it in, they sat down with the other 400 people that have an opinion, and they said, "Hmm, I'm gonna go in another direction."
Oh, you must be talking about advertising agencies.
"When you get a placement, you should really, really, really have some sense of gratitude, because the odds aren't that great—it's tough."
They go in another direction in about three times a day. I almost gave up working with an ads, because it's constant. "Yeah, we wanted this, but now we need it to be a male singer. We brought in a male singer, but now we want him to be able to sound like a dog." It just goes on and on. I don't know how they ever get a piece of music in anything, because the process goes on forever. It's very painful.
#5: Your mix wasn't broadcast-quality. It's the truth, guys. When I said bring your A-game, you've just have to make it the best it can be, because the competition is fierce. So if you don't do that, the guys with the great sounding songs will get the placements. And that's how it works.
#6: You didn't send them what they asked for. I can't begin to tell you the times that I have asked for something, and when I start playing what they sent, I'm like, "Was I not clear?"
I am not exaggerating when I tell you that probably 80% of the stuff that doesn't make it to TAXI is for that reason. And there is not a person in this room that would listen to what our screeners hear and disagree with them. You put it on and go, "This doesn't fit the request at all." And you wonder why people would spend a five-dollar submission fee to send something. Do they hear it differently than we do? Do they think that they are just so great that somebody is going to say, "It doesn't matter. It's not what we asked for, it's not what we need." "But my song is so awesome, they'll use it anyway."? It's mind-blowing.
Well, you know, I say all these things, but there was a time... I can never remember the name, but it was a big CBS TV show. The music supervisor on the show called me up and said, "Do you have anything like James Taylor?" And I said, "Yeah, I've got a guy who sounds exactly like James Taylor. And I go into the closet and pull out a CD, and I stood there and I went, "Why do they want James Taylor? That's '70s, really." And I go, "I've got this guy named Brad Yoder, not the same kind, but he's got his own little vibe." And I sent both. This was back in the day when people got CDs and they'd put them in the mail, which wasn't so fast. And I get the phone call like 24 hours later: "We love this Brad Yoder. How much money for the song?" I continue to tell this story because I'm talking about bringing your A-game. The song was fantastic, and they only used one song in every episode, and it was over a closing scene. You could hear it loud and clear. People were playing cards, and this great song was in the background. So I used that one time, you know. I just thought I'm gonna think a little out-of-the-box, maybe they will find him interesting.
Well, just to tell you, I think that when you get a placement, you should really, really, really have some sense of gratitude, because the odds aren't that great—it's tough. And the sweet guy that got that placement got interviewed by his city newspaper. And what most people don't know—because I spent many years in publicity—is that people grab every article out of every newspaper in the world and put it on the desk of the production company. They were very excited to interview this hometown boy who got this big song on this big TV show, and he proceeded to complain about how they edited it—I am not kidding you. I saw the article and I went out of my mind. I called him—he was driving in his car—and I said, "Pull over. Just pull over." He's like, "What, what?" And I said, "You did the #1 worst thing you could ever do. You did not come from a place of gratitude. This is the worst thing. Do you know that those clippings wind up on the executives' desk? There are no secrets." Did I ever work with him again? I was so mortified that he didn't thank them for the incredibly awesome job that they did cutting that song to work in that scene that made that boy a lot of money.
So I just ask all you guys, when you get a placement, come from a place of gratitude. I know it sounds hippy-dippy in these ages, but you need to know that it took a lot to get that in there. That was pretty special stuff, and when he comes from the place of ego, it serves no purpose.
From his perspective, they screwed with his artistic vision. And I understand why that can be hurtful to somebody, but you've got to understand the business side of the business.
Yeah. He should have said it was fantastic and wonderful. "Oh my God, I got my first placement of my life!"
Don't miss Part 3 of this interview next month!