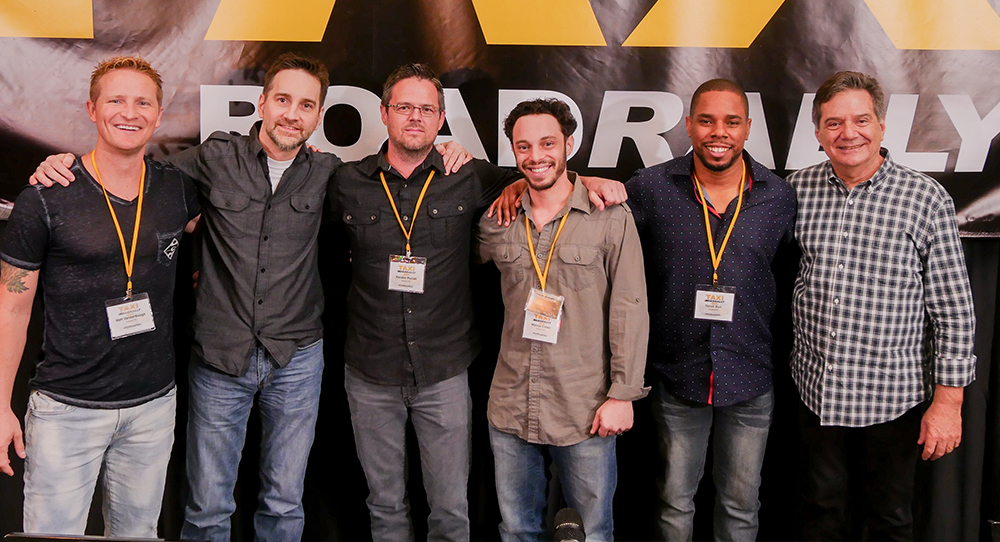 (Left to right) Matt VanderBoegh, Keith LuBrant, Randon Purcell, Marcus Cohen and Terrell Burt are joined by TAXI's Michael Laskow for a photo after the panel was wrapped up.
Moderated by Michael Laskow
Panelists: Matthew VanderBoegh, Keith LuBrant, Randon Purcell, Marcus Cohen, and Terrell Burt
Matthew VanderBoegh is a full-time composer for film and television, specializing in hip-hop, dramedy, tension, elimination, and quirky instrumental cues. He started this journey in 2012 with no knowledge of how to make music on his own, and within five years turned it into his full-time job. His music has been placed over ten thousand times, on more than 1,750 episodes of 235 TV shows. He learned everything he knows about this business from TAXI, and frequently collaborates with other TAXI members.
Keith LuBrant is a songwriter/composer from New Jersey. He has performed at several music conferences and festivals, and also has had tracks used in more than 600 TV shows on major television networks such as HBO, NBC, CBS, ABC, MTV, VH1, and many others. Keith also created music for Mattel Hot Wheels television campaigns, Philips Lighting, and several online commercials. He is also the creator and CEO of Composer Catalog, the popular software that helps musicians keep track of their music catalog.
Randon Purcell grew up playing classical piano, which turned into writing and performing electronic music with a band through the '90s and early 2000s with some small degree of success. By 2014 he had changed focus to his true passion of writing instrumental cues and trailer music, which is where TAXI came in! Since then he has written and licensed nearly 500 tracks with many different publishers around the world and has enjoyed many placements on various television shows and promos for major networks, including HBO, ABC, NBC, CBS, Discovery, and many more. Some of his promo placements include popular television shows, such as Gotham, Lucifer, Big Brother, NFL Football, NCIS, and X-Files.
Randon is nearly 20 years-married and has three boys at home. He's really happy to be here taking a break at the Road Rally. We're kidding, Mrs. Purcell!!! He also works full-time as a software engineer and double-time as a coffee enthusiast.
Marcus Cohen aka CaiNo is a professional full-time vocalist/composer/producer/engineer running his own successful studio; producing, writing, and mixing for up and coming and seasoned artists since 2001. He has also had the amazing opportunity to mix for some of the music business finest and most notable artists including Carly Simon, Neil Diamond, Justin Bieber, Bebe Winans, Kenny Loggins, and many more. His songs, instrumentals, and mixes can be heard all over the industry, on records as well as on Film and TV. In 2016 Marcus joined forces with his mother Sherry (a successful producer and writer for advertising) to focus on writing songs for music licensing, and they now have well over 500 new songs signed and published in the last two years alone. Marcus has been a TAXI top 10 artist, SingerUniverse Vocalist of the Month, and has had over 100 placements on networks like MTV, E!, CBS, ABC, VH1, VICELAND, and more.
Terrell Burt is a rapper and songwriter who can't remember a time when he didn't love everything about music. Writing lyrics and recording music on his computer as a hobby during his teenage years has progressed into Burt becoming a successful TAXI member with placements in TV shows such as The Young and the Restless (CBS), Keeping Up With the Kardashians (E!), Fuller House (Netflix), NCIS: New Orleans (CBS), Love & Hip Hop: Atlanta (VH1), Black Ink Crew (VH1), Genius: Picasso (National Geographic), and Claws (TNT). While working full time for the county Tax Collector and still pursuing music through film and TV placements, Burt received his Masters of Business Administration from Saint Leo University in the spring of 2017. In September of the same year, he married his bride, Lindsay, who has been an encouragement to him in these pursuits.
Randon, how do you drag yourself out of bed to start creating music at 4:30 in the morning?
It's a little brutal. Right when I wake up, I just jump right in and blast myself with cold water in the shower, and that kind of jolts me awake. Then I hit the coffee right on my way downstairs. Once I jump in—I'm sure these guys can attest to this—once you are in that mode and you're having fun and you're being creative, your tiredness goes away. It's when you're messing around trying to figure out what you want to do or clicking through presets that knock me out in like five seconds. But if I already know where I'm going with something, I can just jump in and I get those three to three and a half hours of just solid nonstop work done before I start the rest of my day. And then the rest of the day I'm just thinking about it and taking notes on what I want to do the next morning at 4:30.
So really it works out to about 20 hours a week that you're doing music, which is a half-time job on top of your full-time job, on top of your full-time family. What time do you go to bed at night?
Randon: Between 11:30 and midnight.
Wow! I've got to say, not only is that admirable, but anybody in this ballroom, anybody at this conference, any TAXI member in the world; I am convinced that there are very few people that can't become successful. And the difference between success and failure is making the time to do that work.
Randon: Right, and I think that if you think about it, it really applies to everything, like these guys are saying with their kids. If you really want to be a good dad, you're gonna make the time and you're gonna do it. If you want to be a good musician, you're gonna make the time and do it. If you want something badly enough, you're gonna make the time and do it. It's a simple as that. [applause]
Marcus, how long have you been a TAXI member?
Marcus: Three years.
Tell us about your family life.
Marcus: I have two boys—seven, and the little one is gonna be three around Christmas. I've only been a TAXI member for three years, but I've been in the music business pretty much my whole life. I started my studio in 2001. I actually left a full scholarship to college. I had the conversation with my mother at the time, "Look, what I want is not happening." At that point it was like late '90s, and I was trying to get into a college that was doing audio production, and I didn't want to live too far from home because I was doing music at my house at that point. So I just wanted to be an engineer, but with the college courses, it was like, "Wait until your junior year."
"If you want something badly enough, you're gonna make the time and do it. It's a simple as that."Randon Purcell
So you finally get in the studio, you gotta take Introduction to MIDI, you've got to learn what this is, and it was just frustrating. I felt out of place, so I had the conversation with my mom: "I want to leave. I need to do this full-time." So she actually got me on a sick leave so that I could take time and not lose my scholarship, and if I didn't go back—actually I never ended up going back. But I dedicated myself at that point to learning recording on a computer, because that's what I had. My friends had TASCAM tape machines and things like that. I was like, "All right, I don't have that, but I have a computer and I know that there is a thing called Pro Tools, and I'm gonna try to figure out what it is. So I just started delving into it, as time went on I was recording my friends, then friends would talk to friends. My whole studio method was word-of-mouth. I didn't tell anybody what I was doing. Somebody who came there would have to tell somebody what I was doing, and they would have to vouch for me. Like, "This is a really good dude; you should record him." So that went on for a long, long time.
Were you earning a full living from it at that point?
Marcus: Yeah, but I was also doing live sound. I was engineering live sound for everyone and everywhere. I was doing theater work; I did sound for Rent—anything that was audio-related. But that's all I did. I didn't do any other jobs with stuff I wasn't good at. Before audio, I did valet parking, so I have no other skills at all. If recording and music didn't work out, I'd be right back to valet parking.
So I just kept going, moving forward, getting a little better, a little better. At the beginning, it was like, "Oh, compressor, preset, medium compression? OK, perfect. I see a curve, I don't know what that means, but OK, that sounds cool." I was just playing with EQs and turning knobs. Mixes really sounded like crap in the beginning, but I just kept pushing buttons.
When my first son was born, everything just really kicked into gear. That thing turns on and you go, "All right…" Everything that you are worried about, for yourself—"Oh, I'm not going to make it; this isn't going to work"—then shifts to them. So, if I feel it's not going to work for my kids' benefit, that can't be. At that point I stopped doing everything else I was doing except the studio. This studio wasn't gonna take off as long as I was doing live shows every night and theater half the week. So I just only did the studio. The client base responded to that, so I was able to do sessions every day.
That went on for a while, and I actually started to get worried, because I hadn't dreamed any further that than that. I just wanted to run a studio and not do anything else. And I wanted enough clients so it paid my bills, and I could still do the things I like to do. Then once I got to that point, I didn't know what else to do. There wasn't any more of me, and there wasn't any more day, so I flirted with buying a bigger place. My mother and I talked about getting a place and opening a studio and hiring engineers. But I talked to some of my clients and they just weren't buying it. They were like, "I don't know. We want to work with you, and we like where you and your studio already are." So we started seeing that that probably wasn't the way to go. It would just be money going out, and I'd be sitting in the studio waiting for people to show up instead of at my house. So it really wasn't going to be a smart move. I was worried and didn't know what I was going to do next.
I had been getting the TAXI emails for years and years and not taking any of it seriously. I think it was right after my son was born, I saw a listing for a Tribe Called Quest-type song, and I called up my brother and I was like, "Dude, we gotta do this. This is really cool—we should make this happen."
So right around that time, my second son was about to be born and, as a Christmas gift, my mother and my brother bought me the TAXI membership. They said, "We're all going to do this together." My brother is a genius guitar player—like a real prodigy—and we were going to just going to all do this together. We were going to answer the listings, write to every listing we could, and that's exactly what we did. We had about 200 Forwards the first year. It sounds like a lot, but we submitted a lot, a lot! That's all we were doing.
"I get up really early so that I can have that peace before everyone gets up, and it's an interesting creative time, it really is."Marcus Cohen
How'd that work out for you?
Marcus: I mean, we had a lot of Forwards, but no deals. I think I got two deals right before my first Road Rally, and they were just ehhh, nothing super-spectacular had happened with them yet. But that was the second time it kicked my ass into gear. It was like, now I'm gonna focus fully on licensing. I'm not going to do anything else, because I had fulfilled the dream that I had and I didn't know what was next. So writing for TAXI became my focus, and then I came here to my first Road Rally. And my goal was to meet the people that I needed to meet that I was trying to get music to. I would just walk right up to them; I would interrupt other people's conversations; I would talk to an industry pro and then I'd leave, just showing them who I am, trying to get my personality across. They hadn't heard any music yet, so there was nothing I could really do except let them know who I was.
So I left the first Road Rally with enough contacts to go home and start making it work. After that first Road Rally, everything turned around. And now it's even better.
So how did you balance the workload, your family, and submitting to all those TAXI listings?
Marcus: In a very similar way to what Randon said. I get up at 5:30 and usually work until about 3:30. I get up at 5:30, I have to get my son up at 7:45, so I usually do a little over two hours' worth of stuff and just get my day started. I'll take my son to school, come back, work until 3:30, pick up my son from school. And then, from 4:00 until the end of the night, I'm hangin' out with my family. I usually don't do music at night. So that's usually my workday. I get up really early so that I can have that peace before everyone gets up, and it's an interesting creative time, it really is.
But you're still mixing for other people in your studio…?
Marcus: Yes. The best thing about the last couple years here is that my goal has shifted to minimizing the foot traffic in my house. So my goal is now for the licensing and the royalties to offset me not having to do sessions with people every day. Last year was about 50/50, I was still doing sessions half the time, and writing for licensing half the time. This year it's much less. I have much less foot traffic in the house, and I'm starting to train people to record themselves so that they can just send me stems. Because now my goal is to not be attached to where I live. I'd like to go live in the mountains somewhere in peace and quiet. If people send me stuff to mix, that's great, but I didn't want so much foot traffic in the house.
"There's a lot of weekend and nighttime work when my wife's asleep."Terrell Burt
I've got a friend who's a psychologist, and his office is in a room in his house, and he's also a musician. He's started transitioning into doing more music stuff and more recording of other people. He always says, "I replaced one kind of crazy client with another. And they're still coming to my house." [laughter]
Terrell, you don't know this, but I asked you to be in the panel because you're young and you just got married. And I thought, boy, what better test of a new marriage than, "Hi, honey, we got married and now I'm going off to the studio." So tell us how you've been able to ramp up so quickly… you're clearly working a lot on your music. How did you get your new bride to buy into that?
Terrell: She knew that I was doing music when I met her almost four years ago, now. One of our early dates was before I began recording at home, so I brought her to the studio with me. She saw the whole process, laying down vocals, and doing takes over and over again. So she quickly knew that this was my passion and a goal of mine. And all that came full circle about a year ago, because the song that I recorded with her at the studio that night was placed in the TV show, Fuller House. And so she saw the whole process and we watched the episode together, so it was cool. She's very supportive of my goals, and I involve her as well. I've asked her for her opinions, like, "What do you think about this hook?" "Is this hot?" "Is this cool?"
So, I've involved her, and she's very supportive of what I do. And of course, with the balancing of hanging out with her, cultivating the art, and a brand-new marriage, there's a lot of weekend and nighttime work when she's asleep and whatnot. So I think I'm… Ask me in a year or so; I think it's going well, but…
Yeah, next year's panel will be "Musicians Going Through Divorces." [laughter] I'm kidding, of course! How long have you been married?
Terrell: A year and two months.
What's your day gig?
Terrell: County tax collector. I'm in the business tax and tourist tax department. So any businesses that operate in the county, we license them and do the paperwork and all that. And for tourist taxes, more for like hotels or short-term rentals, we handle all of those papers as well. That's my day gig from 8 to 5.
Don't miss Part Three in next month's TAXI Transmitter!