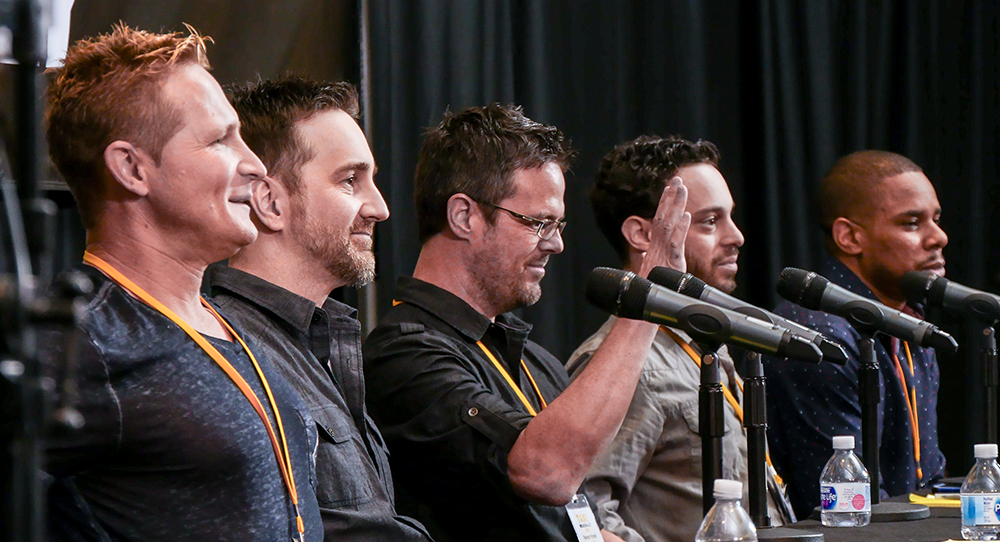 Matt VanderBoegh, Keith LuBrant, Randon Purcell, Marcus Cohen, and Terrell Burt look like they're saying "Amen!" in response to something really smart that somebody said.
Moderated by Michael Laskow
Panelists: Matthew VanderBoegh, Keith LuBrant, Randon Purcell, Marcus Cohen, and Terrell Burt
Matthew VanderBoegh is a full-time composer for film and television, specializing in hip-hop, dramedy, tension, elimination, and quirky instrumental cues. He started this journey in 2012 with no knowledge of how to make music on his own, and within five years turned it into his full-time job. His music has been placed over 10,000 times, on more than 1,750 episodes of 235 TV shows. He learned everything he knows about this business from TAXI, and frequently collaborates with other TAXI members.
Keith LuBrant is a songwriter/composer from New Jersey. He has performed at several music conferences and festivals, and also has had tracks used in more than 600 TV shows on major television networks such as HBO, NBC, CBS, ABC, MTV, VH1, and many others. Keith also created music for Mattel Hot Wheels television campaigns, Philips Lighting, and several online commercials. He is also the creator and CEO of Composer Catalog, the popular software that helps musicians keep track of their music catalog.
Randon Purcell grew up playing classical piano, which turned into writing and performing electronic music with a band through the '90s and early 2000s with some small degree of success. By 2014 he had changed focus to his true passion of writing instrumental cues and trailer music, which is where TAXI came in! Since then he has written and licensed nearly 500 tracks with many different publishers around the world and has enjoyed many placements on various television shows and promos for major networks, including HBO, ABC, NBC, CBS, Discovery, and many more. Some of his promo placements include popular television shows, such as Gotham, Lucifer, Big Brother, NFL Football, NCIS, and X-Files.
Randon is nearly 20 years-married and has three boys at home. He's really happy to be here taking a break at the Road Rally. We're kidding, Mrs. Purcell!!! He also works full-time as a software engineer and double-time as a coffee enthusiast.
Marcus Cohen aka CaiNo is a professional full-time vocalist/composer/producer/engineer running his own successful studio; producing, writing, and mixing for up and coming and seasoned artists since 2001. He has also had the amazing opportunity to mix for some of the music business's finest and most notable artists including Carly Simon, Neil Diamond, Justin Bieber, Bebe Winans, Kenny Loggins, and many more. His songs, instrumentals, and mixes can be heard all over the industry, on records as well as on Film and TV. In 2016 Marcus joined forces with his mother Sherry (a successful producer and writer for advertising) to focus on writing songs for music licensing, and they now have well over 500 new songs signed and published in the last two years alone. Marcus has been a TAXI top 10 artist, SingerUniverse Vocalist of the Month, and has had over 100 placements on networks like MTV, E!, CBS, ABC, VH1, VICELAND, and more.
Terrell Burt is a rapper and songwriter who can't remember a time when he didn't love everything about music. Writing lyrics and recording music on his computer as a hobby during his teenage years has progressed into Burt becoming a successful TAXI member with placements in TV shows such as The Young and the Restless (CBS), Keeping Up With the Kardashians (E!), Fuller House (Netflix), NCIS: New Orleans (CBS), Love & Hip Hop: Atlanta (VH1), Black Ink Crew (VH1), Genius: Picasso (National Geographic), and Claws (TNT). While working full-time for the county Tax Collector and still pursuing music through film and TV placements, Burt received his Masters of Business Administration from Saint Leo University in the spring of 2017. In September of the same year, he married his bride, Lindsay, who has been an encouragement to him in these pursuits.
While we were next to the stage before this started, one of the guys on the panel looked out at the room and said…
Marcus: I said if you're in this ballroom, you're already halfway there. If you're [in your hotel room] sleeping, I don't think you really have much of a shot. You can sleep at home. If you came here to sleep, I think you are misusing your time here. So if you're in here, you're already halfway there. [applause]
"The first year was basically all learning."Matt VanderBoegh
One of the most commonly heard excuses I've heard during the last 27 years is, "I can't find the time to make music." These guys were actually handpicked because they represent a really good cross-section of, I believe, the people in this ballroom.
So let's start with Matt, only because he's so shy, and I figure this will help him get over it. [laughter] Matt's a single dad who used to be a full-time college professor, and he said that he'd quit being a professor when his income from music was greater than his teaching income. So Matt, how long did it take you to get to the point where you earned enough that you could leave your day job?
Matt: So that was almost five years to the day. It's two years ago that I made the jump to full-time composing, and I had this threshold in my mind that when my royalty checks hit a certain amount, if they just stayed at that level for the next year, then I would eclipse what I made as a college teacher. It happened five years almost to the day from when I started.
Did you hear a choir of angels?
Matt: I heard the sound of clinking beer glasses. [laughter] It was a really good day actually… a really, really good day!
In the beginning, how many pieces of music did you create per week in the beginning?
Matt: This all started after I came home after a Road Rally back in 2012, I think. I had this goal that I was gonna make 50 pieces of music in one year, and I just figured that's one per week for a guy who had never made that much music in his whole life. I figured if I could do that in a year, then that was pretty good for me. I didn't know what I was doin', I was just clickin' buttons and opening up plug-ins I'd never heard of before. It was like, "Ah, let's try that." I've got all these compressors—I didn't even know what compressor was! "Oh, let's try this pre-set." I didn't even know what pre-sets were! I knew they were in there, so I was just like twisting dials. It was 50 tracks of garbage, but I made 'em. [laughter]
So the first year was basically all learning. Actually, the first year my goal was 50, and I made 75 pieces of music.
Were any of them any good?
Matt: No. But they did get better.
What genre were they?
Matt: It was such scatter shot method when I first got started, because I didn't know… My advice to everybody now is to do what you're good at. But if you don't know what you're good at, that's kind of a hard pill to swallow. So, when I went home from the Road Rally all motivated to do this, and I had looked at TAXI's Industry Listings and I thought, "Oh, that sounds fun. Zydeco? I don't even know what that is, but it sounds fun; I'll try that." And I think my first deal was for a capella vocals and I'm a horrible singer. The only reason I did it was because I could sing, it didn't take any skill, I didn't have to plug in a guitar. All I needed was a microphone. So I was just doing everything that looked fun, which is not the best method in the world, but it helped me realize what I wasn't good at. Now, anything that requires a guitar, I don't even bother.
You wanted to be a Country star when you first came here, right? There's an awesome picture of you standing on a roadside somewhere wearing a cowboy hat.
Matt: Oh yeah.
Marcus: Thankfully, he didn't wear his chaps today. [lots of laughter]
Tell us where your studio is?
Matt: Oh, my studio is in my backyard. It takes me—I've never counted the steps—I think maybe 20 steps out my back door. And that's where I go to work every day now.
And what kind of building is your studio in?
Matt: You're trying to set me up. It's in a shed. There's a company where I live, and they make storage sheds where you could put a lawn mower, bags of fertilizer, and a couple shovels in there. That's what you really use them for, but I turned mine into a studio.
And tell them about your lengthy equipment list.
Matt: Well, I've got a computer, that's about it. No, I've got live instruments and stuff. I don't have any outboard gear and all this stuff you plug in and daisy chain together. I don't have any of that. I always avoid those conversations, because I don't know what people are talking about. [laughter] My gear is a computer and a couple of cords and two microphones and two speakers and a couch. That's all I've got. Oh yeah, and a coffee pot. You don't need much, really.
I should have called this panel: If He Can Do It, Anybody Can Do It. [laughter]
Ok, so there's our single dad. By the way, how old is your daughter?
Matt: She's three-and-a-half. So when I've got her, all progress with my music ceases, all my time goes to her. So when I've got her, she is all I do. But when I don't have her, music is all I do.
Great. How many hours a day do you work?
Matt: Oh, my goodness, probably 12.
Keith, so you're a full-time computer programmer. You do web development and software development. You've got a wife, and an adorable daughter, and magically you've found enough time to create music. You've had placements on over 600 shows. How do you find the time with a family and a job? Because that's the big excuse. Everybody says, "I just can't find the time," but you do.
Keith: Yeah. When I had my daughter, my life changed obviously. We had to really adjust what we were doing. Before I could come home from work and just record until dinner, then hang out with my wife, and then go back to the studio. But I really want to be a present father and be there for her. So I really had to find the time to pick and choose when I could do that. Now I have this schedule, it's pretty hysterical. I'll come home from work—and I know that they're not coming home for another 40 minutes—so… Here's a perfect example: I got a call from a publisher, "I need a song that sounds like X." So in my head I'm listening to songs a couple times at work, or whatever, so I know in my head what instruments I need, what tones I need to use. So I'll come home and I'll lay down the drums for that. And at that time they come home, we'll hang out, make dinner, talk, and catch up with everybody. Then I'll duck down to the studio and lay down the bass line. When they're doing something, I'll come back up and hang out. By the end of the night, it'll be a tub time. My wife will put her in the tub, and I know I have some minutes, and I'll go down and finish the guitar tracks and everything else. Then I'll come back up and we'll read a story and kiss her goodnight and everything. Then I have the choice to finish the mix there at the end of the night or hang out with my wife. Usually she's asleep on the couch by that time, so the decision is already made. So it's picking and choosing the right spots. Like I said, I want to be a father first and foremost, but [applause] I have it down to a science now, so I can really… And then, weekends, obviously, I have a little more time to work with stuff.
I know the quality of your tracks, and I can't believe that you find the time to sporadically jump into do a bass part and run down after dinner to do a guitar part, and that stuff comes out so good.
Keith: I was just talking to people last night about that. It's knowing what you need to do for a track, knowing the tones, knowing what drum sound you need. So instead of going through a hundred different snare sounds, you're going down to the studio knowing exactly what you need to do as far as the sound and everything, so you're not stuck finding the snare sound for 30 minutes. So you're really ultra-focused at that point. When you're in a position like I am, you don't have the time to go, "OK, that kick sounds good, but I need a little more…" You need to know exactly what you have in your arsenal.
Randon, what's your day gig?
Software engineering.
And you've got three sons. So I imagine that it's hard being the father of three boys.
Randon: You know, it kind of is. My wife and I are pretty chill people, so I guess our boys got that. So none of them are super-high-strung like I was as a child. I really mellowed out. But they're just not that difficult, honestly. I kind of scored. And they are a little bit older now—my oldest is 15 and my youngest is nine. But when they were born it was a holy nightmare—I had a kid that cried for nine months straight. But at the time I was kind of still writing songs; I wasn't with TAXI; I wasn't going after licensing gigs; and I just kind of wrote whenever the hell I felt like it. So if I went three days, I went three days, it wasn't big deal. It was like, "Ah, whatever." So they were a little older… When I joined TAXI, my youngest was probably four or five years old, and that's significantly easier than two- and three-year-olds, obviously. And like these guys, I wanted to be a good dad, so they come first, and it was just a matter of finding—like Keith said—finding the right times that work for you, finding the right times to balance everything that's important in your life.
"I get up at 4:30 every morning seven days a week. I get a solid three hours of music in before I do anything else.Randon Purcell
How about your wife? You know when you have kids, kids are the most important thing in your life. I think it was Keith who said his wife is asleep on the couch… I mean, how do you also keep up that relationship? You've got to nurture that as well.
Randon: Right, for sure! Like you said, the kids come first, my wife I wouldn't say second, but you know, first and a half? Whoever I'm talking to at the time… Kids, you're the first; no, Erin, you're the first. But it was a little bit of experimentation. I'm not so good as Keith at running down and doing 30 minutes here and there. But if I know I've got 30 minutes before they come home from the zoo or something, I get down there and do as much as I can. And to his point about thinking about the things while you're working, I tend to get too distracted to listen to much music while I'm writing code. But I do listen to a lot of soundtracks and things that don't have vocals that steal my attention so much. And I keep a little notepad open on my computer. When I hear sounds that I really like—maybe like a staccato pattern—I could borrow that. Just ideas, sounds that I really like, percussion that I really like, rhythms, I take a note and I write down the time and the track that I want to re-visit at some point in time. Then when I do have a little bit of time and I'm working on a project, if I'm working on some really dark type if thing, I go back into my notepad where I wrote this stuff down and I'm like, "Oh yeah, I wrote down that I know that this library I have has some sounds that are kind of along that line. And I'll just kind of pull up a whole bunch of sounds and percussion and everything, and I start my blank canvas for my track with a whole bunch of loaded instruments that I know are right in that soundscape that I wanted, and it just speeds up the whole process.
But my secret to giving my family the time they deserve and finding the time to do my music is this: I get up at 4:30 every morning seven days a week. I get a solid three hours of music in before I do anything else. No one else is awake, and I can blast it as loud as I want down in my basement studio with no interruptions. I've already got all my notes of what I want to do, so I never sit there clicking through pre-sets and stuff, because I already know where I'm going. I just dive right in, and I don't stop other than I've got a pea-size bladder, so you know. Other than those breaks every 15 minutes, I'm breezing right along with loads of coffee and a lot of music.
Don't miss Part Two in next month's TAXI Transmitter!