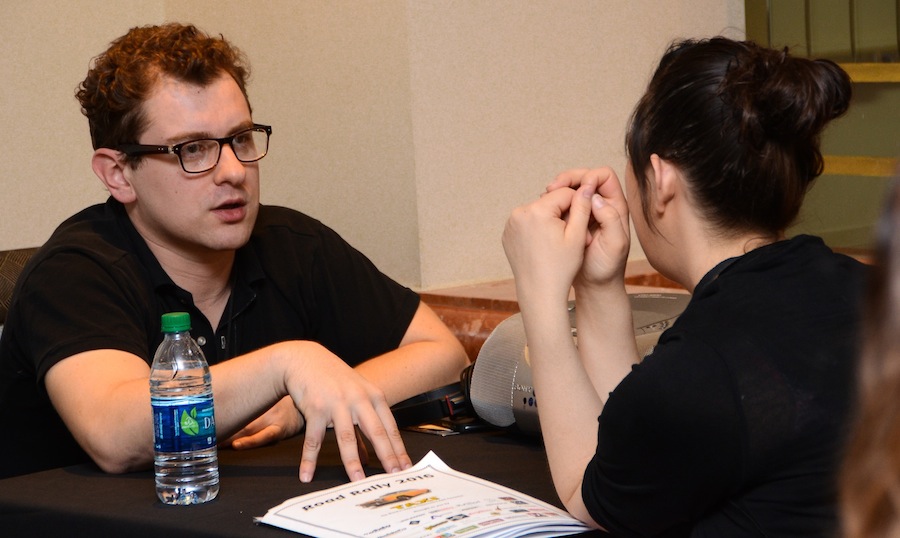 Music Supervisor Jacob Nathan gives feedback during a One-to-One Mentoring session during the first day of TAXI's Road Rally.
Where can independent musicians from all over the world meet top Hollywood music supervisors, music library executives, major and indie label A&R people, music attorneys, music publishers, collaborators, Grammy-winning record producers, hit songwriters, and music business experts from every aspect of the music industry, and meet them for free?
Yep, the TAXI Road Rally… that's where!
If every picture is worth a thousand words, then these photos speak volumes. They tell the story of how every day musicians with long-held dreams and goals come together in one place, for one powerful weekend. And for the last 20 years, goals have been met and dreams have come true at the TAXI Road Rally.
Each year, we work really hard to surpass the programming, speakers, topics, and mentors from the year before. For our 20th Road Rally, we worked harder than ever before to make it special. It was worth it! By all accounts, TAXI's 20th was everything we hoped it would be.
More importantly, it was more than our members and guests expected. We love beating expectations. Enjoy these photos, and when you're done, jump over to our Rally photo album on Facebook!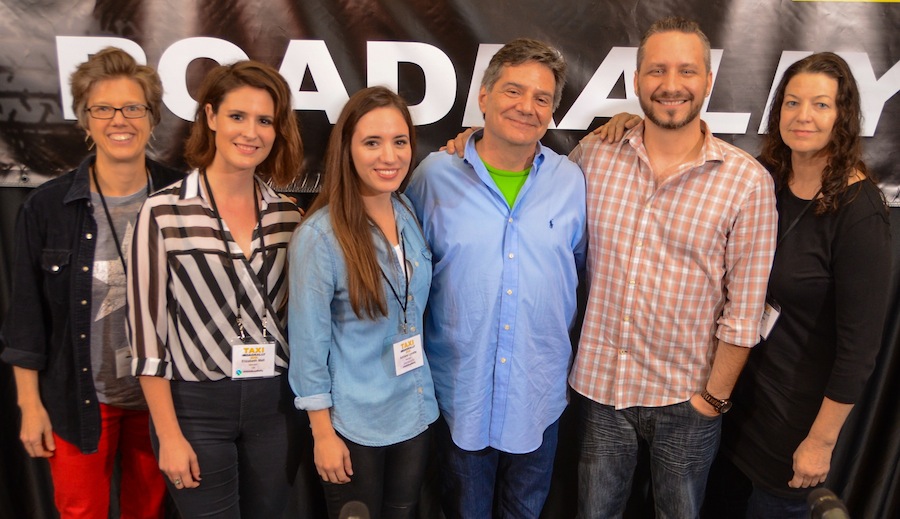 (Left to Right) CK Barlow, Elizabeth Anne Mall, Adriana Lycette, Michael Laskow, Doug Fenske, and Patty Boss line up for a group shot after their panel, Getting Comfortable With Production.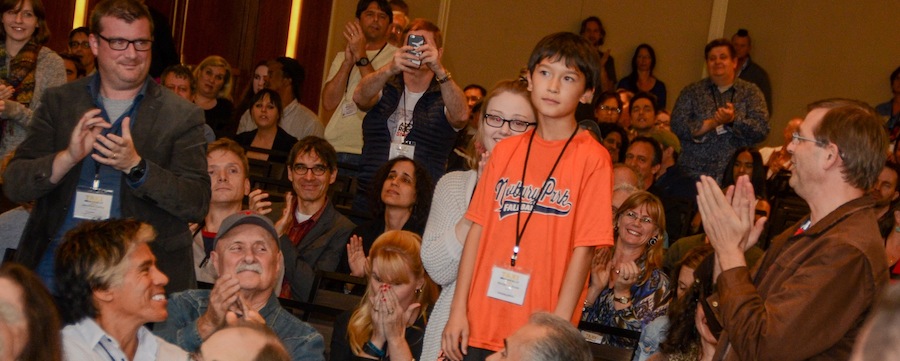 10-year-old Benjamin Sinek got wild applause from a packed ballroom after his Electronic music track was played during the Happy Ending listening panel at the end of the Road Rally.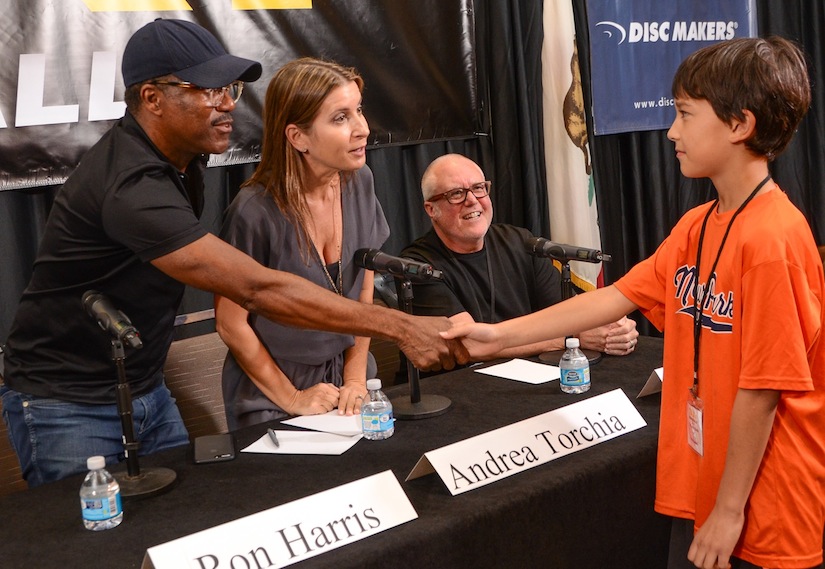 Right after his track was played, young Benjamin Sinek was called up to the stage for a lunch invitation by veteran A&R people Ron Harris and Andrea Torchia. Everybody in the ballroom was stunned by how good Benjamin's track was! This young man is going to pack stadiums in the not too distant future!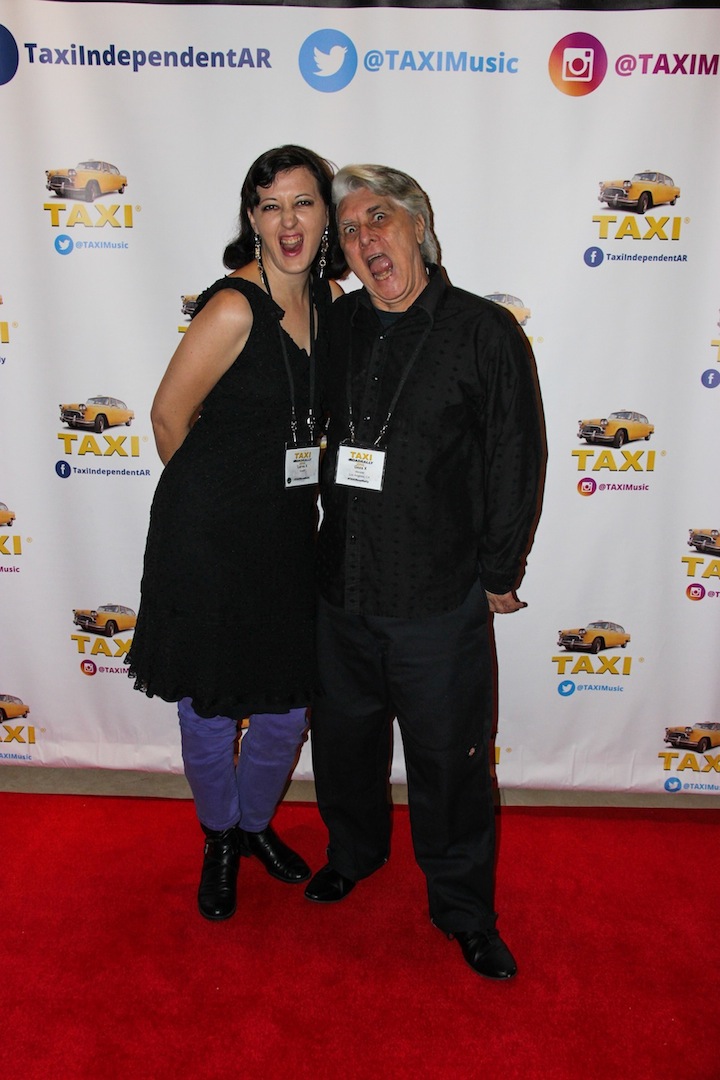 Legendary Punk producer Geza X (right), along with Larva X, took a moment to ham it up on the red carpet at the Rally.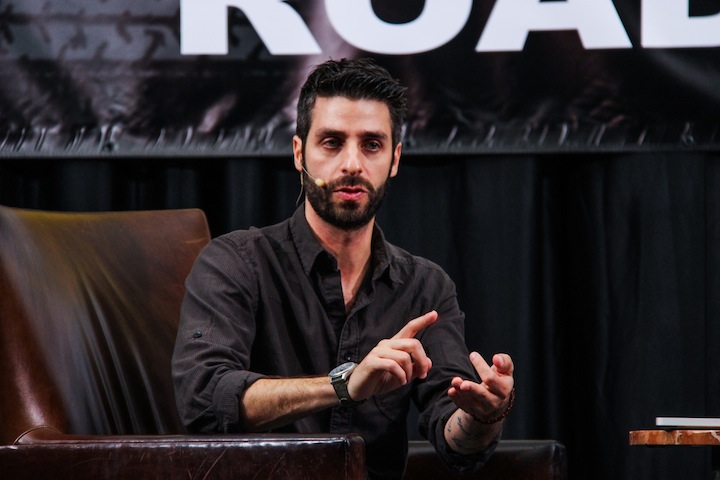 Hollywood Music Supervisor Frank Palazzolo told the audience exactly what kind of information should be included in the Meta Tag fields on every song or instrumental they send out to the industry. You could get a Master's degree in Music Business to learn that type of detailed information, or you could just come to the TAXI Road Rally!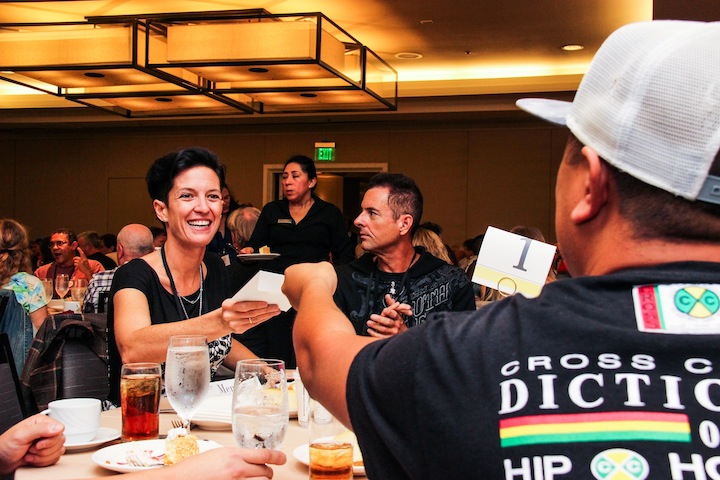 TAXI A&R person and Film/TV music expert Brooke Ferri takes some music from a member during the Mentor Lunch at our 20th Road Rally.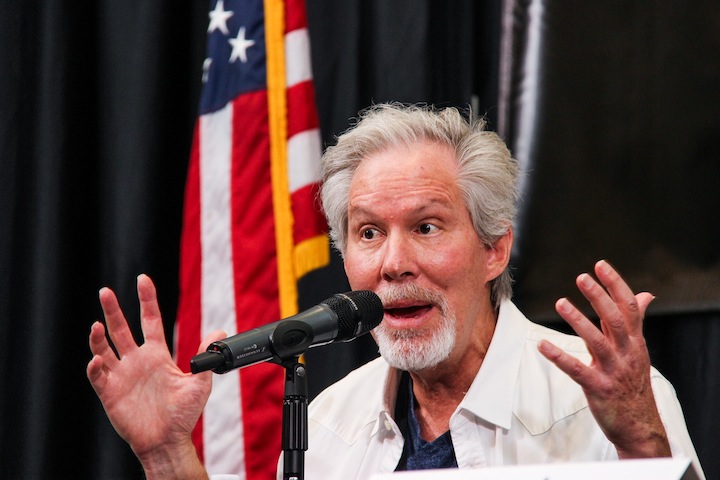 RipTide Music Group CEO Rich Goldman tells the audience how big the chorus on a particular song should be during the Music Library Listening panel at the Road Rally.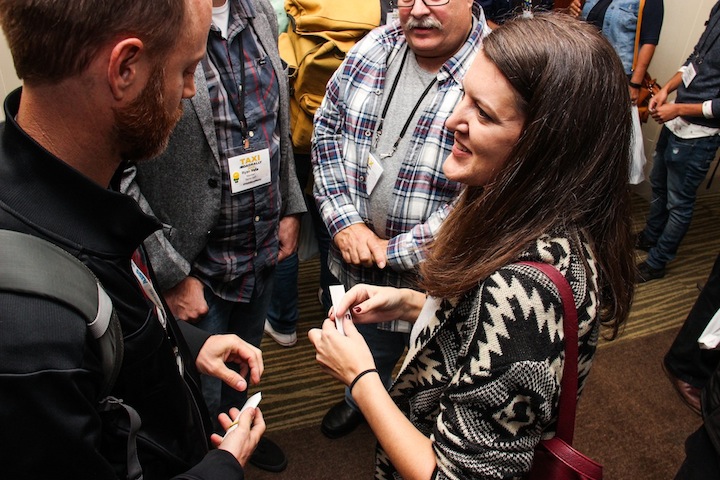 Crucial Music's Joy Springer takes some time chatting with TAXI member Clark van Norris after she finished her Music Library panel.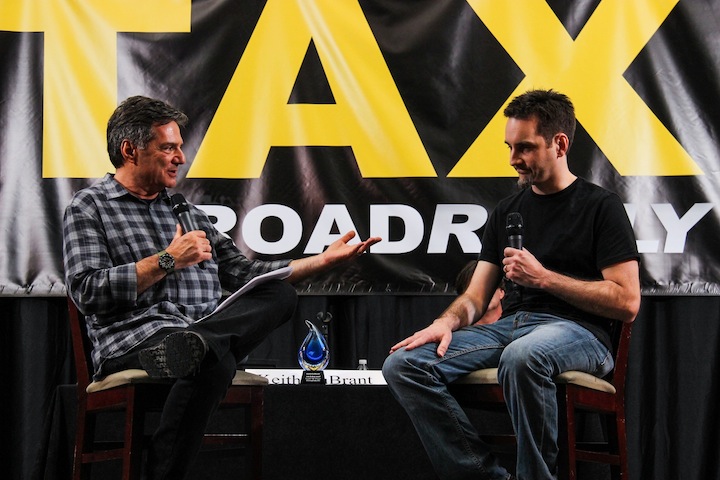 TAXI CEO Michael Laskow (left) interviews TAXI member Keith LuBrant, after Keith was presented with the John Braheny award at the 20th Road Rally.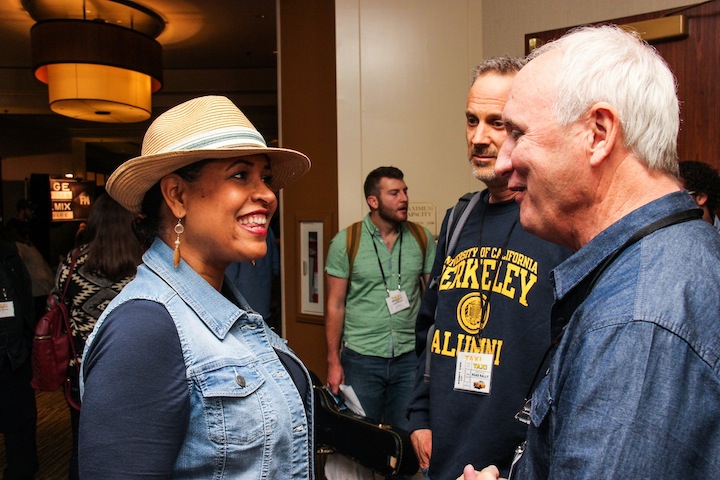 Music Library owner Donna Ross-Jones takes a minute to speak with TAXI Composer Brian Curtin when she finished her panel.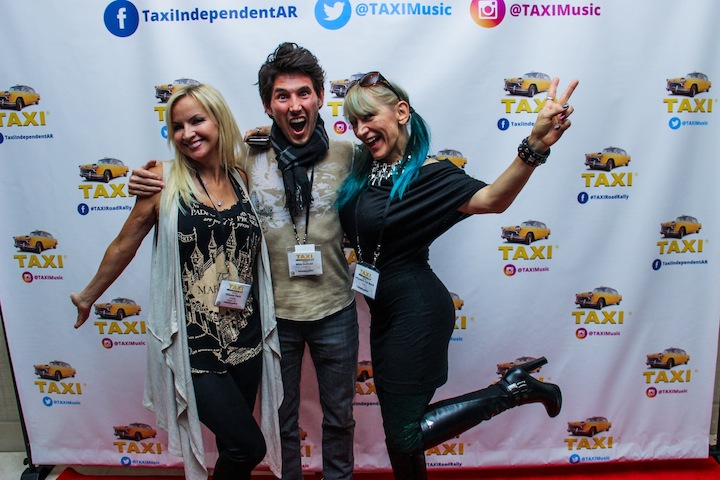 Nitanee Paris, Mike Sullivan, and Jacqueline Van Bierk seem to be having a great time at the Rally.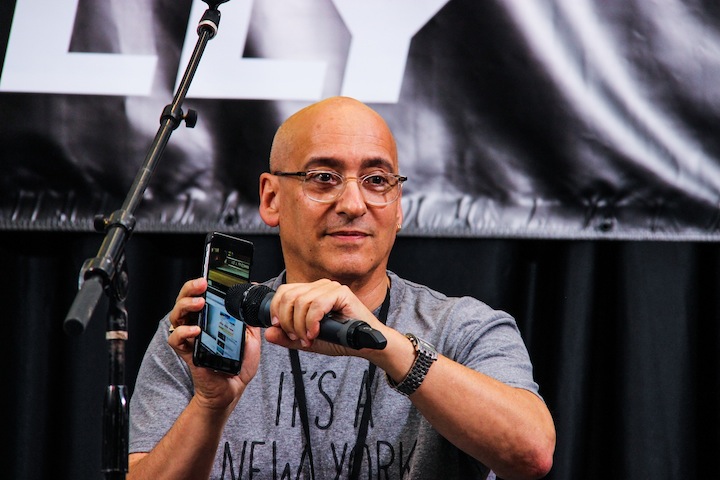 Hit Songwriter Allan Rich plays the voice mail he got from music industry legend Clive Davis, telling him that his song "Run to You" (co-written with Jud Friedman) was picked to go in the blockbuster film, The Bodyguard, starring Whitney Houston. The song was also on the soundtrack album, which sold 30 million copies!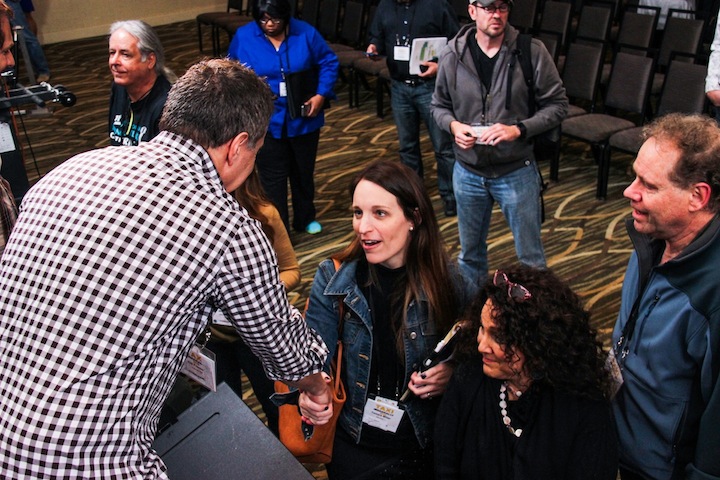 Hit Songwriter Jud Friedman co-wrote the mega-hit "Run to You" with his writing partner Allan Rich. After they finished their "Stories Behind the Songs," Jud took time to chat with TAXI member Tamara Miller and many others!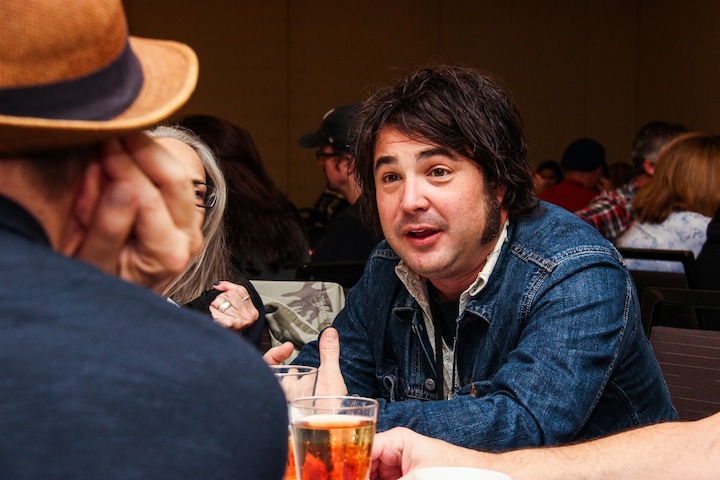 Music licensing expert Jeff Grey gives some attentive members the low down on the ins and outs of the creative and business sides of TV music licensing at the Mentor Lunch at the Road Rally.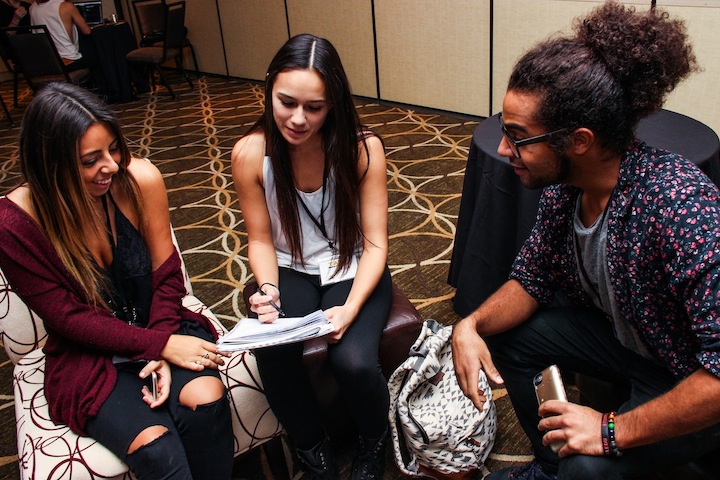 While TAXI is recognized for helping songwriters, artists, and composers get their music into the hands of Music Supervisors, Record Labels, and Publishers, it has also fostered a global network of collaborators. These Road Rally attendees were spotted co-writing in the Collaboration Lounge. We hope they wrote a hit!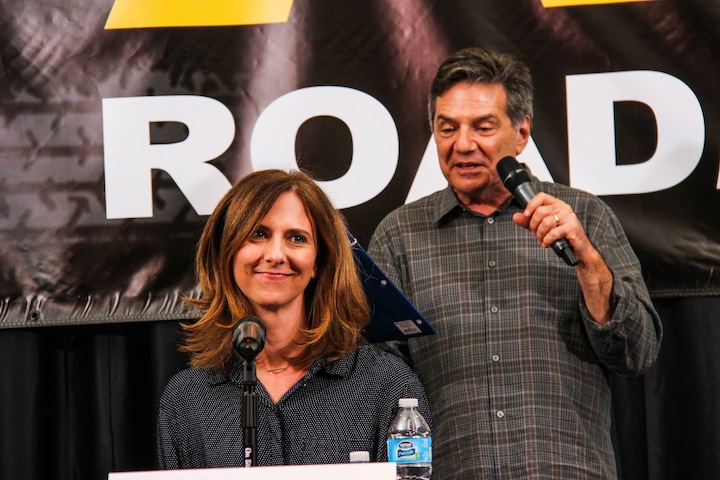 TAXI's Michael Laskow concentrates as he reads Music Supervisor Jen Malone's bio during the Music Supervisor Listening and Feedback panel at the Road Rally. Malone is getting tons of critical acclaim for her work on the hit TV show Atlanta.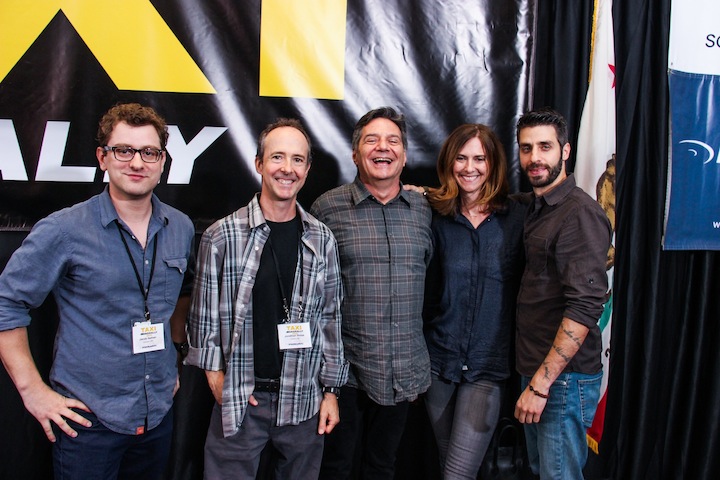 (left to right) Music Supervisors Jacob Nathan, Jonathan Weiss, Jen Malone, and Frank Palazzolo flank TAXI's Michael Laskow (center) in this post panel shot at the 20th Road Rally.
You would have thought that TAXI member Natalie Clark had just won the biggest prize ever on the Price Is Right when she won this gorgeous Batson guitar. She was beyond excited, and Batson CEO Cory Batson (left) couldn't have been happier for her!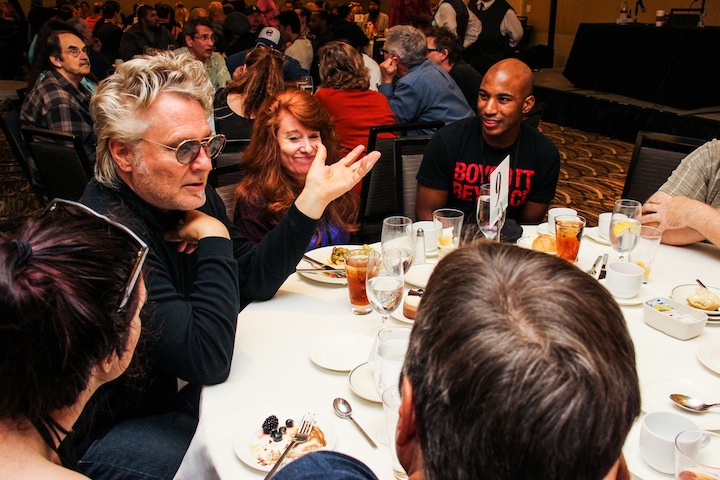 Christian and Country Hit Songwriter, Michael Anderson holds court during the Mentor Lunch. With several #1 CCM Hits under his belt, plus Country and Pop Hits that include the Pam Tillis smash, "Maybe It Was Memphis," we're sure he had some great information to share.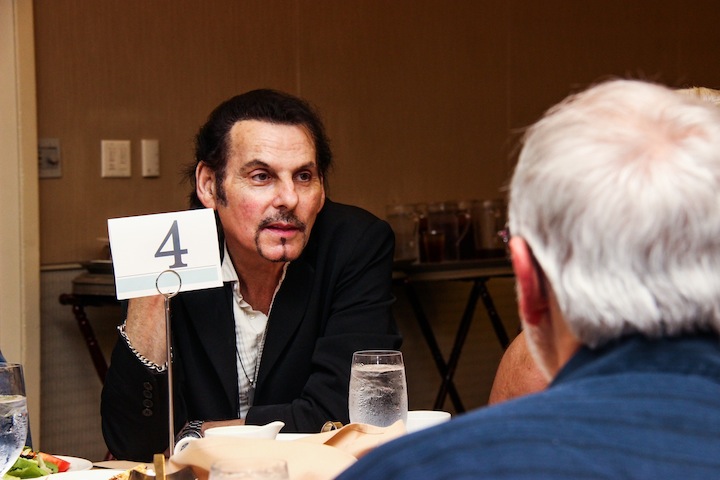 Prescott Niles is not only the bass player on the monster hit, My Sharona, he's also a long-time member of the TAXI A&R staff. Members love it when he visits their tables during the Mentor Lunch.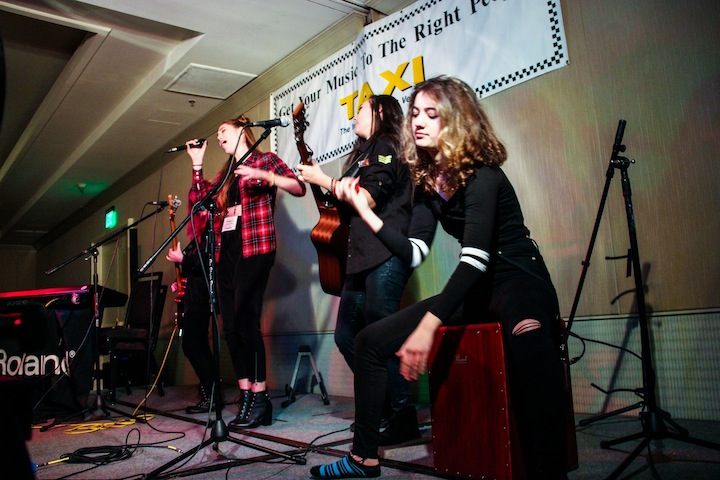 We don't know who these young ladies are, but they hit it out of the park during their Open Mic performance.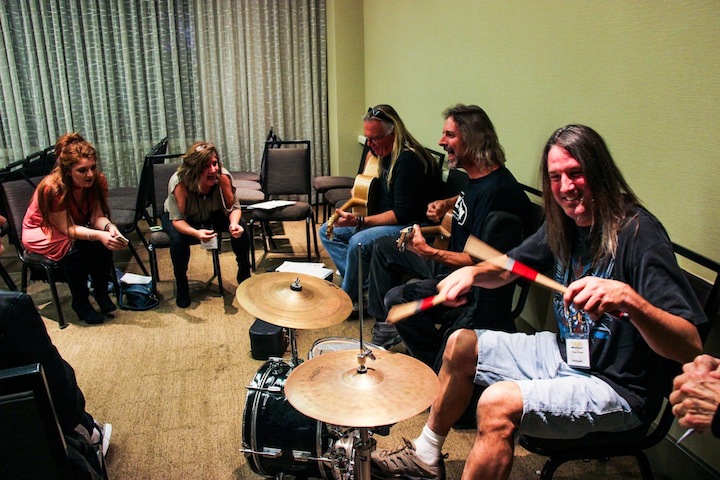 One of the things we love about the Road Rally is how it brings musicians together from all over the world! The folks had probably never met prior to the Rally, yet here they are jammin' away, having a great time doing what musicians love to do.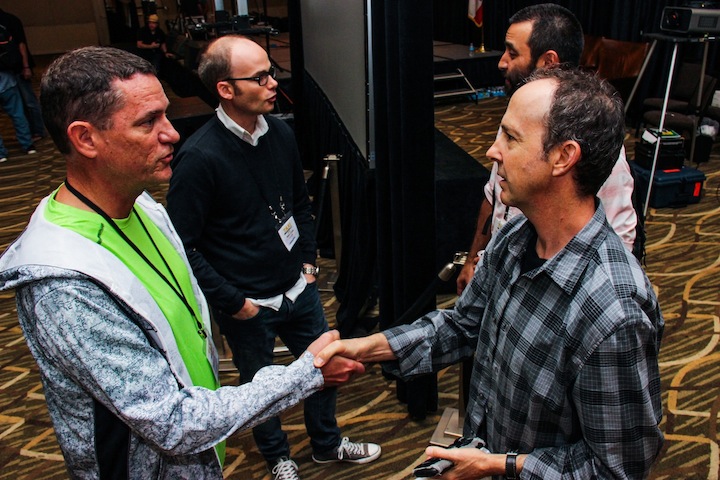 TAXI member Russell Landwehr (left) meets Music Supervisor Jonathan Weiss in the foreground, while his friend and fellow member Pedro Costa (left, rear) meets Reality Show Editor David McCintosh in the background. Gotta love the connections that are made at the Road Rally!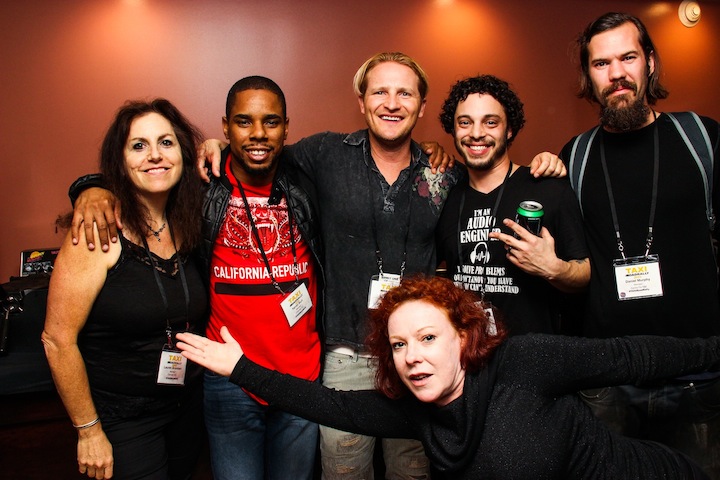 The Road Rally isn't all work and no play. Most of these members probably didn't know each other before the arrived at the Rally, and now they look like they'll be friends and collaborators for life. The Road Rally has a magical way of making things like that happen!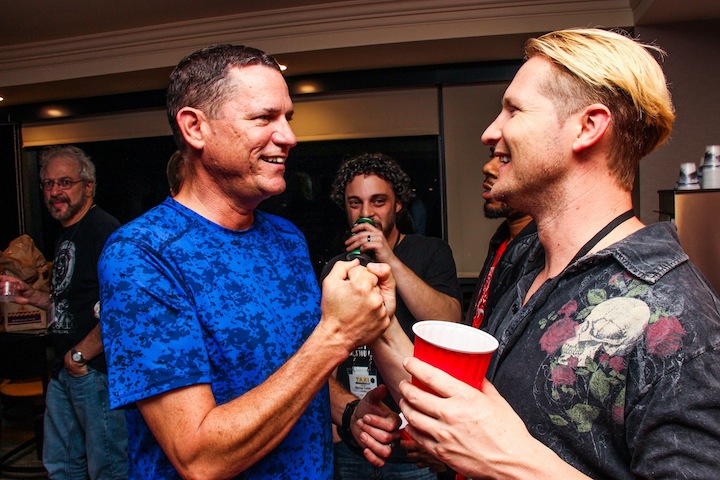 Russell Landwehr and Matthew VanderBoegh first met on the TAXI Forum, and then in person at the Road Rally a few years ago. Now they arm wrestle to see who buys the next rounds of drinks. Looks like it might have been a tie.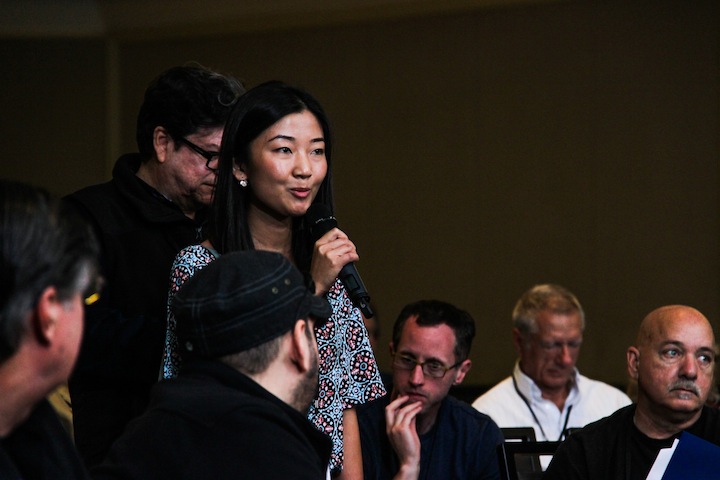 During the Question and Answer period of one of the Rally panels, this young lady asked if we ever get requests for authentic Asian music. The answer was a resounding, "Yes!"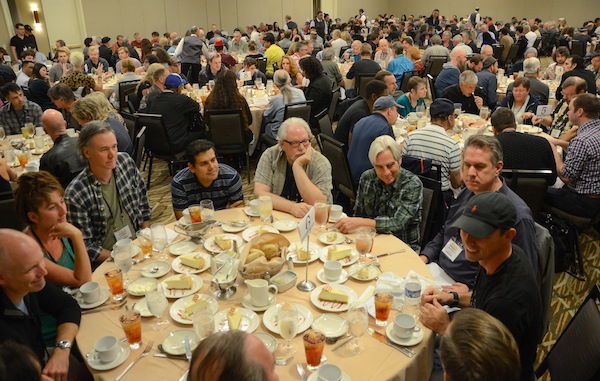 Songwriter/Composer/Producer James Kocian (foreground in black baseball hat) has the complete attention of the folks at his table during the Mentor Lunch. It can be pretty loud with more than 300 people in the luncheon, but it's worth straining your ears a bit to hear some great tips and make great new relationships.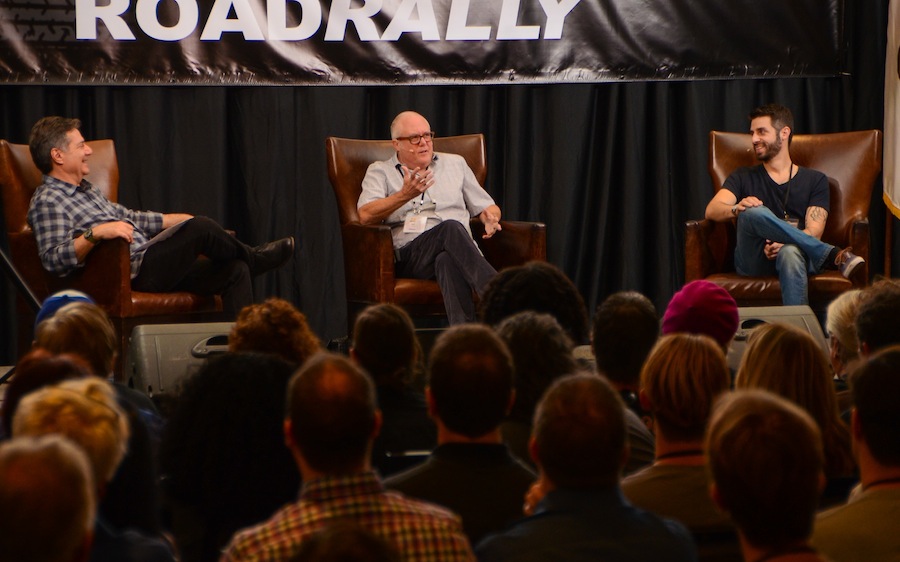 Film/TV Music Publisher Bob Mair (center) gives a funny example of how to not approach people in the industry, as TAXI's Michael Laskow (left) and Music Supervisor Frank Palazzolo chuckle in agreement.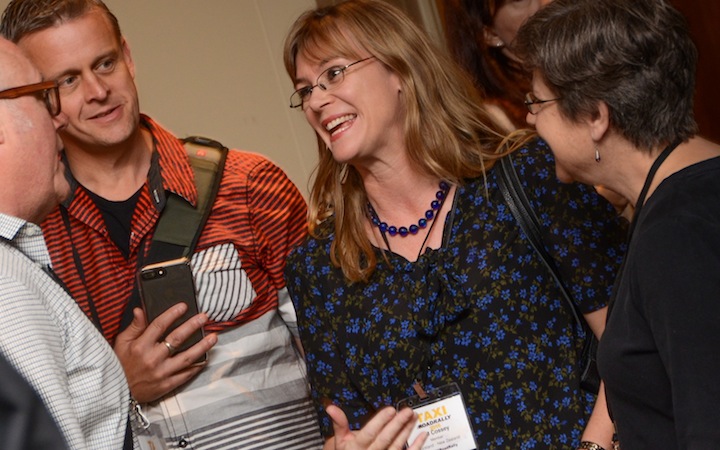 TAXI member F.M. Cossey came all the way from New Zealand to join us at the Rally, so we're really happy that she got to meet Publisher Bob Mair and ask him a question or two.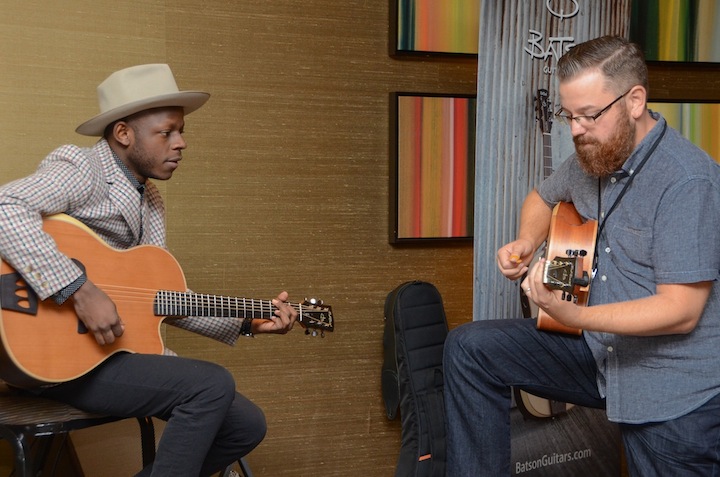 Pro guitarist Lance Allen jams with a Road Rally attendee at the Batson Guitar booth. We wish this photo were a video and not still shot because we'd love to hear what they're playing!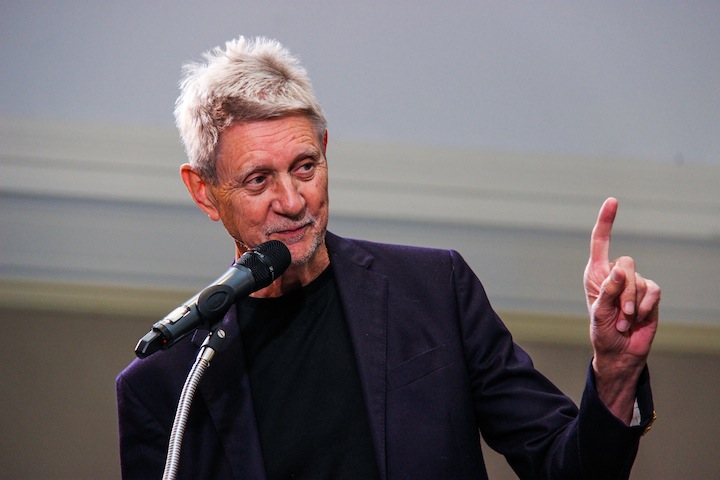 Hit songwriter, producer, author, International Consultant to ASCAP, Ralph Murphy tells a very attentive audience, "If you want people to love your song, you've got to invite the listener in."
Stephen Baird is a highly successful TAXI member who created an awesome EDM track from scratch, live on stage at the Road Rally. Using nothing more than a laptop and MIDI keyboard, he created a killer track in under ninety minutes! The audience was blown away!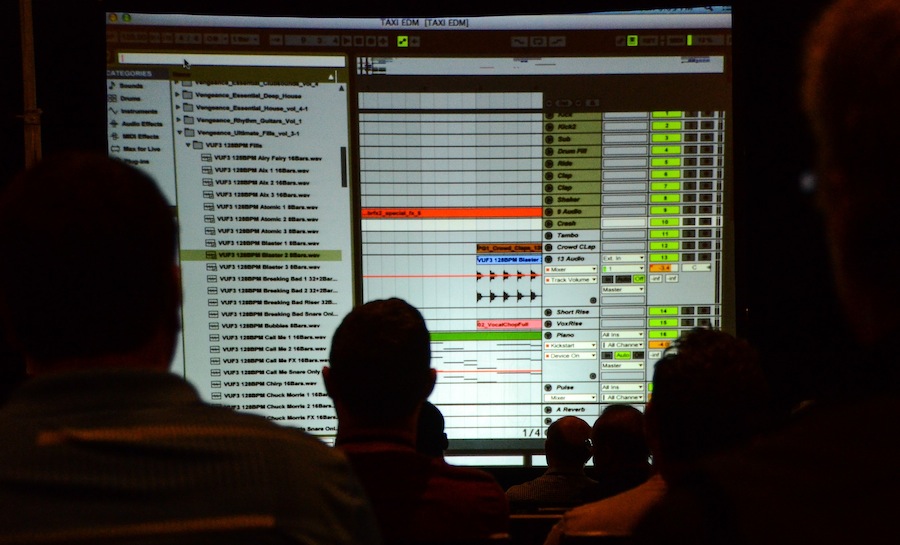 While Stephen Baird created an EDM track from scratch, the audience got to see every compositional, arrangement, and production decision come to life on the big screen while they listened to his track being built in real time.