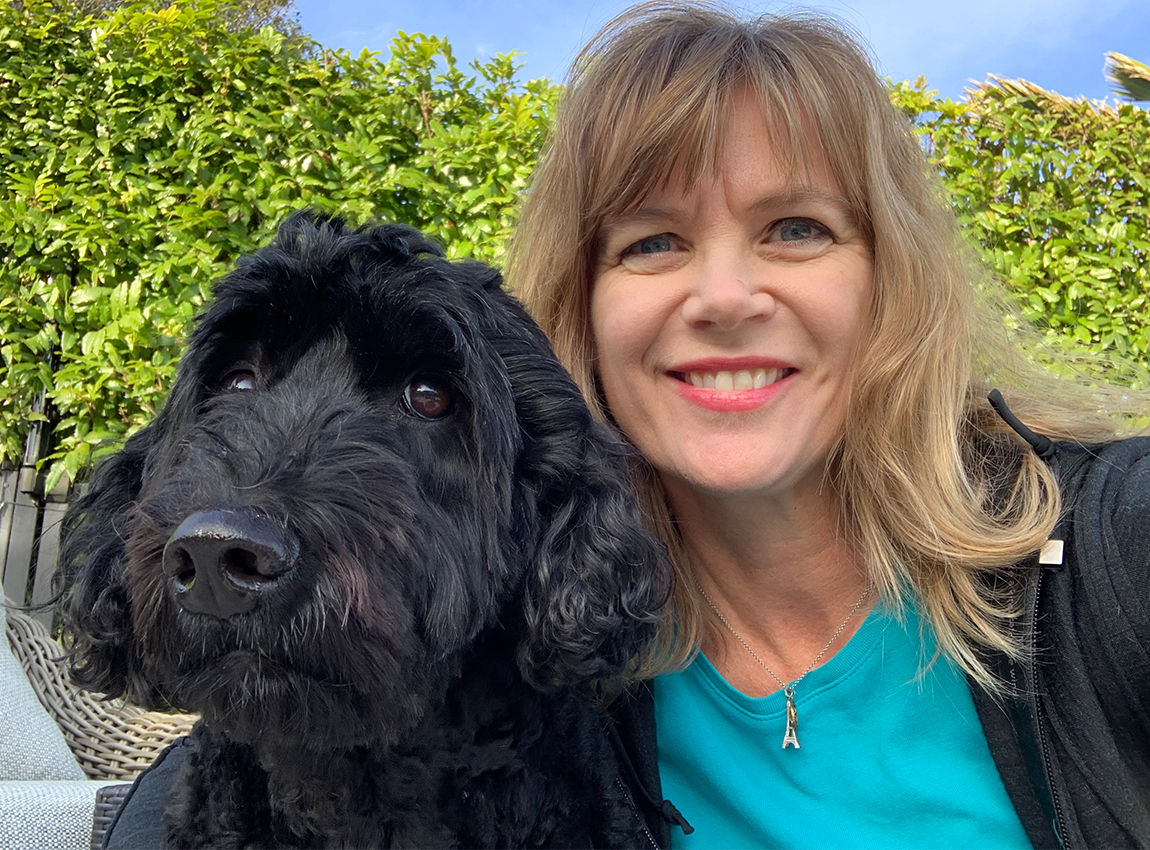 Where did you grow up?
I grew up in Wellington, New Zealand, and lived there until my mid-20s, when I moved to Auckland for work.
Did you come from a musical family?
My middle name, Cecilia, was chosen because she's the patron saint of music! My mother was very musical, and she played the piano all her life for her own pleasure. Both my parents liked classical music and opera. I had two older brothers who played the guitar, and there was lots of music around the house. At one stage Mum sold her piano and bought a Lowry organ, and it was fun playing around with the beats and chords.
How did you get your start playing music, and what was your main instrument?
I don't know that I could say I play any instruments. I was probably around five when I was given a ukulele for Christmas, and I think I was seven when I started having piano lessons. Unfortunately, I hated practising, and didn't bother, so I didn't get very far. My brothers taught me some chords on their guitars, and then I got my own one when I got a bit better. Because I didn't play for years as an adult, I can't really play anymore.
What I was really interested in was singing. In our school choir we sang a lot of Church Latin, and I loved the harmonies. And I loved musical theatre. A friend and I used to go "auditioning" at theatres in the city and with local community groups. We were almost always way too young, but it was lots of fun.
Who were your favorite artists when you were high school and college age?
Gosh, thinking about that time takes me right back to Casey Kasem! There were so many I liked; Olivia Newton-John, The Bee Gees, David Bowie (my first rock concert!), Michael Jackson, U2, Genesis/Phil Collins, Dire Straits, Elton John, Queen, Cyndi Lauper, Kate Bush, Fleetwood Mac, The Police/Sting, Prince, The Eurythmics, New Order, Icehouse, Talking Heads, Soft Cell, Simple Minds, Pet Shop Boys, Frankie Goes to Hollywood, Tears for Fears, Blondie, UB40, Alison Moyet, and Simply Red.
And of course, lots of New Zealand bands – Split Enz, Crowded House, Peking Man, Netherworld Dancing Toys, DD Smash, Hello Sailor, The Exponents, The Mockers, and When the Cat's Away.
How old were you when you wrote your first song?
Probably 12; I wrote it with my brother, Andy. It was called "Skinny Lizzie"! I didn't focus on music at all when I went to University (to study Law), and after that I had a corporate career. It was years later that I started writing songs properly, when I was a full-time mother at home.
When did you first join TAXI, and what motivated you to become a member?
I joined in 2010. In the mid to late 2000s I went to a number of songwriting workshops at MAINZ (Music & Audio Institute of NZ), and I can't remember if it was Pat Pattison or Jason Blume who first mentioned TAXI at one of those weekends. For a long time I didn't consider becoming a member as I had no way of recording or producing a finished song, but after spending lots of time on the Forums I was really interested to go to the Rally. My husband said he would be ok with the kids on his own, and so I joined!
Wow, great husband! Do you remember what your first impression of TAXI was when you joined?
I remember that people on the Forums were very welcoming and helpful. I was in awe of members who posted about getting forwards and placements, and those who could write for specific listings.
Did you start using the community and educational parts of TAXI right away, or were you a lurker?
I was a lurker on the Forums way before I became a member, and once I joined TAXI I became a participant.
Looking back, how much better has your music become since becoming part of the TAXI community?
I would be embarrassed for anyone to hear the music that I started out with.
We hear that all the time…
For my first year as a member I didn't submit to a single listing, but I got a lot of custom critiques. I found out afterwards that many of them were done by the late John Brahaney, (Screener 12) and he was really positive and encouraging. Once he even said that he looked forward to hearing my new songs! He was a very kind and generous person.
I've learned so much from the members on the Forums and at the Rally, and my songs have also improved immensely because of the people I collaborate with.
Do you write songs, instrumentals, or both?
Because my focus is on lyrics I always write songs, and then we've also got an instrumental version in case a publisher needs it.
Let's talk about collaborators. I know that you're a long-time collaborator with fellow member Scott Free. Tell us how that came about, and what each of you typically does when collaborating.
I feel very fortunate with how that happened; working with such a great producer and multi-instrumentalist! Scott had posted up in the Collaboration Corner on the Forums looking for a lyricist for an urgent singer-songwriter listing, and the à la was Neil Young's "Sugar Mountain." I wrote the lyric, Scott did the music, production and vocals, and our song was called "Daddy's Shoulders." It was returned, but it had been a good experience. Working to a deadline is always interesting. Sometimes what we can achieve in the timeframe surprises me, and other times we've simply got something with potential that can be revisited later. With "Daddy's Shoulders" we kept making small changes to it, and even brought in fellow TAXI member Nathan Nasby to join as a writer and singer. This was probably my first song with "universal lyrics," and I know I struggled with that for a while after writing detailed story lyrics for Country. A few years ago we signed a contract for it with a good library. It's still one of my favourite songs.
Typically I send Scott a lyric and he does the melody and production. We then ask one of our TAXI friends to sing for us. (While we both can sing, we usually feel that someone else will serve the song better.) When Scott and I finish a song we wrap it up with our artist name, The Free 4All.
Then I take care of the business side of things; doing the Work-for-Hire documents, metadata, pitching, reviewing contracts and managing our catalogue. I use the Composer Catalog software, developed by TAXI member Keith LuBrant, which I highly recommend.

Tell us about your process when creating a new piece of music.
Occasionally I co-write in real time with someone, but mostly I start on my own with the lyric. If it's for a particular listing, I study the reference songs. I like listening to them on repeat when I'm walking the dog, particularly if I'm not that familiar with them, then see what pops into my head. It's easy to make notes on my phone, and sometimes I'll sing a verse or chorus if I get a melodic idea. When I get home I start writing. When it's finished I like to leave it for a while, coming back to it during the day and making changes. Once I'm happy with it, I send it to a collaborator to do the music. Then we can work on it together, making sure the lyric and music fit together well, and changing things until we're both really happy with the song. Sometimes this process can take weeks, sometimes it happens very quickly. I've done a number of jazz songs with TAXI member Louise Goldberg, and she's so amazing to work with. I send her a lyric, and she composes a melody that marries up so beautifully with what I've written. Her partner, Mary Reynolds, does awesome vocals, and it all feels so effortless!
Effortless is good! Do you do any of your own engineering?
No. Years ago I did a weekend introductory course on Logic Pro at MAINZ, and it was really useful for me as I knew absolutely nothing at that time. It also made me realise that production/engineering was never going to be one of my strengths. But it gave me the confidence to start using GarageBand for recording.
Have you always worked with collaborators, or is that new to you since you joined TAXI?
When I first started songwriting I wrote on my own, composing on the piano. However, after a while it felt like my melodies simply followed the chord progression, and they were all starting to sound the same. I realized that if I wanted to write better songs I would have to work with others, and TAXI was the perfect place to find collaborators.
How have you met the other collaborators you've worked with?
Vince Constantino was my first collaborator, and we met at TAXI's convention, the Road Rally. We wrote Country songs together for a couple of years, and it was really great working with him. After I "met" Scott Free on the Forums, it was so good to meet him in person at the Rally a few years later. Scott and I often work with fellow TAXI member, Michelle Lockey, who we also met at the Rally. I've also written with a number of other TAXI members, most of whom I've met at the Rally, and songwriters I've met at other music festivals.
"Obviously it's easier if you feel comfortable with people, so you can share ideas freely without worrying about looking foolish, and it makes sense to work with people who have different skill sets."
What are some of the traits you look for when vetting which collaborators you'll work with?
I don't think I've ever vetted any collaborators! I'm not sure that you can tell beforehand who you will work well with, until you start writing with them. Obviously it's easier if you feel comfortable with people, so you can share ideas freely without worrying about looking foolish, and it makes sense to work with people who have different skill sets. When I work with people I want to be open to different ideas, but I also like to be prepared with something I've already started. I think it's important to communicate clearly so that everyone knows where they stand in terms of splits and ownership of the master, and from a business point of view it's important to have the paperwork sorted properly.
Assuming your collaborators aren't in New Zealand; does the time difference work to your advantage, or does it make it more difficult?
I depends on how we're working. If it's just via email, it usually works really well, and at times it feels like the song never sleeps! I can send something before I go to bed, and then I wake up to what my collaborator has sent me. However, if we're trying to do a "face to face" co-write, it can sometimes be harder finding a time that works. Recently I did a weekend songwriting camp on Zoom organised by Suzan Koç, and I was partnered up with a guy in Germany. I felt a bit bad for him with the timezones – it was 7 a.m.-12 p.m. for me, but 9 p.m.-2 a.m. for him!
How would you describe the music scene in New Zealand?
We have some amazing artists coming out of NZ, though many of them move to Australia or the US to further their careers. I always think it's cool when I see their names on TAXI listings; Lorde, Gin Wigmore, Benee – I love her music!
Are musicians there keenly aware of the film/TV side of the industry?
A few years ago I would have said, "probably not." One evening I was at an event held by APRA (our PRO) and someone asked a question about it. The presenter, a music publisher, didn't seem to think there was anything that songwriters could do to get their songs licensed. He felt it was just luck if someone wanted to use a song and approached the publisher. However, these days there seem to be so many courses and Facebook groups dedicated to sync licensing that I think musicians and songwriters are now very aware.
"I love that feeling of nervous excitement when I sit down to start writing."
Do you tend to wait for the muse to get you going on a new piece, or do you primarily write in response to TAXI's listings or briefs?
I often look at the listings as a place to start, or sometimes a publisher wants something specific. Other times I simply get an idea for a song, and I love that feeling of nervous excitement when I sit down to start writing. How consuming it is, and that nothing else matters until I've written it.
Don't miss Part 2 of this interview in next month's Transmitter!
Check out some of F-M's music here!