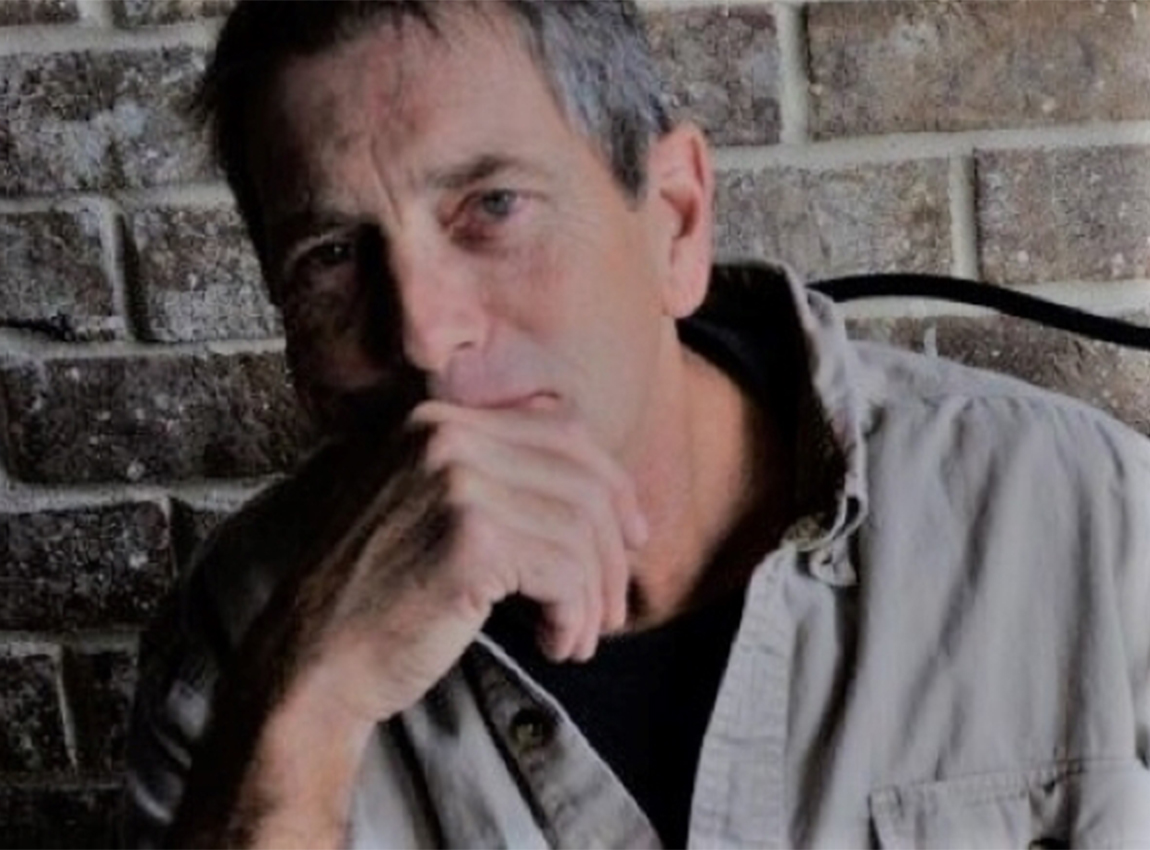 Where did you grow up, John?
Hi Michael! I appreciate the opportunity to talk about two of my favorite things: songwriting and playing music.
I was born in New York, about 30 minutes outside NYC. I've also lived in the Virginia/Washington, D.C. area for a few years, but really grew up around Hershey, PA.
Back in the day, I played in some great bands in Pennsylvania, like "Hyper," which was a progressive/hard rock band, "Grain Exchange," which was Southern rock/country, and "South Street," which was a Top 40 pop, rock, and jazz band. I started to get my chops playing with those wonderful players.
Did you come from a musical family, or are you an outlier?
My Mom played piano in our church, and she and her sisters sang together in a group. From what I hear, when they we're in their teens they were approached by a radio show out of NYC and asked to move there to perform, but their Mom and Dad nixed that!
My brother Jim is a very talented songwriter/singer/guitar player, and we were in several CCM bands together in the day. We used to write together all the time.
How old were you when you first got into music?
I got my first guitar for Christmas when I was about 13, and taught myself to play. I play entirely by ear. I think I took two guitar lessons when I was a kid, but got frustrated about having to play scales and I quit. I can't read a note of music to save my life! But I did learn the Nashville number system when I was living in LA.
That's seems a bit ironic! Tell us about your touring life. It sounds pretty extensive.
Those were some wild times!! I spent about a decade playing 200-300 dates per year, traveling on tour busses and playing venues from 200 seat clubs up to basketball arenas. We also played some huge music festivals with 100,000 or more people.

I was bass player and background vocalist, and was sometimes the tour manager for '90's artists like John Berry, Mel McDaniel, Deana Carter, Billy Dean, Suzy Bogguss, Sherrie Austin, etc. Actually, I once did a live, last-minute TV spot with Freddy Fender! I've played every state but Hawaii and Alaska, and have toured Australia, Germany, England, Scotland, and Canada. I still keep in touch with many of my former bandmates.
"Man, there's nothing like playing to a crowd so loud you can't even hear your own instrument"
Wow, that's an impressive lineup! Do you have any good stories about gigs that were really memorable?

So in the mid-90's we were pretty hot, supporting a few #1 songs, and we were the opener on the Reba tour for an entire year.
Wow, also very impressive!
Every show was a 20,000 to 25,000-seat arena that was sold out! Reba's staff treated us like gold, and Reba was so classy and down to Earth. Man, there's nothing like playing to a crowd so loud you can't even hear your own instrument! It was a once in a lifetime tour, and I felt like I was in the Beatles, lol! We also toured with huge '90's acts like Little Texas, Travis Tritt, Clint Black, Martina McBride, and Michelle Wright. The "end of tour" pranks we all played on each other on stage were quite memorable!
Any stories about things going horribly wrong on a big tour or a particular gig?
You'd have to ask, lol! One artist—who shall remain nameless—was scheduled to sing the National Anthem in Dallas for the Cowboys and Redskins NFL game. Now, the Cowboys VS Skins was a big, big time NFL rivalry in the 90's, so the TV audience was huge! I think all of us band members and crew were watching from a hotel bar in the Midwest, since the Anthem performance was an acapella performance.
Well, the artist and his handler overslept and missed the start of the game completely!
Granted, being an artist is sometimes sleepless and thankless work, but it sure was a missed opportunity. The Cowboys organization had to bring in a last-minute replacement singer to sing the National Anthem. Cue the sad trombone.
Did you ever go down the road of trying to get signed to a major label?
As a matter of fact, yes. I was in a band called "Nevada," in Nashville back in the '90's. DJ Fontana's (Elvis's drummer) son Dave was also in the band, and we had really good management, good songwriters, and we did showcases, but no dice. In retrospect, probably for the better!
How did you learn your songwriting craft, and what was your primary genre in the beginning?
I started out writing Christian music with my brother Jim when I was 14 or so, and quickly segued into Folky/Country music. I loved Credence Clearwater Revival, and tried to emulate John Fogarty. But moving to Nashville in '89-'90 really kicked it up a notch! Going to writers' rounds and hearing the pros and my competition was intimidating!
I also learned a wealth of stuff from writing with a really nice person, and a hit writer, AJ Masters. He had top 5 hits for Faith Hill, Randy Travis, John Berry, and some others. We wrote half a dozen or so songs together, and the publishing company actually demoed some. No big cuts came from those songs, but I learned enough from AJ to get some small cuts with artists in Texas and the Midwest.
Which instruments do you play?
My main instrument is bass guitar, both 4 and 5-string. I also play acoustic and electric guitar, mandolin, and enough keyboard to get me in trouble. In one band, I used to play the string parts for the Whitney Houston song, "Greatest Love of All" (Whitney Houston). And actually I bought some blues harps and learned how to "play" one for a particular song, "Unholy Water."
Sweet, congratulations on that placement! Do you feel like you're still learning and getting better every year, or did you reach a point where you had things mastered and could focus on tackling new genres?
If I'm breathing I'm learning! All the new genres and styles and hybrid styles… it's all so much fun! It seems like the genres morph on a weekly basis, and new combinations of genres are mingled and sometimes mangled! But it's all interesting to me. I keep an open mind, and try to find elements in each genre I can connect with. Then I go from there.
And I'm always learning about my DAW, Logic. I still don't utilize 90% of what it's capable of.
"My process is, I totally immerse myself in each genre."
Speaking of genres, you've really good at several of them: Film/TV/Advertising Pop, Indie Rock, Indie Folk, Singer/Songwriter, Rock, and Pop Country. Wow, if I didn't know the quality of your material, I'd say, "Yeah right! Nobody can be great at that many genres," but you are! What's your process in learning the particulars of truly nailing a new genre?
Thank you, Michael. Coming from you, with your ear for music and your background that means a lot!
My process is, I totally immerse myself in each genre. A few years ago I was commissioned by a publisher to write seven female vocal Country-Pop songs for a collection. So I only listened to current female artists. Kacey Musgrave, Lady Antebellum, etc. Over and over and modeled what instruments they used, tempos, etc. That way I stayed on topic and delivered on time.
Now, I mostly write Indie Pop, Indie Rock, Advertising Pop, and Modern Singer Songwriter so that's all I listen to. I have three presets on my truck radio. Whenever I'm driving, I'm listening to either Pop music out of LA, Pop out of NYC, or Alt/Indie stuff on the Sirius Alt station.
And I don't listen to any older stuff, because that just makes me write in that style. I want to stay current! I try to pick apart the grooves, melodic rhythm, tempos, how the vocalists sing their words, etc. So many times, ideas will come as I'm listening, and since the rhythms and melodies are fresh in my mind I key off of them and sing ideas into my phone. Also, when watching TV shows sometimes I mute the show and just listen to the commercials.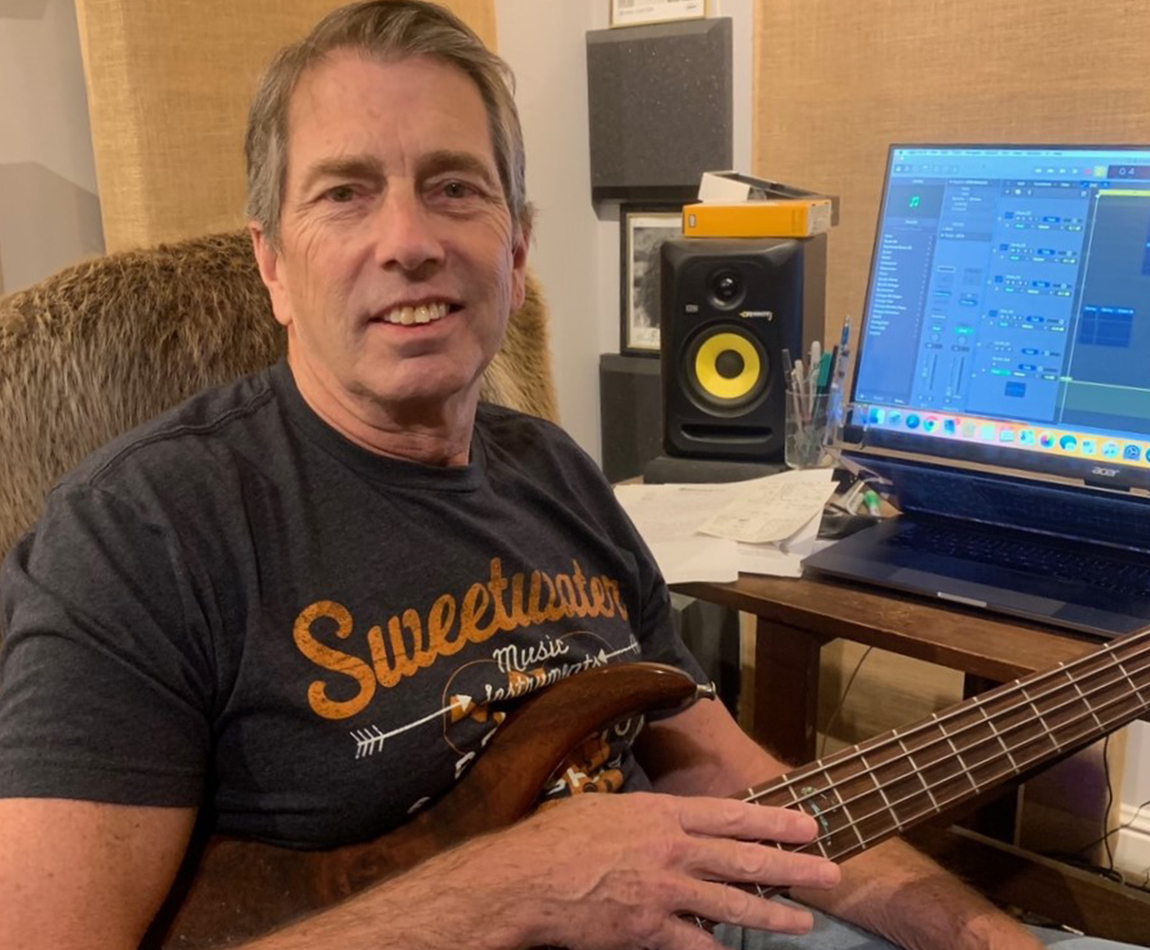 Great idea! Is there a particular genre in which you're most prolific and productive?
I'm really having fun writing advertising music!! I owe that to the 2018 TAXI Road Rally when "The Highfields" and Rob Chiarelli did their presentation in the theater.
They played their songs, "Bold," "Let's Go," and some others. I was floored! Too fun sounding, and positive and… did I mention fun?!
I went back to my hotel room and started recording that night. I believe four of the ideas from that night have become songs, and they got signed. By the way, I always bring my laptop, guitar, mini-keyboard, and interface every trip I take. Not only to send requested song files, but I also have to be ready when the Muse shows up!
And there's a wonderfully talented TAXI member named, Kali J, who has sung on several of my advertising songs. She's absolutely great, and she brings the perfect attitude for advertising in her vocal delivery and style.
In addition, as far as favorite genres go, I'll write positive songs for a month or two, and then balance that with some Southern Gothic or Singer/Songwriter heartbreak songs. Trying to get to the middle of the seesaw so to speak.
That's great that you keep that balance. Smart! Tell our readers about any observations you have about the differences between creating songs for TV and Film placements VS songs that are well suited for advertising.
Well we all know that an ad spot is going to be 30 seconds long, sometimes 60, or 10 seconds if it's Internet. You've got to get to the message, the hook fast! No 16-second intros or 45-second verses. And the song has to be super interesting with lots of ear candy, and fresh rhymes and creative rhythms that an editor can chop up.
"With Film/TV, I like to really get emotionally attached to the character/story that I'm writing about, in my mind."
Changing up the rhythm or way the hook is sung is something I like doing. It'll pull in a listener. And the verses should still support the hook with some "pull quotes" maybe in the bridge or pre-chorus that work in conjunction with the hook so the agency/client has more to work with.

With Film/TV, I like to really get emotionally attached to the character/story that I'm writing about, in my mind. I deep dive and try to see and feel things from the characters' point of view. I guess it's almost like being an actor. You have to know your motivation and truly feel what your fictional character is feeling.
How do you get your ideas for the advertising stuff?
I have a really cool place I drive to every day. It's a piece of wooded property that I bought years ago that's bordered by a busy railroad track, a four-lane highway, and not much else. I spend a few hours there every day chain-sawing dead trees, splitting firewood, grading the washed out driveway and doing other manual labor. When my mind is occupied by repetitive actions my subconscious comes up with cool ideas.

Also I have a cheap work out bench and a few hundred pounds of weights and I time my workouts to the release time of the daily TAXI Listing emails. Again, the "repetitive actions" of doing reps while listening to the references you send helps me interpret things differently.
In addition I have three sons: a 16-year-old, a soon-to-be 21-year-old, and a 30-year-old. I pick up a bit of slang from them lol, and I run some ideas past them.

Lastly I'm always listening to commercials online, on TV, and on radio. Sometimes I'll pull a song idea from a throwaway line that an ad uses and change it.
That last one resonates for me, as well! I've got a document of cool ideas that have come from phrases or concepts in songs I hear in commercials. Too bad I'm not a writer, lol!
What's your writing process like? Do you wait for the Muse, or do you write with a target and purpose in mind?
It varies. I just finished a song titled "You Always Stand Strong" paying homage to first responders, nurses, police, fireman, doctors, etc. It was to a brief from a publisher, and I had to write the lyrics and melody, have them approved by the publisher, and get them to the vocalist in 24 hrs. I did have two days to do the drums, bass, guitars, etc. It's a rock song, and I can't wait for it to be released. I think in about a week!

Those fast turnarounds don't always happen for me though. I know the "write something every day" thought process works for a lot of writers, but I don't subscribe to it. What usually works for me is that my brain will be juggling a lot of different ideas and when the time is right they come out. I'm a bit slow in that regard.
Now, I do end up singing melodies and lyrics into my phone most every day, and jot ideas down, but I don't try to force anything on a schedule. To me that's too clinical.
Oh also, the Muse seems to always strike at 2:45 a.m.! Ask my wife! I swear there are weeks when I wake up every night right around 2:45 with a melody or a line or a hook. It's crazy! And I always get out of bed and sing the ideas into my phone. You have to respect and appreciate the ideas that are sent your way.
I remember a time not that long ago when you were frustrated with TAXI, and now you're on a serious roll. You've been getting a lot of stuff signed and placed lately. What changed?
I think a big part of my frustration was my studio chops, or more aptly, a "lack thereof" and I may have vented on TAXI. Sorry!

I feel I've gotten better with melodic rhythm and song structure. And I've gotten better at really dialing into what a listing is asking for. Not to mention better mic technique.

And Michael, don't yell at me, but for the most part I've stopped trying to write "directly" to listings. Sometimes I do, but I've started using TAXI listings to triangulate.
I wouldn't yell at you or anybody for that! I also get frustrated, though. It some of it is caused by TAXI members who pitch stuff they have on the shelf that only lines up with a bit of this or that in the listing, and then they get pissed off when our A&R people don't forward it. I want every TAXI member to find success, so I want them to do whatever works for them. And by "work for them," I mean whatever gets their music on the desks of the industry people who request music from our members. But, I digress, please continue.
I'm a bit slow sometimes as a vocal songwriter, and I use online vocalists, so there's a lag time and I used to miss deadlines. Now I try to see the trends growing from what TAXI's Industry Listings are asking for, and then I write to that triangulation point. I also keep in mind what styles are moving on the charts and on radio.
Perfect example is the COVID-19 virus. You and your team at TAXI had the foresight to anticipate the coming demand for songs about "togetherness" and "supporting each other" before that became a widely discussed song topic. That got me subconsciously mulling over ideas.
I think all of us feel the effects of distancing and the emotional toll. And writing about it, whether in instrumental form or vocal form is catharsis and may even land a meaningful placement.

Speaking of placements. Tell us about some of your favorite placements!
Ah! My #1 favorite placement was on The Rookie season premiere on ABC September 29, 2019. It was my first Prime-Time broadcast network placement! It was a soul, vocal song called, "Broken Bones of My Soul" (on Spotify, Apple, etc.) sung by the super talented Chase Perryman, and was used as source music. It played for a whopping 1:29! Got my first BMI check for it in March 2020!
My #2 favorite placement is coming out April 22 on Netflix. "Unholy Water," (which I mentioned earlier) was placed on the new show Outer Banks in a graveyard scene (again sung by Chase and on Spotify, etc). It's a Southern Gothic song, and I had a lot of fun playing the distorted guitars! I actually learned how to "play" a harmonica for that song, lol!
By the way, I got the contract for that placement via email while sitting in the restaurant, day one of the 2019 Road Rally. That sync fee alone paid for my last three Road Rally trips!
To hear John's music, click here!
Read Part 2 of this interview in next month's TAXI Transmitter!