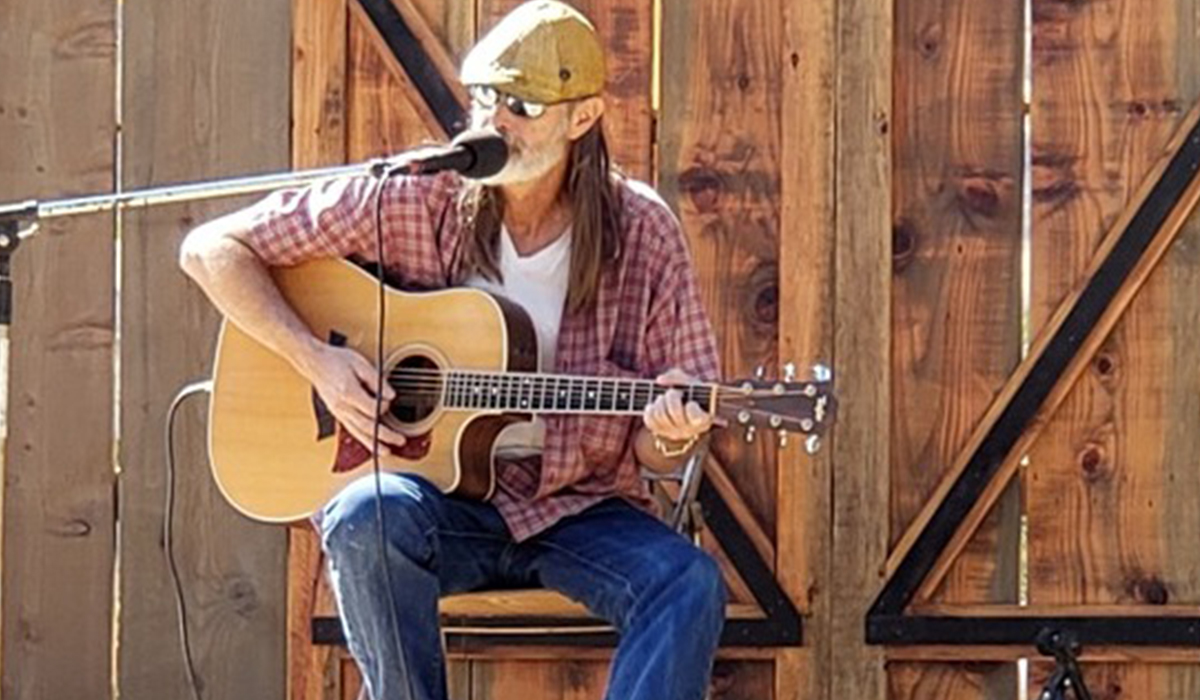 Cass McEntee performing live.
I'm excited to interview you, Cass, and the reason is that you seem to do a lot of organic, acoustic productions. Mics and wires. My kind of guy! Am I right?
Not as much as you think... If I had the budget, I would be knee deep in gear! I'm actually deeper in instruments. I love acoustic instruments, and do the best I can with journeyman equipment.
I don't have much in the way of recording gear, so I do just about everything effects, compression, reverb with my DAW, which is Cubase, running on a PC.
My four main microphones are:
Sure 57s (for amps)
Blue, Bluebird SL (Acoustic, High End)
MXL V69 (Acoustic, Low End Warmth)
Neumann TLM 102 (Vocals and Acoustics)
So as you see, relatively inexpensive stuff...
"I love acoustic instruments, and do the best I can with journeyman equipment."
Before we get into the music stuff, tell our readers about your career in the Film and TV industry. I think it's pretty cool! What's your "day gig"?
Besides being a musician, I've been a Union Propmaker and Construction Coordinator for Film and TV productions. I took an early retirement two years ago to eliminate the heavy stress, mental and physical, from my life. I now act as Construction Foreman for the US Open golf tournament (three months out of the year), directing the Décor Construction teams with installations. For one week I do the same thing for Jaguar during the Rolex Motorsports Reunion in Monterey, CA. I love golf and I love cars!!!
Yeah, well who doesn't love golf and cars?! Have you worked on any films or TV shows we'd all recognize?
Here's a link to my IMDB page, if any of your readers want the full story. And here are some highlights:
Films: The Italian Job, Legally Blonde, The Purge, Dogtown...
TV: 24, Relativity, Roswell, Hawthorne, American Crime...
I also skated on TV for the Roller Derby (who would've known).
Whoa, that's something you don't hear every day! Lots of bruises, and now I've got even more respect for you! So, how did you end up doing music? Did you grow up in a musical family?
My father was a trumpet player and a nuclear engineer. My mother was a model, an accomplished pianist, and she sang for the Roger Wagner Chorale (Hollywood Bowl and Movie Scores). She was known for her perfect pitch.
Now we know where you got your brains, good looks, and your music chops! Was there anybody else in your family who was musically inclined?
My uncle, James McGee, was 2nd French Horn for the LA Symphony and a Union player. My first instrument was the violin, which I no longer play, and I went to Biola University for Music, and Double Bass was my instrument. I got knocked unconscious by that bass (fun story) and dropped out to play in a punk band!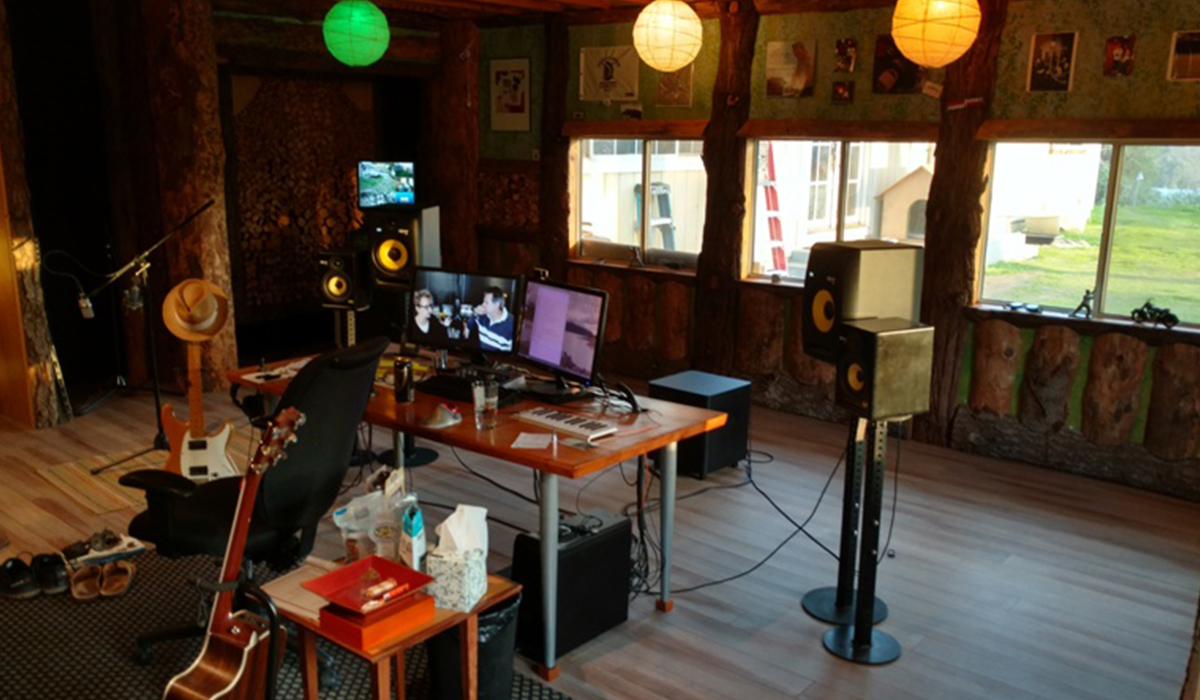 An overview of McEntee's studio.
That makes perfect sense, and I can't wait to have you tell me that story at next year's Road Rally. Were you in garage bands when you were younger?
My first band was a Bluegrass band when I was a freshman in college. My second band was a Garage Punk band. I played a lot of acoustic guitar for my church youth groups and camps, and then I established two bands in San Diego, which were '80's New Wave Rock.
One of the bands —The Captured Hearts—was courted by Capitol Records, the other band—The Voices—signed, sadly after I had left, to MCA for the biggest deal for an unsigned act for 1985, I have songwriting credits on that album.
Pretty cool. What came next?
I moved to Los Angeles to attend Musicians Institute for vocal training and began several bands and played bass for many more. The Cure band mates auditioned and chose me to play bass for a side project of theirs, but they couldn't pay me enough to cover my child support, so that's when I got involved in the Film Industry. Better Money, but I still did my best to play and perform. I also wrote an album with award-winning Celtic singer Maireid Sullivan, and toured with her for a year. I had a residency at The Cat Club on the Sunset Strip, playing bass for Blackbird on a Wire, which was an Americana act. Believe it or not, I'm just scratching the surface of my involvement in music in LA.
"I had a residency at The Cat Club on the Sunset Strip, playing bass for Blackbird on a Wire, which was an Americana act."
Yeah, well it's obvious that you've lived a well-rounded life. I'm still imagining you on roller derby track! Who were some of your favorite bands or artists while you were growing up?
My earliest memories are listening to musicals like Fiddler on the Roof, Paint Your Wagon, and Mary Poppins. The hymns we sang in church and the operas and symphonies we would attend must have also contributed to who I am musically.
I also listened to a lot of Louis Armstrong with my Dad, the trumpet player. We weren't allowed to listen to Rock and Roll in the house.
Wow, did you run away from home?
Funny enough, when I got a radio, my Dad let me listen to a Country station. Little did he know that Merle, Willie, and the gang were causing just as much trouble as any of the Rock and Roll guys, Lol! Then came the '80's! Echo and the Bunnymen, Psychedelic Furs, The Clash, U2, The Specials.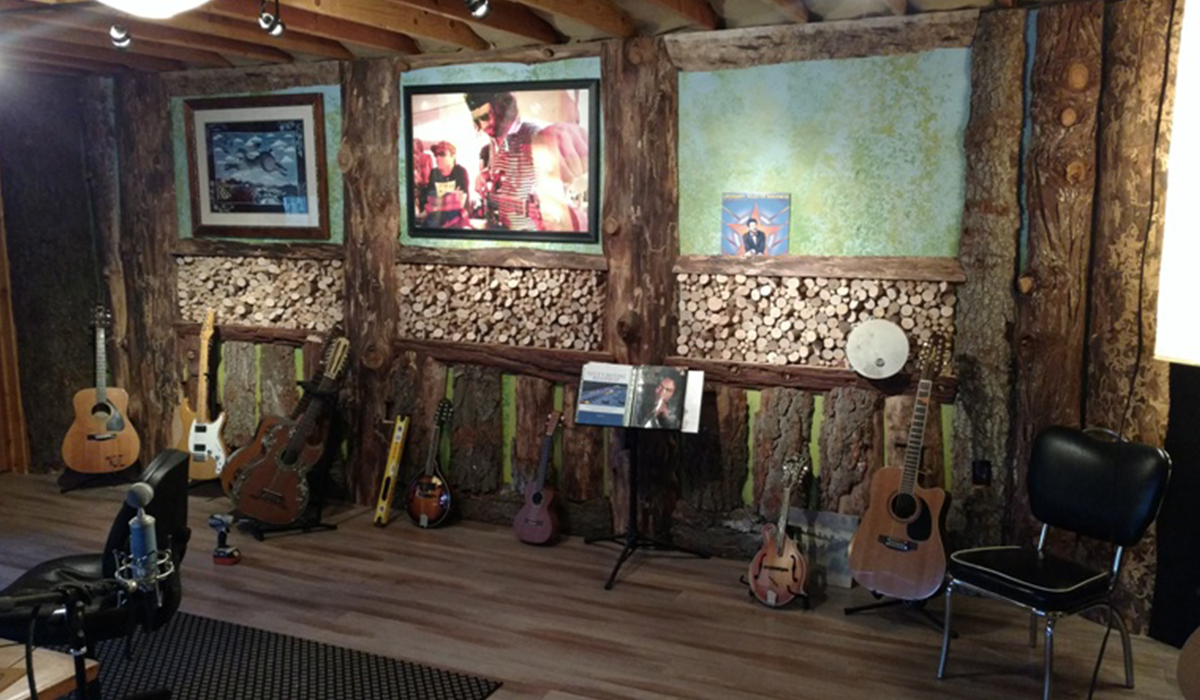 Some of Cass's favorite acoustic instruments lined up against the studio's back wall.
I don't think I've ever met anybody with such a diverse musical background! What type of music do you listen to now?
Now that I have a ranch, I listen to Americana 80% of the day while working on the property. It just feels right! Using Pandora, I tune in to New Country, Chill, Classical, French Café, Gregorian, etc. ... All over the board, I guess.
Wow, I'll say! What type of music do you typically write or compose?
I'm atypical.
I can't imagine why!
I've been writing less and less for myself since joining TAXI. I have many collaborators and work on whatever we are chasing at that moment. Collaborating is fun and trying—just like being in a band—and I always do my best to be a good band mate. Americana would be my favorite though, as it tends to be the easiest on my ears.
What sent you in that direction?
Writing directly for Music Library briefs.
Were there any obstacles to overcome when you shifted gears?
The obstacles I always face: self-stubbornness, creativity, a proclivity of always trying something new. When you spend your entire life being and showing your individuality it's very hard to backtrack to forms of simplicity. Not that I'm musically smart, but my ears won't let me be normal!
Well, you know what they say: normal is boring. When did you join TAXI, and what was your impetus for becoming a member?
After producing an album for myself involving twenty musical friends, I started looking around for any and all ways to promote it. Somewhere along the way, and I'm not sure how, I came across TAXI's info. Thinking that I could pitch some of the tunes for TV, I joined in April of 2013.
Were you as skeptical as so many others are before they join?
A friend of mine was an industry insider who had worked as an A&R person at MCA Records and Volcum Entertainment, told me that he heard only good things about you and that some of the writers in his acts were participating in TAXI. So I never had any skepticism about your honest intentions to assist musicians in building new relationships within the business.
"Everyone participating in the TAXI Forum was doing their best to help me."
How did your first year with TAXI go?
As far as submissions, terrible! I was trying to squeeze my album music into all the wrong places. And as I started trying to write to a listing, my midi and mixing skills were generally too sub-par to get a Forward.
As far as relationships, amazing! Everyone participating in the TAXI Forum was doing their best to help me. One name you will always hear, Andy Gabrys, was incredibly thoughtful and sincere in helping me with every aspect of recording. I'm in his constant debt!
You've been a pretty active member of TAXI's Forum, for years. I personally think it's an under-used resource. Is there anything you'd like to share with our readers about how it's helped shape your career and your music?
If you can put on your thick skin and allow other ears to chime in on your works, you just might find nuggets of truth. By seeking advice and giving advice, you reinforce the elements needed for creating content for this industry. I have also met many of my collaborators through the Forum. Just by having good dialogue with them, it's kind of an "audition" for both parties. It's hard to not become friends with those who honestly share their expertise with you, for your betterment!
I remember that you used to live in the Los Angeles area, but now you live in a more rural part of California. Has that change in location affected your music creation or output, one way or another?
In LA, my studio was a soundproof converted bedroom in a 1900's Quadplex. I could shake the entire building with my subs. For the sake of my neighbors, who were all my friends, I only pushed the volume for mixes during the afternoon. It was also dark and cave-like. When I bought my little ranch here in Squaw Valley, CA, the first thing I did was design and build a recording space that I could be proud of. I have windows with beautiful views and best of all; I can work at any volume, anytime! I did a pink noise push through my monitors at blistering levels with windows and doors open, then called my nearest neighbor, and he couldn't hear it! So that's eliminated a huge amount of stress. When you change rooms, you change sounds. It does take a while to transition and find that confirmation that the new sound happens to be reliable.
Don't miss Part Two of this Passenger Profile in next month's TAXI Transmitter!
Check out some of Cass's music, here!