TAXI's Road Rally 2018 Photo Diary
Photos by James DiModica and Ryan Taalbi
If you were at TAXI's 2018 Road Rally last month, you might find yourself in some of these photos. If you were not at the Rally, you missed what attendees called, "The best Rally ever!"
While pictures do tell a story, what they don't give you is the powerful set of tools that were so generously handed to our members by leading industry professionals and fellow members alike. The "vibe" at this year's Rally was certainly the best ever, and the education and networking were off the charts!
Take a few minutes to browse these shots and start planning now to come to next year's Road Rally. It is no exaggeration at all to say that the Rally has been the launching pad for thousands of success stories ranging from a single piece of music being signed or licensed to multi-six-figure careers starting with a simple introduction.
Putting off the Rally is really just putting off your own success. Let these photos act as the motivation for you to come next year's Rally. See you in November, 2019!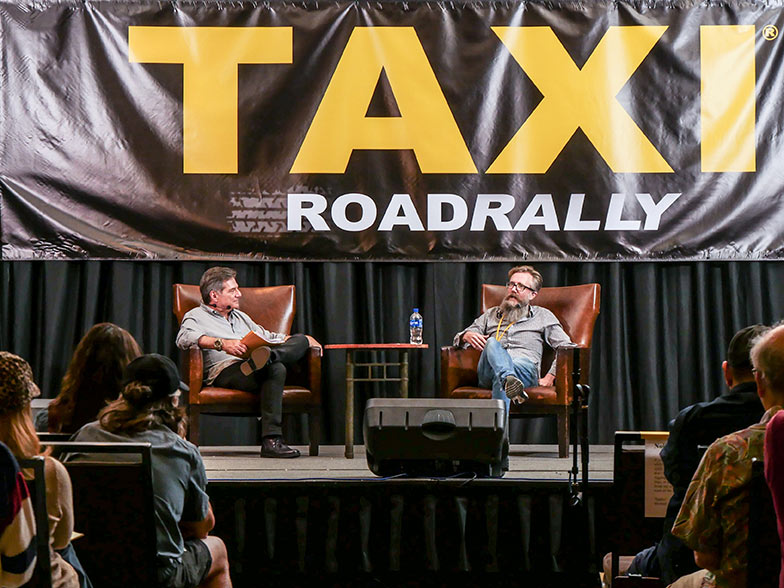 TAXI's Michael Laskow interviews music for advertising expert/music supervisor, Karl Richter during the Which Music Gets Used for Advertising panel at TAXI's 2018 Road Rally.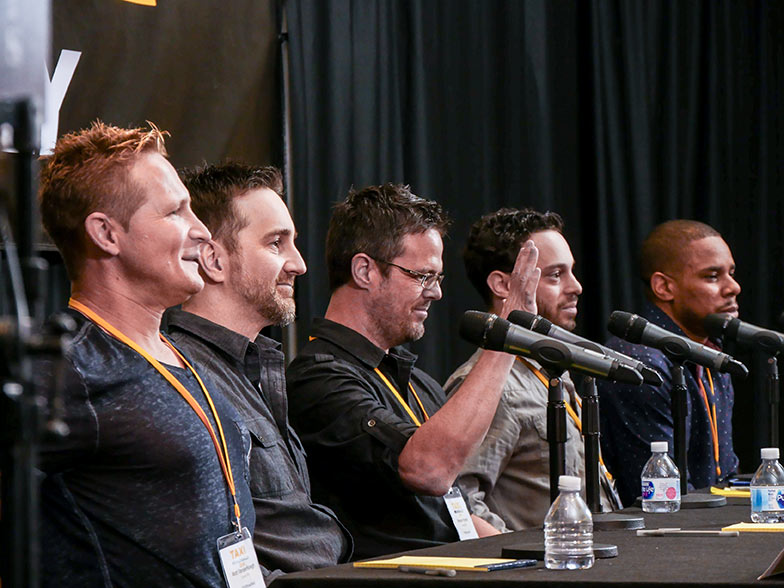 Successful TAXI members Matthew Vander Boegh, Keith LuBrant, Randon Purcell, Marcus Cohen, and Terrell Burt told their fellow members how they find the time to create tons of new music despite having families, jobs, and lots of other "adult responsibilities."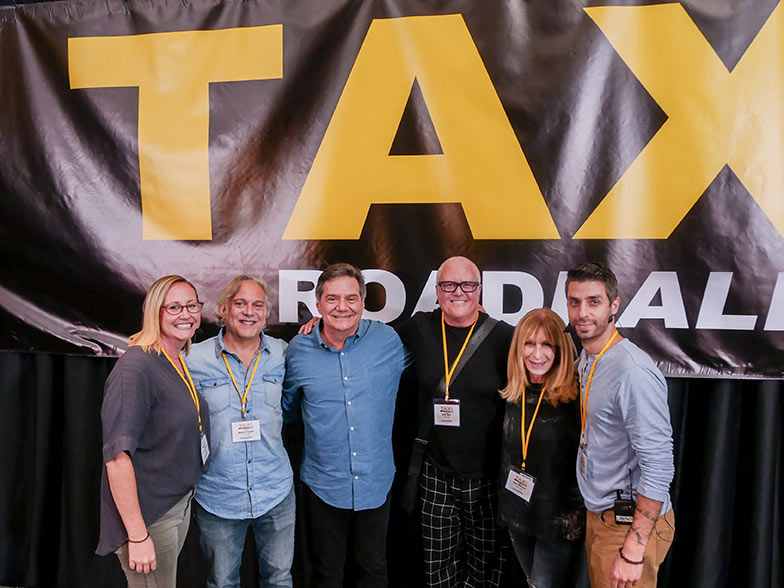 (Left to right) Music licensing executive Shannon Quisenberry, music supervisor Mason Cooper, TAXI's Michael Laskow, music library executives Bob Mair and Beth Wernick, and music supervisor Frank Palazzolo pose for a quick shot after their Film and TV Music Pitch Panel at TAXI's Road Rally.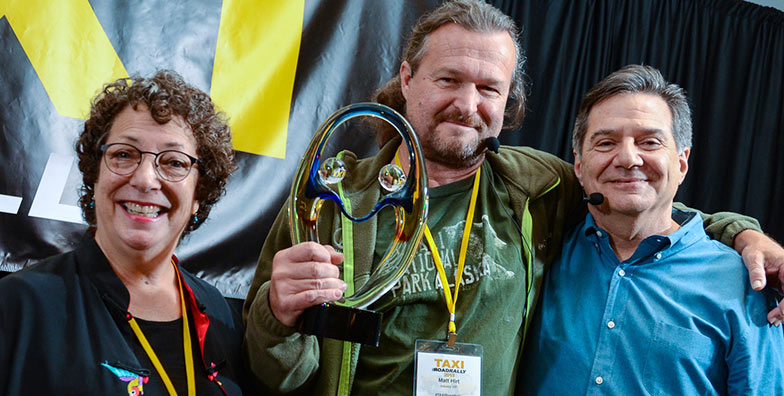 Successful TAXI member Matt Hirt is flanked by JoAnn Braheny and Michael Laskow as Hirt receives his John Braheny Genesis award.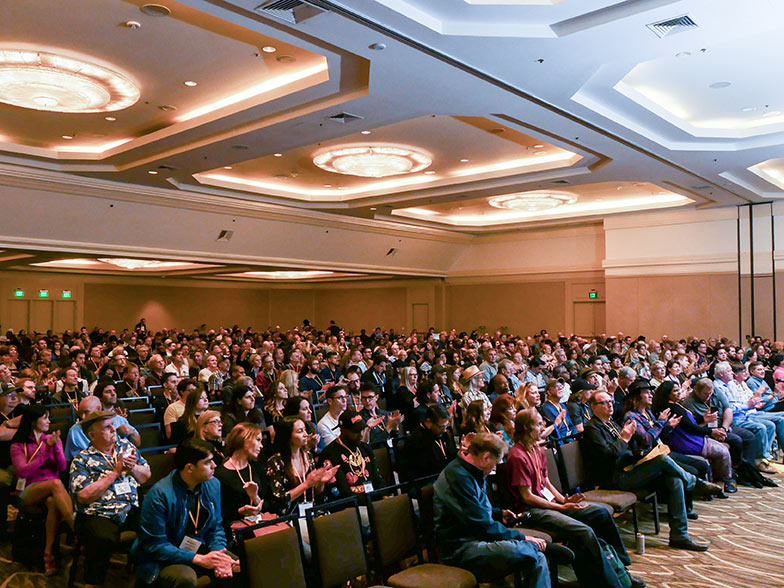 The Grand Ballroom during the 2018 TAXI Road Rally. See if you can spot yourself in this shot!

Video editor Laurel Ostrander was a huge hit as she showed a packed ballroom how she selects, edits, and lays music into an episode of a reality TV show. People who attended this presentation said it was "life changing!"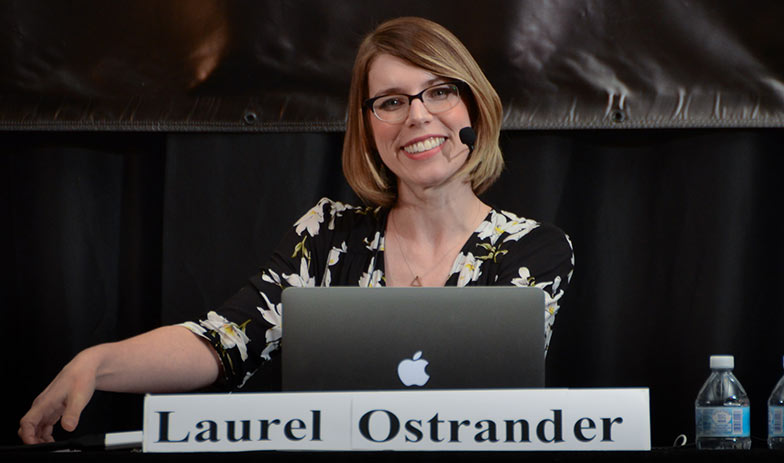 A close up of the aforementioned video editor, Laurel Ostrander.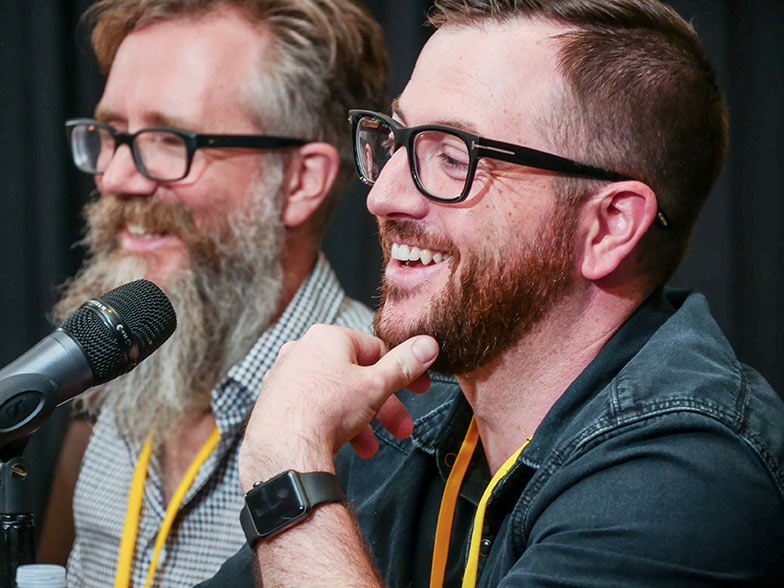 Music supervisors Karl Richter and Naaman Snell are all smiles as they sat on the Film and TV Music Pitch Panel.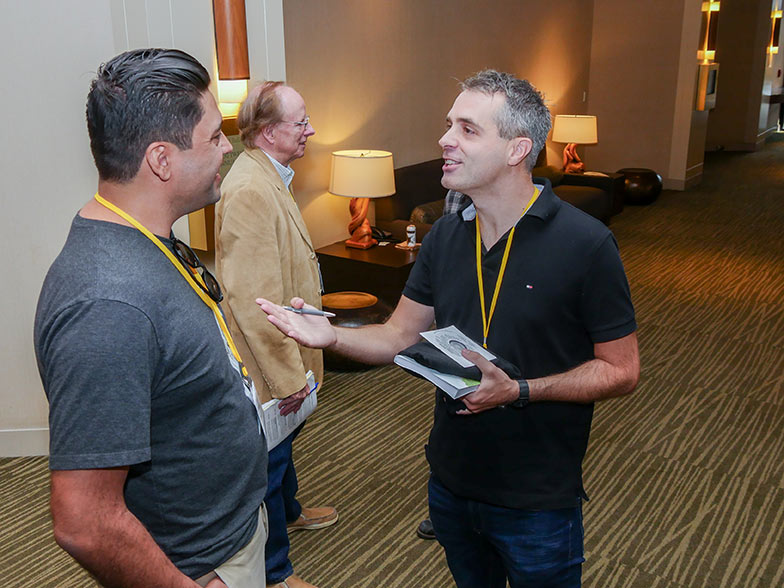 Music library CEO, Michael Kruk spends some time with a TAXI member after his panel at the Road Rally.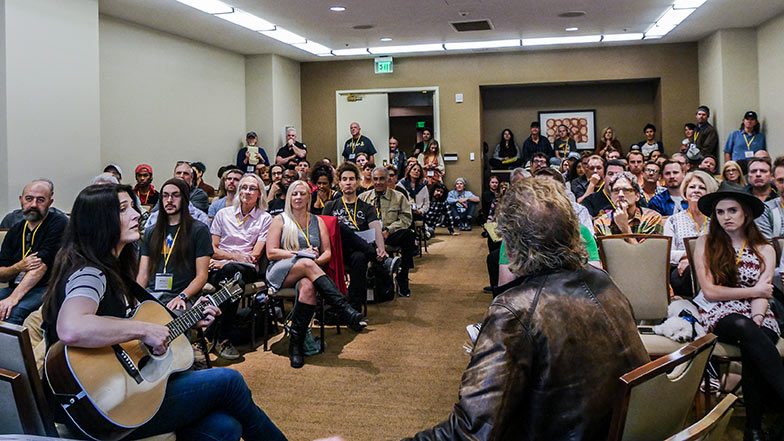 Author Pat Pattison (back of his head) teaches a packed class on lyric writing.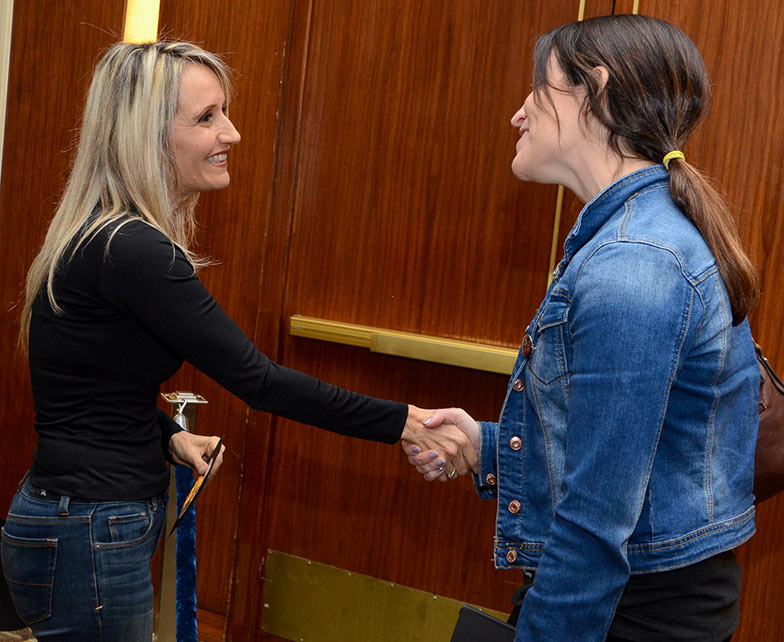 Hollywood film scoring composer Sharon Farber meets TAXI member Tamara Miller right after being interviewed on the Grand Ballroom stage during the Road Rally.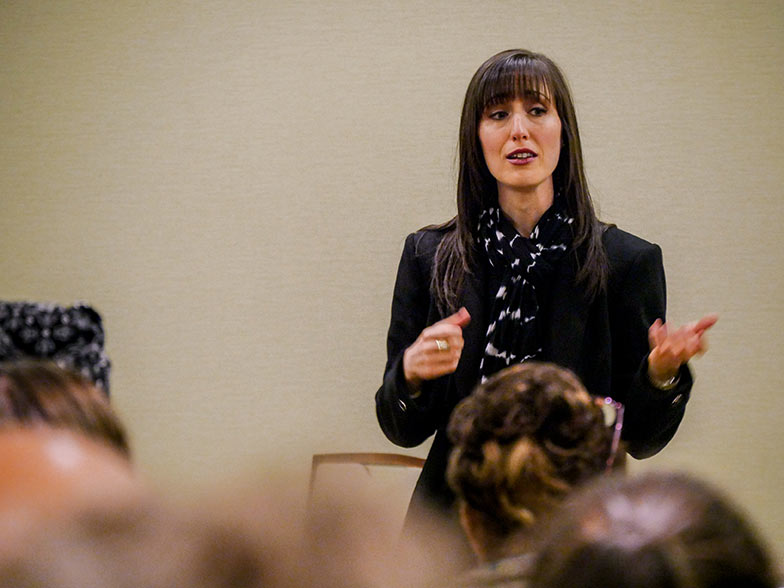 Music attorney Erin Jacobson teaches a class at the Rally!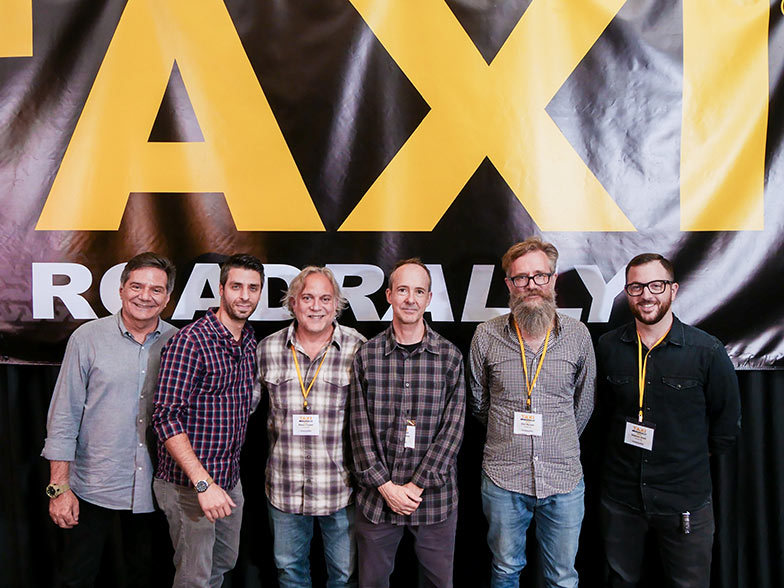 An All-Star lineup of music supervisors pose for a group shot after their panel. (Left to right) TAXI's Michael Laskow, Frank Palazzolo, Mason Cooper, Jonathan Weiss, Karl Richter, and Naaman Snell. These supervisors represent several specialties including, dramatic TV, feature films, reality TV, advertising, and trailers. We had it all covered at this year's Road Rally!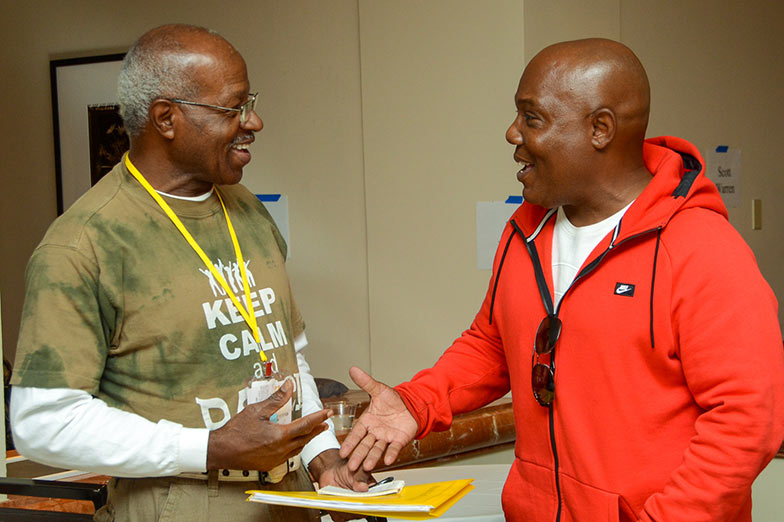 Veteran A&R executive/producer/publisher Ty Knox (right) meets a TAXI member during a One-to-One Mentor session.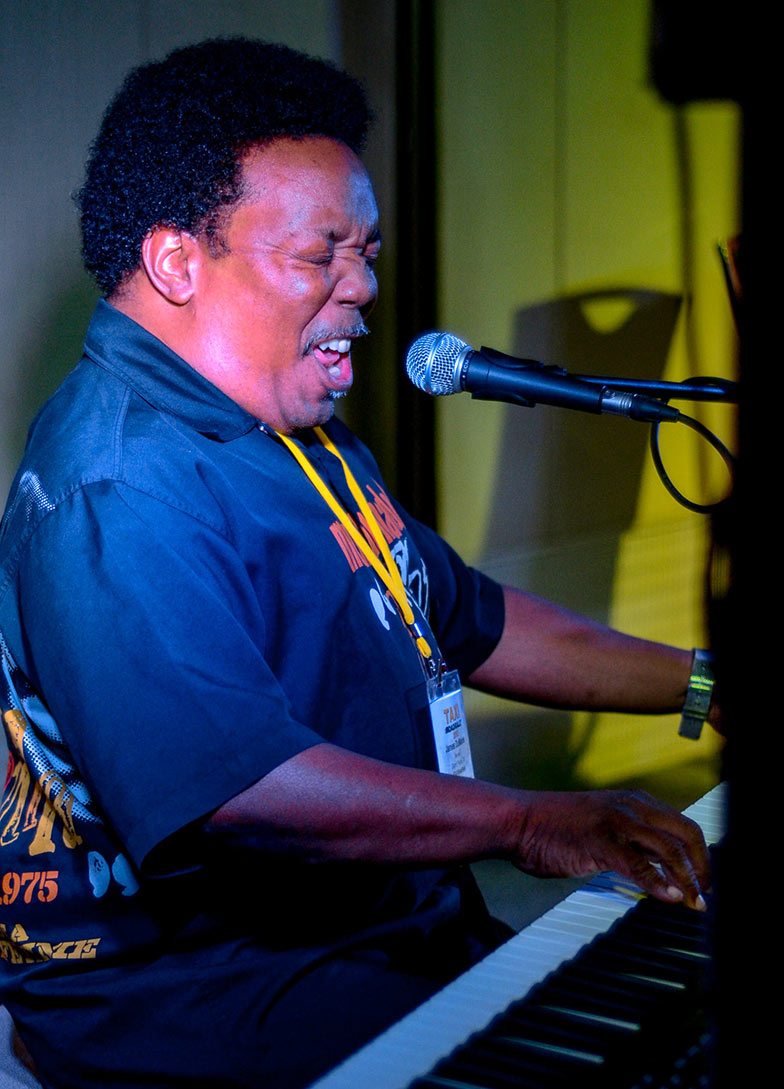 We can't see this gentlemen's badge or his name, but we loved this shot of his passionate performance during one of the six open mics that we couldn't resist including it in this collection of photos!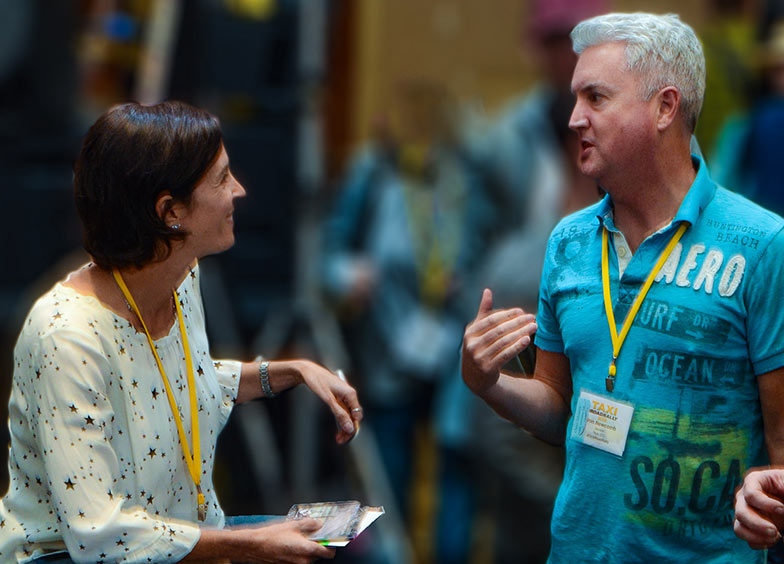 TAXI A&R team member Brooke Ferri (left) spends some time with member Von Newcomb after her panel wrapped up.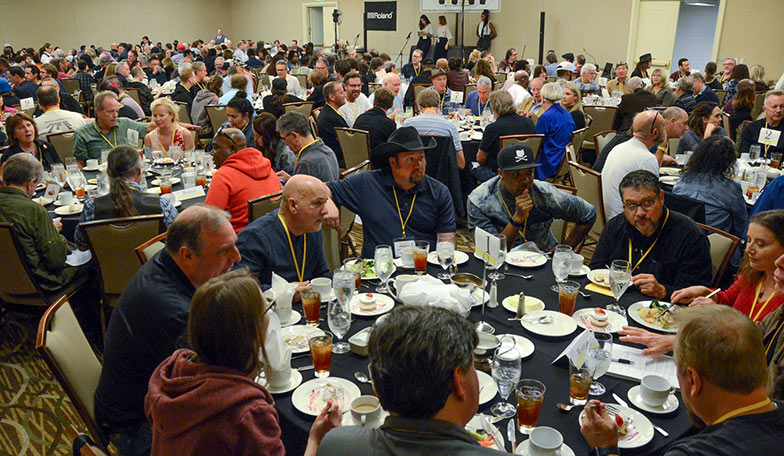 This shot shows what 330 people look like as they meet each other in one of the Road Rally's Industry Eat & Greet Luncheons.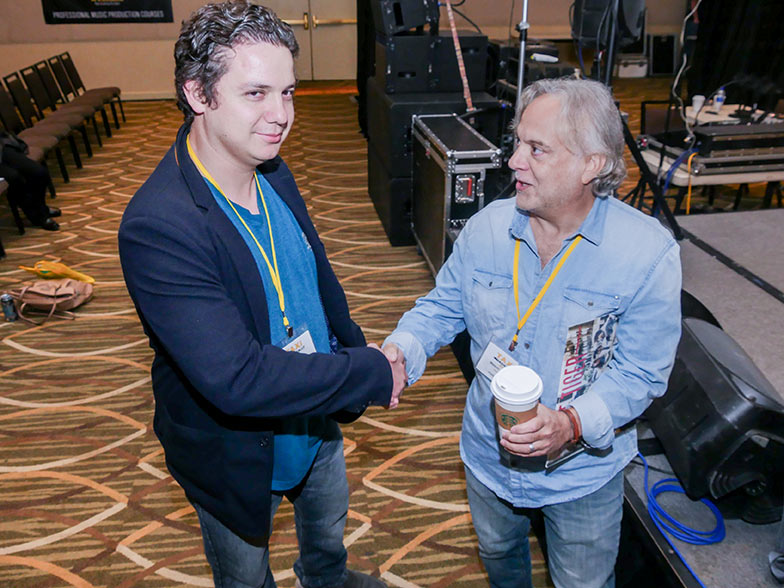 Music supervisor Mason Cooper meets a member after he finished his panel in the Grand Ballroom during TAXI's 22nd Road Rally convention.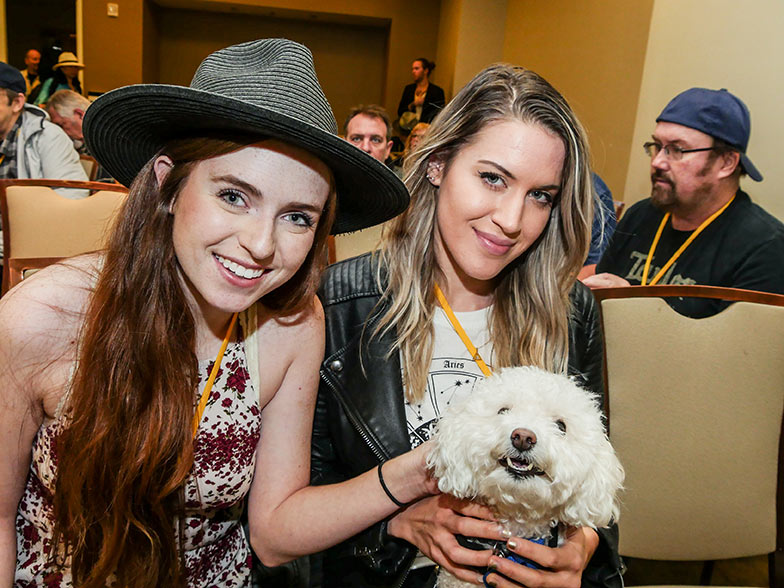 There were more four-legged, fur-covered Road Rally attendees than ever before at this year's event. The official Rally hotel allows pets, so bring yours next year!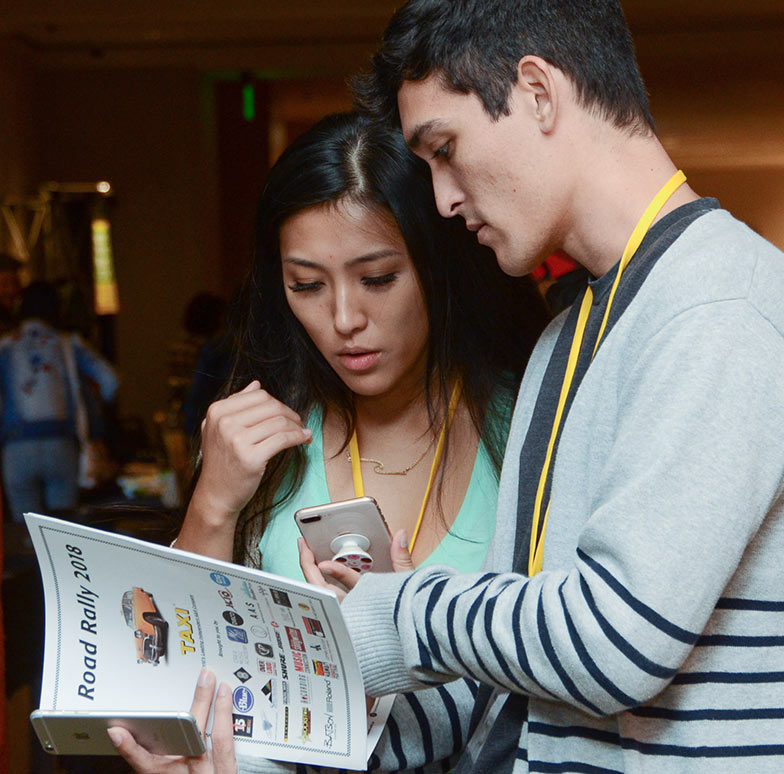 There are so many panels, classes, and mentor sessions at the Road Rally, that sometimes it takes two heads to plan a strategy for what to attend each day.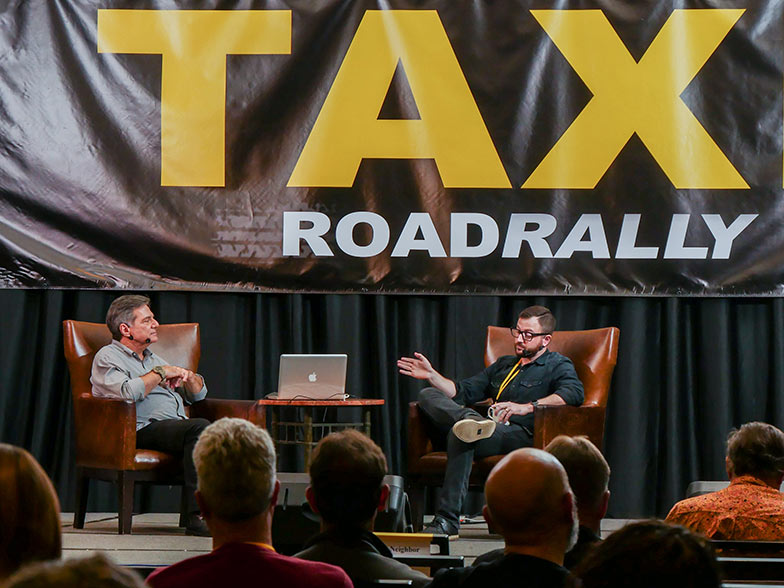 Music supervisor Naaman Snell (right) specializes in music for Film Trailers and TV Promos. He was a wealth of information when TAXI's Michael Laskow interviewed him during the Road Rally.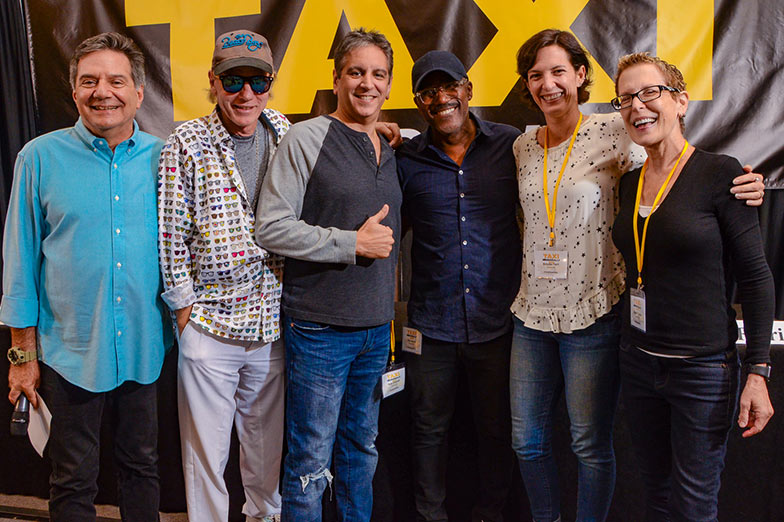 We always have fun during the last panel of the weekend – The Happy Ending Pitch Panel. TAXI's Michael Laskow (left) posed for a group shot with this year's panelists, Michael Lloyd, Rob Chiarelli, Ron Harris, Brooke Ferri, and Elyse Schiller after they wrapped up the weekend with some great feedback on the music they heard.
Music library owner Beth Wernick gets to know some TAXI members after her session wrapped up.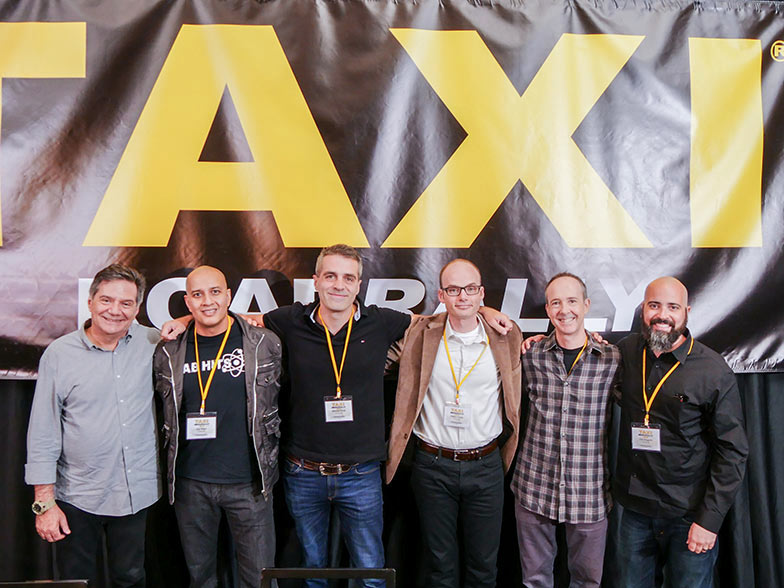 Our Instrumental Pitch and Feedback panel was really cool this year because our panelists included a music supervisor, a reality TV editor, and three music library executives giving feedback from each of their own unique perspectives. TAXI CEO Michael Laskow is on the left, accompanied by Joy Basu, Michael Kruk, Pedro Costa, Jonathan Weiss, and Timothy Hogarth.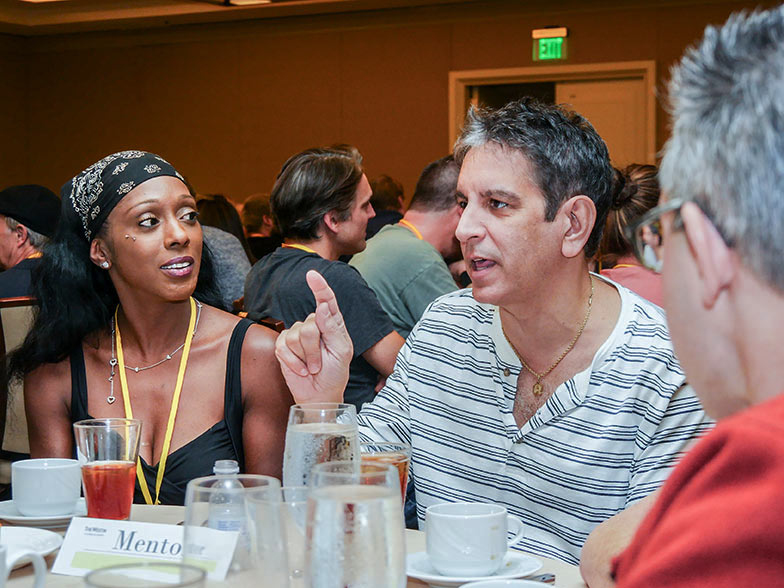 How many times in their lives do you think the folks at this table have had the opportunity to hang out with a Producer/Mixer/Engineer with over 100 Gold and Platinum records and two Grammy Awards to his credit? This sort of things happens every day at the Road Rally!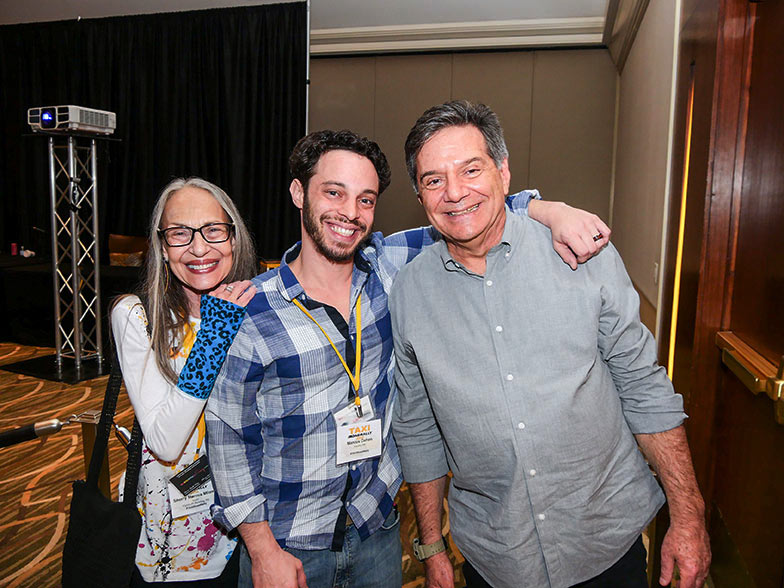 Successful TAXI members Sherry Marcus Milano and Marcus Cohen took a break from their hectic Rally schedule to put a big smile on the boss's face!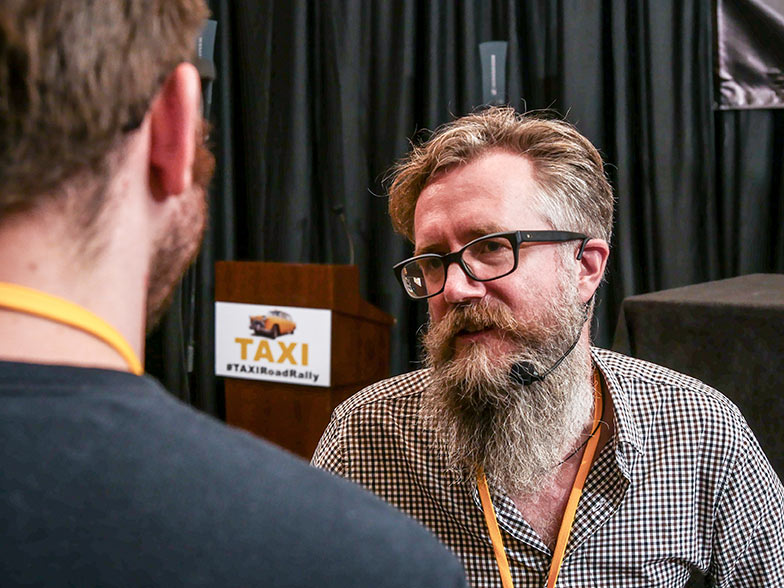 Music Supervisor Karl Richter gives his full attention to TAXI member Mark Himley. We're not 100% sure that's actually Mark, but we think we recognize his ear lobe.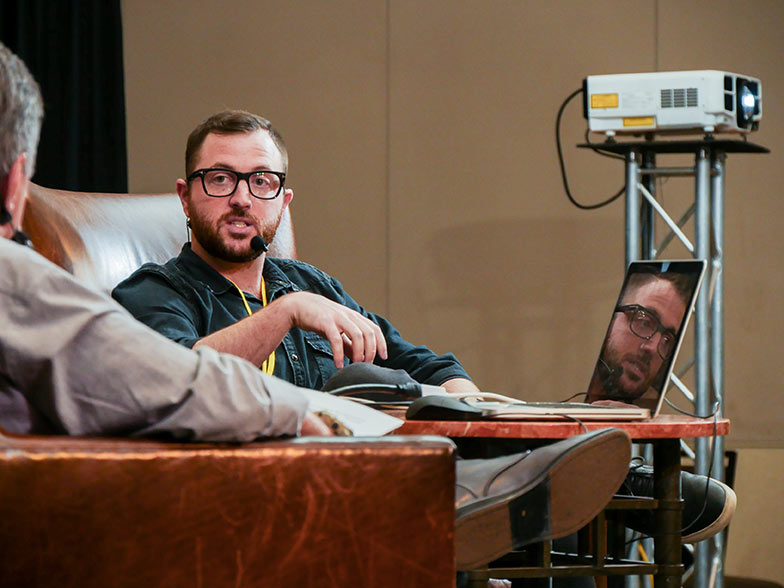 We just love this shot of music supervisor Naaman Snell. Look closely and you'll see why we think it's so cool!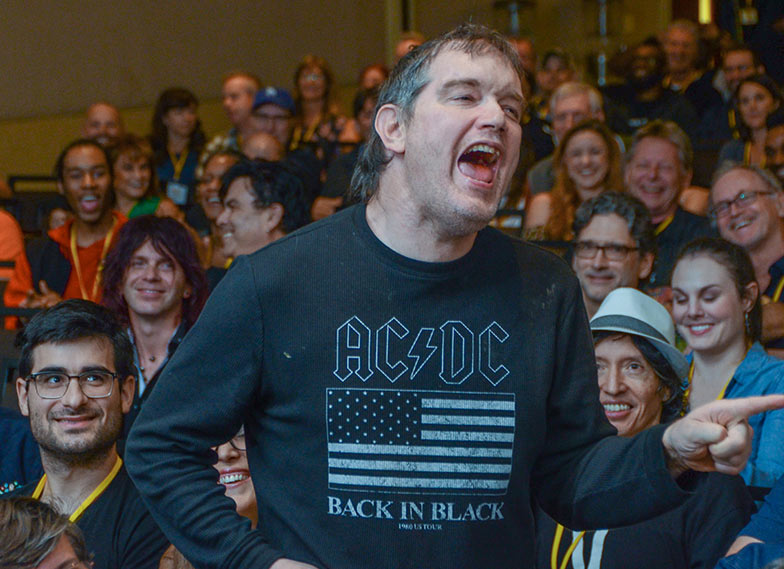 Long time TAXI member "Wild Man Chris" Clayborne, has been to seventeen Road Rallies. None of them were as exciting as this year's, when his song, "Baby Punch My Face" was played during the last panel of the weekend. The audience went nuts when Chris got up and began to sing along. Nobody in that ballroom will ever forget that moment!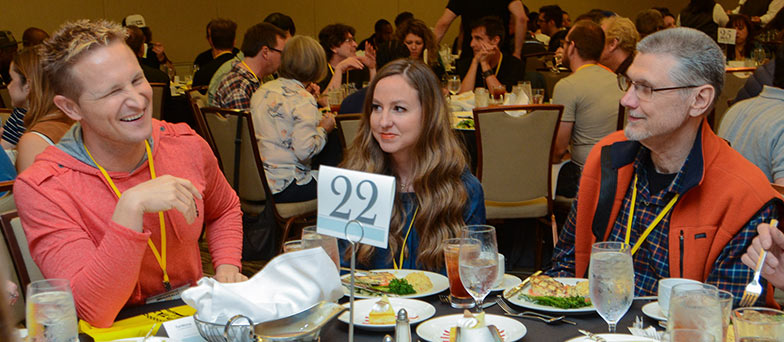 Matt Vander Boegh (left) is a highly successful TAXI member whose music has been placed over 10,000 times, on more than 1,750 episodes of 235 TV shows! He started his career in 2012, and in just 6 short years has gone from knowing virtually nothing about TV and film music to having more than 10,000 placements. The members getting mentored by Matt at the Industry Meet and Greet luncheon were lucky to learn from this hard-working, super-generous guy!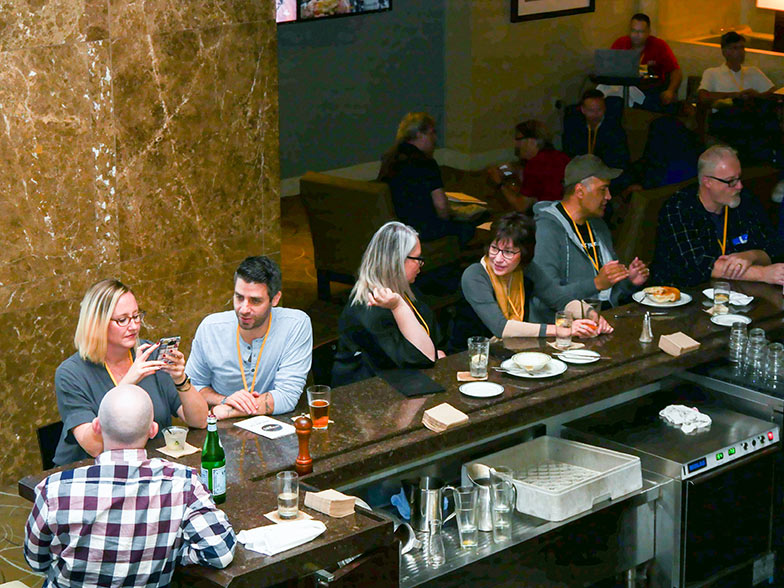 Music supervisor Frank Palazzolo (blue shirt) is undoubtedly talking to the TAXI member in the plaid shirt about the 'Bama football game. Meanwhile, music licensing executive Shannon Quisenberry is sitting between the two doing what she does best – placing music in TV shows, films, and TV commercials, no matter where she is! The Road Rally is famous for networking, and the lobby bar is networking central.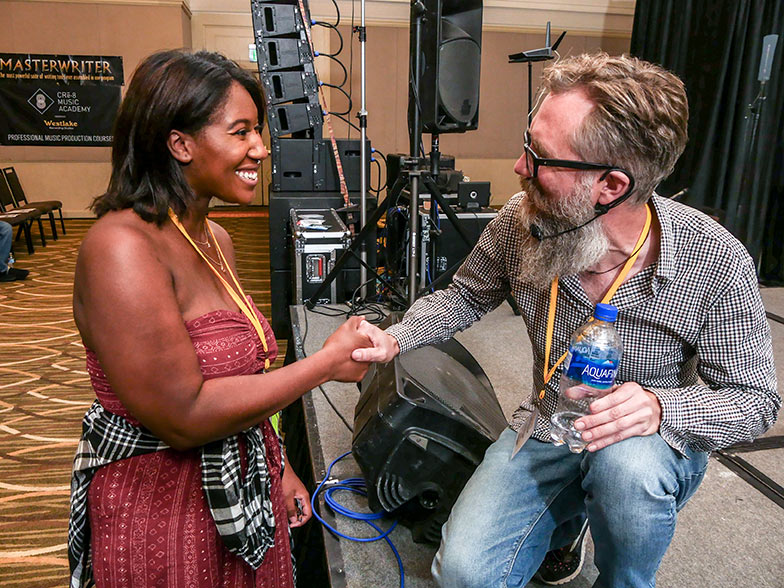 TAXI member Brit Fox had a nice chat with music supervisor Karl Richter after one of his panels in the Grand Ballroom.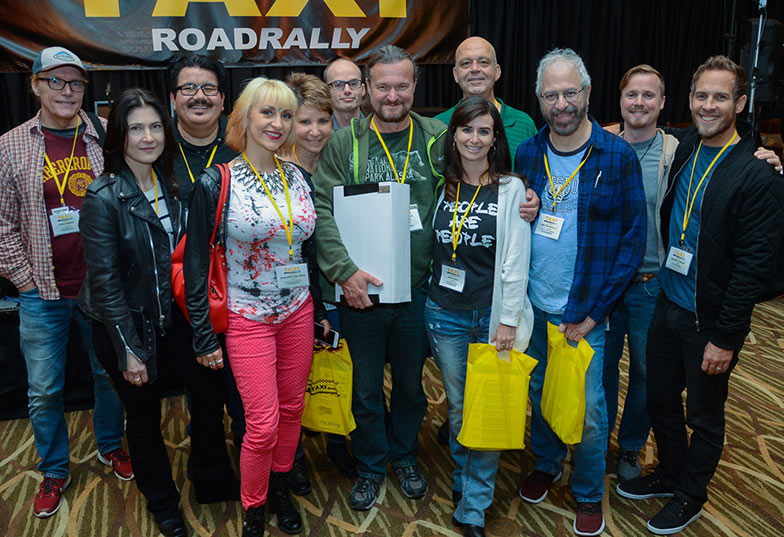 Matt Hirt (center, green short, big smile) was surrounded by his "fan club" of long time TAXI friends after he was honored with the John Braheny Genesis award at the 2018 Road Rally.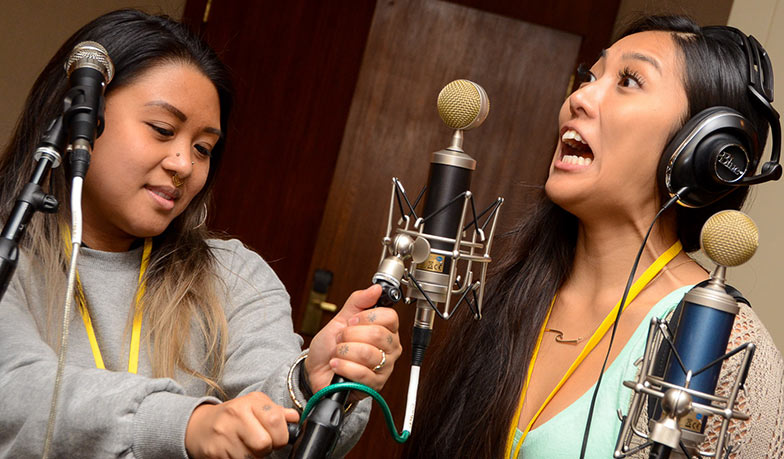 This young lady seems to be going for a Mariah Carey-like high note while testing a couple of the mics at the Blue Microphone booth.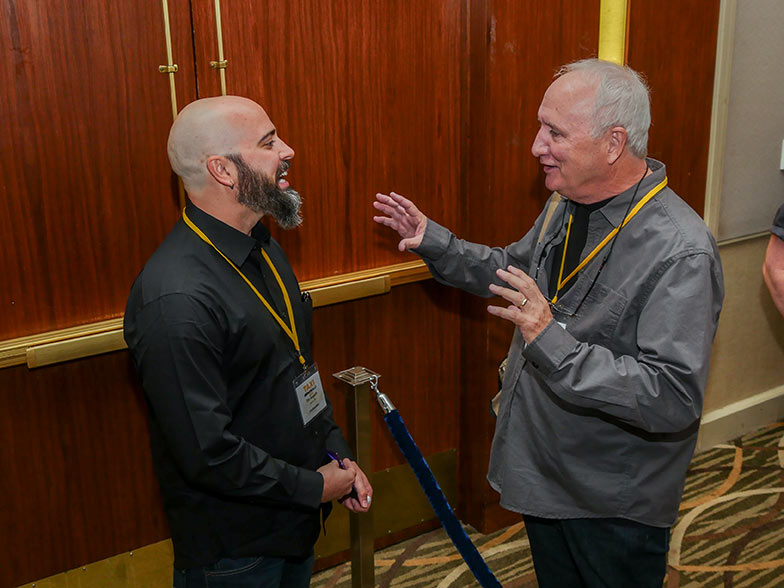 TAXI member Brian Curtin (right) enjoys a little one-on-one chat with reality TV video editor Timothy Hogarth.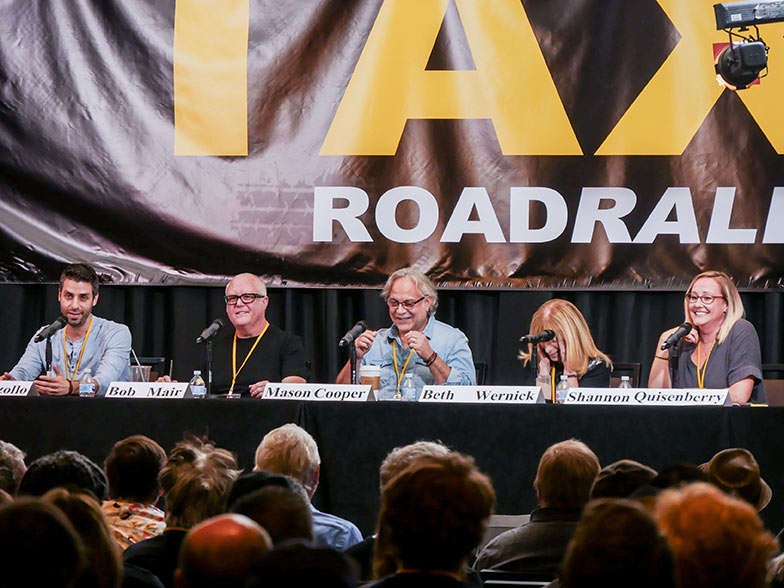 (left to right) Music supervisor Frank Palazzolo, music library owner Bob Mair, music supervisor Mason Cooper, music library owner Beth Wernick, and music licensing executive Shannon Quisenberry enjoy a light moment during their pitch panel at TAXI 23rd Road Rally convention.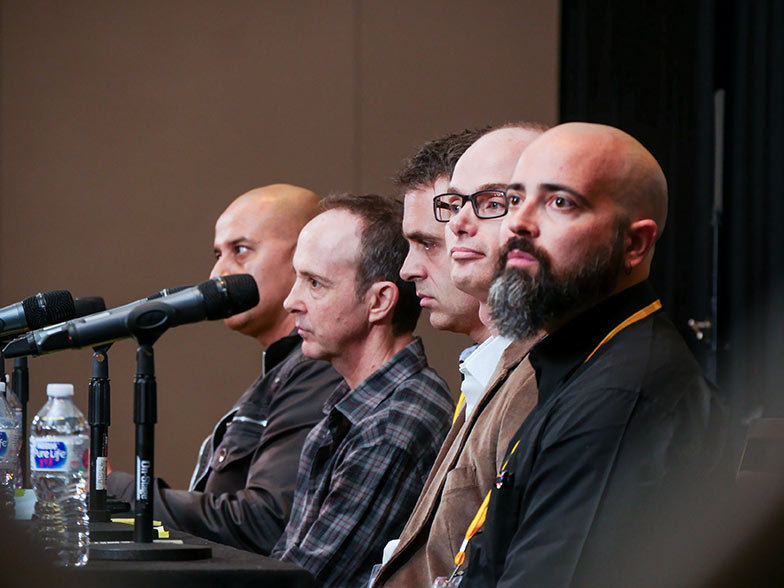 Joy Basu, Jonathan Weiss, Michael Kruk, Pedro Costa, and Timothy Hogarth are all paying close attention to an instrumental track played during the Instrumental Pitch panel at the Road Rally.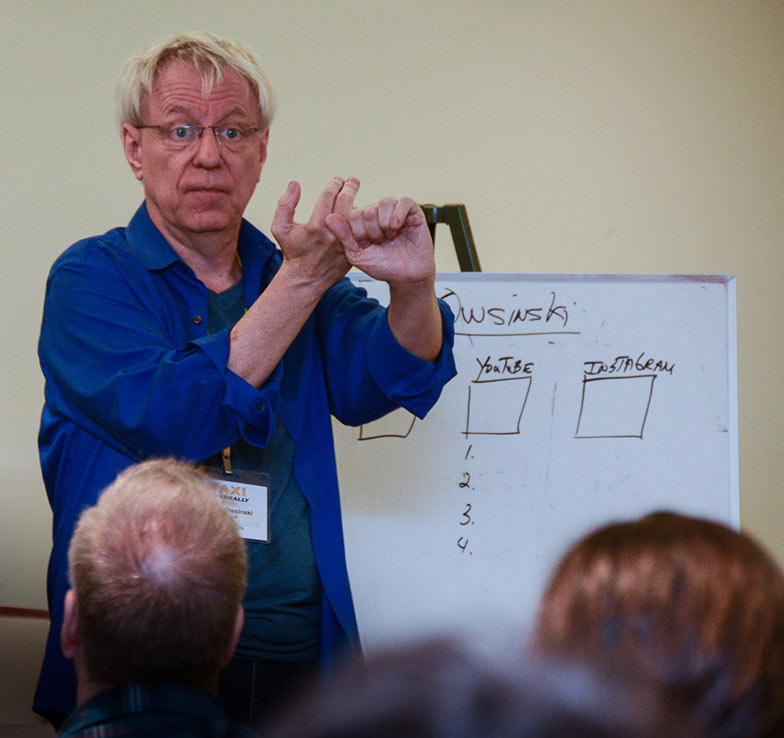 Social Media expert Bobby Owsinksi taught a great class on… wait for it… social media for musicians!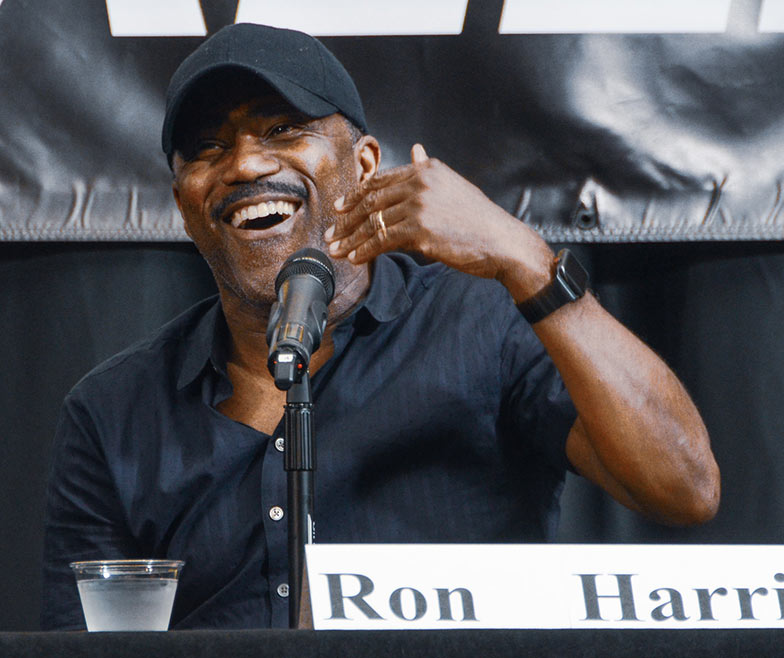 A&R veteran/producer Ron Harris has a level of enthusiasm for hearing great new music that can only be described as infectious!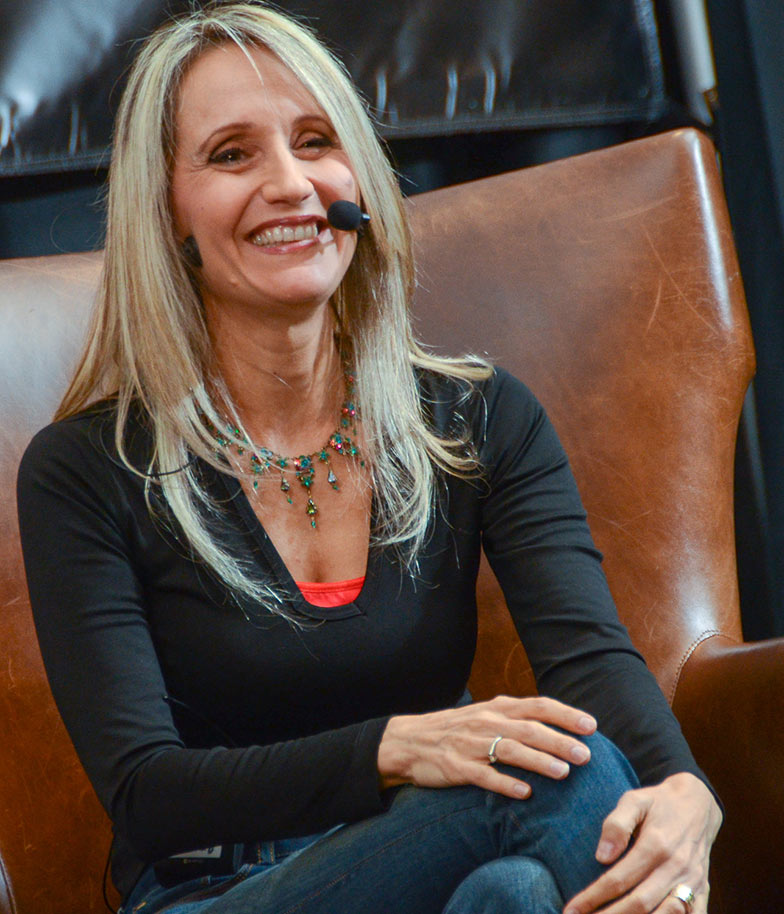 Hollywood film composer Sharon Farber is all smiles as she describes how she feels while conducting a full orchestra playing one of her compositions.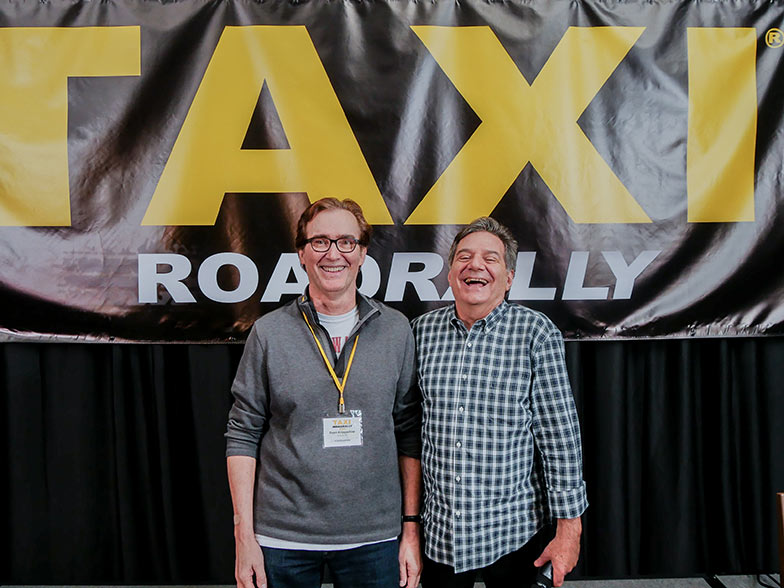 No matter how hard he tried, TAXI's Michael Laskow couldn't match Dean Krippaehne's considerable height for this shot. Standing on his tippy toes didn't work, but it got a good laugh!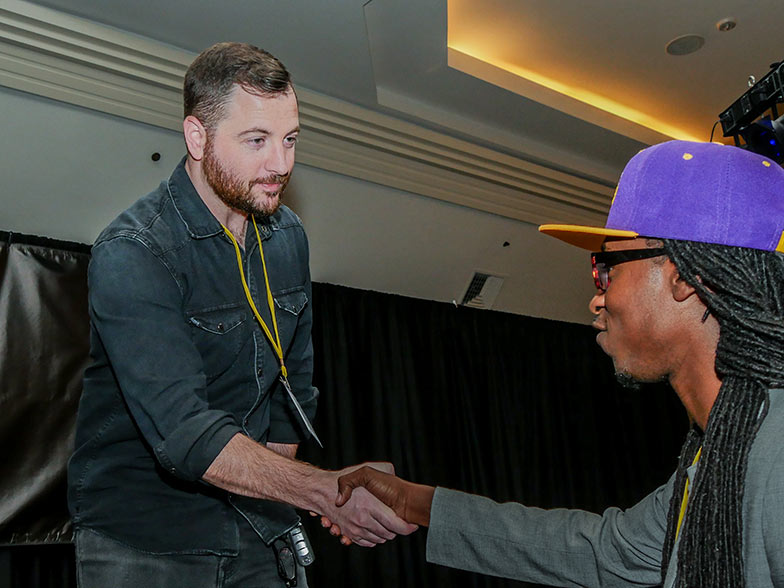 Music supervisor Naaman Snell looks like he's ready to ask a TAXI member where he got his awesome Laker hat.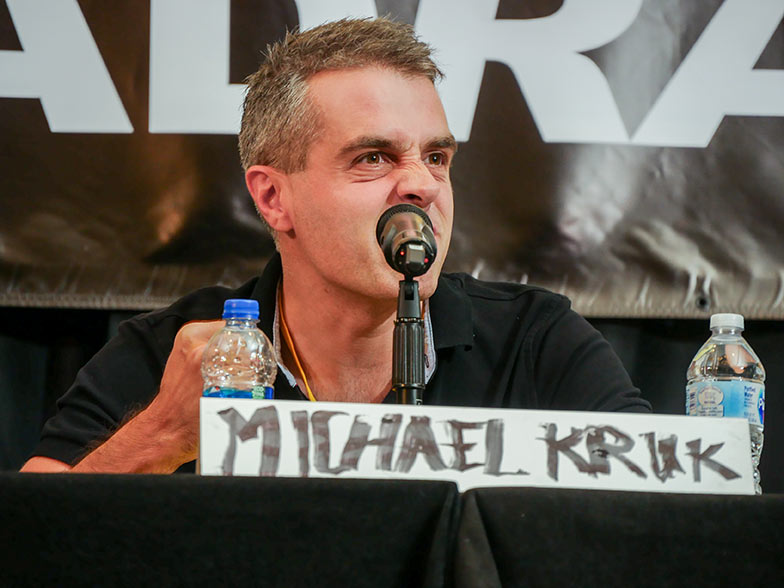 We clearly forgot to print a name sign for music library owner Michael Kruk, so we had to improvise. By looking at this photo, he seemed only mildly ticked off ;-)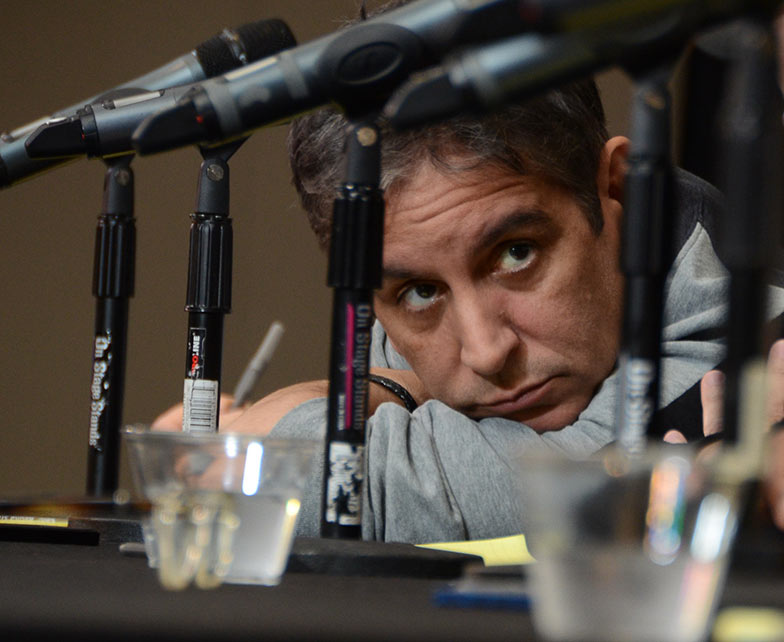 Multiple Grammy winning producer/mixer/engineer, Rob Chiarelli is clearly giving some serious thought to a song that was played on the Happy Ending pitch panel – the very last panel of the entire Road Rally!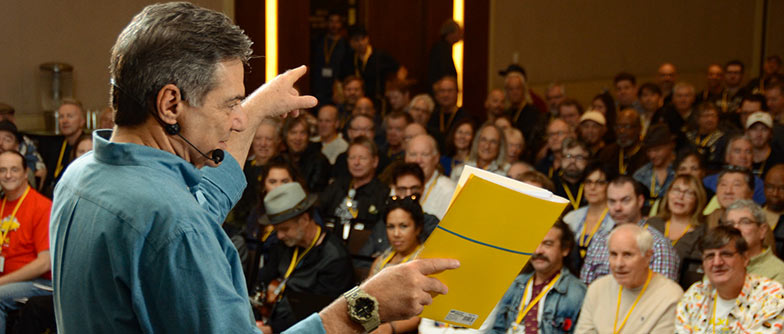 The boss – well, at least he's our boss, but not "The Boss" - begins the Road Rally with a list of important announcements.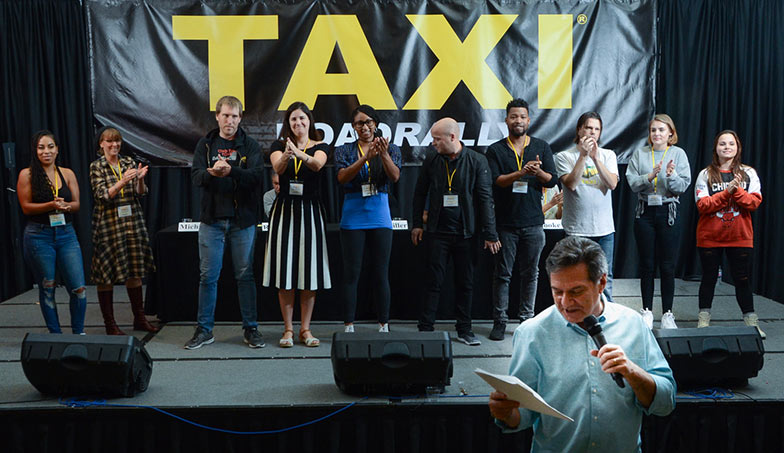 And the "boss" ends the Rally by thanking TAXI's staff for all of their incredibly hard work and long hours that went into making the 2018 Road Rally the best one ever! From left to right, the TAXI staff members are: Angel Maradiaga, Debra Laskow, Matthew Hutchison, Laura Jackman, Enjelique White, Eric Anderson, Isaac Williams, Tom Stillwagon, Briagha McTavish, and Grace Wojick.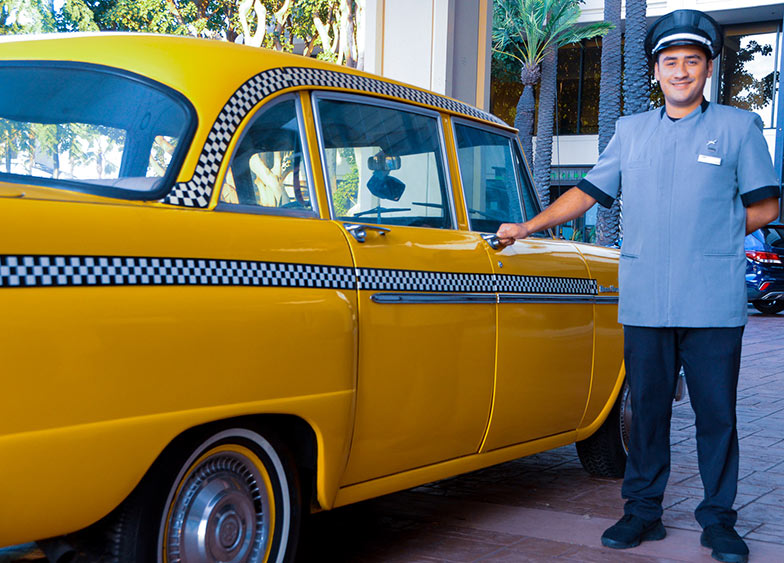 No Road Rally photo diary is complete without a shot of our beloved mascot, the 1968 Checker Marathon. Isn't she a sexy beast? One of our members was heard to say, "I know why you picked that cab to be your brand and logo. Checkers are solid, reliable, and friendly - like your company." We like that observation!