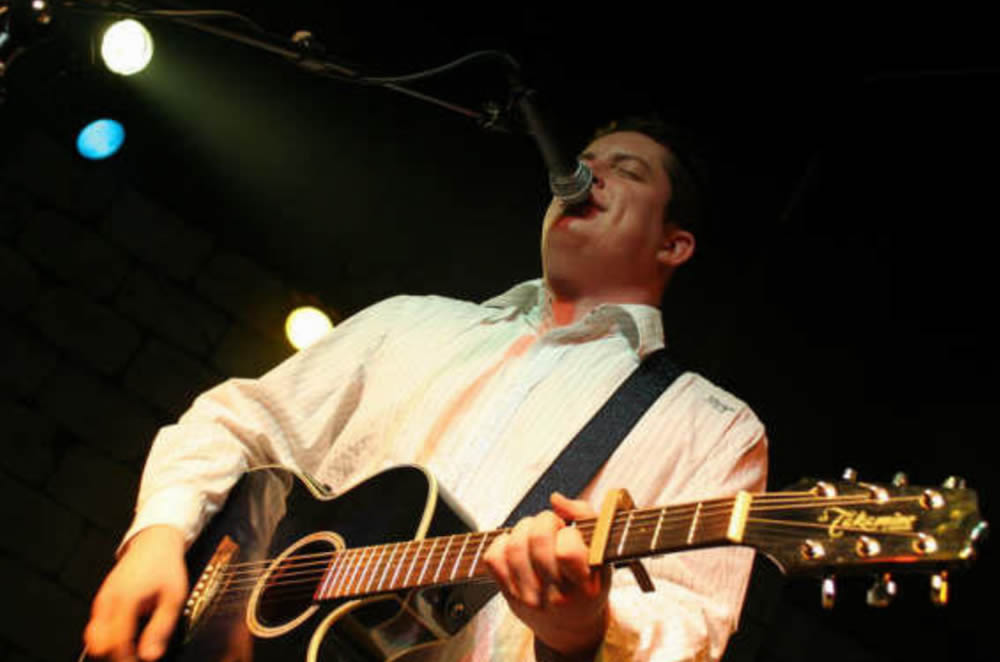 Robbie Hancock performing a live show.
What styles or genres do you mostly work in?
For songs, I work primarily in Indie Folk, Singer/Songwriter, and Blues/Rock. For cues, I'm currently concentrating on Tension, Solo Piano, Solo Guitar, Acoustic Roots, and Swampy Bluegrass.
Tell us about your studio.
It's changed dramatically over the past year into a portable setup, as I'm starting to explore more into remote recording for clients, as well as an easy-to-use and comfortable workstation at home. I've taken more of a minimalist approach to things, and I feel a lot better about my setup now. I'm working in Logic X on my mid-2012 MacBook Pro, running Yosemite 2.3 GHz Intel Core i7. I recently added a 1TB solid-state drive and upgraded to 16GB of ram so it is as fast as I need for my kind of production. I've been fortunate to have some amazing production mentors in my journey to this point and have learned to use as much as I can in my DAW with a minimal amount of external plugins. I do use Superior Drummer 2 with some great producer plugin samples and Izotope Ozone 7 for my mastering chain, but other than that I'm working with and manipulating everything in Logic. I use a Presonus Audiobox 22vsl interface, which I've been using for years, and an Akai MPK mini to trigger samples when needed. I've got a pair of Yorkville YSM5 monitors and Sennheiser HD 280 Pro headphones. I only currently have one condenser mic, which is an Audio Technica 4040, and it's really all I need at the moment. I also have a Shure 58 and Shure 57. I use either my Taylor T5 or use a Gibson J45 for recording acoustic guitar.
It's funny… I keep asking our successful members what they have in their studios, and most have very little gear! I guess it really is the "ear" and not the gear! How did you learn to create broadcast quality recordings?
From you, Michael. Seriously, you have been a huge help from your experience when I've been stuck. Everything from turning the microphone's capsule angle away and down to stop popping p's, to only needing one mic on an acoustic guitar instead of recording it in stereo when it didn't need to be, to mixing using your backyard photos with your kids' toys as examples of where things go in the stereo landscape, to tackling sibilance, etc. So, thank you for that and everything you do for us, especially TAXI TV and the Rally. Also, Rob Chiarelli and Ronan Chris Murphy on the TAXI TV interviews and discussions on techniques and tips on recording were game changing for me. So were the Road Rally Drivers Ed classes they did. Most of all though, the number one reason I'm where I'm at is because another member found me on the TAXI Forum early on and believed in me and encouraged me to keep going when I wanted to quit. He is an incredibly talented engineer and producer that has shown me the ropes and believed in me when I didn't even believe in myself. My friend and collaborator, Andy Gabrys. Thanks Amigo. Onward!
"There is no way around hard work. If you stick with it and keep moving forward eventually the doors will open."
Do you have any tips for people who struggle with the tech side of things?
Yes. Watch TAXI TV back episodes for an education, go to the Rally, attend the classes, and post your music on the Peer-to-Peer section of the Forum. Don't be afraid to ask for help. Louden Sterns is also a professor at Berkeley and offers a music production course online that is amazing and inexpensive that really helped my journey early on. Also, watch tutorials on Lynda.com and MacProVideo.com, and of course YouTube.
Do you have a favorite mixing tip?
Yes. Mix at low volumes. I remember a TAXI TV episode with [the legendary engineer/producer] Val Garay, where he mentioned the importance of doing just that. Saved my ears and my mixes.
Let's talk about rejection and perseverance. In a post on the TAXI Forum you said, "Success to me is learning from my mistakes, and failing fast. It takes a lot of determination to be able to keep failing and see it as a positive step forward. I wanted to share my story for those who are struggling at the beginning like I was. Never give up, never surrender!"
It's really inspiring to see somebody who embraces failing, and recognizes it as a positive step forward. How did you come to that realization?
I was on my way to my second Road Rally, and was sitting beside a friendly guy and marketing guru in the corporate world. Usually on those plane situations the wrong person talking all the way through can make it an awful flight sometimes, but this guy was different and intelligent. The kind of person you instantly like and listen to what they have to say. We talked a lot about business and where I was headed to and asked him if he had any advice for success. He simply said, "Fail fast. Get over your failures quickly and learn from them so you can apply what you have learned moving forward towards eventual success." I thought that was brilliant. I've adopted that strategy and apply it daily to my life and especially to my music. It is similar to the mantra TAXI members created in the TAXI Forum that goes like this: "Write, submit, forget, repeat." Getting rejection is never easy, but as soon as you realize that a "return" is actually an education for the current music business, you can apply it to everything you do and eventually start getting more Forwards, deals, and then placements. There is no way around hard work, if you stick with it and keep moving forward eventually the doors will open.
"If I can do it, you can do it too."
It's disheartening to me when I see TAXI members give up because the sting of rejection causes them to feel like they're never going to experience success. Yet, I suspect that for a large percentage of them, they might be just a few months away from their first taste of success. Do you have any words of wisdom that might help some fellow TAXI members keep going when it feels like quitting is the easier decision?
What we are trying to do here is hard, it's really hard, but don't give up. If I can do it, you can do it too. We all need a support system to help us to keep going through the tough times so surround yourself with positive people and have faith that if you do the work things will eventually open up. You have to be stubborn, you have to be brave, you have to be humble, you have to want it bad enough to really put yourself out there. One of my mentors told me something once that really kept me going, he said "You have to work hard in the trenches now and take care of yourself in the meantime." Words of wisdom from an experienced senior TAXI member. Thanks, Andy [Gabrys]!
You have to spend time on the TAXI Forum, watch TAXI TV, and go to the Road Rally. If you are not doing those things and you are waiting for it to come to you, it won't happen. You have to be hungry. Do the work. That is my best advice.
"You have to be stubborn, you have to be brave, you have to be humble, you have to want it bad enough to really put yourself out there."
Do you feel like success begets more success? Does it inspire you to work harder or more effectively because you know there's a reward in the end?
I've to say that it is a major charge to get a placement, especially when there is a dollar amount attached to it. It is like fuel for your fire and most importantly it's validation. Knowing that what you are doing musically is working to support someone else's vision in the industry really helps to know what direction to go in with your future writing, and more importantly, it builds confidence in you to trust your instincts.
I love that you mentioned confidence! Let's talk about paying it forward. Our entire TAXI community seems to understand that concept well, but in researching you for these questions, I noticed that you've done some cool stuff for homeless youth. Can you tell our readers about that?
I've learned in my life that sometimes the greatest reward and satisfaction is helping others in need. I try to give back as much as I can, as often as I can. My life hasn't been all wine and roses, and I've struggled at times, which spurred me to create something to help homeless youth in need. It's my way of giving back, with the help of my local musician communities who have donated their time over the years. Every year on my birthday weekend, I put together a fundraiser for a local housing shelter in my community to help get kids off the streets and into affordable housing with life skill acquisition programs to help them back into society with a fighting chance for a brighter future. Together with so many of my talented musician friends, in the past several years we have raised over $10,000 for homeless youth through these events that bring people together with music for a great cause.
You just made me tear up! Thanks for sharing that.
Finally, do you have any words of wisdom for other acoustic Singer/Songwriter types who might think that they don't have a place in the film and TV music world because Hip-Hop, Electronic music, and EDM seem to be the most frequently asked for genres lately?
Don't stop doing what you love to do, but don't be afraid to try new things or experiment in new genres. Try your hand at instrumental cues for a while, or try to write in new genres. This industry is constantly evolving and changing, so just keep working on your craft and do everything you can to be the best you can be, because sooner or later it is going to be your time, and you want to be ready!
Thank you, Robbie. You inspire me, and I'm sure you'll do the same for thousands of people who will read this.