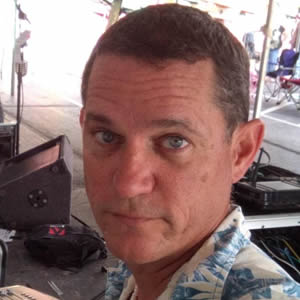 Taxi Success Russell Landwehr
Interviewed by Michael Laskow
One of the things that has helped so many TAXI members become successful is our community. "Community" became an online buzzword with the proliferation of websites, chat rooms, and forums, beginning in the mid-1990s. But you can't force a virtual community to manifest or grow. Just like a real community in the physical world, it either happens organically or it doesn't.
Thankfully, TAXI's community has grown organically, and it has become sort of a "star" in its own right. While I'd like to take credit for that, I can't. TAXI's members caused the community to grow. People made the community grow. People like TAXI member, Russell Landwehr!
Whenever I hear the Glen Campbell hit, "Wichita Lineman," I think of Russell, because that's his day gig! You can find him atop telephone poles and crawling under buildings as a lineman for a phone company. But his true passion is music!
Here's a TAXI Forum post from Russell that inspired me to interview him about how the TAXI community has helped him:
"I JUST signed to another [music] library today BECAUSE OF TAXI FORWARDS.

I'm very happy about this, and I can trace every Industry milestone and success back to being a TAXI member and immersing myself in the FULL TAXI Experience.

TAXI Membership
Submitting Songs to TAXI Listings
The TAXI Forums
TAXI TV
The Road Rally and TAXI members."

Russell Landwehr
"It was through participation in the TAXI Forums and scouring the TAXI Listings that I discovered other genres."
Thanks for reminding us about how important the "full TAXI experience" is Russell, and how it's so community-focused. Before we get into that, tell us about yourself: Where did you grow up, did you come from a musical family, and how long have you been playing?
Thanks, Michael. I'm blessed to be a part of the TAXI community, and honored to be able to talk about the full TAXI experience with you.
As a baby I teethed on the power cord to my dad's Hammond organ. That may explain a few things about me, eh?
I've lived all my life in the Midwest. Ohio and Indiana. Not exactly the most exciting part of the world, but I wouldn't trade growing up in the rolling farmlands and redneck ambiance for anything.
At age three I could be found playing my toy piano for my sister in her crib. My grandparents bought me a toy drum set when I was five and I would play rhythm to my dad on organ in the evenings on songs such as "Sweet Caroline." At about five-and-a-half my mother started me in piano lessons, but a few years later, my dad taught me how to play chords and read "fake books" so Mom stopped the piano lessons and just made sure I kept practicing.
My earliest memories contain the Glenn Miller type dance band Dad led when I was five. They would rehearse once a week downstairs in the living room. Chris, the son of the guitar player in that dance band, would come over during rehearsals and we would play together in a different room: Chris on drums, and me on piano. My first paying gig was with Chris for four cents a ticket to the neighborhood kids at the age of about seven. Interestingly, later at the age of 15, I was making money in a local Country band on piano and Chris on drums.
But it all goes back even further than that. My Grandfather played saxophone in bars during the Great Depression. I never heard him play, but to this day I hold him up as a fine example of using his passion to provide for the family in a really tough time.
My father as a teenager was the organist for his church, then later in life worship leader and choir director. In his seventies now, dad will still sit in at the piano for special music occasions at his church.
My uncle played in Dayton clubs five to six nights every week in the '70s. He was an organist and guitar player. The best part about visiting my uncle's house was getting my hands on his Fender Rhodes, and playing his Hammond through a REAL Leslie cabinet.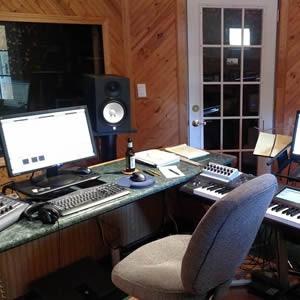 The mixing position in Russell's studio.
So, clearly, music was in your genes! When did you first get into writing and recording music?
The first song I ever wrote and recorded was on my dad's little reel-to-reel when I was in fourth grade. It was Am-G-F-E over and over and over and over… ugh! But I would have to say that when I seriously got into writing and recording, I was a teenager. I would use my dad's Hammond, a Wurlitzer Electric Piano, a drum machine, and two cassette recorders that I would bounce between while overdubbing tracks. The compositions were always instrumentals, and I would do my best to try to get sounds out of those instruments that were way outside the box.

OH! I almost forgot… I also had my own rotary speaker that I built out of spare lumber and an extremely noisy dryer motor. Boy did it sound like crap, but it was so cool to have my own homemade Leslie!
Did you start out doing a particular genre, and are you still doing that genre now, or have you expanded into others?
Wow, I've performed and recorded so many different genres leading up to what I consider my real "professional turning point." As a teenager I made money playing in Country bars and was the pianist for the choir and church hymns. A little later I was piano for a Glenn Miller type dance band. I performed in a couple of duos playing everything from the '40s through the '80s, then graduated to regionally successful Country, '80s, and Classic Rock bands up until recently when I left that scene to concentrate on composing for Film and TV.
When I joined TAXI, I was in my New Age composing phase. I'd originally thought New Age was going to be my ticket. It was through participation in the TAXI Forums and scouring the TAXI Listings that I discovered other genres. I've written, produced and signed Hip-Hop, Hick Hop, Trip-Hop, EDM, Country Pop, Piano, Tension, Suspense, Electronic, Ambient, Percussion, Indie Folk, Indie Pop, Chillwave, Chillout, Lounge, and World. I've also got some Latin and New Wave stuff on the hook right now.
Wow, I'd call that an expansion into other genres! How many instruments do you play?
My main instrument is keyboards. I also play guitar and just about any percussion instrument imaginable including mallets. My "signed" stuff has my performances on Piano, Organ, Synth, Guitar, Percussion and even real live hand-claps. Oh! I even signed a track with a vocal from a TAXI forward. Thank goodness for Melodyne!
I know that you started out recording on a reel-to-reel tape deck, then bouncing tracks back and forth on cassette decks; then you moved up to a Roland MT-32. What are you using now for your home studio?
My main workstation is Ableton Live on a Windows 7 platform. I switched to Ableton from Nuendo. It's very good for manipulating audio loops and MIDI for EDM. I have tons of virtual instruments. Some of my favorites are Massive, Absynth, FM8, Sylenth, and some super-secret freebies I found online that rock for specific niche sounds. Plus, I have some killer third-party sound libraries loaded up in Kontakt.
My ADA interface is MOTU, and I have several different pre-amps for when I record percussion and guitar. My go-to mic is a small diaphragm CAD. I use a Korg Kronos for my MIDI controller, and occasionally even use that expensive beast for the killer sounds it can produce.
"We all know that in order to become successful, you've got to do what the successful people do... It's that simple."
What motivated you to start writing and recording Film and TV music? Was that something that was even on your radar prior to becoming a TAXI member?
I think it was more like a tickle in the back of my mind at first. I'd recorded and self-produced an eclectic (and laughable) album of songs in the late '90s. When people would listen to that collection, they commented about the instrumentals on the album sounding like "movie music." It never really occurred to me at the time that this would be a viable avenue, even though when I composed those instrumentals I would have a certain "scene" in my head that I was scoring, and an emotion that I was trying to convey.
TAXI was always in my peripheral vision. I saw the ads in the magazines I read such as Electronic Musician, Keyboard, Mix, and the like. But I'd always viewed TAXI as the road to an artist's signing with a label or a songwriter placing something on an established act's album. I understand this is exactly what TAXI was early on, but TAXI has evolved WAY beyond that.
In a rather shook up period of my life I was searching for options, and one of those options (for me) was writing songs for others to record, and I remembered TAXI. I checked out the TAXI website, cruised the Forums and discovered that the new (to me) TAXI was not only a place for artists and songwriters, but also a doorway to music for Film and TV placements. Then suddenly, this light bulb went off in my head. The things that people had been saying to me, and the TAXI Listings, and the Success Stories in the Forums suddenly fell into place like a picture I'd been looking at upside down... BAM!
Now, because of what I've learned in the Forums from the most successful and celebrated TAXI members, I'm well into my goal of a substantial income when I retire from Lineman work.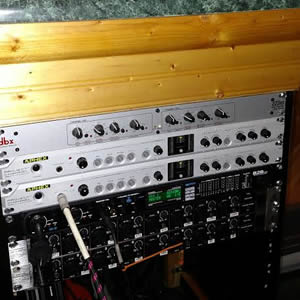 Russell's outboard gear rack.
How do you balance your job and family with making the time to write and record?
Balancing family and job time with music production is really a matter of assigning priorities and sticking to them. My youngest child is 15, and the only one of my four children remaining at home. He's very active as a top-notch percussionist in the high school band, and an awesomely talented athlete on several soccer teams. My wife works a full-time job and does a stellar job at keeping the family life organized.
Priorities are really the crux of juggling things like this. I gotta put my day job first… mostly. After all, it pays for a roof, food, and clothes. But it's not my life, it only pays for my life. So, then I block certain chunks of time to concentrate on music. My son's sporting events and band performances jump all over my writing and recording time of course, but otherwise that time is dedicated to producing music.
It probably sounds bad to say this, but the time in between all of that is for "family time." But I feel like I get plenty of good quality time being a family during meals (yes we actually TALK at the supper table) and on recreational trips like concerts and zoos and cookouts and birthday parties. Plus we have our Smallville DVD marathons. (Yeah, we're Clark Kent fans!)
Are they supportive of your musical endeavors?
Everyone in my family has always been very supportive. That's the kind of people we are. From my parents and sisters, to my cousins, aunts, uncles, grandparents, and my wife and kids. We encourage each other to be who we are. We accept each other, and we aren't threatened by individuality.
I have a very comfortable relationship with my son. I make it a point to never blow him off. We talk about things like we're comrades. Oh sure, I do the unsolicited "dad advice" thing, that's my job. But he never acts in any way resentful of the time I spend making music. In fact, he thinks it's totally cool to hear my music on TV. I even paid him and my wife to do handclaps on a signed library cue.
I hope you got them to sign a work-for-hire agreement!
Kim (my wife) came with me to LA for my first TAXI Road Rally in 2012. I think she came away more jazzed than me! She's always been a great networker and interested in self-improvement. During the Rally we split up often to attend different Drivers Ed classes. That's the way we do things. We each have our strengths and support them in each other.
Sometimes she catches me just piddling around the house and says, "Get out in the studio and make us some money."
Wow, she sounds like the perfect wife! When did you first join TAXI, and what was your goal at that time?
I became a TAXI member in February 2011. I pretty much knew I was doing it to become a composer for Film and TV. My goals were pretty foggy at that time. I was still feeling my way, but I was getting the idea that through TAXI, I could achieve musical success in this area. It still took me quite a while to get my legs underneath me and find the proper focus. I think the TAXI Forums really helped me out here.
"We all know that in order to become successful, you've got to do what the successful people do... It's that simple."
Did you jump right into being a TAXI Forum member, or were you flying solo in the beginning?
Well, actually, I was a Forum member first. I started participating in the Forums about 10 months before I became a full-fledged TAXI member. The Forums are a fantastic place to check out TAXI and see that this organization is the real deal. I posted a few songs in the Peer-to-Peer section, and gave feedback to others where I could. I also joined conversations about general musical subjects. This is all while watching TAXI's Industry Listings and learning more about how this industry works. I feel really blessed to have come into the Forums back then and rub elbows with folks like Matt Hirt, John Mazzei, Casey Hurowitz, Barry French, Dave Walton, Chuck Schlacter, Magne Kolstadt…. (Hmmm, I'm missing some folk from that list… I suppose I'll hear about it on Facebook).
Virtually all of our more successful members seem to have the things you mentioned in your Forum post in common. Yet, the majority of our members don't really seem to take advantage of the Forum, TAXI TV, the Road Rally, and the community in general. Why do you think people don't take advantage of those things, even though there is an astounding amount of evidence that the combination of all those things add up to success?
You know, that's something that I often struggle to wrap my head around. We all know that in order to become successful, you've got to do what the successful people do... It's that simple.
At my first Road Rally, I looked around at the MASSIVE crowd of members and guests, knowing that only a small portion of them were active Forum members. And then I considered how many other TAXI members weren't even there at the Rally! It was mind-boggling.
I wonder if people are buying into this romantic notion of "I'm a self-made star, and everything I've achieved is because I worked hard and I prevailed and I am so cool."
There are no "self-made stars." No one can do it on his or her own. Everyone who has "made it" will tell you that they didn't do it on their own. The TAXI Forums and the Road Rally are packed full of people who understand this very basic concept.
Everyone knows that social media is the "thing." We all stay in touch with our friends and fans through Facebook, Twitter, and the like. It's so convenient for our phone to beep and instantly we are connected to the world. It's so easy.
But logging into the Forums takes so much effort… ugh! Really? Who sold you on the idea that success didn't require your participation? Get on your computer once a day and be a part of the community of people that are going places. Forums.taxi.com: how easy is that?!
Sorry… I got a little carried away there… gotta step down from the soapbox I think.
Yeah, well you'll get no complaints from me! I totally agree with you. It's right there for the taking, it takes so little effort, and it's so rewarding. Oh well… you can lead a horse to water.
Read part 2 in next month's Transmitter!
To hear some of Russell's music, click here!