This Article Originally Published May 1999
Columnist Joanna Cazden went undercover to expose TAXI--for better or worse--in Electronic Musician magazine. To find out what she discovered, read on.

This A&R vehicle doesn't just take you for a ride.
Seven hundred and fifty songwriters and performing artists crowd a hotel conference room near L.A. International Airport [Editors Note: This article was written many years ago, when TAXI's Convention — The Road Rally — just started. Check the latest rally for current number, which is well over 2,500 by now]. Randy Bachman, who penned such hits as "Taking Care of Business" for Bachman Turner Overdrive and "These Eyes" for the Guess Who, is on stage, relating the tale of how he unsuccessfully pitched a certain song to a country-music star on a dozen different occasions. A couple of years later, the artist was looking for new material, and Bachman submitted the demo once more. This time, the star said, "It's terrific! You rascal, why haven't you played me this one before?"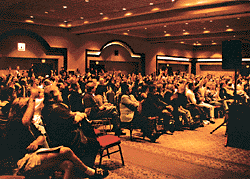 Attendees at Taxi's Road Rally vote on the quality of the song they've just heard. Randy Bachman is the long-haired fellow seated in the left foreground.
The crowd erupts with groans and laughter about the fickleness of the music industry. In the back of the hall, conference host Michael Laskow grins with pride. As the founder and president of a unique organization called Taxi ("the independent A&R vehicle"), he can tell that his passengers are getting the message. All songwriters—even those such as Bachman who have superlative credits—face the same difficulties in getting their material heard. But Taxi helps by acting as a source filter, or as Laskow puts it, "a casting agency for music."
UNDER THE HOOD

There are no prerequisites for joining Taxi. Membership costs $299 for the first year, and annual renewal is $199 [Editors Note: One thing that hasn't changed is the cost of TAXI — still the same after more than 10 years!]. Every two weeks, members receive a list of song and artist requests from labels and producers (see the Listings). If you have material that you think fits a listing, you submit it with a simple form [Editors Note: Now you can submit online as well as by mail].
Taxi's music screeners listen to everything that comes in. Cuts that are judged suitable for each listing are forwarded with the prestige of "solicited material." The rest are returned to their owners with a critique. You can send in any number of tapes, but a $5 submission fee per tune encourages members to be selective. "I didn't want to charge anything for sending in songs," explains Laskow. "But John Braheny of the Los Angeles Songwriters Showcase advised me to set a nominal fee just so people would stop and think about what they send." For $10, you can send in material without reference to a listing to receive feedback on your songwriting, your production, or even your CD packaging or press kit.
Michael Laskow steers Taxi through the A&R minefield, helping members improve their craft and producers discover new talent. STARTING THE ENGINE


Laskow founded Taxi after many years as an engineer, producer, and studio manager. Although he worked with musicians such as Eric Clapton and Crosby, Stills, Nash and Young, he got a deep personal satisfaction from helping unsigned bands. He resolved to find a way to help open industry doors to unknown but deserving talent.
Songwriter advocate Braheny was skeptical when Laskow approached him for startup advice. His experience with scam artists and naivete in the music business had made him wary of such enterprises. But Laskow seemed both knowledgeable and determined to keep his business clean in image and in reality. Braheny became his first screener and remains a key advisor. Taxi began its outreach in 1992. The organization's membership has doubled every year since then and is now in the thousands. The core staff includes seven full-time employees and several dozen screeners [Editors Note: Now a dozen full-time employees and more than 150 screeners]. The number of active listings at any one time has grown from about 20 to near 60 [Editors Note: more than 100], due in part to Taxi's exceptional screening process.
As Braheny explains, "Over the years, there have been lots of tip sheets [insider listings] for songwriters. But the A&R [Artist and Repertoire] people would get deluged with hundreds of poor-quality tapes, so they'd stop soliciting work, and the tip sheets would fold. The industry has come to trust Taxi to forward only the cream of the songwriting crop."
Jai Josefs, a songwriter and producer and author of Writing Music for Hit Songs (Simon & Schuster), has screened songs at Taxi for two years. He, too, speaks enthusiastically about the company.
"When I started with Taxi, I was already teaching songwriting seminars around the country, so I knew how to give helpful feedback. The screeners tend to be friendly and approachable folks. But many worked in A&R situations where they judged songs or bands on a yes or no basis only: a great hook right away, or forget it. Taxi gets its screeners started with John Braheny's book The Craft and Business of Songwriting [Writer's Digest Books] and gives them suggestions on how to write appropriate critiques for the songs they reject."
Josefs adds, "Although each of us usually screens in a few different genres, we're never asked to critique something totally outside of our expertise." And Braheny emphasizes that the screeners want to be blown away: "We send back a lot of what we hear, but we definitely come to work hoping to find exciting material."
Every couple of months, the screeners are treated to a free dinner and training seminar, such as an update on the ever-changing flavors of the marketplace or a round-table discussion about songs that fall between commercial genres. According to Laskow, "We figure that if we treat our screeners right, they'll be more likely to treat the members right."
TEST-DRIVE


Now, I've been writing songs for more than 20 years, and a few bands have covered my tunes. I've attended classes on commercial songwriting technique and released several self-produced albums. I was curious to see how Taxi's screeners would respond to my work.
So far, I've sent in about ten songs for four or five listings. I've had no big breaks yet, but I do feel that I've been heard fairly. I've sent the same song for several listings and received different comments on why it wasn't quite right. And although the critiques occasionally left me humbled, I never felt trashed or personally attacked.
Shortly after I joined Taxi, I hand-delivered a demo to its office in Woodland Hills, California, to meet a submission deadline and perhaps get a glimpse of the inside operation. I fully expected to give my cassette to a harried secretary and be back on the freeway in minutes.
Instead, I was met at the office door by Michael Lederer, Taxi's cofounder and chief financial officer. This laid-back fellow with a wide grin invited me in to look around, and he took plenty of time to answer my questions, without knowing I was researching an article.
At one end of the comfortable but no-frills office sat five guys at little tables, each with a boom box and headphones, listening and writing intently. At the other end of the office were rows and stacks of white mail bins with labels bearing the names of Geffen, Arista, MCA, and dozens of lesser-known labels and production companies.
Lederer explained that the number of tapes that get forwarded to a label varies from 2 to 40 percent of those received for each listing, depending on how picky Taxi has been asked to be; the average is 11 percent. A bit less than half of the forwarded material actually results in a deal.
Laskow added that about 40 percent of Taxi members will get at least one demo forwarded per membership year. More than 450 deals [Editors Note: Now more than 2,000] have been struck since 1992, ranging from single-song contracts for albums or films to staff-writer jobs to major-label deals for bands. The highest success rate is in television and film placements, which have earned Taxi writers thousands of dollars in royalties. The company makes no guarantees that members will get their material signed, only that it will be heard. According to Lederer, "Overall, the quality of submissions keeps going up. More skilled writers are recognizing that we're for real and are using our service. But we're just as proud that members who stay with Taxi tend to become better writers as a result of our feedback."
About half of the members renew each year, which attests a high satisfaction rating. I plan to be among the renewals this year.
PARTS DEPARTMENT


Taxi offers plenty of opinions about song production. When asked for tips at the Road Rally conference, Bachman urged composers to invest in their own gear. "That way," he said, "you can remix your tunes as fashions change and dub off copies in a flash."
Laskow's suggested gear for recording demos includes an ADAT, a Shure SM57 microphone, one or two condenser mics in the $300 to $400 range, three channels of compression, a basic multi-effects box, and a 16- or 24-input mixer. For most genres, he recommends having a strong bottom end with plenty of bass and kick drum, and the lead vocal up front.
Because Josefs screens songs in several genres, he tunes his recommendations to fit. "Country or singer/songwriter submissions do just fine with, say, a Roland VS-880 or VS-1680, some decent vocal mics, and live backup players. Country music especially needs that live sound. For dance music, pop, R&B, and so on, you can do more sequencing, perhaps with Emagic's Logic Audio program and a Roland JV-2080 sound module."
Josefs also points out that sending in a tape with a shaky or off-pitch vocal just doesn't cut it. "If you have only $300 to invest in your demo," he says bluntly, "spend $200 on a strong vocalist."
Taxi screeners and Road Rally panelists emphasize that a song demo has different requirements than a package pitching an artist. If the material will be rerecorded by another performer, production can be simple. The melody, lyric, and groove should be prominent, without a long intro or overly dramatic instrumentation. However, if master quality is requested, the tape or CD must sound as complete and professional as possible.