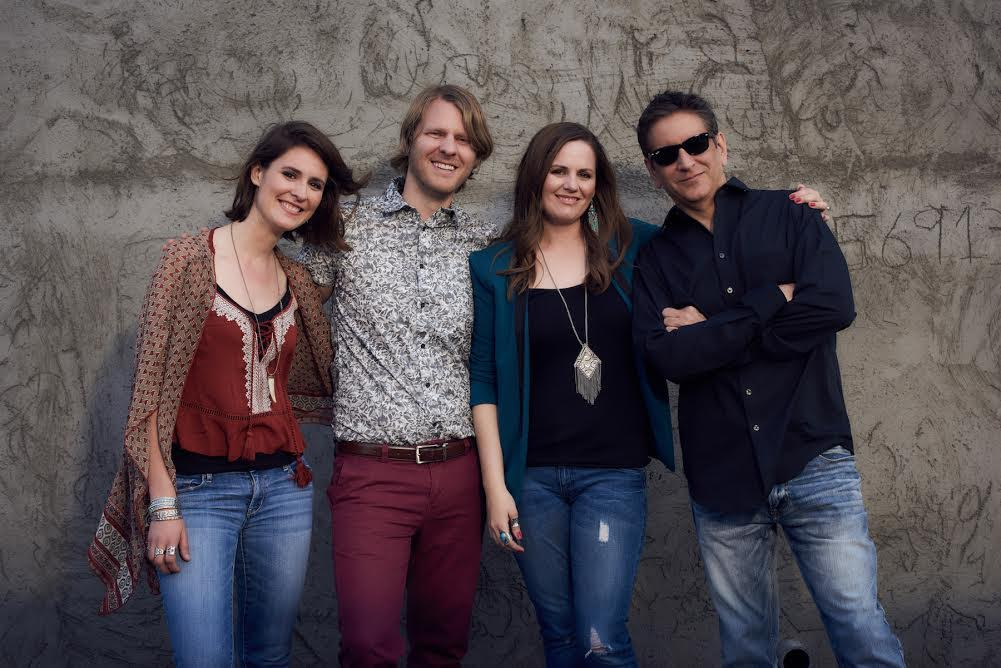 Elizabeth Anne Mall with the production team she ultimately signed with through a TAXI submission: (l to r) Elizabeth Anne Mall, Nate Highfield, Kaelie Highfield, and Rob Chiarelli.
---
Where did you grow up?
On a farm in Morganville, Kansas.
Lucky you! Where do you live now?
Suisun City, California.
How long have you been writing and performing music?
I've been performing since age 5, and started writing when I learned chords on piano at age 12.
How would you describe your music?
Indie pop with piano, electronic, and orchestral elements.
When did you first join TAXI?
I joined TAXI in 2013.
Not that long ago! What was your goal when you joined?
I really wanted advice from industry professionals on making my songs the best they could be, especially since at the time I was working on completing a self-made album. I hoped for a chance to be placed on television or with a label.
"Getting returns from TAXI trained me to get over the personal negative feelings writers sometimes get from having someone edit their material."
What types of TAXI opportunities did you typically submit to?
I started finding my niche in alternative pop listings as well as piano ballad listings.
Were you getting any of your submissions forwarded by TAXI for any of those requests?
For a while I got returns every single time, but the advice [from the TAXI A&R team's critiques] was invaluable. I altered old songs and tried new ones, and after a while, started getting a lot of my music forwarded!
Do you remember what the TAXI listing said that you submitted to that led to you meeting Rob Chiarelli?
Yes! It said: LOVE-THEMED, SINGER/SONGWRITER POP CROSSOVER BALLADS with Male or Female Vocals are needed by a Multi-Platinum Record Producer...TAXI #S140527SS
Pretty cool that you submitted to a listing in May of 2014, and just two years later you've got a record deal and a publishing deal with a multi-platinum producer and his team. How did Rob first contact you and what did he ask you when he first reached out?
Rob emailed me, something short and brief, like "I love your song, 'Call Me.'" At first I thought he was maybe a scammer! I actually called TAXI and said, "Is this guy legitimate?" And the person on the other end of the phone said, "Yeah, he's one of the 'big guys!'" It was surreal, to be honest.
How did you feel after getting that first phone call (or email)?
After the first email, I told Rob he could call me. I was so nervous to talk to him on the phone! He called me back when I was in the car with my husband on a road trip, and I remember yelling, "Pull over, we have to turn the car off!" I was so nervous on the phone, but the conversation went well. He wanted to know what parts of the song I did, songwriting, production, performing, etc. (and I was happy to say I did all of them!) and if I had other songs like it. He encouraged me to keep sending him material.
How did things progress from there? Rob told us that he met you at the Road Rally after the initial contact. How did that meeting go?
It went so well. I didn't know what to expect at all, and thought maybe I'd get 10 minutes to say hi and introduce myself. But he and his team spent a lot of time getting to know me and asking what my goals were for music between the seminars they led at the Rally.
"I felt like nobody noticed me, but when someone finally did, it was a Grammy-award winning producer."
What happened next?
Over the next year I continued to send them original material. We worked together on writing material for film and TV.
I also noticed that you worked with two other producers besides Rob on the project: Nate Highfield and Kaelie Highfield. What was it like working with three producers?
From a writer's standpoint, these three are great to work with. I've always tried to surround myself with people who can give me good, solid music advice, so to have ideas from people who really know what they are talking about on how to tweak songs to be the best they can be has been a real blessing.
What was the pre-production process like? Was it hard to have all that input when those songs had lived inside your head, and all the sudden you had input from three other people?
Getting returns from TAXI trained me to get over the personal negative feelings writers sometimes get from having someone edit their material. I mean, these three know what it takes to have a song make it! I asked myself, would I rather have a song be completely my own without others' edits that never gets heard, or one that's edited and perfected to a level that's good enough for a lot of people hear it?
How did you learn to trust them with music that came from your soul and your heart?
It wasn't hard when I realized how good they are at what they do. I knew they wanted my songs to succeed as much as I did, and they had the insight to know what that takes. I mean, look at their track record! Honestly, it's an honor to entrust my work to people like them.
What was the song selection process like? Did you have to leave any of your babies off the record?
After writing together for a year and a half or so, we began narrowing down possibilities for the record. The selection was really a mix of our favorites from material I had written. Rob, Nate, and Kaelie had ones they felt strongly would be successful, and I had ones that were super close to me personally, so deciding on an album list was a mix of both.
I saw that you engineered the record. Did you come to LA and do pre-production meetings with Rob, Nate, and Kaelie, or did you cut everything in your home studio, send it to them, and they got back to you with production notes? How did that whole process work?
I did everything from home! Again, I have to thank TAXI for the critiques, which helped me know how to get my material to a level that was good enough to be used. I would email Rob songs and the team would get back to me on notes about lyric changes or musical arrangement changes. And then, of course, at the end of all the tweaking, they would work their magic on their end with production.
Artists usually hear their songs a certain way in their head. Was the end result close to how you always heard them?
I have kind of readjusted the value I put on the initial vision I have for a song, and I let it evolve into what it becomes. I was getting so disappointed for a while when songs didn't turn out how I initially envisioned. But seeing how excited [Rob] got about [the songs] helped me to reevaluate the unique beauty of my work, even if it's not what I initially was going for. Looking at the album now, I'm very pleased with it. In a sense, it really helped me find my voice.
Do you have a favorite song?
My favorite song changes week to week! Right now it's "Find Me."
"The critiques I was receiving helped me grow tremendously as an artist and writer, and it definitely raised my chances of getting noticed in the industry."

The record just came out. What are you doing to market it?

We're doing a lot of internet promotion, as well as interviews. I love the way the internet has taken promotion to another level. There's so much you can do from home now!
Are you going to do any live shows where our readers can come out and see you?
I'll be performing in the Bay Area in the following months. People can check out my site elizabethannemall.com for shows that will be coming up in the next months.
Where can our readers and your fellow TAXI members get their hands on your record?
It's all over! Look for "Belle Laide" by Elizabeth Anne Mall on iTunes, Amazon, Google Play, Spotify, etc.
Do you have any advice or words of encouragement for your fellow TAXI members who have similar aspirations and goals?
Yes! DO NOT GET DISCOURAGED. I got so many of my submissions returned before ever getting anything forwarded. I also didn't get any placements before Rob got a hold of me. I felt like nobody noticed me, but when someone finally did, it was a Grammy-award-winning producer.
I would also say you really need to take the critiques fro the TAXI A&R people to heart. I don't know how many times I've heard TAXI members feel snubbed when they are critiqued and say, "Yeah but it's just one person's opinion." I would say to that, yes it's one person's opinion, but that person likely knows what they are talking about! And if you are serious about your work, you should be submitting a single song to lots of listings and see if the reviews line up. That's when you can really judge if a review is "just one person's opinion"—if it's an outlier from the other critiques you are receiving back.
I would also say BE DILIGENT, and submit a lot. I was sending out to multiple listings every week. The critiques I was receiving helped me grow tremendously as an artist and writer, and it definitely raised my chances of getting noticed in the industry. If you really, really want to go for this, you've got to put in the time and money to do things like submit songs frequently and attend the Road Rally. These things could be invaluable to your career.