Photos by James DiModica and Ryan Taalbi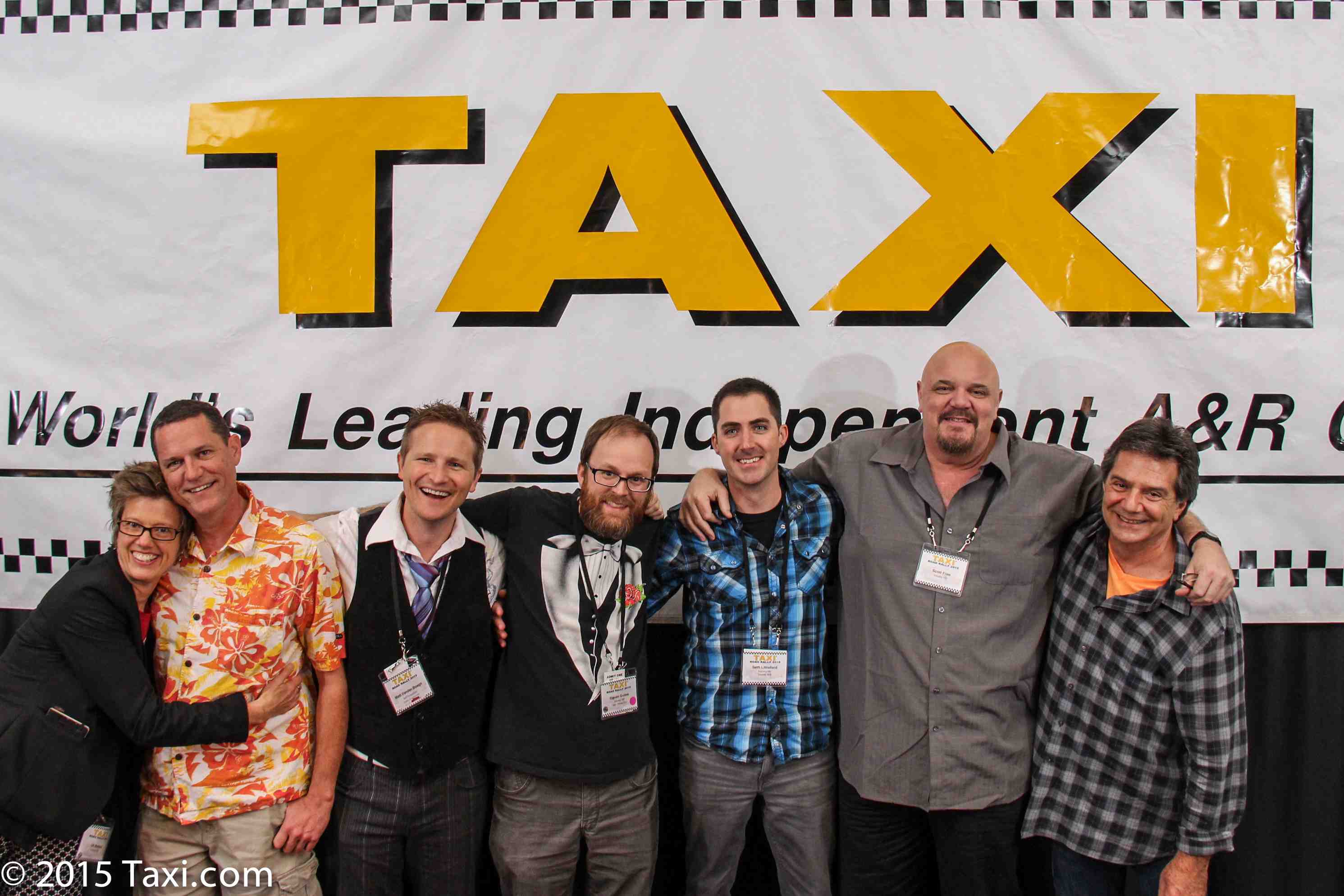 Successful TAXI Members (left to right) CK Barlow, Russell Landwehr, Matt Vander Boegh, Steven Guiles, Seth Littlefield, and Scott Free pose for a photo with TAXI CEO Michael Laskow, after their panel, Collaboration Nation.
Independent songwriters, artists, and composers come from all over the world for TAXI's annual three-day conference, the Road Rally. They come to learn about songwriting, Film and TV composing, music production, Film and TV music licensing, recording and mixing techniques, the music business, and to experience music industry networking that is unparalleled at any other large-scale music industry convention.
Where else can independent musicians meet top Hollywood music supervisors, music library owners, music attorneys, collaborators, multi-platinum, Grammy-winning record producers, hit songwriters, and music business experts from every aspect of the music industry, and meet them for free?
We're really, really proud that the best music conference is the only one that is free! TAXI members and their guests pay absolutely nothing to attend the friendliest, most productive and informative event of its kind, anywhere. Feast your eyes on the photos that follow to see a fraction of what you missed if you didn't attend the Road Rally last November!
Hit Songwriter Jason Blume energizes a packed ballroom just before Michael Laskow's welcome speech and the Keynote Interview on Friday morning.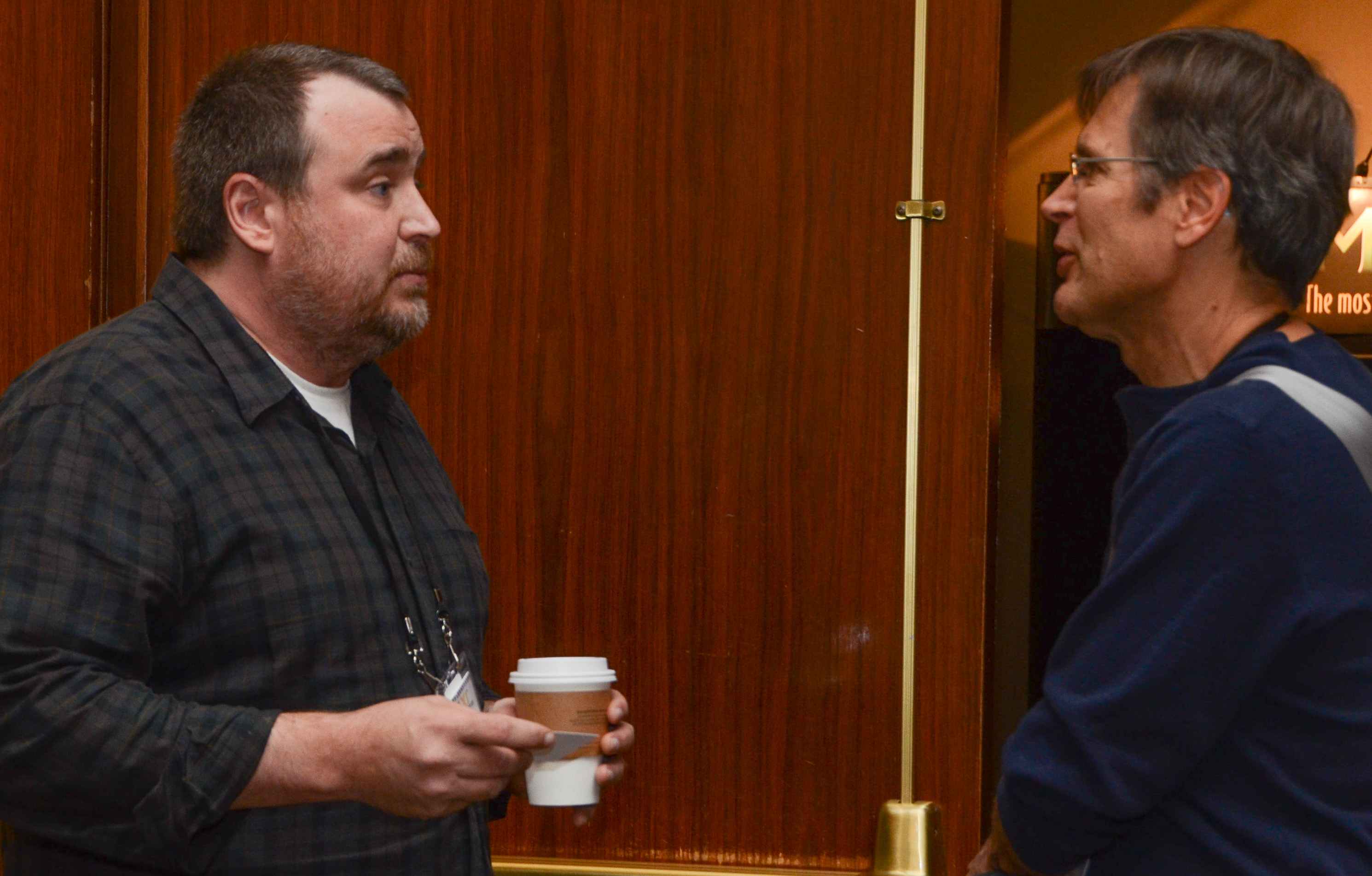 Brian McNelis, Sr. V.P. of Music and Soundtracks at Lakeshore Entertainment, takes time to chat one-on-one with a TAXI member after his Keynote Interview.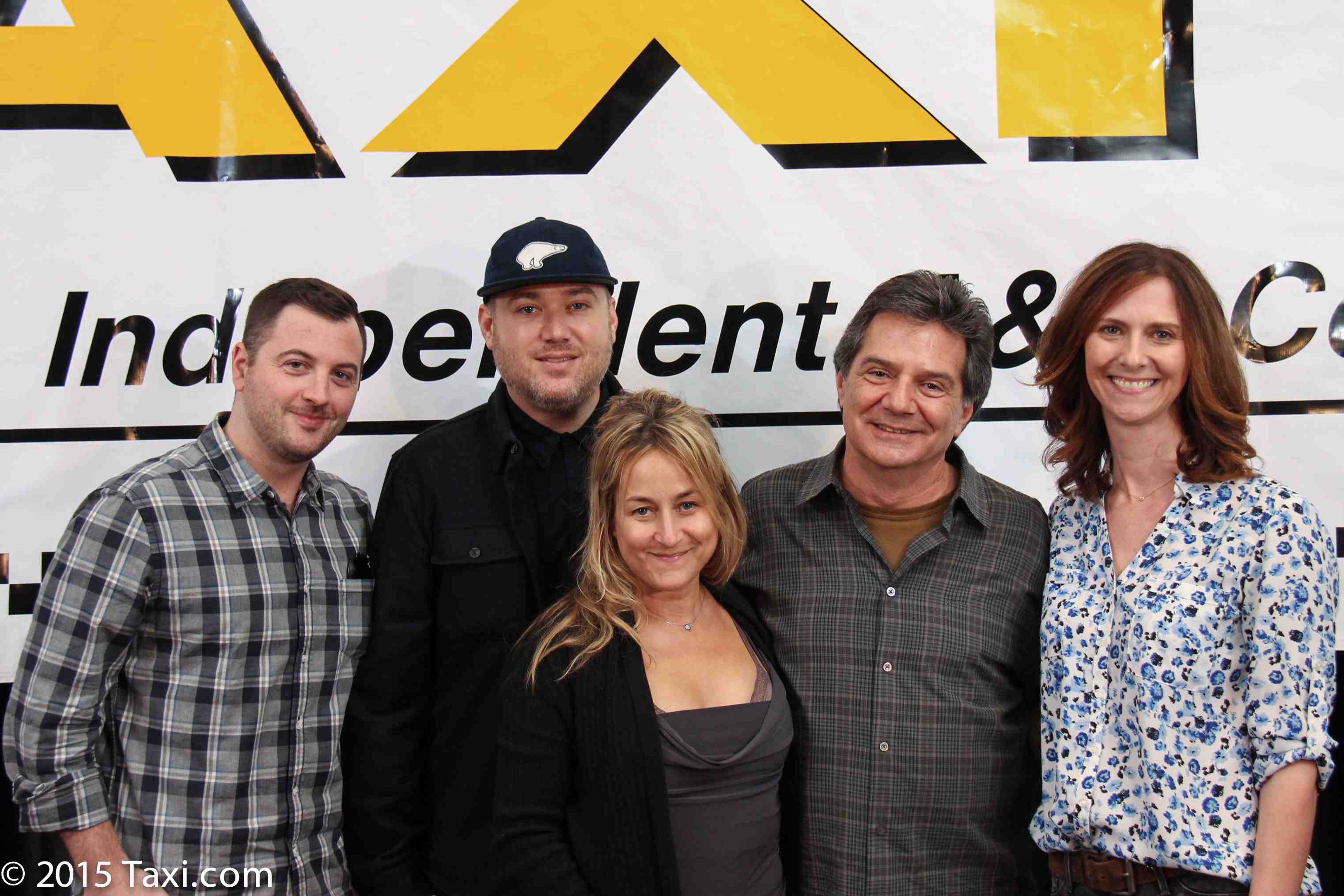 A-List Music Supervisors (left to right) Naaman Snell (Trailers), Ryan Wines (TV Commercials), Beth Amy Rosenblatt (Feature Films), Michael Laskow (TAXI CEO), and Jen Malone (Unscripted, Reality TV) take a group shot after listening to TAXI Members' songs and instrumentals on the Music Supervisor Listening and Q&A Panel. Music Supervisor Frank Palazzolo was also on the panel, but was not in this shot, as he was getting ready for his next panel.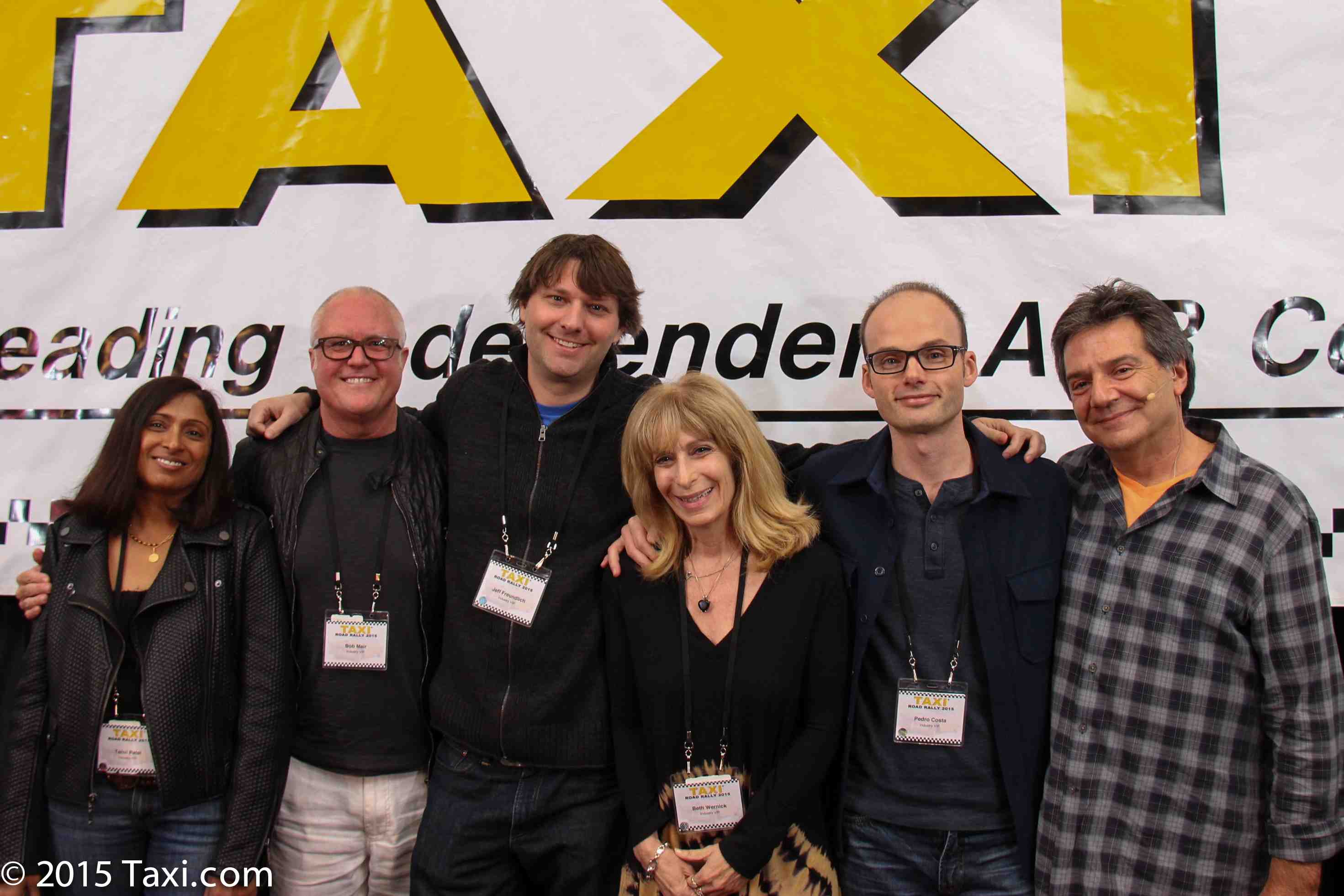 Music Licensing Executives (left to right) Tanvi Patel (CEO, Crucial Music), Bob Mair (CEO, Black Toast Music), Jeff Freundlich (COO, Wild Whirled/Fervor), Beth Wernick (CEO, Imaginary Friends), Pedro Costa (CEO, InStyle Music), and TAXI's Michael Laskow pose for a shot after their Music Library Listening and Q&A Panel where they listened and gave live feedback on music from audience members!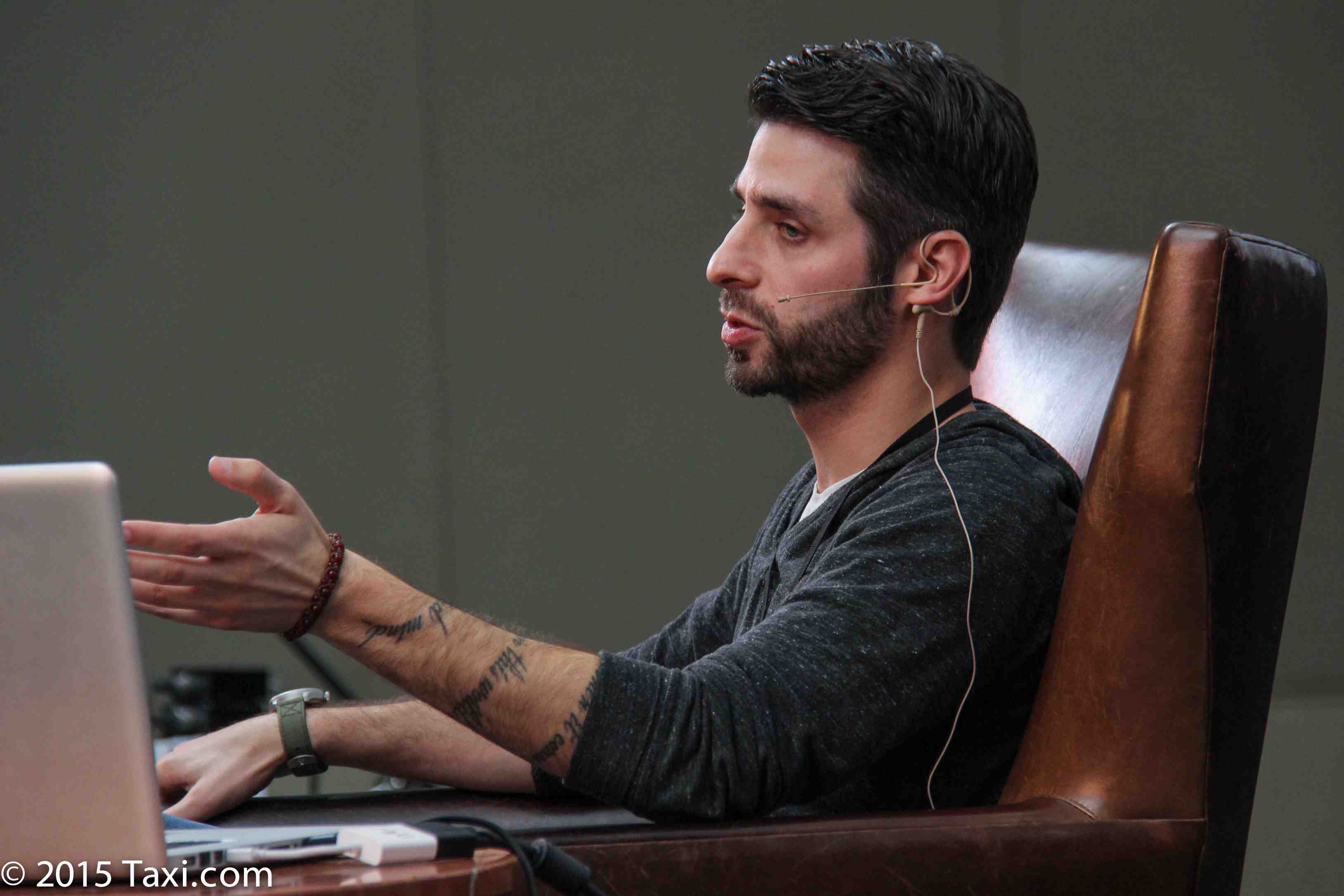 Hollywood Music Supervisor Frank Palazzolo gives some incredible advice to TAXI Members on how to get more placements in hit TV shows. During his panel, Does Your Music Work in This Scene?, Frank played TAXI Members' music in scenes from two hit TV shows to show how he picks what he uses, and why some music works and some doesn't.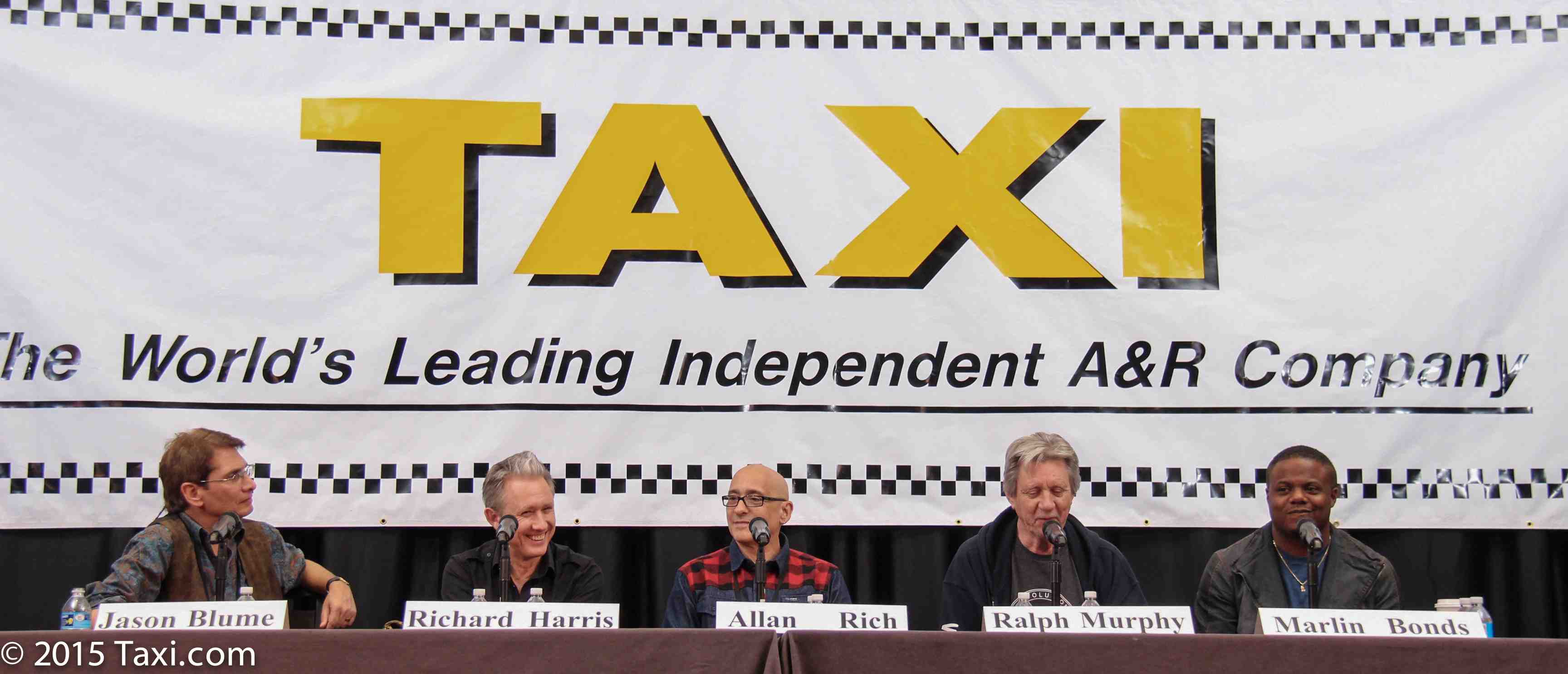 Hit Songwriters Jason Blume, Richard Harris, Allan Rich, Ralph Murphy, and Marlin 'Hookman' Bonds discuss their individual approaches to writing hits, and their personal experiences in finding success as Songwriters.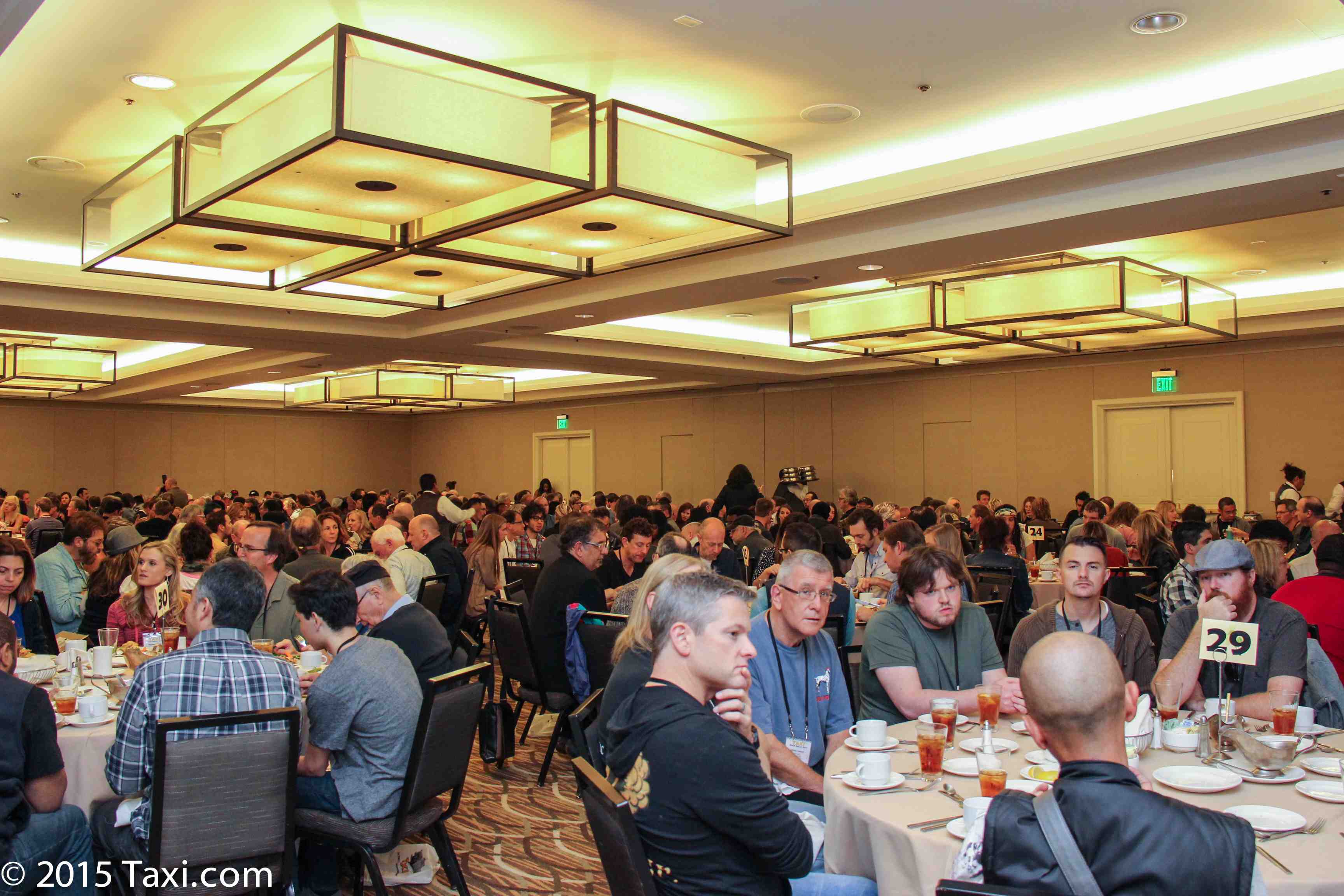 300 TAXI Members and their guests enjoy the Mentor Lunches on Friday and Saturday, where they got to sit down with about a half-dozen industry professionals in a round table setting.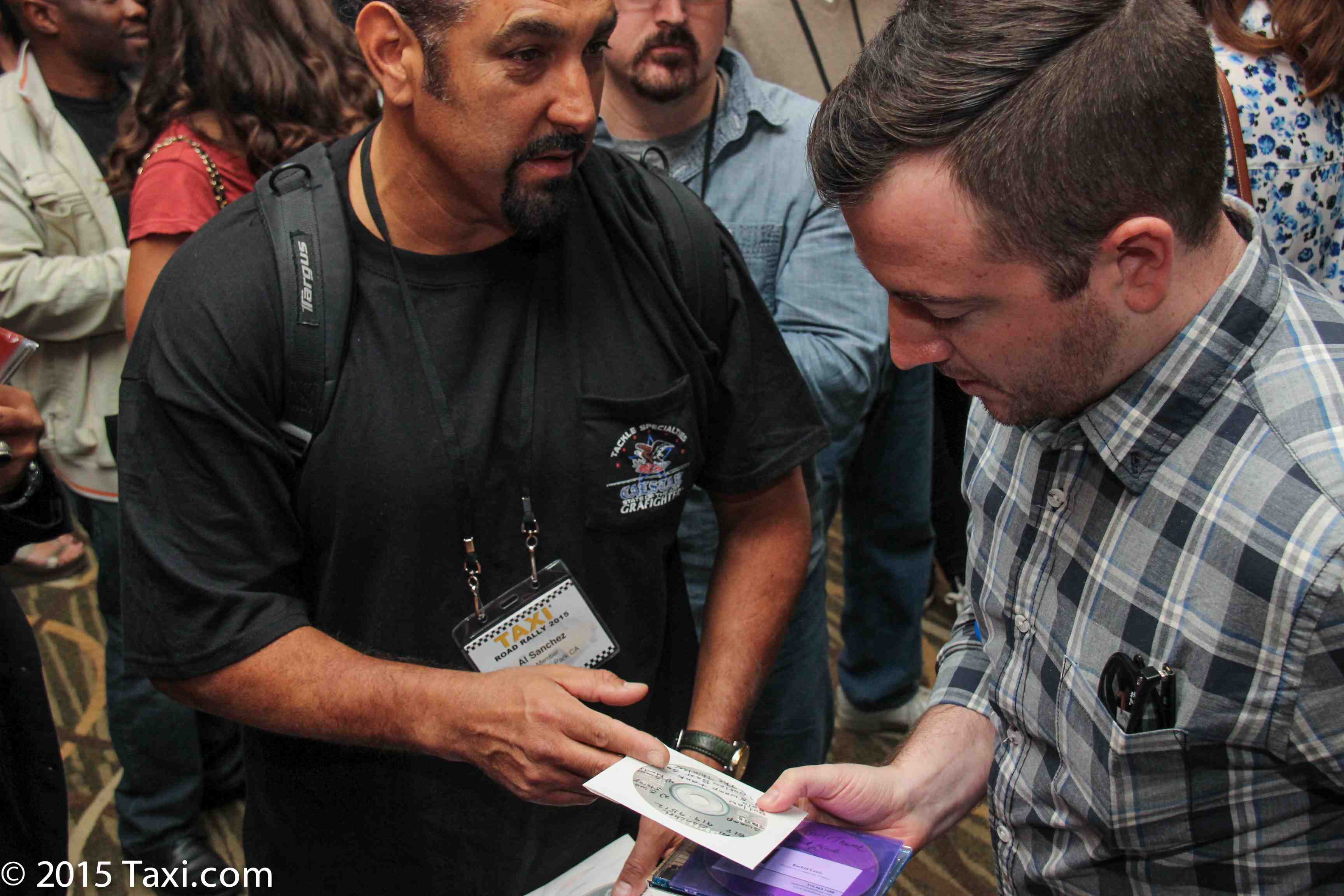 Hollywood Trailer Music Supervisor Naaman Snell takes a look at a CD given to him by TAXI Member Al Sanchez.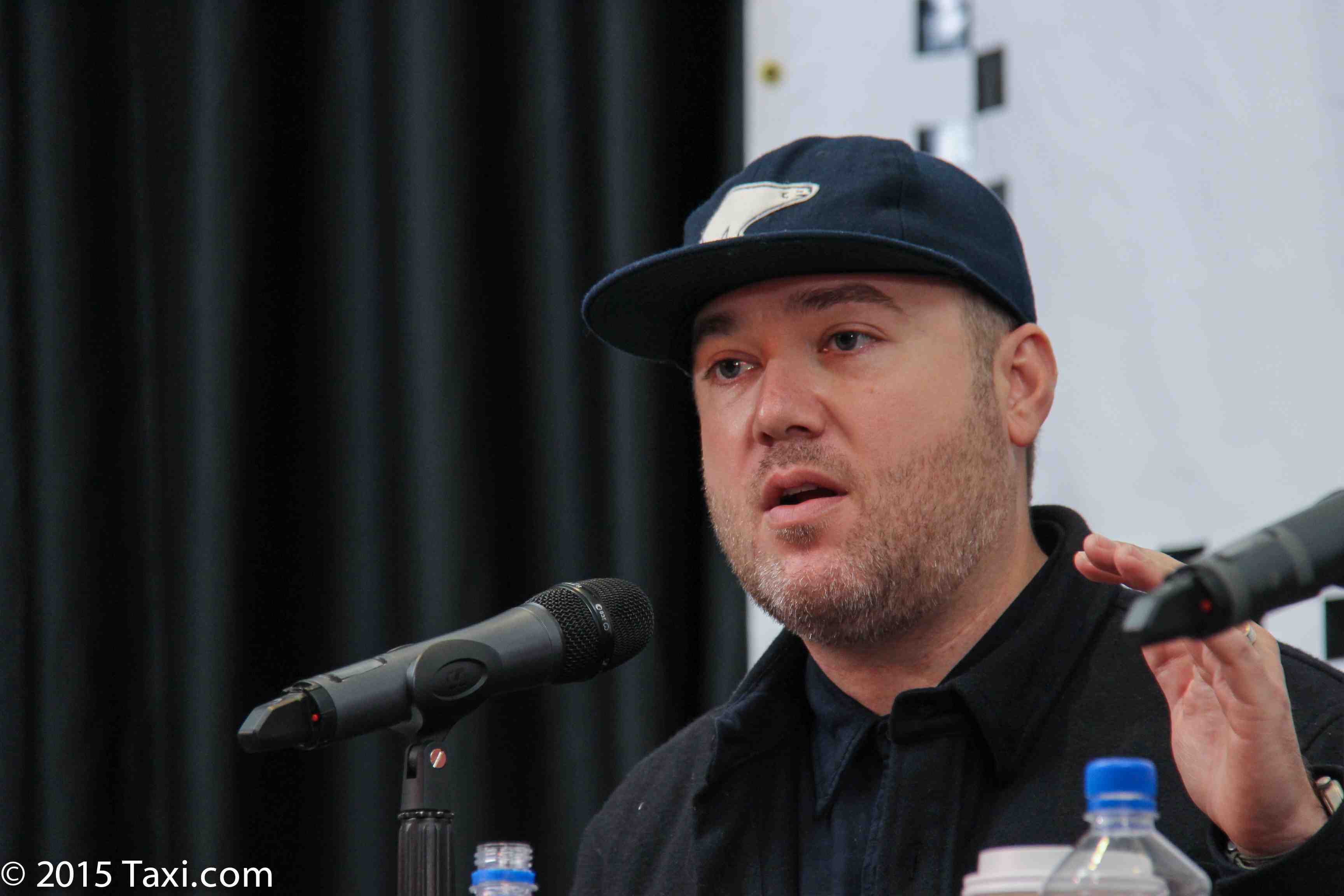 Music Supervisor (TV Commercials) Ryan Wines gives feedback on a TAXI Member's song during the Music Supervisor Listening and Q&A Panel.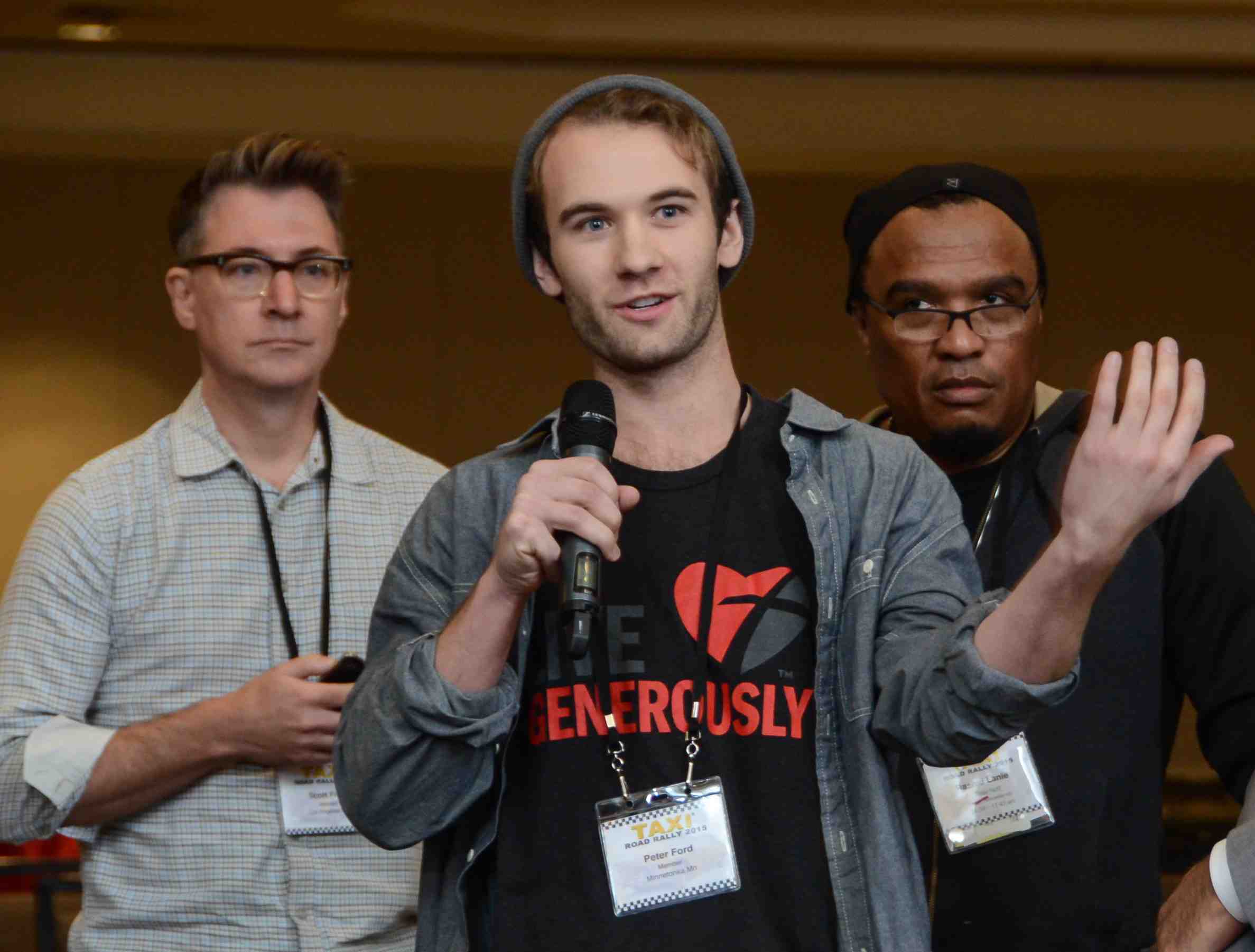 TAXI Member Peter Ford asks a question during one of the 16 information-packed panels at TAXI's Road Rally, 2015.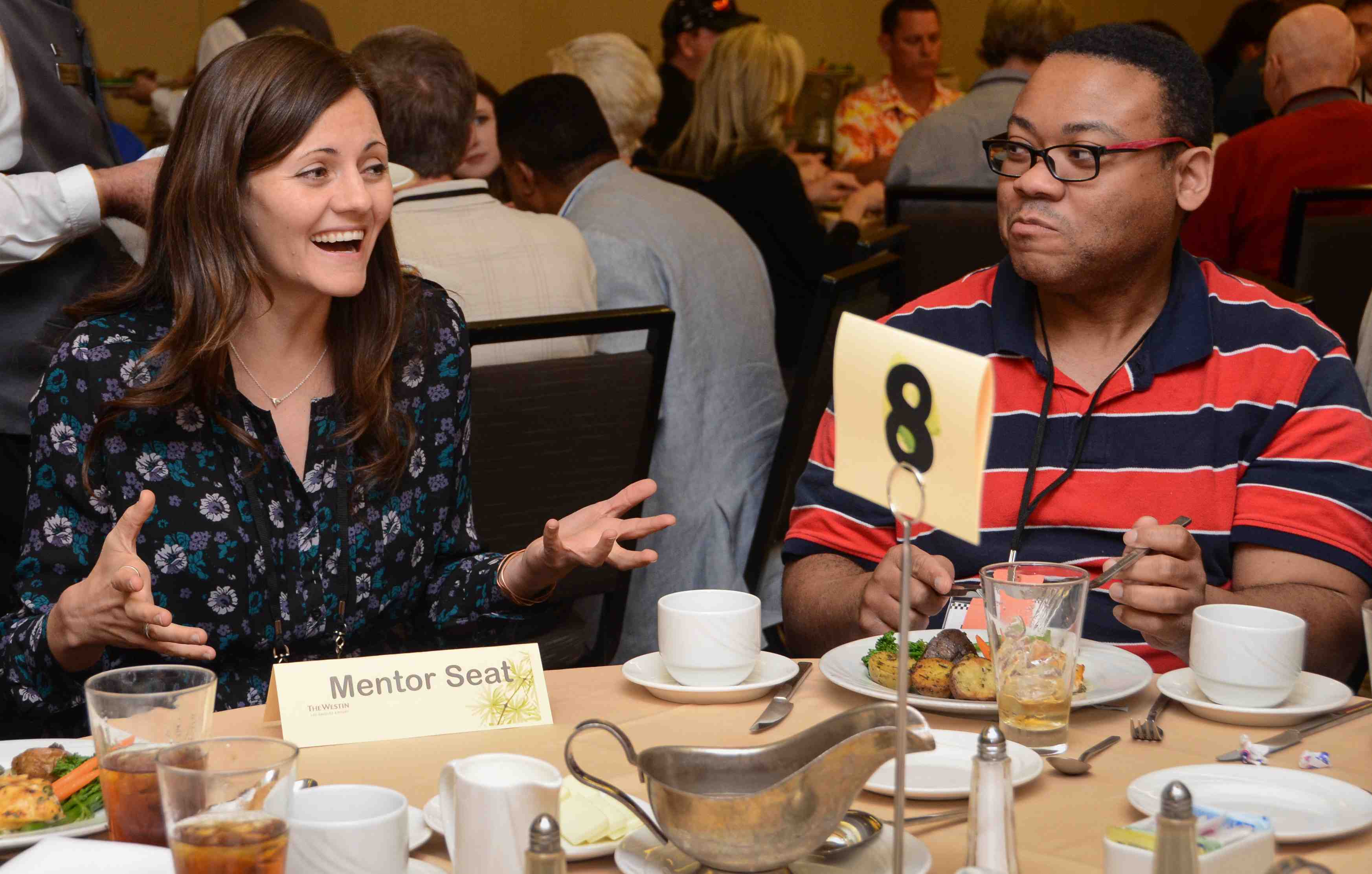 Hit Songwriter and vocalist of the band, The Donnas, Brett Anderson shares a laugh with TAXI members and their guests at the one of the Road Rally Mentor Lunches.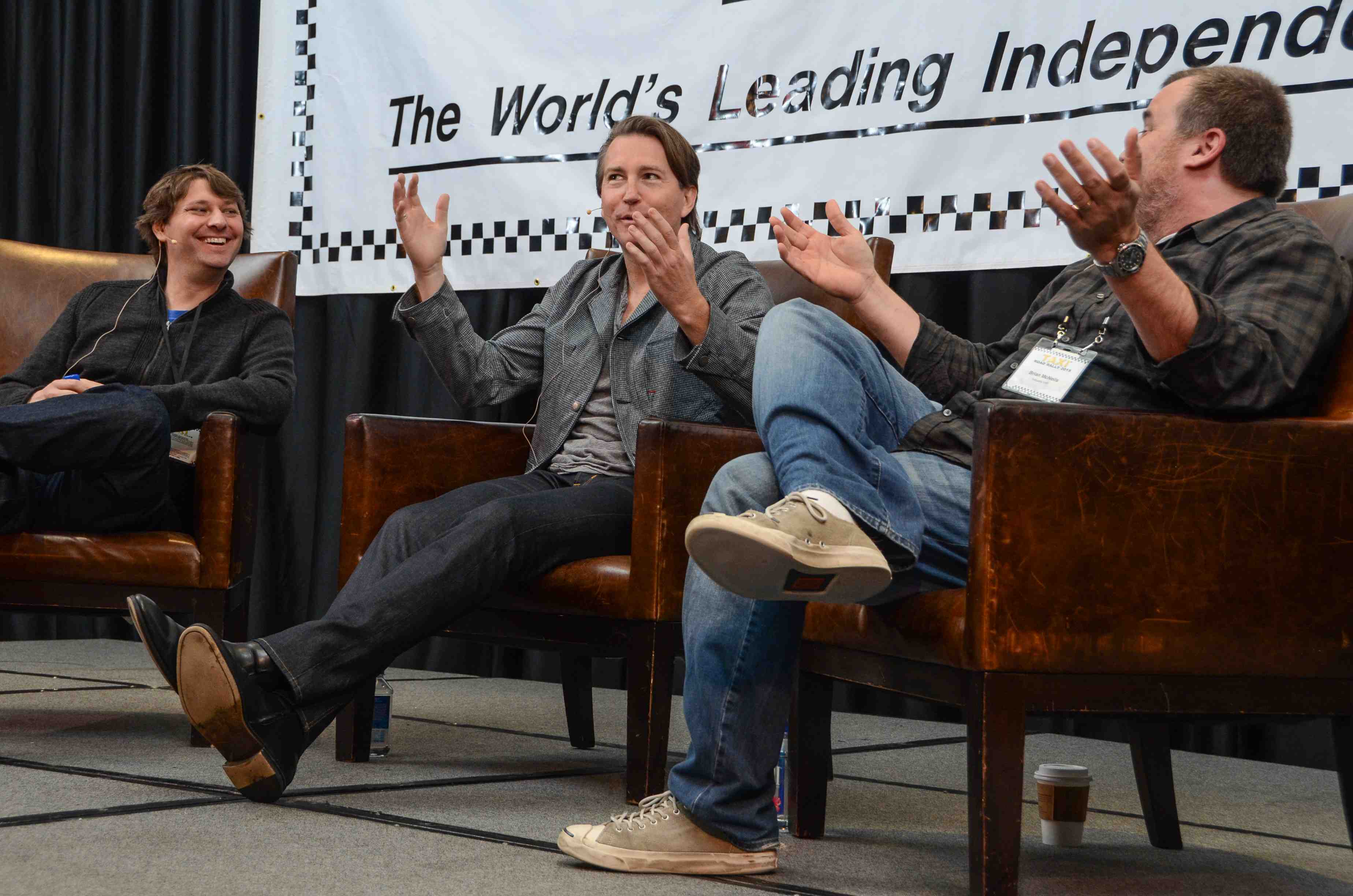 (left to right) Jeff Freundlich (COO, Wild Whirled/Fervor), John Rudolph (Chairman, Elias Arts), and Brian McNelis (Sr VP, Lakeshore Entertainment) give advice on how to prosper in the rapidly changing music industry during the Keynote Interview.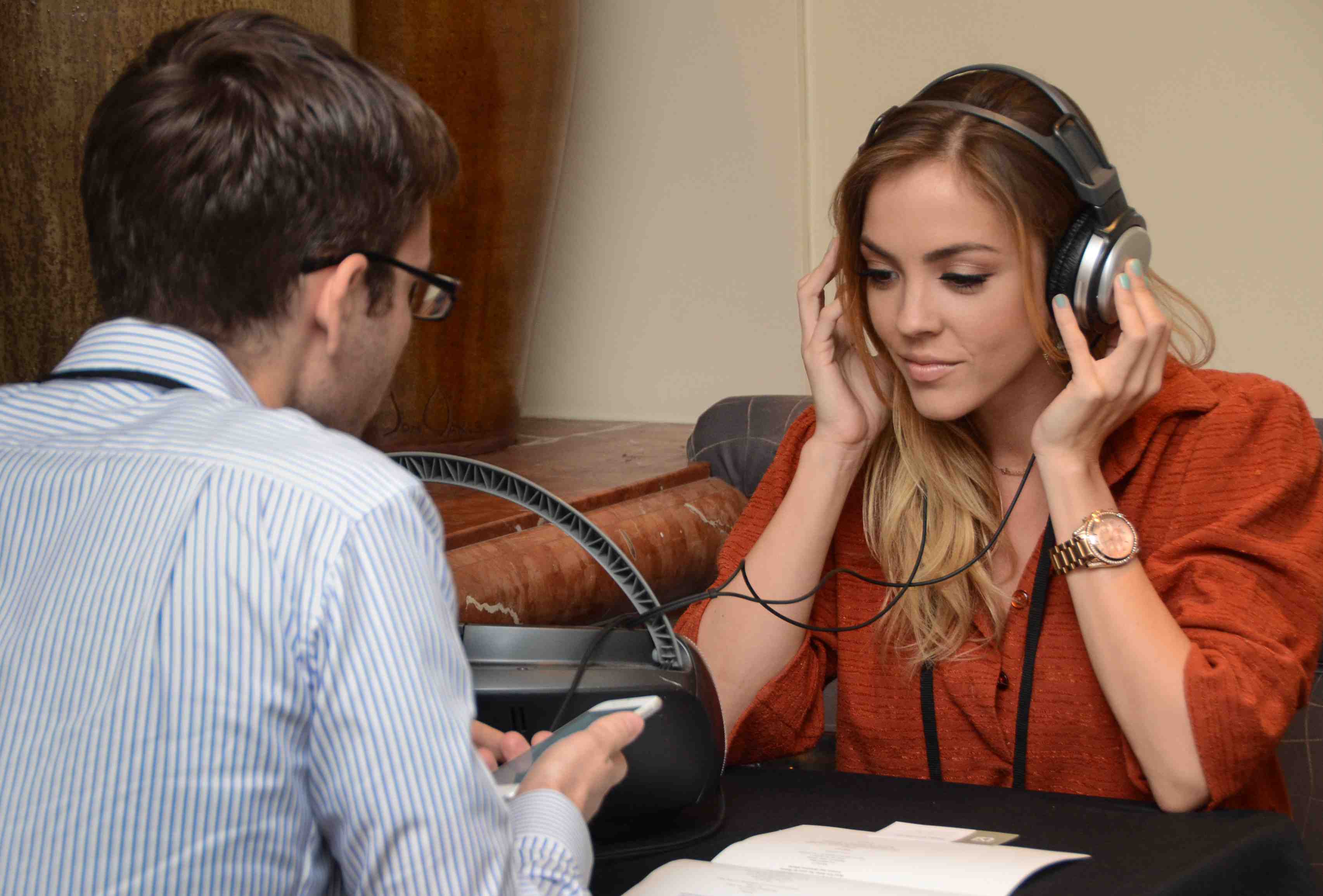 Songwriter Kaci Brown listens intently to a TAXI Member's music during a One-to-One Mentor Session.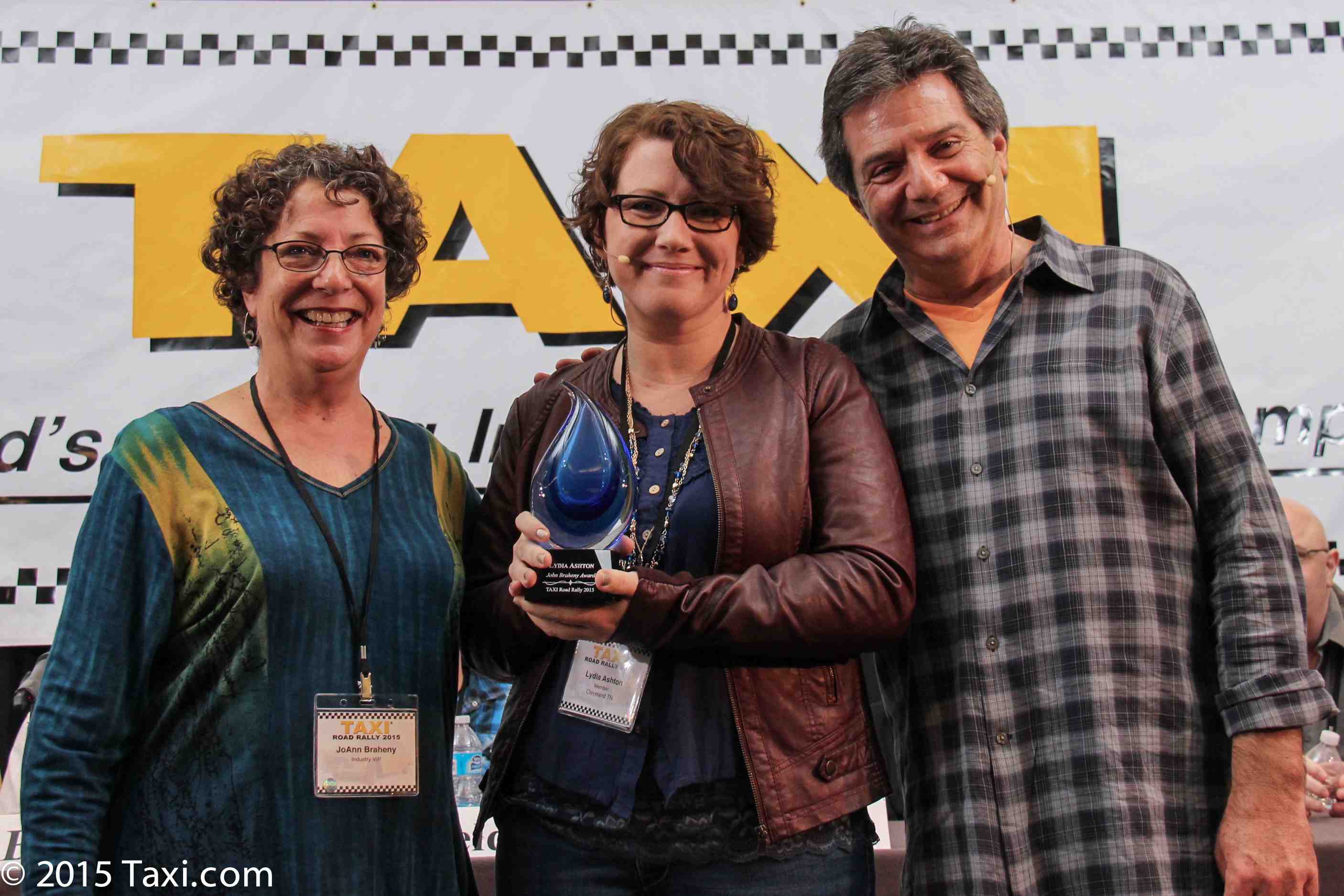 JoAnn Braheny, TAXI Member Lydia Ashton, and TAXI's CEO, Michael Laskow, pose for a group shot shortly after Ms. Ashton was presented with the prestigious John Braheny Award, recognizing her accomplishments and excellence in creating instrumental cues and scores.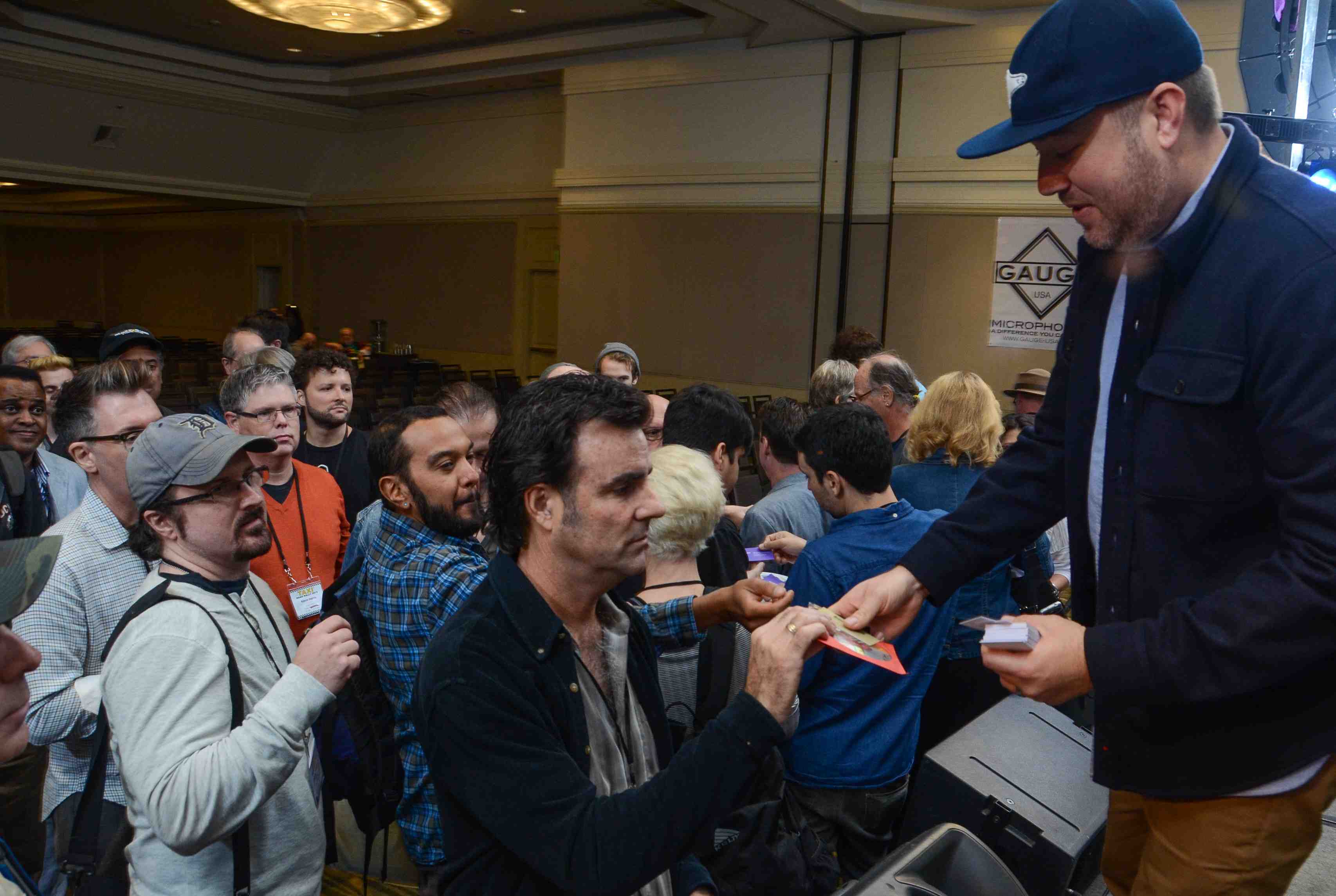 Music Supervisor Ryan Wines receives a CD from a TAXI Member after wrapping up his Music for Advertising session at the Road Rally.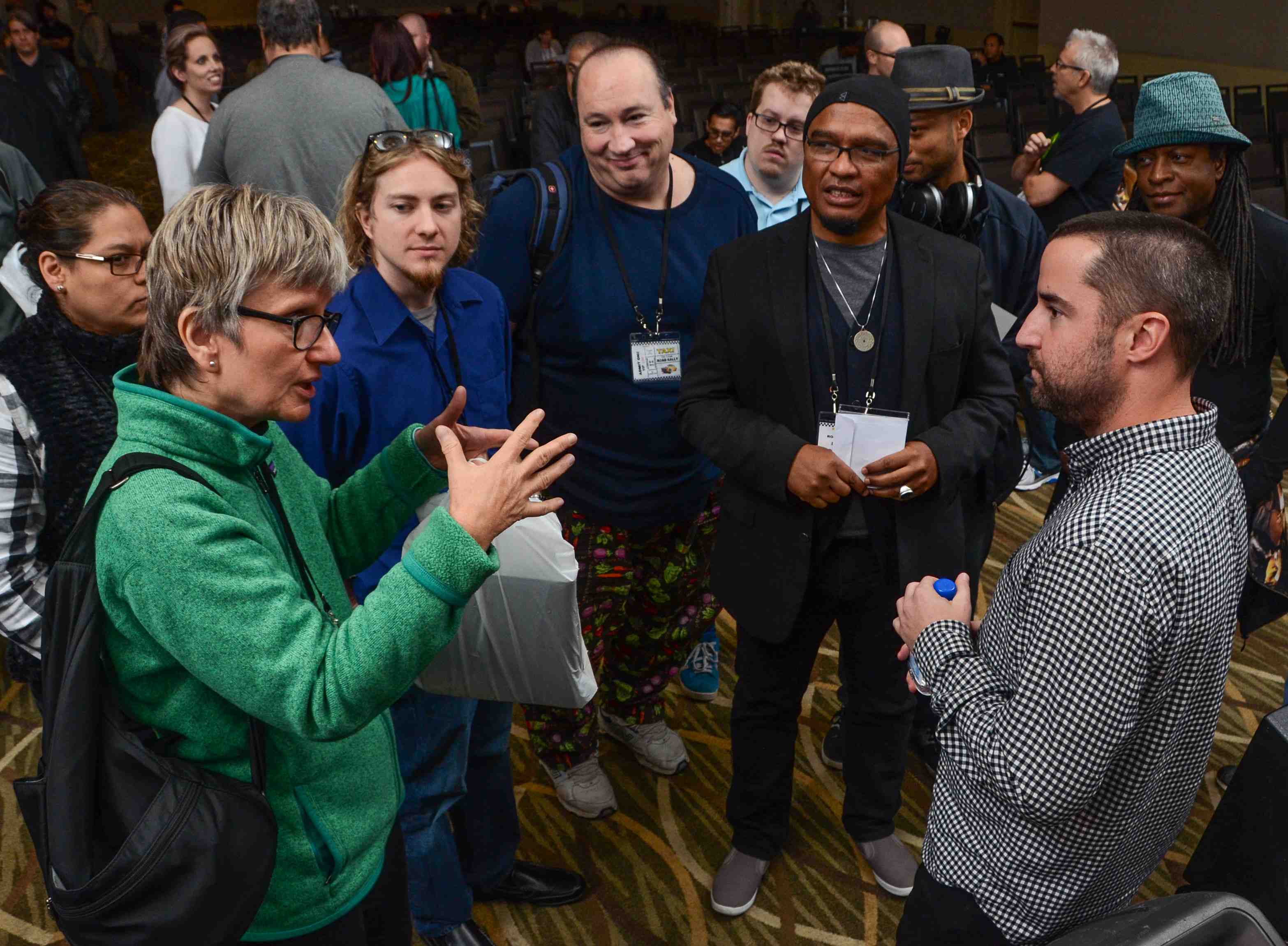 A TAXI Member gets his question answered one-to-one by Hollywood Trailer Composer Nick Murray after his Grand Ballroom presentation on Creating Trailer Music.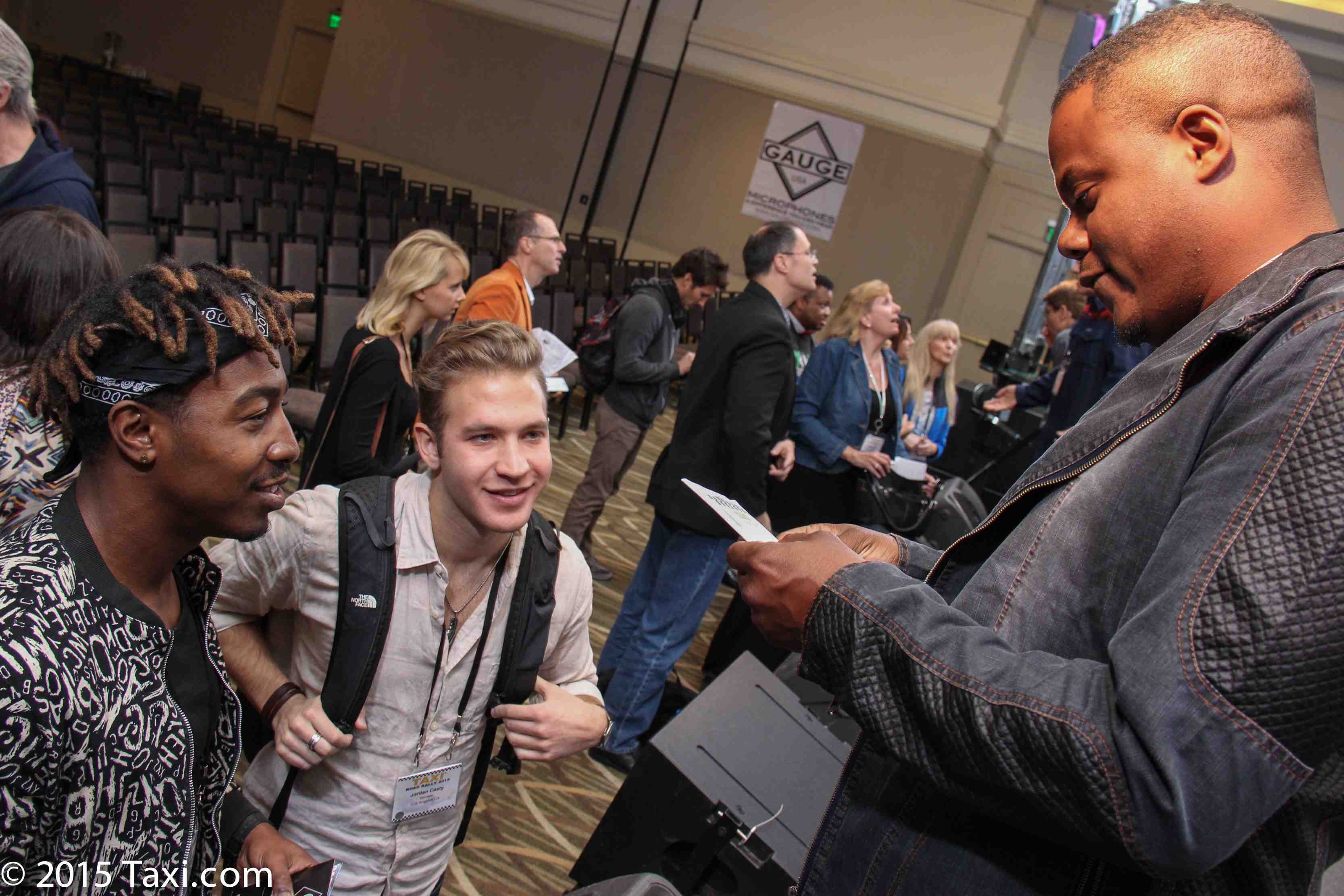 Hit songwriter Marlin 'Hookman' Bonds (Jason Derulo, Jordin Sparks, Zendaya, etc.) takes a close look at a CD handed to him by TAXI Members after The Hit Songwriters Panel.
TAXI Member Ashleigh Still gives an impromptu live performance during the final listening panel at the end of the Road Rally. Her CD wouldn't play, so the panelists asked her to sing her song live in the ballroom. Ashleigh wowed the members and panelists alike!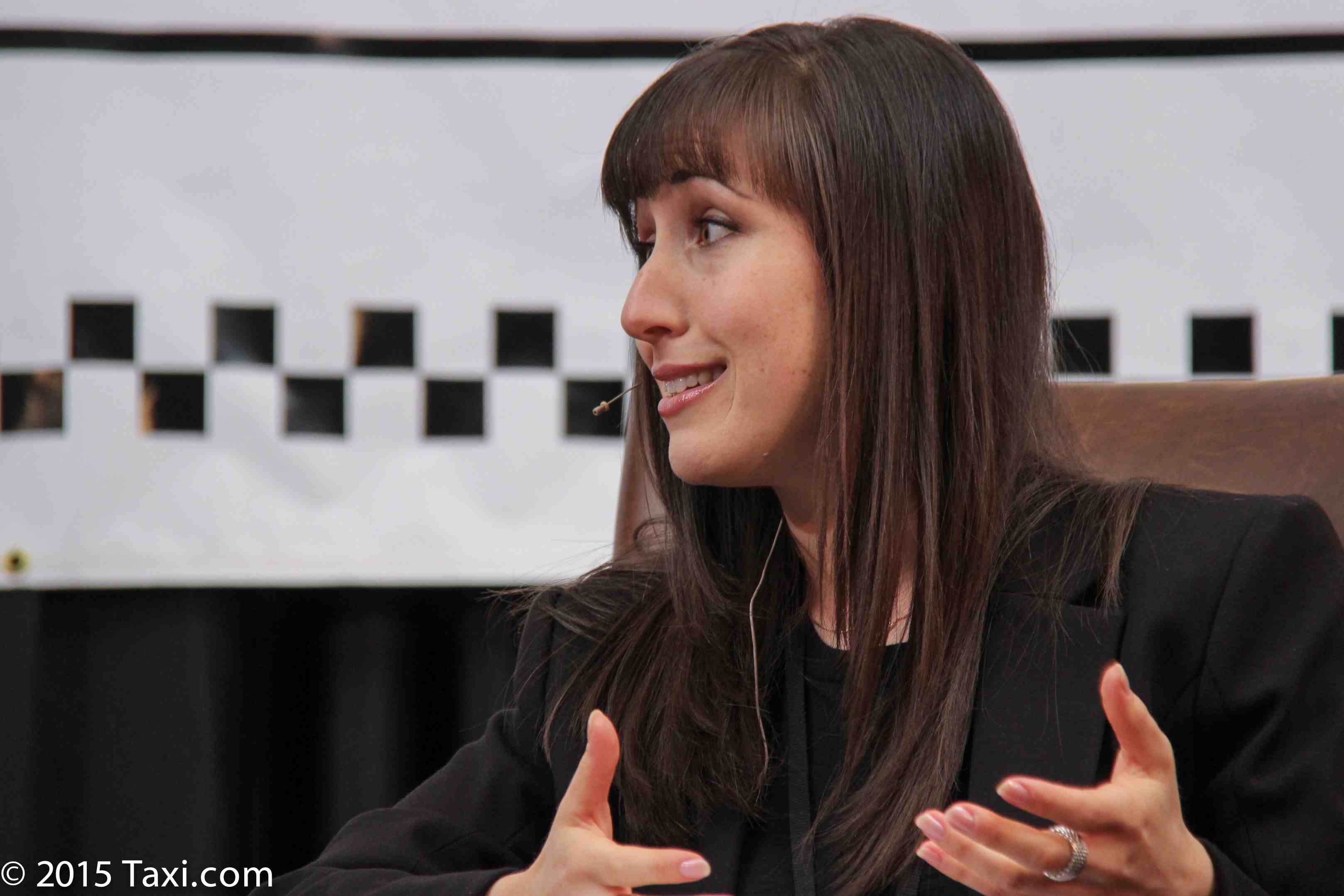 Music Attorney Erin M. Jacobson explains the ins and outs of Music Library contracts during her highly informative session in the Grand Ballroom, during the second day of the 2015 TAXI Road Rally.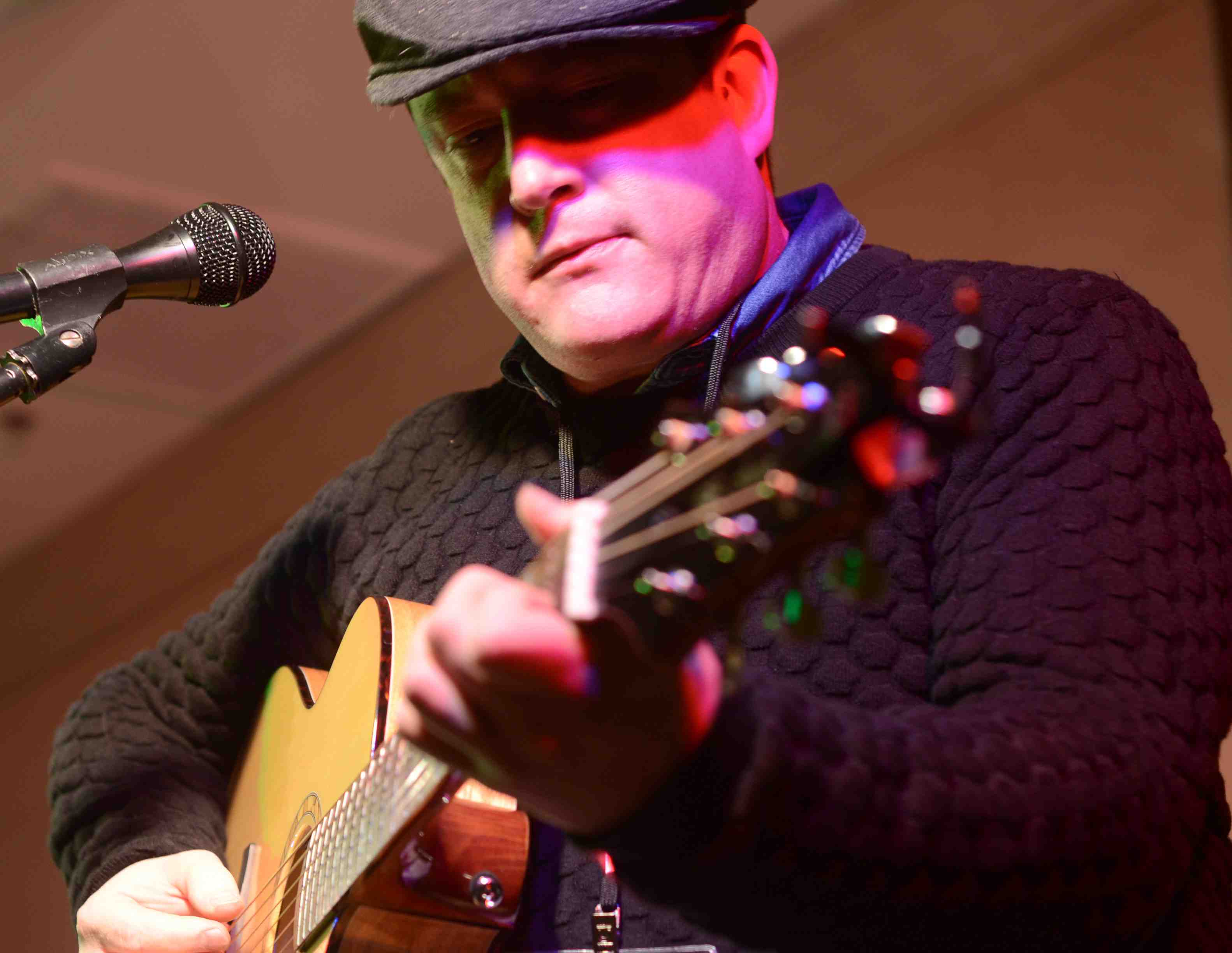 TAXI Member Robbie Hancock gives a moving performance at one of the two Open Mic Nights held every night, for three nights in a row, at the Road Rally!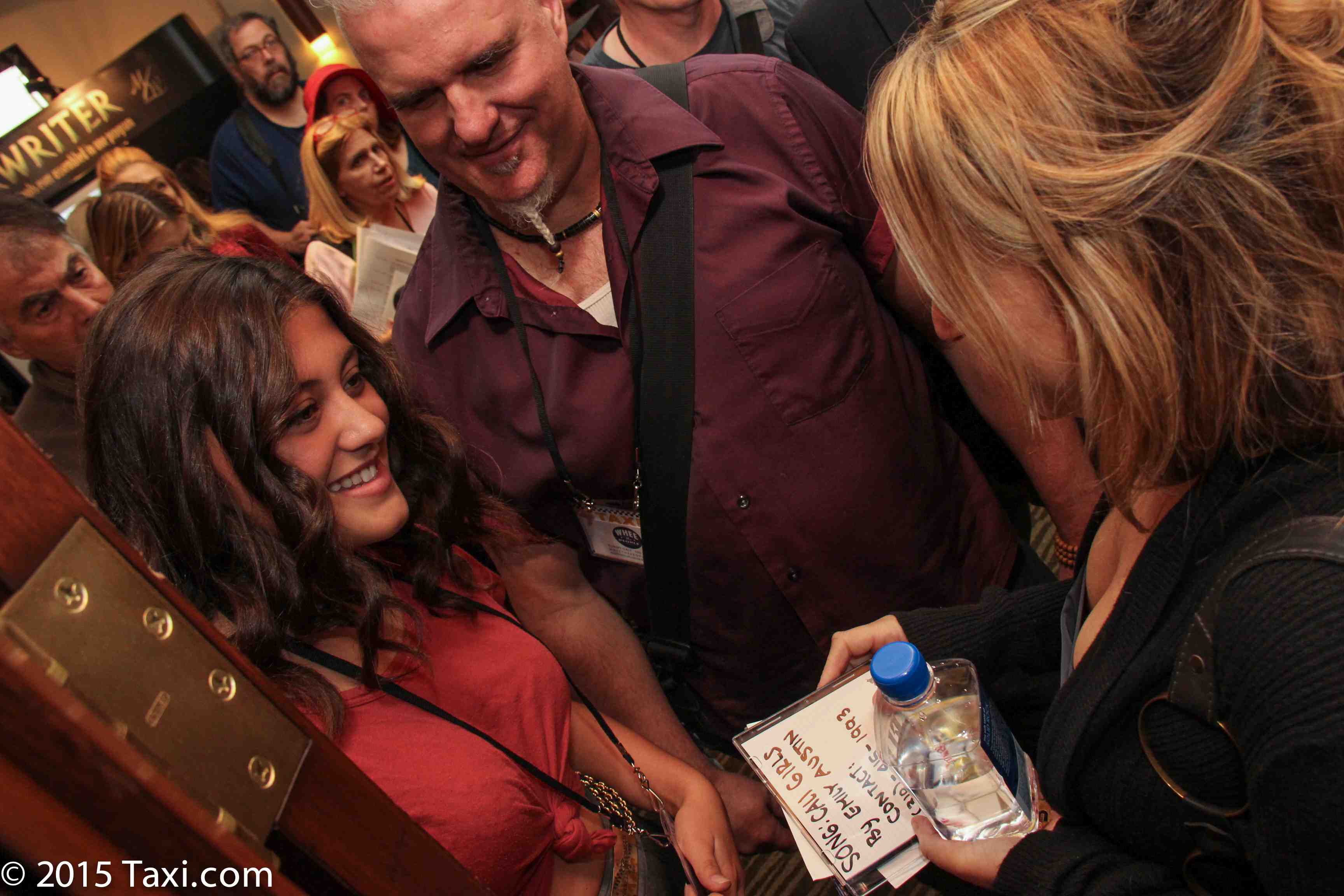 Hollywood Film Music Supervisor Beth Amy Rosenblatt takes CDs from a member after the amazing Music Supervisor Listening and Q&A Panel held on Saturday at the TAXI Road Rally.